Saturday | October 10, 2020
open printable version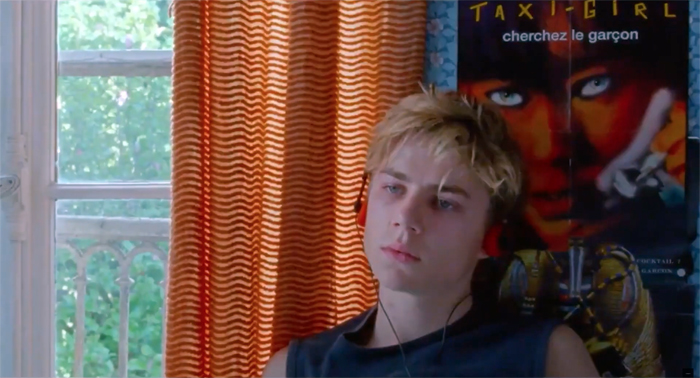 Summer 85 (2020).
DB here:
One of the nicest things anybody ever said to me came from Jacques Aumont, the distinguished French film scholar. He was visiting us in the early 1980s and I showed him a book manuscript I had just sent to the publisher. He read the first three chapters and said, "You remind us of something important. The spectator is thinking." The book eventually came out as Narration in the Fiction Film.
In emphasizing that the spectator thinks, at least a little, I was driven to pay special attention to openings. The opening is where a film sets up information about its story world, about the action that will take place in it. We usually call this exposition. But a film also attunes us to the how as well as the what: how the story will be told. Exposition, in other words, includes introducing us to the characters and their situation but also to the ways we'll learn about them. In the book I called the latter the "intrinsic norms" of narration.
But exposition isn't simply a part of the plot, a chunk of opening material we need to digest. Exposition, the narrative theorist Meir Sternberg shows, is a process. In revealing what we call "backstory," circumstances that predate the first scenes we see, exposition can go on throughout a film. (Kristin talks about this in her entry on Inception, and in revised form in our Nolan book.) So it turns out that the spectator has to keep thinking, keep reevaluating what's being told about the story world and the way the story is told.
Three films showcased at the Vancouver International Film Festival set me thinking about these matters. Two depended on surprises, and these stemmed from the way exposition was handled. The third had very sparse exposition, asking us to gradually fill in story background through drifts and whiffs of information. In all cases, our enjoyment depends on thinking.
Surprise!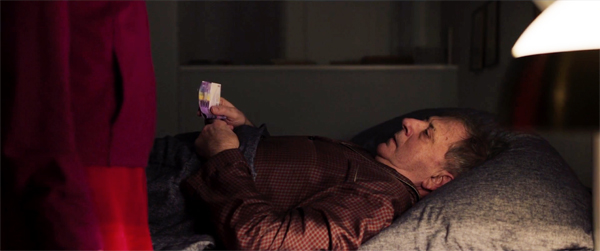 Bettina Oberli's My Wonderful Wanda updates the ingredients of classic bourgeois comedy for the modern world of migratory caregivers. Josef and Elsa Wegmeister-Gloor oversee their pampered and confused son and daughter. Into the household comes a servant who is exploited for sexual favors by the old man. Wanda, the nurse brought in from Poland, is today's equivalent of the chambermaid lusted after by both father and son.
As in most domestic comedies of class relations, Wanda the worker is no fool. Her duties help support her father, mother, and sons back home, and she proves herself a shrewd negotiator from the start. When Elsa asks her to perform extra chores, she demands more money. And when Elsa's stroke-felled husband is willing to pay for sex, she agrees. Their secret bargain will, in good farce fashion, come to light in the most embarrassing way possible.
I went into the film knowing much less of the plot than I've just told you, so I want to keep back the rest. (Alas, the trailer overshares.)  I was able to appreciate the way that Oberli's tight script kept the surprises coming. Her script finds an admirable balance between clear structure and unpredictable turns.
Here the exposition is, in Sternberg's terms, mostly concentrated and preliminary. The early scenes fill us in on the basic situation. Wanda is among several women met at the bus by Elsa. This is a compact way to suggest how much this class depends on the arrival of emigrant labor. Wanda is then taken to the family's sumptuous villa. We learn about the situation as she does, and this introductory stretch culminates in Wanda's introduction to her cramped basement room. In good traditional fashion, the exposition quickly encourages us to sympathize with the protagonist by showing her treated unfairly. On the basis of the information we get, the film's first "act" becomes a tensely rising action in which Wanda becomes victimized by the petty conflicts that wrack the family.
A second long section begins in a lighter key, with the dismissed Wanda returning after some months, in a scene parallel to the opening. This chunk provides another concentrated dose of information, bringing us up to date on the family's situation. Comic complications emerge when the family has to cope with a new, more pressing set of demands.
In good Renoirian fashion, Oberli gives everyone a dose of sympathy. The frailties of the son and daughter get nuanced and softened, and we see this coddled pair as less selfish than self-destructive. The action tapers into cringe comedy (drunken embarrassment) and  farce (an errant cow), but it's steered by carefully modulated character revelation, particularly on the part of Elsa, who is played by an indominatable Marthe Keller.
My Wonderful Wanda keeps surprising you to the very end; it trains us not to take everything for granted.  There's even a classic theatrical denouement, itself twisty, which is undercut by a final shot of GOFAC (Good Old-Fashioned Art Cinema) uncertainty. Yet after each reversal, you think it had to be that way. What happens later is consistent with the exposition we've built up.
Surprise, postponed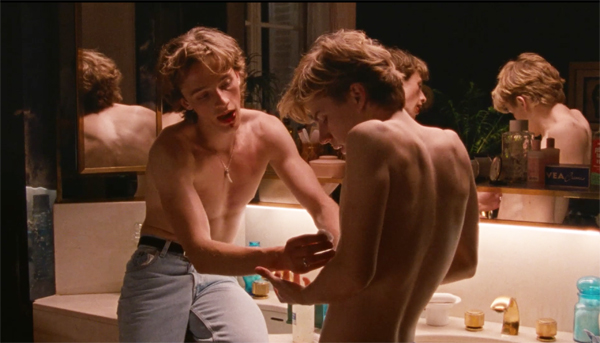 Concentrated exposition, gathered in an opening or elsewhere, sets our expectations, so new story information can modify or revise them. For instance, when Wanda is summoned late at night to Gunther's bedside, I assumed he needed meds or some help going to the toilet. The expository scenes had set her up as a traditional caregiver. So I was surprised when she mechanically slipped into what became clear was a sexual routine. That prompted me to recalibrate my sense of their relationship, and it made me aware of the limits of what I'd assumed.
Which is to say that exposition as a process is usually partial. We don't get everything in the backstory at once, and sometimes what's suppressed is central (as in My Wonderful Wanda). A more extreme example is François Ozon's Summer 85 (Été 85). Here the expository information is distributed much more widely across the film. We get the backstory only gradually and piecemeal. Because some important information is withheld, the film nudges us toward certain expectations that need to be adjusted.
Again, I have to be careful about spoilers, so let me talk generally. In the book that I mentioned and for many years since, I've written a lot about flashbacks. One common schema for flashbacks is the crisis structure. The plot starts near a story's climax and then suspends the outcome in order to shift back into the past and show how the crisis came about. The crisis structure can provide a film's overall intrinsic norm of narration, so we expect that this pattern will carry through from scene to scene.
Ozon, another elegant storyteller, knows we have learned the crisis structure. When the opening of Summer 85 shows the teenager Alex dragged into a corridor and then interviewed by police authorities, we're encouraged to summon up our experience of other movies. A crime has been committed, and he's either a witness or a suspect. Ozon sets up a familiar to-and-fro pattern between past and present, an investigation and the mysterious crime leading up to it.
The distributed exposition provides flashbacks that take us chronologically through the events leading up to the night of the arrest. Alex is drawn into a love affair with David, a charismatic older boy. With his mother David runs a shop on the beach. She is slightly scatterbrained and seems unaware of their passions, while Alex's parents are likewise in the dark (and surely disapproving). When the English au pair Kate shows up on the beach, Alex fears David will abandon him, and we expect that a classic romantic triangle will drive the film forward.
Except that's not quite what happens. As Alex's jealousy deepens, we might expect a sort of Patricia Highsmith crime to ensue. Instead, Ozon dares to go with a less brutal but more plausible turn of events–one that makes us reevaluate why Alex is being investigated, and what his actual crime is. By distributing exposition slowly across the whole film, Ozon not only creates a lot of curiosity about what has actually happened, he's able to arouse expectations that will get challenged by new revelations. He exploits the how of narration to modify our understanding of what has occurred–and, it turns out, why.
I'm sorry to be so cryptic, but I face the reviewer's dilemma of not giving away plot twists that should take you by surprise. Here, though, the surprises aren't short and sharp, as in My Wonderful Wanda. They unfold more gradually and allow you time to think–about the characters and their motivations, and about what you took for granted might have happened. You might even feel a bit ashamed for misjudging Alex, who turns out to be loyal and forgiving in ways we might call unexpected. Yes, dancing is involved.
Surprise?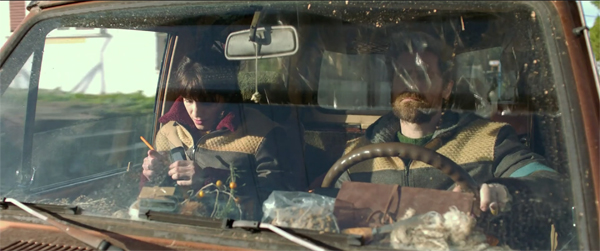 My Wonderful Wanda has a straightforward arc of conflict and resolution. Summer 85 is more nonlinear, skipping to and fro through time, but it too can be plotted as a drama of tension and release. What then to say about Kala Azar? It's another film that teaches us how to watch it, and how to think through it. But it seems to lack those traditional patterns of coherence.
Or rather, it has other patterns. Instead of a drama of conflict and change, it explores a situation built out of routines, gradually revealed and eventually varied. This is another plot strategy, one familiar from "art cinema." It builds a mystery into not only the story action but into the way the story is told. What is going on? And why am I told about it in this way?
Start with the title. It refers to a severe infectious disease spread to animals and humans by sandflies. It's currently raging as a pandemic in over seventy countries. But the film Kala Azar is less about the disease (although we spot some lesions on characters who might be infected) than about the relations of humans and animals–specifically, some marginal Greeks scrounging a living on the outskirts of a city, along with the dogs, cats, and other creatures that wander into their lives.
There are three strands of action, each with its own routines. Most prominent are the couple, a young man and woman working for a service that cremates household pets. The couple live mostly on the road in their van, gathering pet remains from households and bringing them back to a central facility. They then return the ashes (not always scrupulously preserved, it seems) to the waiting owners. Another couple, the woman's father and mother, keep stray dogs in their house. A third line of action involves Orguz, a migrant worker glimpsed from time to time at a chicken farm nearby.
The central couple have started adding roadkill to their cargo, as if believing that these creatures too deserve a serious farewell to life. And at certain points the story strands meet, although glancingly. In something close to a traditional climax, the young man, provoked by seeing a shooting party, takes a decisive action.
All of what I've told you is built up through dozens of short scenes, usually without dialogue. There's probably more going on here than I've been able to grasp on one viewing. But the sparse, widely distributed exposition, and the apparent looseness of the plot challenge us to fill in things as best we can. Just as important, by not providing a traditional dramatic arc, director Janis Rafa encourages us to shift our attention to other aspects of her film.
We're invited, for instance, to examine shot composition, to explore the landscapes on which the camera dwells, to scrutinize textures and gestures. These items are sometimes seen at one remove, through dirty panes of glass or layers of focus or in slim apertures.
Entire scenes often chop off faces in order to emphasize the contact that the bodies make with their surroundings, or to turn bodies into pure pattern, as when two grieving pet lovers are shown dressed identically.
These visual strategies may seem a bit arty, but I think they build up a tactile sense of the environment of these routines. Rafa has said that she wanted to evoke the "animalistic" quality of the imagery, which isn't only a matter of a low camera position. The sensuous quality of the vegetation, streams, and roaming dogs comes across strongly. Kala Azar earns its severe gravity through its patient attention to details of a world in which humans and animals interact in very tangible ways. Stray animals meet stray humans, and the visual style registers the encounter with quiet nuance.
From concentrated preliminary exposition, to distributed and elliptical exposition, to what we might call minimal exposition: This continuum shows some creative options available to filmmakers in telling their stories. Each one invites us to build up expectations, to reconsider new information in the light of what we knew (or thought we knew), and to assemble a coherent line of action. In other words, we think. That's not all we do, but it's a big part of how we watch movies.
---
As usual, special thanks to Alan Franey, PoChu AuYeung, Jane Harrison, Curtis Woloschuk, and their colleagues for their help during this reliably exciting festival. This is usually the time of the year when Kristin and I wish we lived in Vancouver, and that feeling is sharpened by the health crisis now engulfing so many countries. Cinema helps keep us civilized.
These and other films we've reviewed should be making their way to other festivals, so we hope you have a chance to catch up with them.
For more on the narrative strategies I've discussed here, see Meir Sternberg's magisterial Expositional Modes and Temporal Ordering in Fiction (1978). This is in my view one of the great books in narrative theory.
For more on narratives built on threads of routines, see this earlier entry on Chop Shop and other films at Ebertfest. An entry on editing pursues the between-your-ears theme.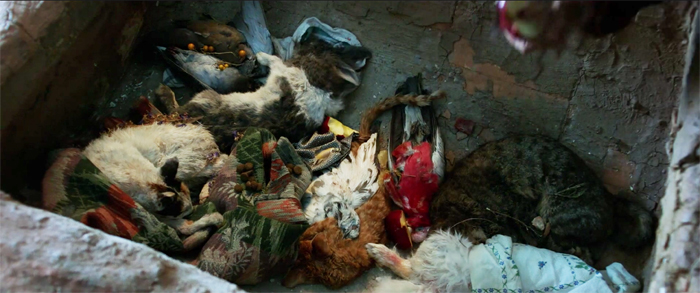 Kala Azar (2020).