Archive for January 2020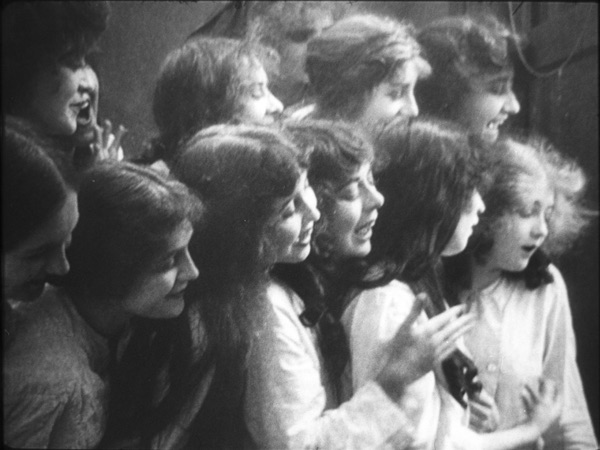 Never coming to the Celestial Multiplex: Liberty Belles (Del Henderson, 1916).
DB here:
A directors' roundtable in The Hollywood Reporter says a lot in a little.
Fernando Meirelles: This June, The Two Popes was in 35 festivals. Then we were going to have two or three weeks of theaters. And then the [Netflix] platform. I mean, it couldn't be better.
Martin Scorsese: We are in more than an evolution. We are in a revolution of communication and cinema or movies or whatever you want to call it.
Meirelles casually omits DVDs, at one point the most rapidly adopted format of consumer media. Yeah, what ever happened to discs? And in what follows, I'll take issue with Scorsese's claim that streaming has triggered a revolution. It's more a case of evolution that issued in a sweeping change, like Engels' transformation of quantity into quality, or Hemingway's claim that he went broke slowly, then quickly.
More important, I'll try to assess the impact streaming has had on what Kristin and I and other researchers and teachers try to do–study film as an art form in its historical dimensions.
Managing your time, and your movies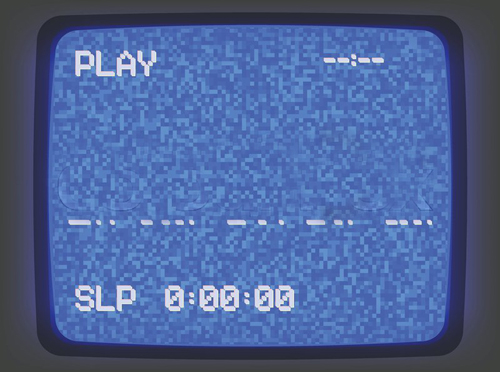 If we're looking for a revolutionary turning point, I'd suggest the moment that movies no longer became appointment viewing. When they played theaters you had limited access. The film was there for only a while (even The Sound of Music eventually left) and you had to watch it at specified times. On broadcast TV and cable, the same conditions applied. But with the arrival of consumer home videotape in the 1970s, the viewer was given greater control.
Akio Morita of Sony called it "time-shifting." The phrase, shrewdly positioned as a defense of off-air copying, captures a fundamental appeal of physical media. You could watch a film at home, and whenever you wanted to. Yes, VHS and even Beta yielded shabby images and even worse sound, but (a) theatres were often not much better, and (b) a video rental was cheaper than a movie ticket. Most important was a general rule of media technology: For the mass market, convenience trumps quality.
Videotape swept the world in the 1980s and gave films an aftermarket. Many an indie filmmaker could get financing for a project on anticipated tape sales. The laserdisc gained some attention in the 1990s, becoming a sort of transitional format. It improved quality (better analog picture, digital sound) but had drawbacks too. A movie wouldn't fit on a single disc side, and a laserdisc was pricier than tape. LD remained a niche format, chiefly for educators and home-theatre enthusiasts.
The laserdisc was superseded by the DVD, introduced in 1996. Journalists claimed that it enjoyed the fastest consumer takeup in electronics history. Discs were more convenient than tapes, and proof of concept had been provided by the success of CDs for music. To compete, cable companies introduced "video on demand," a time-shifting compromise between scheduled cable delivery and rental of tape or disc. People still use cable VOD, and for some  purposes it's a cheaper alternative to committing to subscription services.
Reviewing The Irishman, a critic suggested that most people will skip seeing it in theatres and watch it on Netflix, where it's "more manageable." With tape and disc, either analog or digital, consumers became accustomed to a huge degree of manageability. They could pause, skip ahead or skip back, race fast-forward or –back, play slowly, and above all play the movie over and over. DVDs made all these options quicker and more convenient than tape had. The market boomed. Video stores made discs available for rental, as tapes had been, and retail stores offered them for sale, at increasingly low prices.
But there were problems. In the 2000s there was a glut of DVDs, and consumers began to realize that a few weeks after release many titles would end up in the bargain racks. A brisk secondary market developed thanks to the US "first sale" doctrine, most virtuosically exploited by Redbox. Worse, there was piracy. Pirating analog tapes degraded quality across generations, but with digital discs you could rip perfect clones. Any teenager could hack past region coding and anticopying software.
The Blu-ray disc was an improvement on the first-generation DVDs, and it came along as more people were buying widescreen and high-definition home monitors. Properly mastered, Blu-ray discs looked good, and they had bigger storage capacity. Some consumers got excited, but the improved format couldn't arrest the headlong decline of disc sales. In addition, the industry's rationale for Blu-ray was its resistance to rippng, but hackers breached the codes with ludicrous speed.
From this angle, streaming is parallel to digital theatre projection : a new phase in the war against piracy. Likewise, as in theatrical screenings, you're paying for an experience, not an item. You're not buying an object you can copy or resell. If a movie is available only on streaming, you're renting something that is impossible to own legally. One aspect of manageability—personally possessing a movie—is traded away for convenience and, ultimately, for limited access, as I'll try to show.
Not so gently down the stream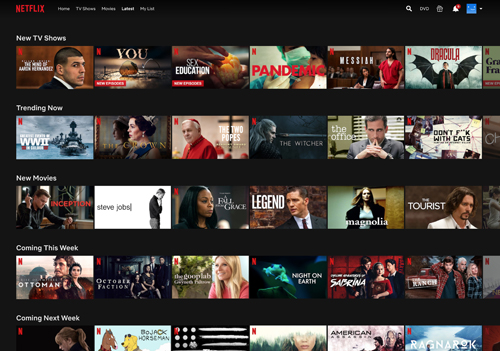 With streaming, the age of appointment viewing seems more or less over. And the infinite vista of the Internet has encouraged tech-heads to imagine something like the Celestial Jukebox, a vast virtual multiplex in which all movies will be available. If iTunes and Spotify did something like this for music, why not cinema?
Let's consider the pluses and minuses of streaming for ordinary consumers and for filmmakers.
Obviously, there's convenience. After the monstrous tape cassettes, DVDs looked adorably slim. Now, gathering in slippery stacks, they have their own sinister aura. With streaming, there's no need to run out to the video store or to buy new shelving to support a bulging library of discs.
There's also price, compared to either theater tickets or cable fees. From $6.99 per month (Disney+) to $12.99 (Netflix), streaming services promise to provide TV and movies quite cheaply. And there's the range of choice, which even on second-tier streamers exceed the capacity of most towns' video stores back in the day. Finally, there are many obscure films lurking in the corners of most streamers, so the joy of discovery is still there to a degree.
On the minus side, there's one that gets the most press—the further erosion of "the theatrical experience." Critics emphasize the pleasures that come from being in an audience, but this always seems to me overrated. More valuable to me are the scale of image and sound you get in a theatre. I like my movies to loom.
Above all, there's a virtue in the lack of manageability. In the theatre you can't pause the movie or run back or skip ahead. You can close your eyes, look away, or leave, but at bottom you're there to turn your sensorium over to the filmmaker, to go through an experience you don't control. This unshakeable grip on your attention yields some of cinema's most powerful effects.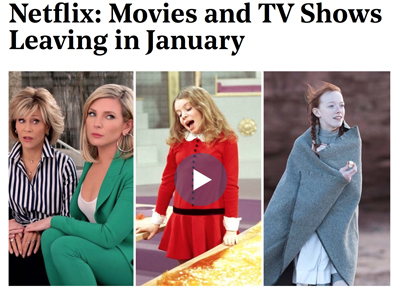 The condition of privatized viewing isn't unique to streaming, of course. Nor is another drawback, that of the cyclical expiration and refreshing of "content" on streaming platforms. We're warned, of course. Newspapers and websites run alerts notifying us when a title is leaving a service—perhaps for a little while, perhaps longer, perhaps forever. And this situation is a bit like DVDs' going out of print. But at least some copies exist to be sold second-hand or cloned as files. In working on my book on the 1940s, I was pleasantly surprised to learn that I could track down arcane titles on out-of-print discs, and at fair prices. When something not on disc leaves streaming, how do you access it?
I think there will be some pushback when subscribers learn about the costs that more and more services are tacking on. Yes, with  Amazon Prime for $119 per year you get access to many films, along with other services. But for a great many films Amazon demands an extra rental fee and very short-term access. Within Amazon, there are channels (Britbox, HBO Now, Starz, Cinemax et al.), all of which demand further subscription payments. As people start to realize that streamers will have exclusive licenses for titles, they'll feel the need to subscribe to many services. Here, as elsewhere, the total streaming price tag starts to look like cable fees. Even the New York Times has noticed.
Another problem won't bother most consumers, but it does matter. A streamed title will occasionally be in an incorrect aspect ratio. Most commonly, a Scope (2.39 or so) image will be cropped to 1.85. I noted this some years back, relying on a website showing faulty Netflix transfers, but that site seems to have been taken over by … Netflix itself.
Netflix will say, with all "content providers," that they get the best material they can from their licensors. I don't watch streaming enough to know how common wrong aspect ratios are, but if you know of examples, I'd like to hear.
Finally, even streaming companies can collapse. Unless Apple buys a studio (Lionsgate? MGM? Columbia?), it must rely on original content, and it could well flop. On the day I'm writing this, one hedge fund manager predicts we have reached peak Netflix. Given greater competition, slower growth, and accelerating cancellations, he maintains that Netflix is on the wane. If it scales back or fails (it currently carries $12.43 billion in debt), what will happen to its licensed material and its original content?
What about creators? Filmmakers, especially screenwriters, have enjoyed boom times. It may be a bubble, with over 500 scripted series available on broadcast, cable, and streaming. Still, it has given everyone a lot of opportunities. Documentary filmmaking in particular has enjoyed a shot in the arm.
And features are still doing quite well, at least on Netflix. Of the streamer's top 10 releases in 2019, seven were features. But those proportions may change. Aside from big theatrical movies licensed from the studios, the impact of proprietary "event" programming (War Machine, Bird Box) has been fairly ephemeral. (Obviously Roma and The Irishman are exceptions.) The strength of streaming, it seems to me, is the same thing that sustained broadcast TV: serial narratives. Hence the popularity of Friends and The Office, as well as House of Cards and Orange Is the New Black.
Like network TV, a streamer needs a reliable, constant flow of content—not only many shows, but many episodes. The model of the series, if only in six or eight parts, secures the loyalty of the viewer for the long term. Even if all episodes are dumped at once, the promise of continuation after an interval of a year or several months keeps the viewer willing to hang on till the next season.
The pressure on the creators is predictable. Since form follows format, writers and producers will be pushed to come up with series ideas. A friend of mine pitched a feature-length movie to a streaming service. The suits loved the idea but wanted it as a series and were already scanning the script outline for a plot point that could launch a second season. Some of the streaming series I've seen, notably Errol Morris's Wormwood, seemed to me stretched.
If a filmmaker lands a feature film on a streaming platform, other problems could follow. We're well aware that independent filmmakers gain few royalties from streaming; their big check tends to be the initial acquisition. At the same time, they can't be sure that people are watching their entire movie. My barber couldn't stick with The Irishman, even with pee breaks.
Streamers seem to have accepted grazing as basic to the viewing experience. For purposes of measuring total viewership, Netflix counts a "viewing" of a film or program as a minimum of two minutes. In the light of the two-minute rule, we might expect filmmakers to crowd their opening scenes with plenty to grab us. That goes back to TV and TV-influenced films, of course, which tried to have a strong teaser even before the credits. Now, it turns out, streaming pop songs are being crafted with shorter intros and earlier choruses "to get to the good stuff sooner." Maybe filmmakers will be trying the same thing. Maybe they already are.
Streaming and film research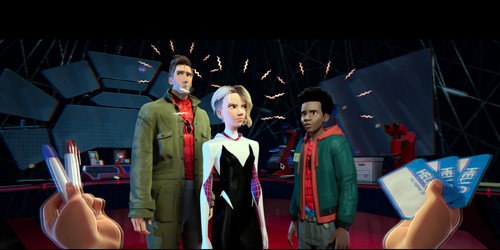 Spider-Man: Into the Spider-Verse (2018).
Finally, what are some consequences of streaming for researchers, educators, and your all-around obsessive cinephile?
I think it's fair to say that home video, in the form of tape, laserdisc, and digital disc, democratized film study. From the late 1960s on, I traveled to archives and film distributors to watch films for my research. It was troublesome, time-consuming, and costly. As a grad student I took a bus from Iowa City to Chicago to watch 16mm prints of Dreyer and Sontag films. I drove to Eastman House to see films in projection. I stayed in Paris a couple of months to work at the Cinémathèque Française on Marie Epstein's visionneuse.
As a prof here at Madison I spent hundreds of hours watching prints in our Center for Film and Theater Research. Over the decades I trekked to Denmark for Dreyer and 1910s films, to Japan for silent films, to Paris and Munich and the BFI and MoMA and UCLA and Eastman House and the Library of Congress, and above all Brussels for many, many projects. Collectors, from Manhattan, Tokyo, and Milwaukee helped as well. Kristin and I owe archivists everything.
The terrible quality of films on tape didn't help me study visual style, but laserdiscs were a big improvement. (Hong Kong films tended not to be in Scope on tape but were on LD.) And one LD format, CAV, was frame-accurate; you could study a shot frame by frame, something not possible with many DVDs. There's always a trade-off with any technology.
Even after even after DVDs arrived I kept up my travels. I could use discs for bulk background viewing, but often I still had to rely on prints. Sometimes I wanted to count frames (handy in looking at Soviet montage and Hong Kong action). Moreover, looking at film prints revealed that the color palettes on DVDs could be quite different, and soundtracks were often cleaned up for the home market. And of course thousands of films, especially from outside Hollywood or in the first decades of cinema, were never going to be available on consumer video. My most recent extended archive stay, in Washington in 2017 thanks to a Kluge Professorship, showed me the glories of the 1910s in prints that are mostly accessible only to researchers.
What do scholars of an analytical bent need? Entire films that can be paused. Frame stills, made photographically or through software. Clips as evidence for our claims. Stills and clips are our equivalents to quotation for literary scholars and illustrations for art historians.
Apart from convenience and cost savings, the disc revolution yielded something I couldn't get otherwise. In an archive, it's impossible to study film-based 3D cinema. But thanks to Blu-ray, I can stop on a 3D frame. (. . . And, for instance, spot the way Hitchcock makes the clock quietly pop out in Dial M for Murder, below). This is a unique benefit—but a waning one, as 3D discs are increasingly hard to find and 3D monitors scarcely exist any more. As I said, trade-offs.
From this standpoint, Netflix and its counterparts offer a step down from DVD and Blu-ray. In terms of choice, many films aren't currently available on streaming, and many more never will be. You can pull a DVD off a shelf whether you're online or not, but for streaming you need a good connection. The controls of a streaming view aren't as precise as those on a DVD player; slow forward and back to study cuts and gestures aren't feasible, it seems.


When cable cropped films, as it frequently did, you had recourse to DVDs, perhaps even from foreign sources. But as exclusive licensing increases, only one service will have a title. Frame grabs are possible with some software, but clips are more difficult.
Worst of all, many worthwhile films will apparently never find their way to disc. I first noticed this in 2017 when I wanted to buy a copy of I Don't Feel at Home in This World Anymore, a Netflix release of a Sundance title. As far as I can tell, it's not available on DVD. The same fate has befallen one of my favorite films of 2018, The Ballad of Buster Scruggs. Only a few years ago it would be unthinkable for a Coen Brothers film not to find DVD release. Even Roma has had to wait for a Criterion deal to make it to disc. Clearly Netflix, and perhaps other streamers, believe that putting films on disc damages the business plan. So Meirelles doesn't include DVDs in the lifespan of The Two Popes.
Without DVDs, some cinephiliac consumers are lamenting, rightly, the loss of bonus materials. The Criterion Channel has been exceptionally generous in shifting over its supplements to the streaming platform, but other companies haven't been. Scholars and teachers rely on the best bonus items, including filmmaker commentaries, to give students behind-the scenes information on the creative process. There are, I understand, rights issues around supplements, and bandwidth is at a premium, but there's no point in pretending that the loss of disc versions hasn't been important.
In 2013 Spielberg and Lucas declared that "Internet TV is the future of entertainment." They predicted that theatrical moviegoing would become something like the Broadway stage or a football game. The multiplexes would host spectacular productions at big ticket prices, while all other films would be sent to homes. Lucas put forth the question debated in the directors' roundtable I mentioned: "The question will be: 'Do you want people to see it, or do you want people to see it on a big screen?'"
Still, the big changeover hasn't happened quite yet. Every year has its failed blockbusters, and films big and middling and little (Blumhouse, for instance) still continue. Arthouse theatres, which rely on midrange items, indie production, and foreign fare, are putting up a vigorous fight, emphasizing live events and community engagement.
Meanwhile, streaming makes film festivals and film archives more important. Festivals may host the few plays that a movie gets (as in the 35 fests which ran The Two Popes), and filmmakers, as Kent Jones remarks, are eager for their films to play on the big screen in those venues. Archives will need not only to preserve films but also make classics and current movies available in theatrical circumstances. Smart film clubs like the Chicago Film Society and our Cinematheque keep film-based screenings alive.
Before home video, few film scholars undertook the scrutiny of form and style. Those who did had to use editing machines like these. (One scholar called my study of Dreyer, not admiringly, the first Steenbeck book.) Ironically, just as an avalanche of films became available for academic study, and as tools for studying them closely became available for everyone, most researchers turned away from cinema's aesthetic history and a film's specific design in order to interpret their cultural contexts. There were exceptions, like Yuri Tsivian's efforts to systematically study patterns of shot length, but they were rare.
Whatever the value of cultural critique, one result was to leave aesthetic film analysis largely to cinephiles and fans. Thankfully, the emergence of the visual essay, in the hands of tech-savvy filmmakers like kogonada and Tony Zhao and Taylor Ramos, eventually attracted academic attention. Film analysis has returned in the vehicle of the video essay, which is a stimulating, teaching-friendly format. Kristin, Jeff Smith, and I have participated in this trend through our work with Criterion and occasional video lectures linked to this site.
All this was made possible through the digital revolution, or evolution, and we should be grateful. Still, streaming filters out a lot of what we want to study. It's clear that, for all their shortcomings, physical media were our best compromise for keeping alive the heritage of critical and historical analysis of cinema. We've largely lost physical motion pictures as a contemporary medium. (How many young scholars, or filmmakers for that matter, have handled a 35mm print?) Now, to lose DVDs and Blu-rays is to lose precious opportunities to understand how films work and work on us.
---
Thanks to all the archivists, collectors, and fellow researchers who made our research so fruitful and enjoyable in the pre-digital age.
A good overview of the streaming business at this point is "The future of entertainment," in The Economist.
Kristin discusses the fantasy of the Celestial Multiplex with archivists Schawn Belston and Mike Pogorzelski. For examples of how to watch a film on film slowly, go here. Samples of editing-table discoveries are here and especially in the Library of Congress series that starts here. In another entry, I discuss the use of 3D in Dial M for Murder.
P.S. 24 January 2020: Then there's this, from Facebook.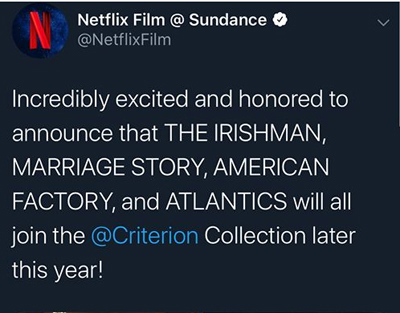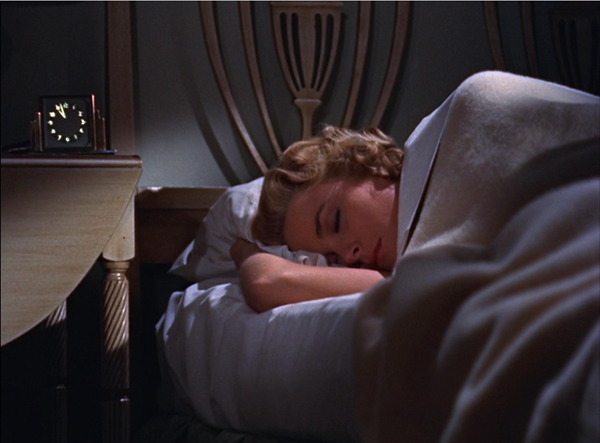 Dial M for Murder (1954).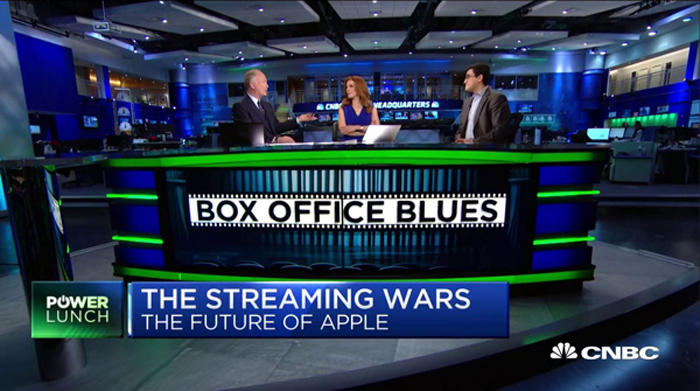 Kristin here:
Last May, I posted an entry responding to all the lamentations about a supposed slump in box-office revenues for theatrical films in the early months of 2019 compared with the same period of 2018. I pointed out that the cause of the slump was not due, or at least not entirely due, to a sudden lack of interest in movie-going resulting from the rise of streaming. The main reason was that most of the biggest BO hits of 2018 had been released earlier in the year than usual. As a result, most or all of their income came entirely within the calendar year. In tallying annual BO, however, money brought in after December 31 gets added onto the new year's tally.
Thus the fact that the four biggest hits 2018, Black Panther, Avengers: Infinity War, Incredibles 2, and Jurassic Park: Fallen Kingdom, all came out in the summer or earlier.  No revenues from these films carried over into 2019. That almost inevitably meant that there would be a decline in 2019, but it wasn't due to people deciding to camp out on their couches and watch stuff streamed to their TV sets. They had simply bought their tickets to those movies long before.
For some reason, pundits never seem to notice this. Or maybe some do, but, as I wrote last May, it's much more dramatic to tear one's hair over a dire slump than to point out that these ups and downs really don't reflect any dramatic changes in the overall industry, at least not yet. Also, it's more difficult to figure out and then explain the results of the fact that films still in release at year's end have their grosses divided between two calendar years.
Assuredly there has been big shifts in the balance of power among the major studios. Obviously Disney is doing very well indeed, with seven films in the top ten domestic grossers for 2019, including all the top six. In contrast, Paramount, long ago the most powerful studio in the young Hollywood, is in a sad state. Quite possibly it will disappear into a larger firm, as 20th Century-Fox did. This imbalance within the current industry is not good for any of them apart from Disney, but it has so far had no discernible effect on the industry's earning power as a whole.
Annual box-office totals, in numbers not adjusted for inflation, are percolating along as usual. There was no slump last year, just a little adjustment downward after a record year. Let's take a look at what's really going on.
Up and up, and down, and up and up
We're barely into 2020 and already the trade papers are pointing out that the domestic box-office total for American theatrical films fell in 2019. Yes, but …
Here's a chart from Box Office Mojo of the grosses since 2009, the first year when the figure topped $10 billion. (These figures are in dollars unadjusted for inflation. The three columns on the right side are number of features released, average take per film, and the top grosser of the year.)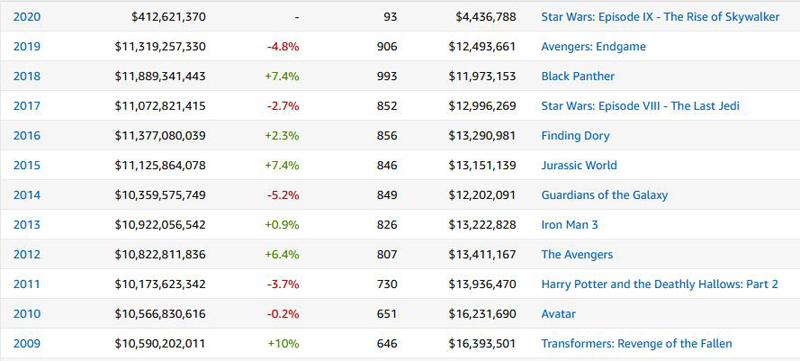 Note for a start that there was a 7.4% rise in 2018 over 2017. In 2019 there was a drop of 4.8%. Now note that the decline of 4.8% in 2019 still left the total higher than it had been in 2017. Note also that this has usually been the case. The years of big growth–10% in 2009, 6.5% in 2012, 7.4% in 2015 and 2018–are followed either by smaller rises or by declines that do not wipe out the gains of the previous years.
If you look at the larger chart from which this was excerpted, it's much clearer that theatrical income has risen impressively.
BO has nearly quadrupled from 1985 (again, in unadjusted dollars, so a significant part of that growth is inflation). In 1985 the total was a mere $3,041,480,248. Since then there have been 27 up years (though a few were nearly flat) and only 7 down years. Down years tend, not surprisingly, to come after record years. In 2014, there was a decline somewhat greater than that of  2019. Between 2014 and 2019, the total BO rose by 14.4%. About half of that, 7.4%, was in 2018, almost inevitably leading to a decline in 2019. But really, is a 4.8% decline that big a deal in comparison with a 14.4% rise? The basic point is that the BO continues to climb overall, despite these occasional "adjustments," as business people would call them.
Moreover, note that 87 more features were released in 2018 than in 2019, and considerably more films than in previous years. Given the average box-office gross in 2018, that would add a little over a billion dollars. In fact the difference between the 2018 and 2019 totals was only about $570 million, so presumably some of those extra films brought in well under the average. Still, some of the record year was due simply to a greater number of films. Conversely a drop in the number of 2019 films to something closer to normal does not suggest a slump due to waning interest in theatrical movie-going.
Writing in Hollywood Reporter in November, 2019, Pamela McClintock made the 4.8% drop sound like a big deal, even while acknowledging that in fact 2019 would be the second biggest BO year in history (in unadjusted dollars, of course). McClintock's figures differ slightly from the chart above, partly because final tallies were not in and partly because she used Comscore figures instead of Box Office Mojo ones.
With Dec. 31 fast approaching, industry leader Comscore projected Sunday that box office revenue in North America will hit $11.45 billion for the full year, a decline of 3.6 percent from 2018's record bounty of $11.88 billion.
If Comscore's rough estimate is correct, that would be the biggest year-over-year decline since 2014, when domestic revenue tumbled a steep 5.1 percent over 2013 to $10.36 billion. The North American box office rebounded in a major way in 2015, rising 7.5 percent to $11.13 billion.
The good news: $11.45 billion would represent the second-best showing of all time, besting the $11.38 billion collected in 2016 (a 2.2 percent uptick). Underscoring the cyclical nature of the film business, revenue was down 2.3 percent in 2017, followed by last year's dramatic 6.9 percent jump.
While international box office numbers aren't yet tallied for 2019, analysts expect worldwide ticket sales to match, or best, last year's all-time high of $41.1 billion.
"Given the level of competition from a plethora of options across multiple platforms on an incalculable number of devices, it should be actually heartening to the industry that 2019 will deliver the second-best annual box office revenue in history," says Paul Dergarabedian of Comscore.
Yes, it should, but again, second-best is not as dramatic as a worrisome slump. After all, the threat of streaming to theatrical business is the big story of recent show-biz journalism.
Carry-over into 2020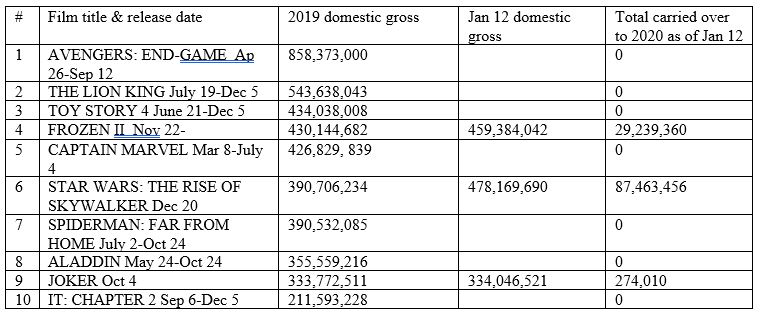 Is there likely to be much carry-over of box-office revenues from 2019 films into 2020? In other words, is there likely to be a repeat of 2019, with too many big grossers released well before the end of the year? It does seem possible. My home-made chart above, derived from Box Office Mojo figures as of January 12, 2020, shows that seven of the top ten domestic-earners went into and out of release in the spring or summer, somewhat as the comparable films from 2018 did. Of the three films still in release, Frozen II and especially Joker seem to have already earned much of what they will earn. (Indeed, Frozen II has already slightly outpaced my prediction, based on the gross of the original Frozen in adjusted 2019 dollars, $441.8 million.) The Star Wars entry, the latest release in the top ten, is still going strong and should contribute a fair amount.
1917 will provide most of its income to the 2020 figures. It opened in only eleven theaters on Christmas Day, stayed at that level for two weeks, and went wide (into 3434 theaters) on January 10, meaning that all but $2,721,279 of its domestic income will count for 2020. The film's surprise Golden Globes wins and possible BAFTA and Oscar awards may help land it a higher gross than many would have predicted. As of January 15 it had grossed $51,561,309 domestically and was still at number one.
It's way too early to predict what effect all the as-yet unearned carryover money from 2019 films will have on the 2020 total we'll be discussing a year from now. I haven't yet bothered to survey the new year's anticipated blockbusters and their release dates. If studios continue to scatter their big earners throughout the year instead of saving them for the November-December holiday season, then carry-over income will be less significant and will perhaps cause fewer ups and downs. If so, pundits will need to find something else to make us nervous as regards the future of movie-going.
That something should not be the extremely common claim by journalists that streaming is killing theaters. It has been shown that people who stream more movies also go to more movies in theaters.
A final point
While noting in passing that 2019 both suffered a big decline and was the second-biggest BO year, Rebecca Rubin of Variety pointed out that the global box-office haul for 2019 hit $31.1 billion, the first time it has ever topped $30 billion. This rise in part reflects the fact that nearly 70% of Avengers: Endgame's total grosses came outside the US/Canadian market.
Rises in foreign ticket sales don't entirely compensate for declines in domestic ones. Not as great a percentage of the box-office income returns to the American studios from some markets–notably China, which pays back 25%, as opposed to closer to 50% from other markets. (Ryan Faughnder and Robin Dixon summarized that and other problems faced by American films in the Chinese market for the Los Angeles Times last February.) But any foreign income helps, and so far the foreign markets continue to rise, even as streaming penetrates more of them.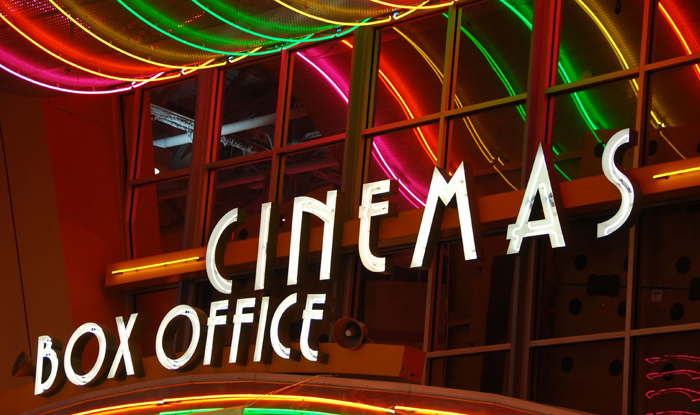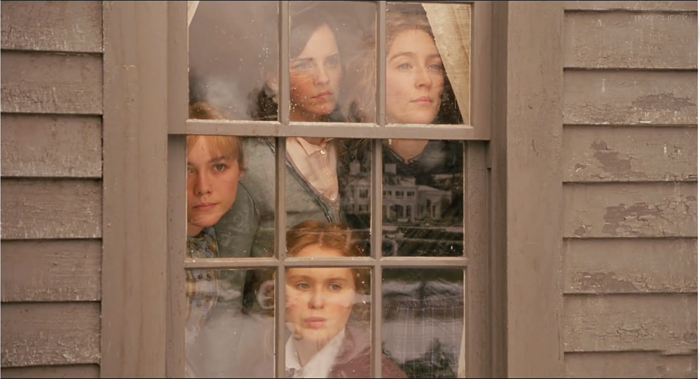 Little Women (2019).
DB here:
For a while The Blog conducted an annual ritual of analyzing storytelling techniques in year-end releases. I wrote entries from early in 2016, in 2017, and in 2018. Last year I muffed it, largely because of time spent revising our Christopher Nolan book. (Yes, we're also looking forward to Tenet, especially after that hellah trailer.)
This time I'm trying an alternative. Instead of surveying a range of releases, I'll focus on two that I think encapsulate some robust variants on familiar narrative strategies. Those strategies include choice of protagonist, linearity versus nonlinearity in time, and manipulation of viewpoint. While I'm concentrating on Marriage Story and Little Women, I'll draw out some comparisons with other films.
Many spoilers follow, but of course you've probably seen all the new films. Except maybe Cats.
Protagonists, dual and dueling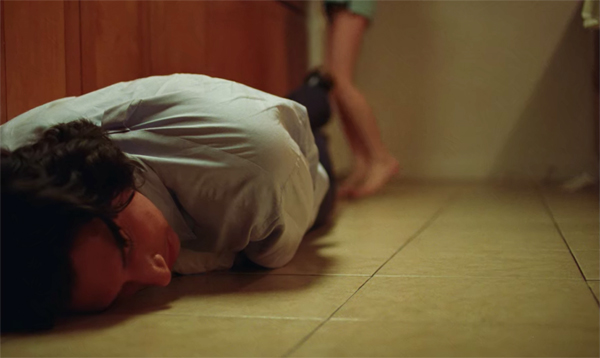 Human nature is not given to a protagonist/antagonist three-act structure. Human nature is just one damn thing after another in which the only thing that matters is what went on today because yesterday is gone. And that is contrary to a lot of the business that we're in, which makes sure that everybody understands the story by page 30 and is involved in the conflict.
You're plotting a film. What sort of options do you face? A basic choice involves protagonists.
You might build the film around one character who pursues a cluster of goals. Examples this season would include Dark Waters, Motherless Brooklyn, Uncut Gems, and Harriet. The protagonist can have helpers, and will certainly have adversaries, but her or his initiatives, decisions, and responses propel the action. In addition, we're usually attached to the protagonist's point of view, which limits us to what she or he knows. Judicious widening of the horizon often takes place to enhance tension. In Uncut Gems we're briefly attached to Arno's thugs when they're tailing Howard, and the climax crosscuts Howard in his office with Julia placing his big bet.
You could center the action on two characters, giving us a dual-protagonist plot. Here the goals may be shared or at least compatible. In The Aeronauts, a lady balloonist and a male meteorologist cooperate, with frictions, to break ascension records, while Ford v. Ferrari unites two men working together to win at Le Mans.
More rarely, a dual-protagonist plot can shift the protagonist in the course of the action. Good examples are Red River (1948) and The Killers (1946). I'd argue that Don Corleone functions as protagonist in the early sections of The Godfather (1972), while Michael takes up that role later. Similarly, Waves initially concentrates on Tyler, but he largely drops out of the plot and his sister Emily drives the film's second half.
Alternatively, the plot can present two protagonists in competition. This season we've had The Current War, centering on the struggle between Edison and Morgan to transmit electrical power. The narrational weight is largely with Edison, but I think Morgan is characterized enough and we're attached to his viewpoint frequently enough to present a counterweight. Morgan isn't simply an antagonist but rather what Kristin calls a parallel protagonist, like Salieri in Amadeus or Captain Ramius in The Hunt for Red October. As these examples indicate, parallel protagonists, although they're trying to figure out each one's aims and stratagems, often become fascinated with each other and recognize their affinities.
Paired protagonists are common in romantic comedies, which often consist of friction between the couple (due to clashing goals) but end in harmony and union. What's striking about Marriage Story is that here the end, not the start, of a romantic alliance is treated through the dual-protagonist strategy. Charlie and Nicole struggle over the terms of their divorce, particularly the handling of custody of their son Henry. Unlike Kramer vs. Kramer (1979), which is organized chiefly around the husband's viewpoint, this gives weight to both spouses.
Director Noah Baumbach achieves this balance through a cunning parallel block construction. The film opens with two montages of roughly equal running time. One surveys Nicole's habits and accomplishments with Charlie's voice-over praising her. ("She's my favorite actress.") Then we get a montage illustrating what Nicole loves about Charlie, with other incidents stitched together by her voice-over. Both montages weave in scenes of Nicole in rehearsal while Charlie, the director, makes suggestions.
Baumbach has compared these montages to an overture in musical theatre. The film's score sets out themes associated with each protagonist, and the quirks and routines that rush by establish important motifs, like haircutting, Monopoly games, and Henry's urge to sleep with his parents. With the he said/she said duality, the montages prepare us for the film's strategy of parallelism, a compare-and-contrast attitude.
The montages are revealed as visualizations of two memoirs the couple have written for a mediator.
They're planning to divorce, and he's asked them to recall what they loved about each other. Charlie is willing to share his notes with Nicole, but Nicole won't show hers. This hints that he's more reluctant to separate than she is, planting a question about why she seems determined to pursue the divorce.
Just as important, we've been given privileged access to both characters' minds, and this sort of alternating omniscience will proceed throughout the film. There won't be any more plunges this deep into subjectivity, but we'll always know more than either does, because after they separate we'll be attached to one or the other in large stretches.
For a time, though, we're with both. In the mediator's office, and then during the play's performance, in the bar with the troupe after the show, and in the family apartment, they interact as a couple. (True, Charlie sleeps on the sofa.) But once Nicole moves to California, the first block of action ends and we are attached to her and Henry as she launches her new project, a TV pilot.
Not until Charlie comes to visit Nicole, her mother, and her sister does the narration bring him back. There he's officially served the divorce papers. This scene launches a discreet viewpoint pivot from her to him. The family cuddle ends when Henry banishes Charlie from bed, foreshadowing how marginal his father will be to him from now on.
The film's next block attaches us to Charlie as he seeks out a lawyer, takes Henry on outings, and clashes with Nicole about how to celebrate Halloween. The couple wind up giving Henry two trick-or-treating trips, in different costumes, which reiterates the duplex structure of action we've been presented with since the start.
The alternation between Nicole and Charlie's viewpoints quickens as their negotiations get more fraught. Their first legal meeting ends with Charlie's losing faith in his easygoing attorney. The next meeting is an escalating confrontation between Charlie's new hard-charging lawyer and Nicole's equally tough Nora. In the courtroom exchange, the he said/she said pattern becomes vicious as each lawyer weaponizes minor incidents from scenes we've seen to cast shame on the opposing side.
The nastiness of the custody battle comes to a crisis in a ten-minute duologue in Charlie's apartment, an all-out fight between Nicole and Charlie. They run through a repertoire of reactions, from assurance of mutual admiration to declarations of annoyance, unhappiness, frustration, and complaints. By the end they're screaming insults. Charlie rages and then, as if aware of how monstrous he's being, collapses sobbing at Nicole's feet.
Most classically constructed films follow the pattern Kristin identified back when. The plot consists of a setup, a complicating action redefining the setup, a development section consisting largely of delay and backstory, and a climax that resolves the situation. An epilogue asserts a stable, if changed state of affairs. The four main parts are roughly equal in running time, with the climax tending to be a bit shorter and the epilogue being only a few minutes.
Up to a point, Marriage Story conforms to this architecture. The first thirty minutes set up the split in the family before focusing on Nicole's new life in California. Both Charlie and Nicole had hoped to separate amicably, with no need for lawyers. But thirty minutes in Nicole hires Nora and sets in motion a more severe legal battle than the couple had expected. The complicating action is triggered by serving Charlie the divorce papers.
There's no turning back, and the new situation centers on figuring out how to handle access to Henry. Charlie wants Henry to spend time in New York ("We're a New York family") but Nicole wants him with her, and as he was born in California the law inclines to her side. Hence the triple thrust of the Charlie block: visiting lawyers, trying to keep his Broadway production on track, and winning some loyalty from Henry.
The development section consists of characterizing stretches (Nicole indulges in a quick sexual encounter) and delays: the unsatisfactory first lawyer session, a power outage at Nicole's house, and the courtroom showdown. What happens next, though, seems to me quite original.
Between theatre and TV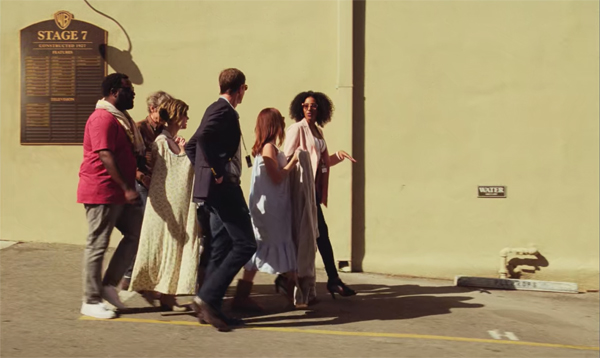 To determine custody, both Nicole and Charlie must let an evaluator visit to observe each one's treatment of Henry. In a more ordinary film, this stretch would initiate the climax. The visit from the evaluator would furnish a deadline for determining how custody would be handled. Then the film's peak could be the vicious, trembling argument between Charlie and Nicole. This would be the explosion that reveals both their love and the impossibility of their staying together.
From this angle, Charlie's guilt-ridden collapse would be the resolution–his realization of how he stunted Nicole's life. A courtroom finale settling the terms of custody (a little more for Nicole than Charlie) would fill out the climax and lead to an epilogue, perhaps on the courthouse steps.
Excuse me for rewriting the film. I do it to show that Baumbach's script does something daring. The big argument comes before the evaluator's testing. After that brutal clash, we see Nicole rehearsing her answers in Nora's office. Moreover, the blundering efforts of Charlie to convince the stiff evaluator he's a good father play out in a lengthy comic scene with some gory sight gags.
A certain amount of suspense remains, I think, but the final cascade of gags works against the emotional pitch of the couple's quarrel. Baumbach has, in effect, risked using an anticlimax to round out the normal climax section of the film. It also serves as a good-natured punishment for Charlie's self-centeredness.
The same daring informs an unusually lengthy epilogue. It's built out of the sort of modules we've seen already. Nicole and her friends and family celebrate her divorce with a party, while Charlie mopes around Manhattan and morosely salutes his play's closing with his troupe in a bar. We might stop there, but Baumbach again does something original (though highly motivated). Charlie, now relocated for a teaching gig in LA, comes to pick up Henry and discovers the boy reading the note about Charlie that Nicole had prepared for the mediator session.
Not only does it reveal the feelings she had suppressed during the session, but the fact that she kept it shows she still harbors affection for that part of her life. Other films surprise us in the epilogue (Citizen Kane, for instance), but Baumbach's use of the memoir in the film's final moments remains a pretty bold, and moving, choice. This stretched and packed epilogue shows Charlie how much Nicole loved him, while also suggesting things that contributed to stifling her. Lines like "He's very competitive" and "He loves being a dad" have a new impact now that we've seen his battle for his son.
In telling this story, Baumbach exploits a larger strategy of what theatre people call continuous exposition. Instead of giving the necessary backstory in a lump at the beginning or middle, major information is sprinkled through the ongoing plot. We're used to it in films that trigger fragmentary flashbacks, filling in backstory bit by bit. Baumbach goes with a more "theatrical" strategy using dialogue to invoke things that happened before the first scenes..
One of the major instances involves Nicole, who breaks down in an embrace with Nora, sobbing that Charlie slept with his assistant. Coming half an hour into the movie, it explains Nicole's bitterness in the mediation session, as well as her larger reappraisal of her life with Charlie. At other points we learn of big events, like Nicole's show taking off and Charlie's long-term settling in LA, in casual conversation, not in extended scenes.
Crucially, in their climactic quarrel, Charlie justifies his affair by accusing Nicole of withholding sex for a year. We can't appraise the truth of this, but it at least fills in a motive that more conventional exposition would have put into the setup. Resisting the temptation to supply flashbacks for all these revelations, Baumbach trusts our memory. That way the new data can color our ongoing understanding of the characters. The opening montages were generous but one-sided, chunks of incomplete exposition that suppressed important motives and behavior.
Continuous exposition is associated with Ibsen and playwrights who followed, but the theatrical patron hovering over the film is Stephen Sondheim. Greta Gerwig's Lady Bird had used Sondheim as a touchstone for ambitious high-school players, but the parallel structure of Marriage Story makes more explicit references, this time to Sondheim's Company. Nicole's party features her and her mother and sister performing  "You Could Drive a Person Crazy," a saucy song about dumping a weak man. Soon in the bar Charlie is singing the yearning "Being Alive."
Maybe a little on the nose (like the movie's title), these citations seem true to the tastes of these show-biz mavens, while suggesting that at least some of Manhattan clings to Nicole in her exile.
Another parallel reminds us of a perennial Hollywood motif. Nicole began her career in a raunchy teen movie but thanks to Charlie's stage shows she became a respected performer. Yet to establish her own identity more fully she agrees to shoot a TV pilot. Marriage Story positions itself between theatre (a little pretentious, but nobly struggling) and TV (dumb and superficial, but high-tech and well-financed). Worse, TV literally defaces Nicole.
Theatre, TV: what about film?
In this story about show-biz LA, movies and references to them are sparse. (I didn't spot any.) So maybe we should take this film itself as standing in for righteous cinema, rather than the teenpic trash Nicole was in. Perhaps Marriage Story offers itself as its own example of the subtlety and risk-taking that cinema can embody. Even when streaming on Netflix.
Muses in the family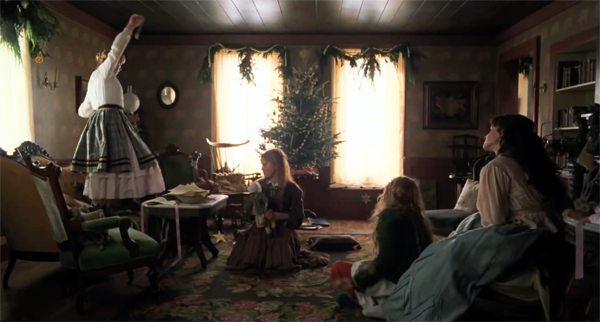 The family saga is one Hollywood genre that doesn't get enough respect. We tend nowadays to celebrate the tough, not tender side of studio cinema. The cult of noir, the abundance of hard-edged action pictures, and the idolatry that trails Tarantino all tend to make us prefer force to gentleness. When families gather, we expect big trouble, if not outright murder (Knives Out). We decry weepies of any sort, and family sagas are often felt to be soft, schmaltzy, womanish. A male friend tells me that Little Women is "a movie about hugs."  When NPR devotes a whole show to it, panelists ponder how to convince men to see it. No wonder the family film has migrated to daytime cable TV.
Yet the family saga is one of the nicest things American cinema does. Two of our greatest masterpieces, How Green Was My Valley (1941) and Meet Me in St. Louis (1944), are prime examples. The Forties were rich in such efforts, including Forever and a Day (1943),  Life with Father (1947), I Remember Mama (1948), The Human Comedy (1943), and Since You Went Away (1944). We ought to recognize as well the strength of later entries like The Joy Luck Club (1993), How to Make an American Quilt (1995), and Soul Food (1997), all trying out some of the fresh approaches to storytelling that were emerging in the 1990s.
And the sentiments informing domestic sagas seep into other genres. The Fast and Furious team, we're told, come to be a family, as do the Avengers. The coming-of-age story, that perennial of indie cinema, inherits the aura of cozy warmth that is central to the family saga. I'd add one of my favorites, We Bought a Zoo (2011), which isn't really a saga but does radiate a comparable warmth.
Although there are probably earlier examples (I think of Vidor's 1924 Wine of Youth), it seems likely that the 1933 MGM production of Little Women furnished an important template. The four March sisters, each drawn to a different art form, are a model for the musically gifted sisters in the fine Four Daughters (1938).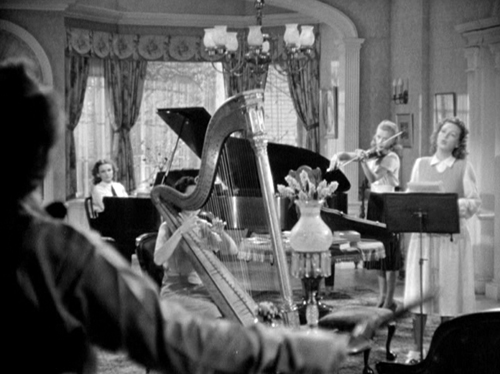 And surely the fact that Katrin in I Remember Mama chronicles the family's daily lives owes a lot to the example of Jo March, aspiring novelist.
The family saga poses at least three creative problems for the filmmaker. Since each family member is likely to confront personal problems (romance, finance, school, job) how do you weave and weight multiple storylines? How do you provide conflict to propel the action? And, since the "saga" comparison suggests development over years or even generations, how do you handle long spans of time cinematically?
Greta Gerwig handles all these problems adroitly in her version of Little Women. I'm going to concentrate on the film, but I'm aware that some of the narrative strategies are taken from Louisa May Alcott's original novel. But much of what's ingenious about Gerwig's adaptation is of her own devising.
Start with storylines. In most such films, the trick is to create a group but then produce a scale of emphasis running from minor figures to the most important one typically, the "first among equals." In How Green, that is Huw, also our narrator; in Meet Me in St. Louis, it's Esther. But the doings of other characters shape the family's destiny and the decisions made by the spotlighted figure. So the activities intertwine.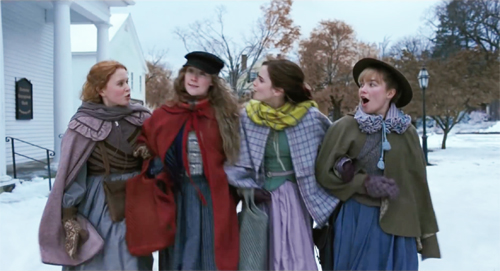 In Little Women, characters shape one another's development. Jo, the first among equals, is nonconformist and self-reliant. Yet she needs steering–from Friedrich, the professor who tries to turn her away from sensation fiction, and more importantly from Beth, who in her sickness urges her to write "our story." They give her the strength to persist and trust her sense of what her writing can be.
On the romance front, Jo's rejection of Laurie's proposal of marriage opens the field for sister Amy, who has already supplanted Jo in the role of amanuensis to Aunt March. When Jo, out of loneliness, decides to welcome Laurie's offer, it's too late: he's married to Amy. The tangled alliances of melodrama get tightly bound in the family saga.
The other sisters contribute to the causal weave of the plot, with Meg's decision to abandon the stage reinforcing Jo's stubborn attachment to her art. More generally, the fates of the sisters dramatize the tension between creative impulse and the social demands of domesticity. Meg wants a family more than fame. Amy, the indifferent painter, can hope only for a good marriage (the same prospect Aunt March makes explicit to Jo).
In family sagas, the siblings are put in parallel. Huw's brothers leave the household, but he loyally stays, and Rose, the mature sister, has more trouble attracting men than the vivacious Esther. Here, Jo's kindred spirit is Beth the pianist, whose playing gives solace to Mr. Laurence in his grief. But illness keeps Beth from fulfilling herself either as artist or grown woman. As for Marmee, we're allowed to catch a glint of Jo's defiance behind the older woman's warmth when she confesses that she's angry every day.
J's main contrast is with Amy. Amy has done nasty things, but she accepts the burden, laid down by Aunt March, of marrying for money, not love, in order to benefit her loved ones. She does this even though, as she reveals in a key scene, she has always loved Laurie and has always felt herself overshadowed by Jo. (Those revelations are also suggested as what leads Laurie to fall in love with her, and not simply as a substitute for Jo.) Even the various suitors get ranged along comparative dimensions of class, strength of will, and temperament.
The need to provide a dense social milieu also creates parallels–here, in terms of good deeds. The Marches are lower middle-class, living on a parson's income, but they share their Christmas dinner with a more deprived family. The primary family is constantly compared to the wealthy Laurences, who are generous and good-hearted. Even Aunt March, who married well and embraced hardheaded principles, wills her mansion to Jo. The contrast with the flinty publishing house and the imperious Dashwood is softened when we learn, surprise, that he has a batch of daughters himself.
What about conflict in the family saga? There's often an external threat–predatory capitalism in How Green Was My Valley, the war in The Human Comedy–but not always a personified antagonist. Often these films have no straightforward villains. Parental error can move the plot, as when in Meet Me in St. Louis Alonzo Smith announces that he's taking a job in New York. And crises are created by misunderstandings or happenstance, most commonly illness. Somebody almost always gets hurt (here, Meg's twisted ankle, Amy's plunge through the ice) or sick (Beth's scarlet fever).
By and large, the conflicts come through romance and sibling rivalry. In Little Women, Meg loves John only somewhat more than she loves fine clothes, so their impoverished marriage nags at her heart. Amy, enraged at not going to the theatre, burns Jo's manuscripts. Jo responds with hatred–until Amy falls through the ice and needs rescuing. Amy later considers marrying a rich nonentity, and instead acknowledges her long love for Laurie–who in turn loves Jo. As in most melodramas, we know more than any one character, so we watch as characters' hopes rise against forces they don't yet realize.
Even without a clear-cut antagonist, the family members can have goals. The March girls start out as aspiring artists, and stretches of the plot are devoted to them developing their abilities. As their goals change, swerving two of them to marriage and maternity, Jo keeps striving toward what we see her doing in the film's very first scene: selling her stories. Her burning desire to write is a major through-line, and it encounters obstacles of many sorts, from the harrumphing Dashwood to the destruction of her manuscripts by Amy. And even Jo, as we've seen, recasts her goals: in offering solace to the dying Beth, she will write "all about us."
That means writing about the family as it changes over time. Our third narrative problem, in other words.
"If I were a girl in a book, this would all be so easy"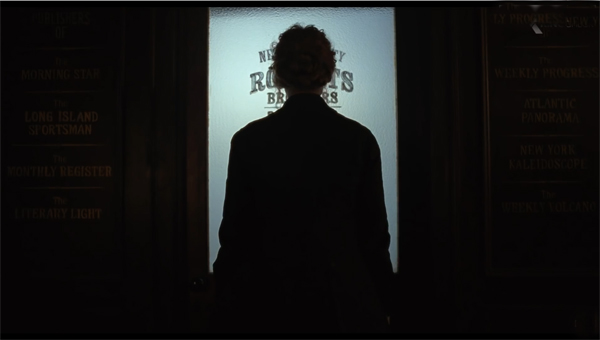 Marriage Story's avoidance of flashbacks makes it unusual nowadays. It's hard to find a movie without at least a few flashbacks. As mysteries, Motherless Brooklyn and Knives Out resort to them to replay scenes with new information. Other films make time shifts basic to their architecture. The Aeronauts uses flashbacks to supply the backstory to an unfolding crisis situation, while Hustlers switches between a contemporary interview and stages in the career of the woman questioned.
The Irishman goes for deeper embedding. The overall frame shows elderly Frank Sheeran in the care facility; the next frame is Frank's trip with Russell Bufalino and their wives to upstate New York, where Frank will kill Hoffa. That trip in turn flashes back to the central story of Frank's career with the mob. I try to show in Reinventing Hollywood that this sort of Russian-doll structure comes to be a major option in American film during the 1940s.
In Little Women, the years of change in the March family are given through alternating blocks. We start in the present, with Jo in New York struggling to get published. She's summoned back to Concord because Beth is ill. Meg is living in poverty with husband John, and Amy is in Paris with Aunt March. For about eleven minutes, crosscutting carries us among the sisters.
This block of exposition is followed by a title, "7 Years Earlier," that sets up the time oscillations we'll get for the rest of the film. In chronological order we follow the sisters growing up. Chunks of scenes from the past, shifting viewpoint among several characters, alternate with briefer scenes of the ongoing present showing Jo's settling back into the family. Sometimes the cuts break the blocks into smaller, interlocking bits, as when we shuttle quickly between Beth's childhood illness and her fatal one years later.
Why split a linear story into two intercut strands? Flashbacks often create a specific sort of anticipation: Not just What will happen next? but What caused the outcome I already more or less know? In the first ten minutes we learn that Laurie proposed to Jo and she refused him; that Amy, not Jo, became Aunt March's traveling companion; that Meg married John, the impoverished tutor. We'll witness the development of all these turning points, and more. We must watch the rise and fall of characters' hopes, knowing they will be dashed. But we also know, from Jo's initial visit to the publishing house, that she will gain some success. This time-jumping gives us another level of omniscience, one that lets us savor the details of emotional scenes whose outcomes we roughly know. We're in the theatre, after all, to enjoy the rapture of pathos.
Instead of tagging each time shift with a date, Gerwig expects us to keep track of the double-entry storylines. She assists us by making story motifs visual hooks between past and present. Silk for a dress, a key, Jo seen writing at a window–these link scenes but also carry dramatic weight in the ongoing action. Other echoes are longer-rang. We're invited to remember contrasting dance scenes (tavern, ballroom, porch), scorched dresses, and piano pieces.
Eventually the past scenes catch up with the present. The fusion comes with the burial of Beth and one more clutch of flashbacks, to Meg's wedding. I take this as the end of the development section. "Childhood is over," Jo says. Back in the present, Jo vows to abandon writing.
Now the present-time action dominates the climax. Grieving for Beth, distraught at Meg's leaving the household, and crushed by the marriage of Laurie and Amy, Jo burns her manuscripts–except for the stories she wrote for Beth. She starts to assemble them and write more.
After a glimpse of Dashwood refusing the manuscript, we see Friedrich come to visit the Marches on his way to California. After he's left for the station, the family claims that Jo obviously loves him.
At this point, in her most daring creative choice, Gerwig retains the crosscutting technique in a way that seems to continue the present/past alternation. Dashwood's daughters have urged him to publish Jo's manuscript. In New York, in a scene that rhymes with the opening passage, Jo negotiates with Dashwood.
Their conversation is intercut with views of Jo rushing to the station to catch Friedrich and ask him to stay.
The epilogue consists of more alternations. We see Jo watching Little Women being printed, crosscut with a party at the school Jo has founded in Aunt March's mansion. There John, Friedrich, and Laurie can be glimpsed as Meg and Amy teach children the arts they had practiced. The celebration ends with a birthday cake presented to Marmee.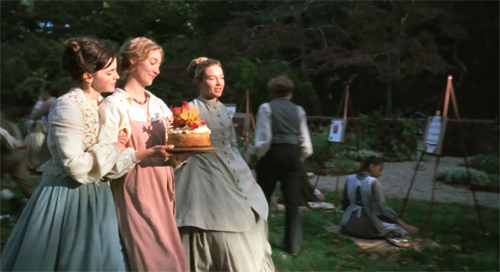 But there's another way to take the final minutes. The alternation isn't tracking two points in time–Jo's rush to Friedrich and a later session with Dashwood–but rather a split between fiction and reality.
We're coaxed to take scene of Jo's pursuit of Friedrich as representing not her own action but the changes that Dashwood demands in Jo's novel. "Who does she marry?" he asks, explaining that a book sells only if there's a marriage. Jo reluctantly agrees. "I suppose marriage has always been an economic proposition, even in fiction." Cut to Jo racing to the station. After the shots of her embracing Friedrich under an umbrella, we're back in the office. Dashwood suggests the chapter title, "Under the Umbrella," and Jo agrees. But in turn she makes demands: "You keep your five hundred dollars and I'll keep the copyright. . . . I want to own my own book."
We've assumed throughout that Jo's book is highly autobiographical, but we've taken what we see and hear as actual events, the living source of a literary text. Instead, the crosscut climax allows a parallel reality to burst forth,  a road not taken. The epilogue yields another ambivalent passage of crosscutting. The school party might be veridical; certainly the family would likely gather for Marmee's birthday. But the scene could as well serve as the fictional epilogue in Jo's book (as it does in the Alcott original).
The true epilogue of Jo's story would then be the moment when she sees her book printed, action that's crosscut with the celebration. Jo gets the first copy. In the last shot, pleasure, apprehension, and determination play across her features. And she's framed in a window, an approximate reverse shot to the image that opened the film (above).
From the start Gerwig has shrewdly foreshadowed the turn to fiction by presenting the film's title, after Jo has made her first sale, not as an inscription on the screen but as the physical book itself. That book is signed by L. M. Alcott. The apparently identical volume that comes off the printing press at the end bears the name J. L. March. Gerwig has let Jo appropriate Alcott's story.
By giving us a double-voiced ending, Gerwig does something quite bold. Little Women becomes something of a "what-if" movie, positing two paths for her heroine. Alcott's Jo had given up a literary career, whereas Gerwig's Jo finds one by writing her own life and adding an optional ending. We're free to think that Jo and Friedrich married and the family became a harmonious whole, as in Alcott's book. A happy ending, we might say, for those who want one. But this film about hugs ends with the heroine hugging not a husband but her novel. Unmarried in life, Jo can marry in fiction, and Gerwig can have it both ways. Narrative lets you do things like that.
I haven't been able to do justice to the intriguing choices made in other films of the season. I appreciate, for instance, the nonlinearity in Kasi Lemmons' Harriet, where the interruptions of present-time action offer Harriet's premonitions of future scenes. This sort of "prophetic" flashforward is rare; usually such passages are presented as omniscient narration, not assigned to characters. But the device does establish Harriet as a sensitive, almost angelic figure, and suggests that her quest to guide slaves to freedom is sustained not just by faith but by holiness.
Still, looking in a little depth at just two major films can make us aware of several choices available to filmmakers at this point in history. As Wölfflin said, "Not everything is possible at all times." But film researchers can usefully trace the flexible menu of options that filmmakers work with, and film viewers come to master.
---
Gerwig has kindly made available a version of the screenplay, which I discovered only after I wrote this. (Thanks, Kristin.) The notations for the final sequences are pretty interesting. The most wide-ranging discussion I've seen of the ending, with plenty of links, is the conversation between Marissa Martinelli and Heather Schwedel in Slate. Among several perceptive reviews, I'd single out the one in Time by Stephanie Zacharek and Richard Brody's review in The New Yorker.
I can't help but think how central crosscutting, that technique pioneered by early filmmakers, is to both of these films. Techniques endure because they open up a lot of expressive possibilities.
Kristin elaborates on arguments for four-part plot structure in Storytelling in the New Hollywood: Understanding Classical Narrative Technique. Extended examples on this site are here and here. I discuss family sagas of the 1940s, along with flashbacks, protagonists, and other narrative techniques in Reinventing Hollywood: How 1940s Filmmakers Changed Movie Storytelling. On 1990s revival of these techniques, see The Way Hollywood Tells It: Story and Style in Modern Movies.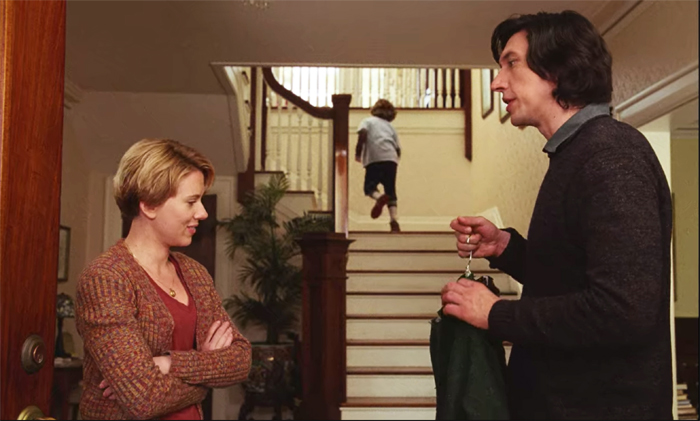 Marriage Story (2019). Is this why the film includes few standing two-shots of Nicole and Charlie?