Sunday | December 1, 2019
open printable version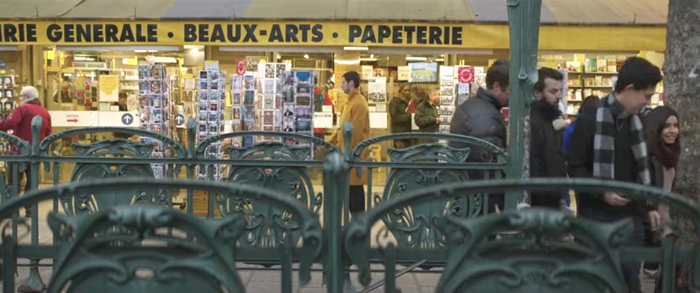 Synonymes (2019).
Kristin here:
After visiting museums on the one free day we allowed ourselves in Turin before the festival began, we launched into viewing films from around the world. Here are three of the best we've seen, to add to the ones David has discussed.
Synonymes (France/Israel/German, dir. Navad Lapid)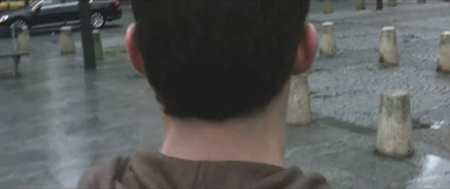 Israeli director Navad Lapid has become a familiar figure for us as we have visited past festivals in Vancouver. We blogged about his Policeman in 2011 and The Kindergarten Teacher in 2014. His latest film raises his profile considerably, having won the Golden Bear at Berlin and had its North American premiere at Toronto. (Ozon's By the Grace of God, which we blogged about from Vancouver, won the Silver Bear.)
Synonymes started with an abrupt chase, with the camera bouncing about as it follows our hero, Yoav, as he dashes through the streets of Paris (above). I was worried that this loose style of shooting would dominate, but Lapid has something more disciplined involved. The unfastened camera is usually used for exteriors, while interiors are made up of static shots.
He arrives at a large empty flat that someone has loaned him, where the heat has apparently been turned off. He proceeds to take a cold shower, and, having neglected to lock the door, he finds his backpack and sleeping bag stolen. He is left naked with no possessions whatsoever. A wealthy young couple from downstairs rescue him from hypothermia and become fascinated with him, taking him in briefly. Émile gives him money, as well as clothes. He holds up a long series of colorful shirts, which he himself apparently never wears, judging from his own muted wardrobe.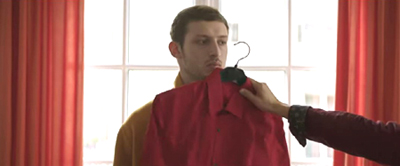 Lapid matches these colors to the decor, especially the distinctive, bright mustard-hued overcoat that Yoav wears through much of the film. The coat makes him easy to spot and marks him as an outsider among the more conventionally dressed Parisians around him (see top).
We soon learn that he is fleeing from his oppressive life in Israel and wants to become a Frenchman as soon as possible, refusing to speak anything but French despite his elementary grasp of the language. (The title comes from his habit, when wandering around alone, of muttering a series of words with similar meanings.)
There's not much of a goal operating here, apart from Yoav's increasingly strained efforts to turn himself into a Frenchman and abandon the violence inculcated into him by his time in the Israeli army. His one conventional job is as a security guard at the Israeli consulate. His violent outbursts and willfully eccentric behavior increase as the film goes along.
The rather episodic film revolves around the driven performance of Tom Mercier, an Israeli theater student who knew no French and, remarkably, is making his film debut here.
Kino Lorber has released Synonymes  (as Synonyms )in North America. For a plot summary and a list of theaters where it has played and will be playing into January of next year, see the company's webpage.
True History of the Kelly Gang (Australia, dir. Justin Kurzel)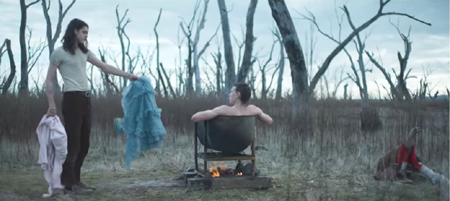 Bushranger films, of which True History of the Kelly Gang is one, are more or less the Australian version of American westerns. The tale of Ned Kelly and his gang is almost a mini-genre in itself, going back to what is claimed to be the world's first feature film, The Story of the Kelly Gang (1906, dir. Charles Tait, partially surviving).
Justin Kurzel adopts a fresh take on the familiar Kelly tale, which is as much myth as fact. He based his film on Peter Carey's novel of the same name, which won the Booker Prize and many other awards. By adding "True" to his title, Carey both acknowledged the fact that he was embroidering the national legend as much as adhering to the facts.
Kurzel does the same. A title appears on the screen: "Nothing you are about to see is true." All of the words besides "true" fade out, and the rest of the film's title fades in beside it. Those of us not steeped in Australian history and culture will not be able to fill in the inauthentic parts, but it doesn't really matter. It's a gripping story nonetheless.
The film opens when Ned is a boy, living with his mother Ellen and siblings in a bleak part of the bush consisting mainly of stubby dead trees (above). Although an honest lad to start with, he is drawn into the family's long-time opposition to the local constabulary and military forces. Despite her fierce love for her family, Ellen sells him into apprenticeship to a putative merchant and herder (played with not quite too much gusto by Russell Crowe). The man turns out to be a highway robber, and Ned is reluctantly pushed toward a life of crime.
The film follows the novel in using a voiceover narration by Ned, reading from a diary purporting to be for his young daughter after his inevitable demise. (In fact the figures of the wife Mary and the daughter are part of the tale's embellishment.) Indeed, we are nearly always in his presence and are led to sympathize with him because almost everyone around him except Mary exploits him.
The film is visually impressive, including some shots that leave one wondering how they were accomplished. At intervals there are fast drone shots above the sea of dead trees as Kelly and others ride horses through the landscape. One shot at night features an immense pool of light from above that moves smoothly with the horseman, keeping him visible as the stark gray trees appear from and disappear into the inky surroundings.
The climactic shootout between Kelly's gang of four men in home-made armor and a large posse approaching from the distant background provides an unforgettable image. The last man standing, Kelly himself, back to camera, fires at a line advancing figures. They appear spread across the screen as tiny white figures–looking distinctly like Ku Klux Klan men in full garb. (See bottom.)
True Story of the Kelly Gang contains considerable strong profanity and violence, which would seem to warrant a risky hard-R rating in the US. Nevertheless, just before the film's world premiere at Toronto, IFC acquired the North American rights to the film for a reported seven-figure sum, bidding against three other distributors. IFC will evidently release it in 2020. (The first trailer has just been posted on Youtube, but there is currently no mention of the film on the IFC website.)
Noura's Dream (Tunisia/France/Qatar, dir. Hinde Boujemaa)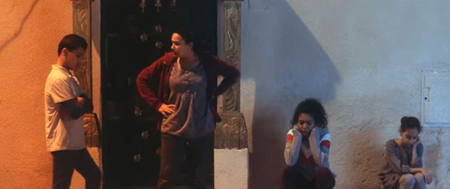 Increasingly female directors working in Middle Eastern and North African countries are gaining a foothold in the international film market. Recent notable films have been Saudi director Haifa Al Mansoor's The Perfect Candidate in competition at Venice and Nadine Labacki's Lebanese film Capernaum, Jury Prize winner at Cannes in 2018.
Tunisian director Hinde Bujemaa's Noura's Dream centers on a woman with three children who is awaiting an imminent divorce from her incarcerated husband, Jamel, so that she can marry her lover, a car-repairman, Lassaad. Meanwhile she is working in a laundry to enhance her government checks and support her family (above).
Though Tunisia is somewhat more liberal than other Muslim countries, Noura still faces traditional prejudices. In the opening scene, an official tries to talk her out of the divorce for the sake of her children–as if living with an abusive criminal for a father is more desirable than having a kinder stepfather.
Jamel is released unexpectedly early, and Noura must live with him for the few days until the divorce is final. She pretends to be considering staying with him, despite the fact that he returns to his criminal activities and abuses his family, at one point throwing them out of the house (above). As Bujemma points out in a Variety interview, however, Jamel is not all bad, not taking the option of betraying to the police Noura's adultery with Lassaad, still a criminal act in Tunisia.
In a way Noura's Dream seems to reflect the considerable impact that Asghar Farhadi's Oscar-winning films have had on other directors in the region. The situation of an impending divorce recalls A Separation, yet Farhadi's films tend to have quiet, "everyone has his reasons" plot arcs with twist revelations and moral ambituities. Here, telling such a story and eager to display the biases against women in Tunisian society. Bujemma takes a more melodramatic approach. Jamel is an unrepentant criminal and Noura is a brave, determined woman struggling to separate herself and her children from him. Lassaad is a decent fellow nevertheless ultimately driven to reject her when she shows no signs of leaving Jamel.
It's a film that effectively builds up considerable sympathy for Noura, played by prominent Middle-Eastern star Hind Sabri, and withholds hope, or possible hope, until the last shot.
Noura's Dream has played several festivals, including Toronto, London, and now Torino and has releases in Europe and its native country, but there is so far no North American distributor.
The Horror Thread
As David mentioned in our previous post, the Torino Film Festival includes a retrospective program each year. This time it was horror films, from Das Cabinet des Dr. Caligari to Roy Ward Baker's Dr Jekyll & Sister Hyde (1971, UK). I fit some of these into my schedule in between the new films.
There were 35mm prints of I Walked with a Zombie (1943, Jacques Tourneur), The Masque of the Red Death (1964, Roger Corman) and The Devil Doll (1936, Todd Browning), among the films I saw. The DCPs of The Body Snatcher (1945, Robert Wise) and The Innocents (1961, Jack Clayton), the latter shown immediately after the former, offered two gorgeous examples of black-and-white cinematography. In all the retrospective included 36 films, many of them probably being viewed by Italian attendees for the first time in their original languages, rather than dubbed versions.
---
We wish to thank Jim Healy, Emanuela Martini, Giaime Alonge, Silvia Saitta, Lucrezia Viti, Helleana Grussu, and all their colleagues for their kind help with our visit.
For more Torino images, visit our Instagram page.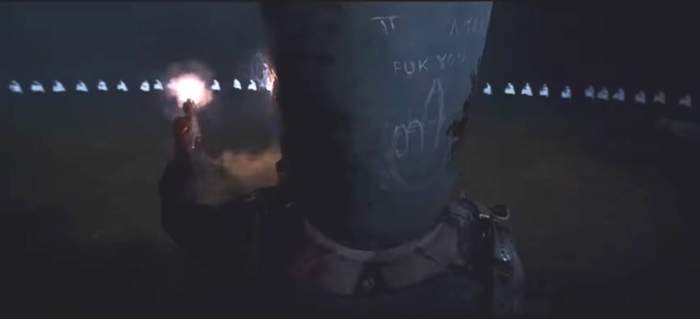 True Story of the Kelly Gang (2019).