Saturday | June 29, 2019
open printable version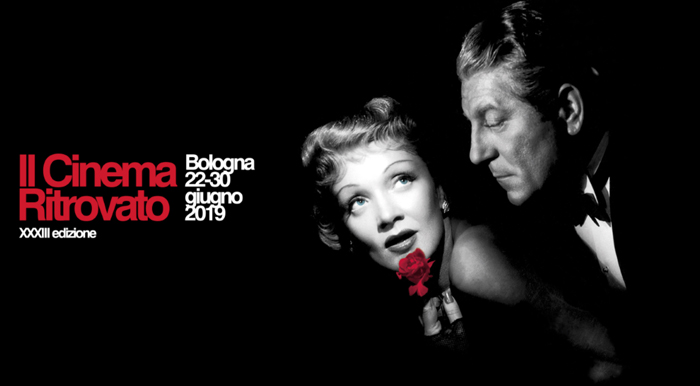 DB here:
Hundreds of films, thousands of passholders, sweltering heat (105 degrees Fahrenheit on Thursday). Dazzling tributes to Fox films, Youssef Chahine, Eduardo De Filippo, Henry King, Felix Feist, silent star Musidora, sound star Jean Gabin, and other themes. Many filmmakers from Africa, South Korea, and Europe, as well as master classes with Francis Ford Coppola and Jane Campion.
Yes, Cinema Ritrovato is on steroids this year.
And as we always say: There are so many tough, indeed impossible, choices. Kristin has been faithfully following the African series, while I've hopped between restored and rediscovered Hollywood classics and the films from 1919. Today I'll report a bit on the latter, with an addendum on a major filmmaker's ave atque vale.
1919 bounty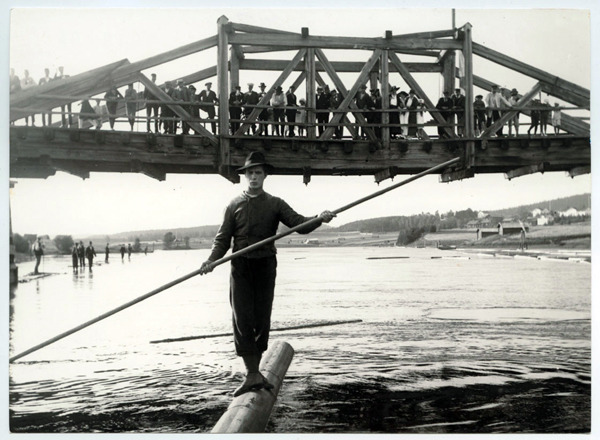 Song of the Scarlet Flower (1919). Production still.
By the end of the 1910s, the feature-length format had become well-established, and a bevy of directors in Europe and America were launching their careers. Abel Gance, Victor Sjöström, Mauritz Stiller, John Ford, Raoul Walsh, Cecil B. DeMille, Lois Weber, Charlie Chaplin, Douglas Fairbanks, William S. Hart, Mary Pickford, and many other figures had already made impressive work. 1919 brought us some outstanding titles. There was von Stroheim's Blind Husbands, Griffith's Broken Blossoms and True Heart Susie, Lubitsch's Madame DuBarry, along with the lesser-known Victory of Maurice Tourneur, the first part of Sjöström's Sons of Ingmar, and the overbearing, delirious Nerven of Robert Reinert.
Bologna showed none of these. Its massive 1919 lineup featured some classics in restorations, notably Capellani's The Red Lantern (starring Nazimova), Dreyer's debut The President, and Stiller's Herr Arne's Treasure. As a sidebar there was the 1919 Italian serial I Topi Grigi, a fun sub-Feuillade exercise in crooks and chases with some nifty shots. And there were a great many fragments and short films from that year, including a Hungarian entry by Mihály (Michael) Kertész (Curtiz).
Less known than Stiller's official classics is The Song of the Scarlet Flower, a wonderful open-air drama about a young farmer's wanderings and his heart-rending romances with three women. In a new digital version, it emerged as one of the most sheerly beautiful films I saw at Bologna. The central action sequence, in which the hero dares to ride a log through rapids to the very edge of a waterfall, gained even greater tension thanks to the swelling orchestral score by Armas Järnefelt–the only original score to be preserved for a Swedish silent.
1919, German style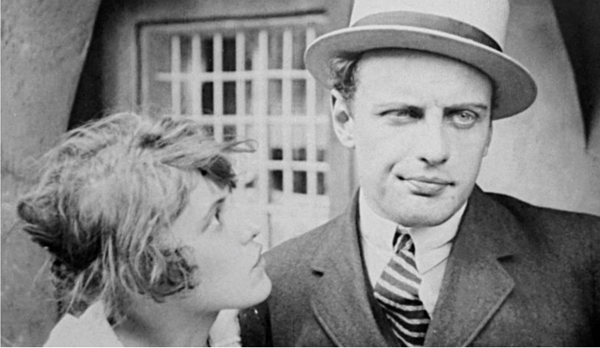 Der Mädchenhirt (The Pimp, 1919). Production still.
Then there were two remarkable German films unknown to me, both by directors better known for later work. Der Mädchenhirt (The Pimp) was by Karl Grune, most famous for The Street (Die Strasse, 1923). The plot follows a shiftless young man who casually becomes a pimp and pulls women into prostitution. Introducing the film, Karl Wratschko pointed out that many Weimar films warned of sexual misbehavior, and certainly the young hero of this film gets ample punishment for his sins.
Stylistically, Der Mädchenhirt was typical of much European cinema of the late 'teens, when the tableau style, which promoted intricate staging with few analytical cuts, was losing force. Grune mostly handles action in ensemble shots broken up by axial cuts to closer views. If German filmmakers weren't quite as editing-prone as other European directors, that may be because they didn't have access to American models. Not until January 1920 were Hollywood films of the war years imported into Germany.
Another film carried this moderate continuity style to an intriguing extreme. Tötet nicht mehr! (Kill No More!) framed a plea against capital punishment within a family drama. Sebald, the son of a by-the-book prosecutor, falls in love with the daughter of a former prisoner. When Sebald is cast out by his father, the couple take up a theatrical career playing Pierrot and Colombine. But then Sebald blocks the theatre director from seducing his wife, so the director blackballs them and they can't get work in other shows. Visiting the director, Sebald quarrels with the man and kills him. He's arrested, tried, and sentenced to death.
Tötet nicht mehr! displays some remarkable visual qualities. Cross-lighting in the climactic prison scenes sculpts Sebald, the priest, and the lawyer Landt in a bold variety of ways.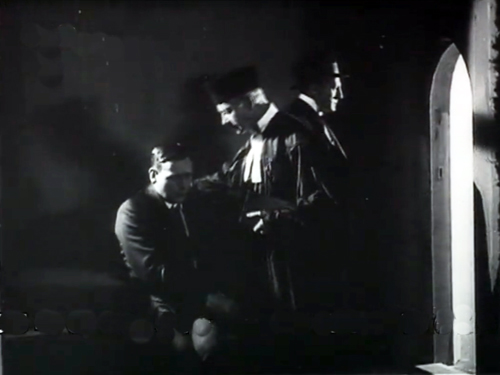 Director Lupu Pick (Sylvester, 1924) uses this dramatic lighting to enhance the tableau-plus-axial-cut approach. The police are examining the crime scene and questioning Sebald. A depth composition gives us the corpse in the lower foreground, the detectives in the middle ground, and way in the back, the barely-visible face of Sebald perched between the shoulders of the two central men.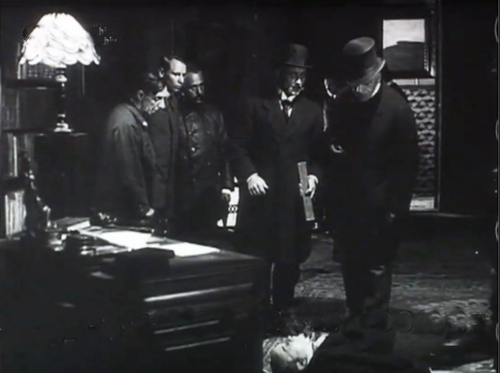 One detective walks to the distant background to question Sebald. Anybody else would have staged this bit of action in the better-lit zone on the left, where a detective talks with his colleagues. Instead, far back, a single pencil-line of light picks out the edge of Sebald's face and body.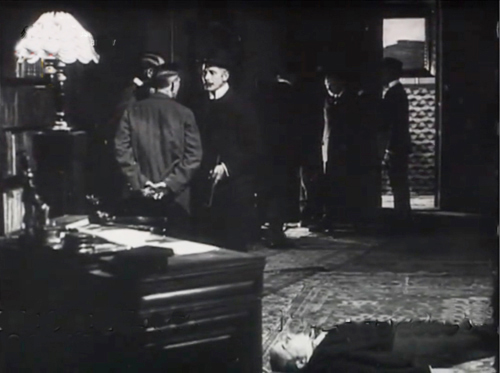 An axial cut-in presents a tight two-shot of the cop and Sebald–again, made stark and tense by the lighting.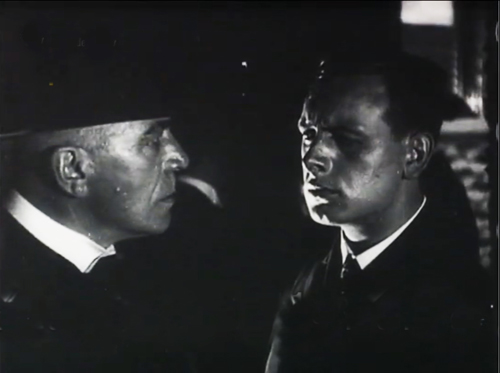 The plot of Tötet nicht mehr!  is a generational one, starting with the tragedies befalling the woman's father. These scenes introduce the sympathetic lawyer Landt, who tries to help the family throughout its troubles. Landt becomes the vehicle of the film's message against capital punishment, which gets full airing in the boy's trial.
In the films of the 1910s, courtroom scenes tend to be more heavily and freely edited than others. This is largely because of the need to cut among judges, jury, witnesses testifying, lawyers pontificating, and the onlookers. Pick exploits the situation with dozens of shots of participants. We also get optical point-of-view shots showing Sebald awaiting the jury's verdict by staring at the doorknob of the jury room. There's even a "lying flashback," which dramatizes the prosecutor's inaccurate reconstruction of the quarrel that led to the crime.
Most impressive, I think, is the pictorial progression in Landt's impassioned plea to the jury to let Sebald escape execution. Among many reaction shots and reestablishing framings, Landt is rendered in increasingly close shots as he addresses the judges and the jury–and us.
The textural lighting and the ruthless elimination of the background reminded me of the trial scene of André Antoine's Le Coupable of 1917, run at an earlier installment of Ritrovato.
There were plenty of other 1919 films on display, several of which I have yet to see. But this should give you an indication of the service that Cinema Ritrovato continues to render to the cause of understanding film history.
Not so long ago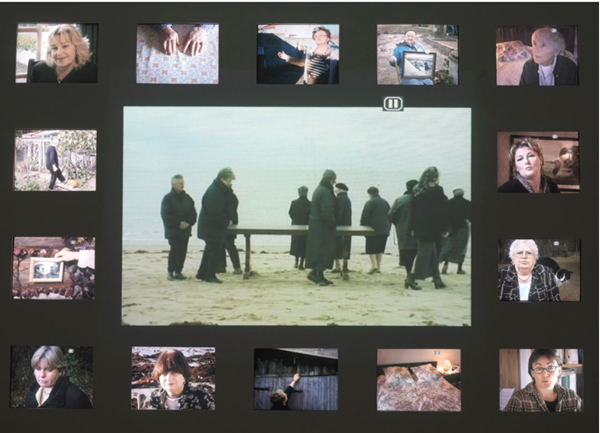 The Widows of Noirmoutier (2006).
Film history close to our time was the subject of Varda par Agnès, the filmmaker's last statement on her career. Prepared during her final years of life and produced by her daughter Rosalie Varda, it's a poignant and revealing account of what mattered to her in her work. It showed Varda's wry, playful humor and her commitment to treating social issues in intimate human terms. It's a body of cinema that grows ever more important each year.
Varda par Agnès also showed her characteristic sensitivity to overall form. It's framed by bits of her talking to audiences in master classes, so she becomes the narrator. Some stretches are chronological, going film by film, but just as often the links are associational. The  women of Black Panthers (1968) remind her of the abortion activists of One Sings, the Other Doesn't (1977). That's about the friendship of two women, which suggests by contrast a film about a woman alone, Vagabond (1985). The beach of Vagabond summons up the plenitude of Le Bonheur (1965). And so on.
This might seem rambling, but it's not. Varda explains that she often conceives her films with a strict structure–the strung-together tracking shots of Vagabond, the tight time frame and spatial coordinates of Cleo from 5 to 7 (1962). Varda par Agnès splits about halfway through, flashing back to Varda's early still photography and adroitly linking that to her emergence as a "visual artist."
She began mounting expositions like L'Îl et Elle, which housed cinema cabins (big transparent cubes made of ribbons of 35mm film) and Widows of Noirmoutier. Around a central image of collective grief, small screens show women sharing the everyday details of life without a partner. In just this clip, it's almost unbearably touching. Apart from the resonance with Varda's devotion to Jacques Demy, I was reminded of Chekhov's line: "If you're afraid of loneliness, don't get married."
We've been so busy with films, and queueing for films, that we've had little time to blog about our visit. Later entries will have to come after we've left Cinema Ritrovato.
---
Thanks as usual to the Cinema Ritrovato Directors: Cecilia Cenciarelli, Gian Luca Farinelli, Ehsan Khoshbakht, Marianne Lewinsky, and their colleagues. Special thanks to Guy Borlée, the Festival Coordinator.
The complete score for Song of the Scarlet Flower is available on CD and streaming.
For Varda's last visit to Cinema Ritrovato, go here. We discuss Varda's career and Kelley Conway's in-depth study of it here. See also Kelley on Varda at Cannes. A forthcoming installment of our Criterion Channel series is devoted to Vagabond.
For more on the stylistics of 1910s films, see the category Tableau Staging. I discuss The President in the Danish Film Institute essay, "The Dreyer Generation."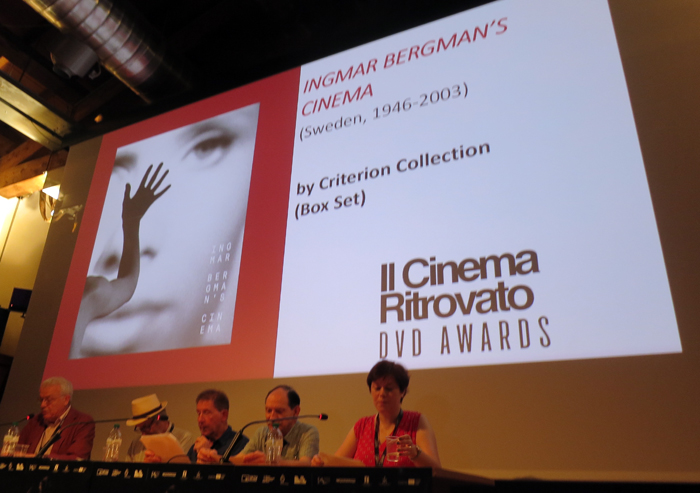 The Criterion Collection's magnificent Bergman collection wins Best Boxed Set at the annual DVD awards, Cinema Ritrovato 2019. Congratulations to producer Abbey Lustgarten and all her colleagues!