Tuesday | February 19, 2019
open printable version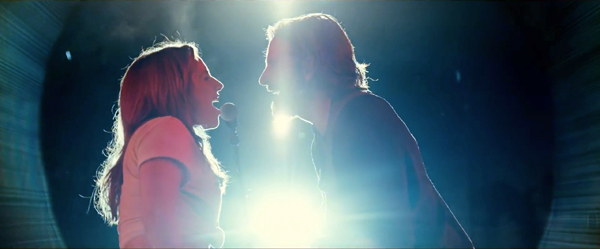 A Star Is Born.
As you probably know, Jeff Smith has been our collaborator on Film Art: An Introduction and our Criterion Channel series "Observations on Film Art." For the last few years (here and here and here), Jeff has offered his thoughts on the Academy's music nominees. This time around, he concentrates on the songs.
Here's a brief preview of the Best Original Song category in this year's Academy Awards. I also include a prediction for this year's winner. Of course, I'd be the first to admit I don't even win my own Oscar pool. So you'll want to take that into account before making any wagers.
A good old-fashioned tune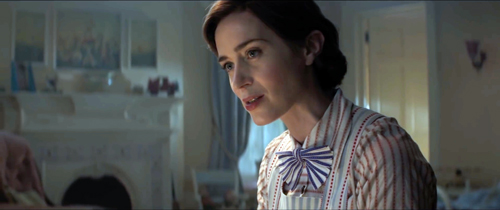 Mary Poppins.
The Academy has a long history of nominating songs from live action and animated musicals. This year is no exception.
"The Place Where Lost Things Go" from Mary Poppins Returns fits that bill, giving Disney a third straight nomination in this category. ("Remember Me" from Coco and "How Far You'll Go" from Moana are the others.) Like the Sherman Brothers, who wrote songs for the original Mary Poppins, Marc Shaiman and Scott Wittman derived inspiration from British Music Hall.
In fact, although actor Lin-Manuel Miranda insisted that he didn't want his character to sound like Hamilton, Shaiman and Wittman wrote a patter section of "A Cover is Not a Book" for him, enabling Miranda to show off his unique skill set. With its tricky wordplay and fast pace, the classic patter song is a forerunner of the rhymes spat by rap and hip-hop artists. As Shaiman noted, "So we got very lucky there because we didn't want to feel like we were pandering to the audience, to supply Lin with rap that would seem anachronistic."
"The Place Where Lost Things Go" sits on the opposite side of the musical spectrum as a soft, mid-tempo ballad scored for strings and winds. Fans of the original Mary Poppins will note that it bears more than a faint resemblance to "Stay Awake." Both songs are sung to the Banks children at bedtime in an effort to inveigle them to sleep. Whereas "Stay Awake" shows the über-Nanny using reverse psychology, "The Place Where the Lost Things Go" is a paean to memory, loss, and grief. The children's mother has recently died and they further risk losing their beloved house. Mary Poppins reassures the children that they will be reunited one day with all their loved ones and that, in the meantime, their mother will forever have a place in their hearts.
The number is beautifully sung by Emily Blunt and it captures the sense of melancholy that gives Mary Poppins Returns its emotional heft. Still, it seems like a long-shot to take home the award. I admire Marc Shaiman's work. He has written some absolutely iconic scores in the past, like The American President. And I'd love to see him recognized this Sunday, even if it is just for his phenomenal work on South Park: Bigger, Longer, and Uncut. But I fear that an Oscar statuette with his name engraved upon it is also in the place where the lost things go.
When corn meets pone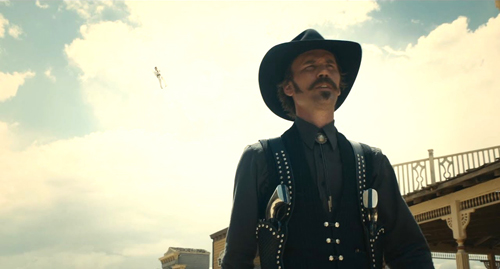 The Ballad of Buster Scruggs.
The second nominee is David Rawlings and Gillian Welch's "When a Cowboy Trades His Spurs for Wings." It appears in the comically violent opening story of the Coen Brothers' The Ballad of Buster Scruggs. It is sung as a duet by the titular character and the Kid, a mysterious gunslinger dressed in black. Buster has just been shot dead in a duel. In the song, the Kid imparts some lessons learned from his short, rugged life as a cowboy with Buster chiming in to provide harmony. Kid's grimly acknowledges that he will suffer the same fate as Buster. It is just a matter of time.
Rawlings and Welch are long-time collaborators, having worked together on the former's debut album. Rawlings has also produced albums by Welch and by Willie Watson, who plays the Kid. Adding to the sense of family reunion is the fact that Welch provided the voice of one of the Sirens in O Brother Where Art Thou? Among those enchanted by the Sirens? You guessed it – Tim Blake Nelson, who plays Buster.
In an interview in Variety, Welch describes the absurdity of the original pitch the Coens made to her and Rawlings:
It was a pretty straightforward thing: "Well, we need a song for when two singing cowboys gun it out, and then they have to do a duet with one of 'em dead. You think you can do that?" "Yeah, I think we can do that," she laughs.
In crafting the song, Rawlings and Welch pull off a rather neat trick. They've created something evocative of the "singing cowboy" films that inspired the first segment of The Ballad of Buster Scruggs. Yet is also connects with a larger tradition of mournful ballads that are part of folk and country music history. A lilting Texas waltz, the number is sparsely orchestrated, relying largely on guitar, harmonica, and vocals. The lyrics also make reference to a "bindling sheet." As Welch noted, the word "bindling" was something she and Rawlings made up as a gesture toward the Coens' fondness for anachronistic language. Yet it also works as a clever allusion to the "white linen" that is wrapped around a dying cowboy's body in "Streets of Laredo."
As was the case with Mary Poppins Returns, this song perfectly blends music and narrative, beautifully capturing the darkly humorous sensibility characterizing the Coens' career. The lyrics are solemn, but Tim Blake Nelson's yodeling lightens the tone to keep it from seeming maudlin. If I had a vote to cast, this is where I'd put it. Yet my gut tells me that the Academy's beacon will shine on one of the other nominees.
A song for one of the Supremes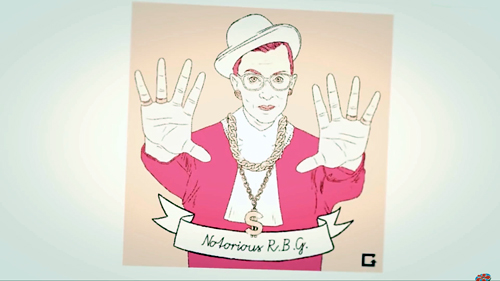 Notorious RBG: The Life and Times of Ruth Bader Ginsburg.
The third nominee, "I'll Fight," was written by Diane Warren, a longtime Academy favorite. The song represents Warren's tenth nomination, but she has never taken home top honors. This year, in an ironic twist, she may lose out to former co-writer Lady Gaga. (The two were nominated for "Til It Happens to You" in The Hunting Ground.) Warren admits that "I'll Fight" is another of her "call to arms" songs as she has turned more of her energies toward films that support social causes.
One can easily make a solid prima facie case for "I'll Fight" as the song to beat. It features a strong, soaring vocal performance by Jennifer Hudson, a previous Oscar winner for Dreamgirls.
Warren's melody and lyric capture the inspirational vibe that is found in several previous winners, most recently "Glory" from Selma. And, of course, Warren herself seems long overdue.
Even so, "I'll Fight" has a number of things working against it. It is featured in a documentary, and documentaries usually don't get the exposure of more mainstream releases. It appears over The RBG's closing credits, which mostly restricts the song to a summative function. And, unlike "All the Stars" and "Shallow," the song failed to chart, an indication that it didn't get much exposure in the music marketplace. I feel confident that Warren's opportunity to make an acceptance speech will come someday. But on Oscar night, she'll once again be the "bridesmaid" rather than the "bride."
The battle of the titans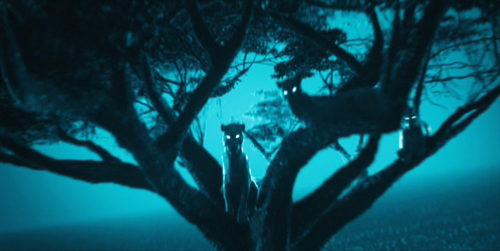 Black Panther.
For me, the race comes down to the remaining two nominees: "All the Stars" from Black Panther and "Shallow" from A Star is Born. Both tracks have gotten extraordinary exposure outside the films in which they appeared. The former was a chart hit in 25 countries, garnering steady radio airplay and thousands of streams and downloads in the process. The latter arguably did even better, charting in 40 countries, selling nearly 600,000 downloads and accruing almost 150 million streams. Both songs are fueled by star power: hip-hop sensation Kendrick Lamar for "All the Stars" and pop diva Lady Gaga for "Shallow."
Lamar has just the right profile to woo Academy voters, even those in the music branch for whom "big beatz" and "flow" seem like foreign concepts. He has won thirteen Grammy Awards as well as the 2018 Pulitzer Prize for Music, becoming the first artist to do so from outside the domains of classical and jazz music. Billboard even compared Lamar to Shakespeare.
Although some music critics argue that "All the Stars" is not entirely typical of Lamar's and SZA's respective styles, it does fit beautifully with the overall vibe of Ryan Coogler's pathbreaking film. The song begins with loping rhythms, electronic textures, and auto-tuned vocals. When Lamar drops the beat in the chorus, "All the Stars" gains intensity thanks to the layering of additional synthesizers and SZA's melismatic topline.
The overall effect is one that neatly draws together Black Panther's principal settings, being equal parts Wakanda and Oakland. The tension in the lyrics between the sung choruses and Lamar's linguistic turns also restages the film's central conflict: Prince T'Challah's policy of peaceful co-existence vs. Killmonger's thirst for violent world revolution. Appearing over the end credits, the number also works brilliantly with the shifting lines, shapes, and textures of the sequence's graceful animation.
Lady Gaga, of course, supplies "Shallow" with its vocal fireworks. But she shares her nomination with three other collaborators, all of whom cut pretty large figures in the world of popular music.
Chief among them is superproducer Mark Ronson, who twirled the knobs on Gaga's fifth album, Joanne in 2016. Ronson is perhaps best known for his smash hit, "Uptown Funk." Yet, Ronson had already won three Grammy's for his production of Amy Winehouse's Back to Black long before he gave us his Bruno Mars earworm. Besides his production work for Gaga, Winehouse, and Mars, Ronson has collaborated with a "who's who" of current stars and pop music legends: Adele, Lily Allen, Miley Cyrus, Kaiser Chiefs, Chance the Rapper, Janelle Monae, Duran Duran, Nile Rodgers, and Paul McCartney.
One of Ronson's other songwriting partners, Anthony Rossomondo, shares the nomination for "Shallow." Rossomondo is a guitarist and trumpet player who was a founding member of Dirty Pretty Things and toured with the Libertines as Pete Doherty's replacement. Fans of British television might also remember Rossomondo as Pete Neon in The Mighty Boosh, the surrealist comedy series about a pair of failed musicians working in an alien shaman's magic shop.
Rounding out the quartet of songwriters is Andrew Wyatt, still another songwriting partner of both Ronson and Gaga, who also penned tunes for Mars, Lil' Wayne, Beck, Florence + the Machine, and former Oasis bad boy, Liam Gallagher. Wyatt also has previous experience writing for film. He composed four songs for the Hugh Grant/Drew Barrymore romantic comedy, Music and Lyrics, including the wonderful pastiche of eighties New Wave, "PoP! Goes My Heart."
With so much musical talent on board, it is hard to see how "Shallow" could miss. Yet the song's many virtues are enhanced by its perfect placement in the story. It was a lot to expect that one song could deliver something that a) pays off the romantic sparks of Ally and Jackson's initial flirtation; b) signifies Ally's leap of faith as she returns to the stage to complete Jackson's arrangement of her song; and c) convince the audience that Ally could legitimately be the proverbial overnight sensation of the film's title. "Shallow" delivers on all that and more.
The song begins with Jackson singing, "Tell me something, girl." The first verse is sparely arranged for just voice and acoustic guitar. Jackson essentially baits Ally into claiming a spotlight he believes is rightfully hers. When Ally comes on stage, she begins the second verse in the lower part of her vocal register, adding a husky sensuality that captures the slow-burn of the couple's simmering passions. Piano, violin, and pedal steel guitar slightly thicken the arrangement while maintaining the relatively soft dynamic level. An octave leap leads into the chorus, which Ally belts out with newfound confidence.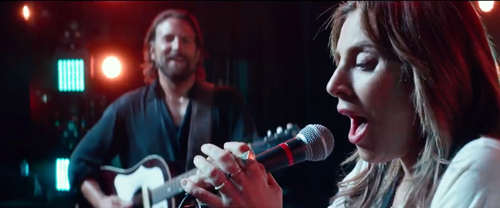 The lyrics serve as a metaphor for the character's personal journey, her willingness to take the emotional and professional risks that Jackson had encouraged. This is Ally's moment of self-realization. Yet it also foreshadows the relationship's failure by previewing a future in which her stardom will overtake his.
This is followed by Jackson and Ally finally harmonizing together on the phrase, "In the shallow, the sha-ha-low." Their voices blend, suggesting the consummation of their romantic connection onstage, if not yet in bed. Ally follows with a kind of vocal cadenza. No longer bound by lyrics, she sets free the "yargh" in her voice that rock critic Greil Marcus famously ascribed to Van Morrison's Irish soul.
The addition of drums and bass enhance the big crescendo that leads into the final chorus. Jackson joins Ally at her microphone and the two finish the song with a final duet. The song is in G major, but ends on an E minor chord, another subtle hint of the sadness that ultimately consumes couple's relationship.
As an Oscar nominee, "Shallow" has a lot to offer. It is a duet between a major movie star and a major star of the recording industry. It not only pays off a previous dangling cause, but also foreshadows later plot developments. Best of all, it takes the audience on an emotional journey that symbolizes the characters' story arcs in microcosm. If the snatch of "Shallow" heard in the A Star is Born trailer proved surprisingly meme-worthy, the full performance of it in the film was indelible. Moreover, in a cheeky bit of self-mythologization, it invites viewers to consider "Joanne," the flesh-and-blood being that sits just behind the Gaga mask.
Prediction: "Shallow"
I likely tipped my hand earlier, but I fully expect Lady Gaga and company to add Oscar to the Grammy and Golden Globe they've already won. If that happens, I'll be content with the result, even if the memory of Tim Blake Nelson and Willie Watson's duet tickles me every time I think of it. I've enjoyed Mark Ronson and Lady Gaga's music for more than a decade. And if nothing else, an Oscar for Andrew Wyatt will balance the scales of justice. Back in 2008, I felt Wyatt was robbed when he failed to secure a nomination for a song Billboard called "the greatest fake 80s song of all time." Well, if I see Wyatt clutching an Oscar come Sunday, you'll hear a little PoP! go in my heart.
---
For an alternate take on this year's music nominees, a real pop star from the eighties, Thomas Dolby, offers his perspective here. A report on a panel discussion at the Los Angeles Film School featuring several of the nominees can be found here.
Marc Shaiman and Scott Wittman talk about their work on Mary Poppins Returns here and here.
Gillian Welch discusses working with the Coen Brothers on The Ballad of Buster Scruggs here and here.
Diane Warren offers her perspective on writing "empowerment anthems" here and here.  A deep dive into Warren's career can be found on a Hollywood Reporter podcast featuring the 10-time Oscar nominee.
Finally, much ink has been spilled about the process of writing "Shallow" for A Star is Born. You can read more here  and here and here and here.
Jeff Smith has provided us many guest blogs related to film music, most recently his discussion of the score for True Stories.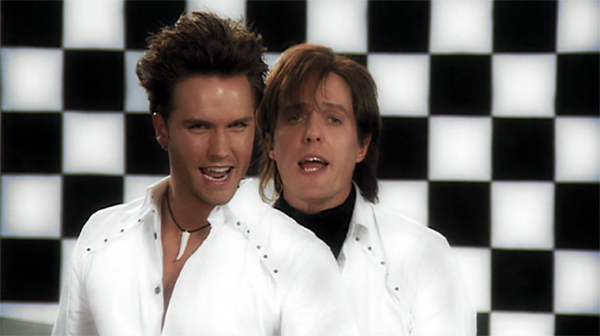 Music and Lyrics (2007).