Wednesday | June 29, 2016
open printable version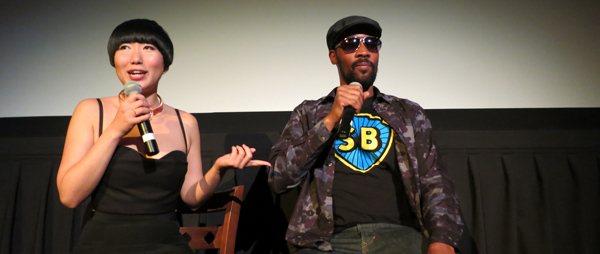 Aliza Ma and RZA at Metrograph, introducing screenings of Five Element Ninjas and House of Traps.
DB here:
We're about to leave NYC after three months. I'll miss all the movies and museums and food and friends, but I won't miss the noise and congestion. I especially won't miss the obliviousness of New Yorkers on the pavement–frowning into their cellphones as they nearly collide with you, steering baby assault vehicles as big as WW II half-tracks, and letting their longleashed pooches stray across streams of pedestrian traffic (there but for the grace of dog go I).
Okay, no more geezer complaints. Remarkable, the calming influence of an onion bagel with lox and cream cheese.
Our last days here have been really busy. Kristin gave a talk to the Egyptological Seminar of New York, "Beyond Thutmose: The District of Sculptors' Workshops at Amarna" at the Metropolitan Museum of Art on Thursday. On Friday, I participated in a Film Comment podcast with critics Violet Lucca and Nick Pinkerton. We had a good time, talking about my book The Rhapsodes and other stuff. Here they are afterward in the Film Center.
Speaking of The Rhapsodes, Saturday I went to the Museum of the Moving Image in Astoria, where David Schwartz had mounted a four-film series tailored to the book. The first screening, Citizen Kane in a nice 35mm print, brought out a fair number of people.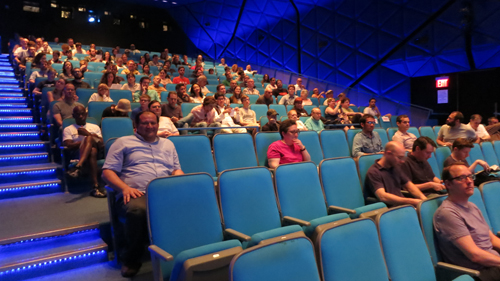 Several people told me it was their first viewing of the film on the big screen, and indeed scale helps with this movie. It becomes more looming, from that screen-filling title onward, and you can see little details cunningly embedded. I noticed a couple of new items that I may write about later this summer. (Early in our stay, I already did a Welles birthday tribute here.) You always find more filigree in Kane; it looks forward to all our modern movies with in-jokes and Easter Eggs.
After Kane and a book signing (thanks, customers), I rushed off to Metrograph, a new venue with a consummate programming policy. There I met Aliza Ma, Jake Perlin, and their colleagues before catching the Chang Cheh double bill curated by none other than RZA of the Wu-Tang Clan. You see him with Aliza, in Scope of course, at the top of today's entry.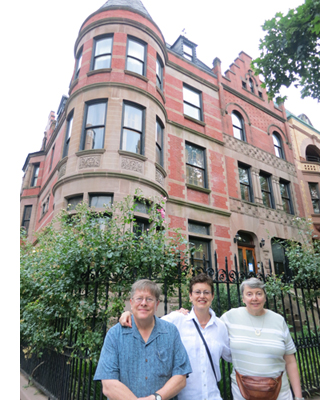 On Sunday I caught up with Subway Cinema/ NY Asian Film Fest co-founder Goran Topalovic and critic-filmmaker Eddie Mullins (Doomsdays) at a wonderful Serbian restaurant. Much talk of Hong Kong film, of course.
Later that day, after seeing Hong Sangsoo's latest, we had a late dinner with 125% cinephile Michael Barker, Co-President and Co-Founder of Sony Pictures Classics. Amidst talk of great 30s and 40s films, we learned that SPC is gearing up several new releases, notably the Cannes hit Toni Erdmann for December.
During my stay, The Rhapsodes came out and got several reviews already. It just picked up another, a wide-ranging, idea-packed discussion from one of Cinema Scope's best writers, Andrew Tracy.
Our last nights have been devoted to catching up with friends we've missed in earlier weeks. Above are Jerry Carlson and Deb Navins with Kristin in front of the Royal Tennenbaums house in their neighborhood. Below is a shot of Kristin and me with my college friend, film publicist and director's representative Lucius Barre.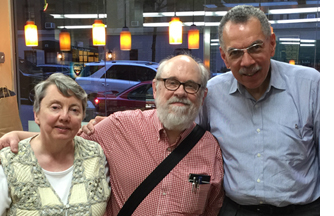 Our time here has just flown by. I finished a decent-ish draft of my 1940s book, but I haven't done as much on other projects as I'd wished. I did, though, give talks at the Columbia Seminar on Cinema and Interdisciplinary Interpretation (thanks, Bill Luhr, Cynthia Lucia, and Krin Gabbard), Sacred Heart University (thanks, Sid Gottlieb and Sally Ross), Tufts University (thanks, Malcolm Turvey), Videology (thanks, Erik Luers and Austin Kim) and the 92nd Street Y (thanks, Alicia Harris-Fernandez). Going Upstate, as we New Yorkers call it, I gave the James Card Memorial Lecture at George Eastman Museum (thanks, Paolo Cherchi Usai and Jared Case), did some film viewing there, and visited the annual conference of the Society for Cognitive Studies of the Moving Image. No less fun: I met Paolo Gioli at the Harvard Film Archive (thanks, Haden Guest; blogged here) and re-met Terence Davies at MoMI (thanks, David Schwartz; blogged here).
And to round things off, my blog entry on Edward Yang's A Brighter Summer Day is now available in Chinese here. Thanks to Jiahan Xu.
When I get back to Mad City, I must buckle down and revise the 40s book and, I hope, write a blog on types of film criticism today. Also, too: at our Cinematheque, another series dedicated to The Rhapsodes. (Yeah, the PR steamroller is relentless.) I'll give an introductory talk and introduce the movies.
Is it lunchtime yet?