Monday | April 27, 2015
open printable version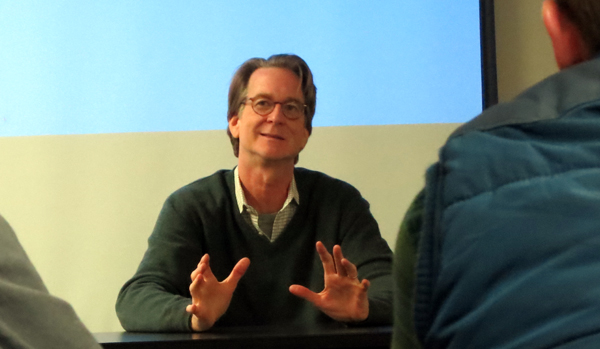 DB here:
Regular visitors will know of my interest in David Koepp, screenwriter (Jurassic Park, War of the Worlds) and director (Ghost Town, Premium Rush). In 2013 I wrote an entry based on a long interview he kindly gave me.
Back in March of this year, David visited UW—Madison. It's not strictly his alma mater; he left us to finish up at UCLA. Still, he retains ties to Wisconsin and recalls that while he was here he was inspired by our vast film society scene and some courses in the film and theatre departments. Across 2 ½ days he shared his experiences in a variety of settings, including Q & A's after screenings of War of the Worlds, The Paper, and Ghost Town.
David is a craftsman who thinks about what he does. I'd call him an intellectual screenwriter if I didn't think that made him sound more cerebral and austere than he actually is. He's a vivacious, articulate presence: a born teacher, endowed with wit and good humor. During his visit he threw out plenty of ideas. Some are valuable for aspiring screenwriters, and others are intriguing guides for those of us who study movies.
Career paths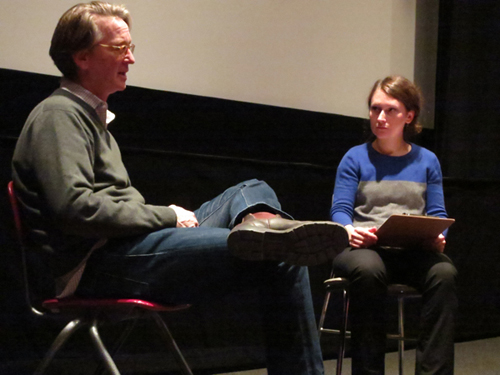 David Koepp and Maria Belodubrovskaya, 12 March 2015.
Starting out: If you want to write screenplays, a post at an agency isn't ideal. It will, though, help you if you want to become a producer. Likewise, writing coverage can sensitize you to story, but it's usually not the best route to becoming a screenwriter. It is a good path to becoming a creative executive.
Try to find a job that lets you write every day. A physically exhausting job makes you want to come home and zone out at night, when you should be writing.
Working from models: David learned a great deal from Kasdan's Body Heat script. He recommends reading the first page of Hemingway's novel To Have and to Have Not for a strong example of how character and story can co-exist and both start with strength and urgency.
David also urges writers to study plays, especially modern works by Tennessee Williams and Arthur Miller. [In the discussion, I failed to sell Chekhov as an alternative.]
Prepare for ups and downs, no matter how far you advance. Failure can encourage you to quit, but failure is endemic to the job and must be confronted the way an athlete learns to deal with injury. You must be resilient. "It's dealing with failure that defines you as a person."
Creative failures are, oddly, easier to handle if you're directing because then the decision was yours. You understand how and why the mistakes were made. It's harder to live with when you feel your script was in perfectly good shape and a director screwed it up or failed to express it clearly.
Maintaining a career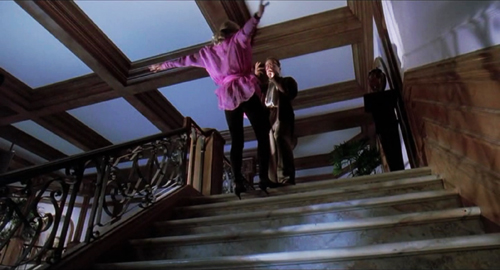 Death Becomes Her (1992).
"The first responsibility of an artist is to pay your rent."
"Your ideas are your currency." Talking about your script too much is a mistake. Keep your ideas to yourself as long as you can; otherwise you lose the need to write the script.
The time to talk is at the pitch meeting. It's a bit disagreeable, but it forces you to have a clear-cut plot. "Until you tell it, you probably don't have meaningful command of it." Practice once or twice with a friend before the pitch, but not so many times that it becomes rote.
"Everything after the word no is white noise."
Your first collaborator is the producer. Take seriously the problems he or she points out, but don't automatically accept the solutions offered. Other voices are there to raise questions and point out problems, but not to solve them. Don't let them take that job away from you; you'll lose your voice.
The trick is to get your vision into the screenplay so that the director and the producer see it as you do. A good script is "all about clarity." You can't include camera directions, but every page should have a strong, simple image, briefly expressed. For example, in Death Becomes Her, Meryl Streep is teetering at the top of the stairs, before her husband pushes her down them. The script says: "She hovers there, like Wile E. Coyote at the top of a cliff." It wasn't a camera direction, but it called up a certain style in the mind of the reader, and, eventually, the director.
Read your dialogue out loud, playing all the parts.
Be prepared to have to write some things by committee, but, again, listen to the problems pointed out and think about the suggestions. But never let them fix your problems or take command of your story for you. It will lose its distinctiveness. The adage is: "No one of us is as dumb as all of us."
The creative process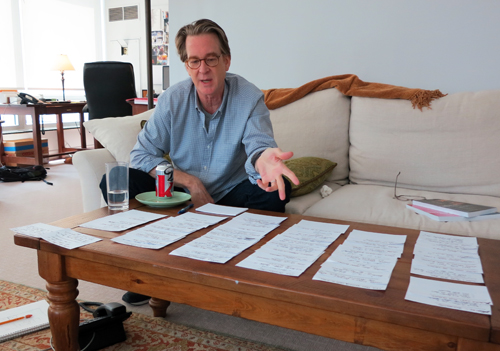 "Appeasing the audience gods": Who will want to see your story?
The writer's trance: "You get lost in it if it's going well."  Play music, especially soundtracks to movies with a similar feel.
David's steps:
*Thinking: "collecting string," coming up with ideas on your own.
*Research: reading, interviewing, going on site. For The Paper, David and his brother visited a newsroom and got stories from journalists.
*Outlining: 3 x 5 note cards consisting of the obligatory scenes ("small, unintimidating chunks of story"). The cards can be arranged into five or so columns, corresponding to beginning, middle, and end. The card array gets turned into a prose outline (10-25 pages), with dialogue. "This is the heavy lifting." At this point, the cards have served their purpose and you probably don't return to them.
*First draft: Basically, something you can revise from. Those revisions should be successively shorter, so the story is never obscured by excessive description, no matter how well-written. "Scripts are not about pretty writing." Be ready to cut. "You need less than you think you do."
The 3-act structure is like musical scales, "something you can embrace or something you can rebel against."  But without some sort of structural approach, "it is all forest, no trees."
Hollywood rewards success, but it also expects repetition of success. Your job is to try to do something different as frequently as possible. "I tried to write in every genre that interests me."
Over twenty-seven years, David wrote about thirty scripts. Of them, roughly two dozen got made. Of that number, nine were originals. The most successful original was Panic Room, which was born from two ideas: the popularity of "safe rooms" in urban mansions, and the claustrophobia he once experienced when trapped in a small domestic elevator in a Manhattan townhouse.
Adapting a novel: In adapting, he first writes up an outline of the book itself, as written, to internalize its its structure, before creating the movie's structure. Don't worry about imitating the prose texture, especially passages presenting mental states. Film is about images and sounds, visible behavior and speech. But you can be faithful to the spirit of the novel. The War of the Worlds, though an update, respects Wells' ideas and characterization.
Don't pass up chances to use your craft; any job can be fun. Some assignments are painting, some are carpentry.
Rewrites may be imposed by studio staff or stars (who often push for a better or bigger role). You have to fight your way through them, taking what can help and talking your way out of ideas that can hurt. "Everything is a negotiation."
In the shooting phase, the writer is often in a black hole, with nothing much to do. You needn't be on the set, but do have to stay available if something needs to be done.
Studying film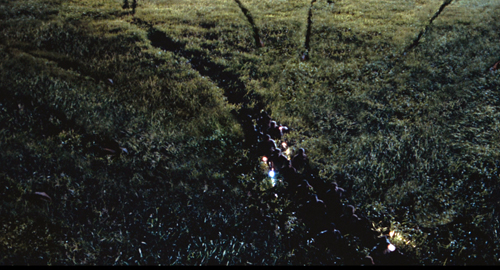 The Lost World: Jurassic Park (1997).
What would David study if he were an academic? "I'd love to take a course that traces influences, such as the connection between Shaw Brothers and Tarantino. In other words, get away from traditional categories of genre and national cinemas and focus on conections of thought and style between apparently diverse filmmakers."
Would he focus on directors rather than screenwriters? Yes, because the director is "the overriding creative force." Today a screenwriter needs a director's support to get a film done. Moreover, directors "have a degree of control you can't imagine." They shape performances, tone, imagery, and sound, and they often govern script rewrites. David was struck seeing You Can't Take It with You on stage and then noticing how Capra's film version made the play's amiable patriarch into a capitalist villain–a characteristic Capra touch.
Accordingly, major directors like Fincher become obstinate about details. "You have to be belligerent. There's no other way." David was present when Spielberg couldn't get the overhead shot he wanted in The Lost World: Jurassic Park. The plan was to frame raptors rushing through tall grass from above, so that all we see are trails converging on the fleeing people. But on the first visit to the location, the grass wasn't tall enough. "If I don't have the grass," said Spielberg, "I don't have a shot." Tall grass had to be replanted and the shot taken later. [DB: I think that shot is borrowed, somewhat clumsily, in the Wachowskis' Jupiter Ascending.]
Producers also can control the process. Accordingly, David would also study ones with strong identities like William Castle and Sam Spiegel.
David's affinity is for classic Hollywood. As a kid watching on TV, he liked horror films and Sherlock Holmes movies. He likes modern films in the classic tradition. When he was 14 he saw Star Wars soon after Jaws, and these had strong impact on him. The only comparable phenomenon today, he thinks, is the Lord of the Rings trilogy.
On noir, especially Snake Eyes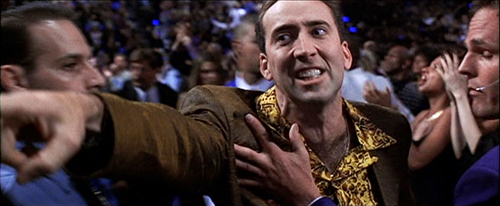 Snake Eyes (1998).
What made him write so many noirish thrillers? Probably his childhood; your tastes are formed between 14 and 24. He experienced the darkness and paranoia of the 1970s, intensified by the fact of his parents divorcing. An important influence was Rosemary's Baby as well, a film he still reveres.
Filmmakers love noir, but don't describe your project as a noir. Studios hate the term. They believe it doesn't sell. Panic Room isn't a noir, the producers were told; it's like "an Ashley Judd movie." [Presumably before that became a problematic term too.—DB]
The morality of noir is tricky. You can have unsympathetic protagonists, but be careful handling the bag-of-money movie. You can't reward greed. "You can't get away with the money." In The Killing, the money has to blow away. True Romance was less powerful, ending with the kids on the beach dancing and rich. This concern isn't mainly about morality, just an ending that satisfies.
David wrote Carlito's Way as a 30s Warners gangster film, with a characteristic downbeat ending. Hence the need to lead the audience to expect a dying fall: A flashback and the voice of a "nearly-beyond-the-grave narrator." The whole movie takes place in an instant.
In Snake Eyes, David welcomed the noirish formal problem of telling the same story three times, as in Rashomon. The tripled presentation would have occupied Act 2. What about the optical POV switches? Typically, shots aren't fully scripted, and they weren't here: the POV angles were De Palma's choice.
Originally the film had a classic noir flashback structure. The opening would show flood waters after the storm, with floating chips, playing cards, and a blackjack table. Then the main story would take us into the past. The climax, back in the present, was to have been a fight in the water with Sinese trying to drown Cage.
As for giving away a key element midway through: David thought it would work. (Hitchcock did it in Vertigo.) But audiences didn't like it. They seem to feel uncomfortable knowing something big that the main character doesn't. But what about a movie like Ransom, which also reveals the villain? Not such a problem, says David, because if you show a character lying, you should do so quickly—not hold off for many scenes and reveal it a fair distance from the climax.
"This is the fun part of storytelling: What do we tell 'em, and when?" [DB: In Film Art, we put it this way: "Who knows what when?"]
Envoi
What about the writers' tasks in the late phases of preproduction? As I was finishing this entry, David sent a dispatch from Inferno, Ron Howard's latest Dan Brown adaptation. After moving from Budapest to Florence to Venice, the production starts shooting tomorrow. David writes:
Ron's rehearsals are a lot of talking things through with actors, reading and tweaking dialogue in scenes, and finding one last chance to find plot holes or confusing passages and fix or clarify them.  They're pretty darn useful in that way.  He will also do blocking, if he has access to the location, or it can easily be taped out on the floor of a soundstage or rehearsal room.  Anything that answers questions before the shooting day arrives makes the day go better, is his feeling.  The preparation saves so much shooting time and makes the days easier.
I'm here until the moment they start shooting, and then it's goodbye Charlie.  A writer becomes pretty superfluous once shooting starts, and in my mind, anyway, my presence only leads to unnecessary rewriting — they see I'm here, so I might as well do something.  I leave tomorrow, once cameras roll.  Today we're rehearsing on a moving train from Florence to Venice, which they'll shoot on later in the week.  No green screen!  A refreshing change that should also look quite good.
Inferno is scheduled for a 2016 release.
David's visit gave us a dazzling two days. He was eager to talk with undergraduates, graduate students, student screenwriters, and the general public. When I offered him some down time, he urged me to pack his schedule. He even squeezed in a visit to our archive, where he pored over Planet of the Apes and Twilight Zone materials. His energy and enthusiasm spread among us, and we hope to have him back.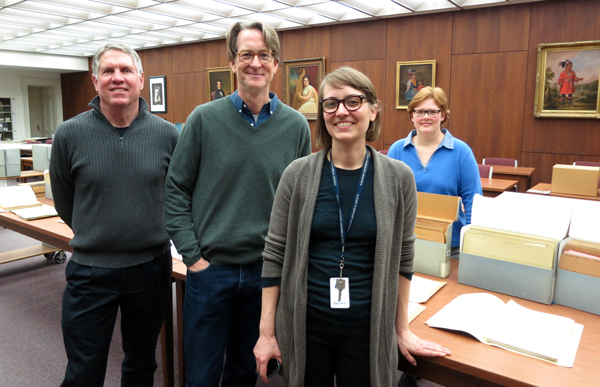 David Koepp visiting the Wisconsin Center for Film and Theater Research, with Vance Kepley, Director; Amy Sloper, Head Film Archivist; and Mary Huelsbeck, Assistant Director.