Sunday | July 27, 2014
open printable version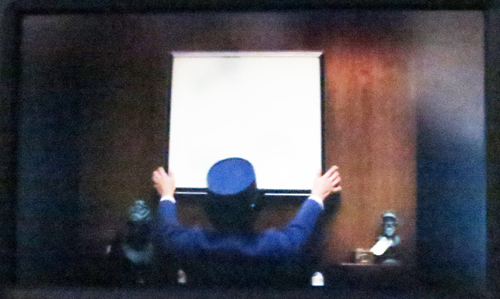 DB here, sort of:
Even doggedly determined readers of this blog may not have seen the codicil to my infuriatingly long entry on The Grand Budapest Hotel. I revisit those remarks now, only because coming back from my trip to Yurrrp, I have evidence of a version that many cinephiles may not see. Here's what I appended to the old post:
Flying here the other evening, I watched The Grand Budapest Hotel on the plane, just to see what adjustments might have been made. ("This film has been modified to fit this screen and edited for content.") Surprisingly, the aspect ratios were all preserved. The cuss words were cut out, as was the fellatio shot (but not the guillotined fingers). The most startling change was that the painting of female sexual congress had become a big, blank white one in the Rauschenberg mold. Was it an alternative shot for the airline version, or was the naughty one digitally whitewashed?
Flying back, diligent film researcher that I am, I took a shot of the bowdlerized image. My questions remain. I could imagine it as an Anderson joke, but also as a default for a censorious post-production.
Sorry about the image quality. No way to take a frame enlargement.