Monday | July 29, 2013
open printable version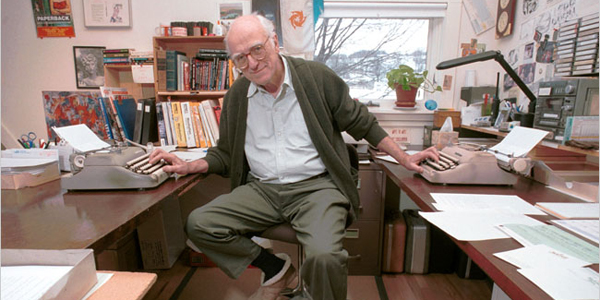 Donald Westlake in 2001. Photo by David Jennings.
DB here:
There can be no question of my doing justice to the writing of Donald Westlake, also known as Richard Stark, Tucker Coe, and other cover names. For background you can go to his fine site or to Wikipedia, or this warm appreciation by Michael Weinreb. Here I just want to pay brief tribute to a writer who, like Rex Stout and Patricia Highsmith, seemed incapable of composing a bad sentence. Elmore Leonard gets deserved recognition as a laconic master of language, but Westlake was no less skillful. In some ways he was more ambitious and audacious.
He was astoundingly versatile. He wrote straight novels, erotica, and science-fiction, but fame came to him when he worked in three registers: terse toughness, wry comedy, and straight-up farce.
As Westlake he wrote psychological thrillers. Best-known, I think, is The Ax (1997), about a downsized executive eliminating the competition for jobs that might come up. Also as Westlake, he wrote comic crime novels. Many of these center on a gang of inept working-class thieves led, if that's the word, by the hapless John Dortmunder. As Richard Stark, Westlake wrote very hard-boiled novels about Parker (no first name), an utterly emotionless professional thief, and his sometime assistant Alan Grofield.
Westlake rang many variations, both high and low, on the heist formula, and his plotting was fastidious. He made one story do for two novels by telling it from different viewpoints (Slayground and The Blackbirder, both 1971). The plot of one Dortmunder novel, Drowned Hopes (1990), was so complicated that it left interstices for Westlake's friend Joe Gores to fill in an intersecting novel, 32 Cadillacs (1992).
Nearly all the Stark books have a strict four-part structure. In the early books, this is used to mark segments of time and to shift point of view. Elsewhere Westlake uses this pattern to rearrange blocks of time, so that part one takes place in the present, leading to a crisis. Parts two and three flash back to what led up to the book's first chapter. Part four finishes up the action left hanging in part one. This layout was both a trademark and a self-imposed constraint that Stark-Westlake had to overcome in every book. Today's young fiction writers could learn construction from these trim, no-nonsense tales.
At the moment, though, our topic is style. Here is the opening of Stark's The Mourner (1963).
When the guy with asthma finally came in from the fire escape, Parker rabbit-punched him and took his gun away. The asthmatic hit the carpet, but there'd been another one out there, and he landed on Parker's back like a duffel bag with arms. Parker fell turning, so that the duffel bag would be on the bottom, but it didn't quite work out that way. They landed sideways, joltingly, and the gun skittered away into the darkness.
There was no light in the room at all. The window was a paler rectangle sliced out of blackness. Parker and the duffel bag wrestled around on the floor a few minutes, neither getting an advantage because the duffel bag wouldn't give up his first hold but just clung to Parker's back. Then the asthmatic got his wind and balance back and joined in, trying to kick Parker's head loose. Parker knew the room even in the dark, since he'd lived there the last week, so he rolled over to where he knew there wasn't any furniture. The asthmatic, coming after him, fell over a chair.
The economy is remarkable. There's no explicit indication that we're in a hotel room, or that Parker has been waiting for the invasion. This is in medias res storytelling, a Stark specialty. (Many of the novels begin with a "When…" clause.) In a couple more paragraphs, Parker gets the advantage and knocks out both men. "The asthmatic went down, hitting furniture on the way."
The faintly amused tone here (being caught by "a duffel bag with arms," kicking a man's head "loose," falling over a chair) is stronger in the Stark novels centered on Grofield. He's a semi-professional actor who goes in for theft to finance his small-town theatre troupe. Parker is introverted, stoic, and borderline sociopathic, while Grofield is laid-back, good-natured, and quick with backchat. The opening of The Damsel (1967), parallel to that of The Mourner, shifts toward the deadpan comedy of the Dortmunder capers.
Grofield opened his right eye, and there was a girl climbing in the window. He closed that eye, opened the left, and she was still there. Gray skirt, blue sweater, blond hair, and long tanned legs straddling the windowsill.
But this room was on the fifth floor of the hotel. There was nothing outside that window but air and a poor view of Mexico City.
Grofield's room was in semidarkness, because he'd been taking an after-lunch snooze. The girl obviously thought the place was empty, and once she was inside she headed striaght for the door.
Grofield lifted his head and said, "If you're my fairy godmother, I want my back scratched."
Opening one eye, then the other: The micro-action is as vivid as Rod Steiger or Eli Wallach playing up to us in a Leone film. The tone has changed too. Words like "snooze" wouldn't show up in a pure Parker novel, I think. And now we get some scene-setting, but that's because the wounded Grofield, flat on his back, can't give us a tour of the room through physical action. What replaces Parker's tussle is sexy banter. After the woman finds a suitcase full of cash, she gets suspicious. Grofeld explains: "I wear money."
Finally, here's extravagant burlesque from a non-Dortmunder story, Help I Am Being Held Prisoner (1974). The plot, about a practical joker who is thrown into prison among hard cases, is preposterously enjoyable, but again it's the style that arrests, and convulses. The protagonist is accompanying Eddie, a demented ex-officer after they've broken out of the joint, sneaked onto a military base, and settled down in the mess for dinner.
"Speaking of landing on mines," he said, "that reminds me of another funny story." And he proceeded to tell it. Soon our food came, and so did the wine, but Eddie kept on telling me his reminiscences. Friends of his had fallen under tanks, walked into airplane propellers, inadvertently bumped their elbows against the firing mechanism of thousand-pound bombs, and walked backwards off the flight deck of an aircraft carrier while backing up to take a group photograph. Other friends had misread the control directions on a robot tank and driven it through a Pennsylvania town's two hundredth anniversary celebration square dance, had fired a bazooka while it was facing the wrong way, had massacred a USO Gilbert and Sullivan troupe rehearsing The Mikado under the mistaken impression they were peaceful Vietnamese villagers, and had ordered a nearby enlisted man to look in that mortar and see why the shell hadn't come out.
It began after a while to seem as though Eddie's military career had been an endless red-black vista of explosions, fires, and crumpling destruction, all intermixed with hoarse cries, anonymous thuds, and terminal screams. Eddie recounted these disasters in his normal bloodless style, with touches of that dry avuncular humor he'd displayed during our hour at the bar. I managed to eat very little of my veal parmigiana–it kept looking like a body fragment–but became increasingly sober nonetheless. A brandy later with coffee, accompanied by a Korean War story about a friend of Eddie's trapped in a box canyon for nine days by a combination of a blizzard and a North Korean offensive, who kept himself alive by sawing off his own wounded leg and eating steaks from it, but who later died in Honolulu from gangrene of the stomach, didn't help much.
It's a challenge to a novelist to tell us something funny is coming up and then to make it much funnier than we expect, turning it into a crescendo of slapstick violence. It's partly the appositional phrases, which pile up mishaps, and partly the mock-heroic word choices. Would you (or I) come up with epithets like "endless red-black vista" or "gangrene of the stomach"? Could we pull off that satiric stab of a massacre occurring "under the mistaken impression they were peaceful Vietnamese villagers"? Extra-credit assignment: Diagram the last sentence. Could we write something so complicated and impeccable?
By these standards, most of our novelists, beach-book maestros or middlebrow bestsellers or literary lions, don't cut it.
Many films have been drawn from Westlake's books. Made in USA (1966) and Point Blank (1967) are probably the most famous, but both are very free treatments. Closer to the brusque Stark spirit is The Outfit (1974), while the French version of The Ax (2005, by Costa-Gavras) is quite watchable. I haven't seen the recent Parker, with Jason Statham, yet. Sad to report, the several Dortmunder movie adaptations don't make me laugh much. But Westlake had no illusions: "A movie is not the book it came from and in almost every case it shouldn't be the book it came from." Westlake wrote screenplays too, notably The Stepfather (1987) and The Grifters (1990).
He died in 2008. He seems to have been the most easygoing, unpretentious writing machine you'd ever want to meet. The University of Chicago Press is republishing the Stark novels in handsome uniform editions, and there remain many other Westlakes that deserve unearthing. Read them for pleasure, for the smooth carpentry of their plots, and their cunning simplicity of style.
---
The top image, by David Jennings for The New York Times, is taken from the official Donald Westlake site, now maintained by his son Paul. My quotation from Westlake about adaptations comes from Albert Nussbaum, 811332-132, "An Inside Look at Donald Westlake," Take One 4,9 (1975), 10-13. This postal interview, conducted by a prisoner at a penitentiary in Marion, Illinois, includes some insider information on Godard's Made in USA.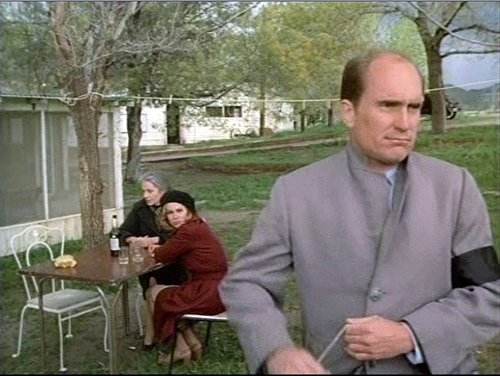 The Outfit (1974), from the 1963 novel of the same name by Richard Stark.