Thursday | November 29, 2012
open printable version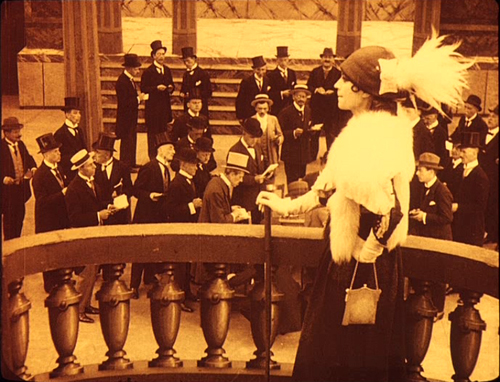 Die Börsenkönigin
Kristin here:
With December holidays coming up, perhaps you're looking for some DVDs or Blu-ray discs to put on your wish list or to buy for someone. Releases of historically important films in restorations have been prominent lately. The group below has a distinctly, though not exclusively, German accent.
Pabst's stock going up
Back in the 1970s, when I was in graduate school, G. W. Pabst occupied a central place in the history of German cinema. The standard film studies, like Arthur Knight's The Liveliest Art and Paul Rotha's The Film Till Now, emphasized his silent classics, most notably Die freudlose Gasse (The Joyless Street, 1925), Geheimnisse einer Seele (Secrets of a Soul, 1926), and Die Liebe der Jeanne Ney (The Loves of Jeanne Ney, 1927), as exemplars of the "Neue Sachlichkeit" tendency (usually translated as "New Objectivity"). Pabst was the counter to German Expressionism, and yet not all his films fit neatly into the Neue Sachlichkeit. Die Büchse von Pandora (Pandora's Box, 1929), for example, is a somewhat Expressionistic melodrama.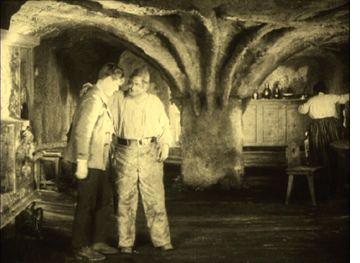 Indeed, Pabst started his directorial career smack in the middle of the Expressionist movement. Der Schatz (The Treasure, 1923; left) is not bad for a debut film, but it was seldom mentioned in the old accounts of the director's work. It reminds me of such films as Murnau's Der brennende Acker, with the Expressionist style being used to portray ancient rural buildings. Der Schatz was long impossible to see, at least outside archives in Europe. I remember liking it when I saw it long ago at the Belgian film archive. The new DVD, from Arthaus Premium, is unfortunately entirely in German, with no optional English subtitles. It's also Region 2 Pal, so those in the US and other non-Region 2 countries would need a multi-standard player. Still, there are plenty of film courses in German departments these days, and this new issue would be invaluable for research and teaching.
The print isn't terrific, but it's presumably the best available, and it's watchable. It comes in a nice package with a little booklet and a whole disc of extras—documentaries on the reconstruction of the film (be forewarned, the new version has modern intertitles with a Gothic font) and interviews with experts. The text on the case claims this is the last great work of German Expressionism. That's a considerable stretch. Die Nibelungen, Tartuffe, Faust, and Metropolis were yet to come, along with some lesser films. Der Schatz can be ordered from Amazon's German outlet. (For those who have an American Amazon account, this should work just the same way, with the same password and your address and credit-card information on record.)
Far more famous is Pabst's second film, The Joyless Street. With its controversial subject matter, involving women forced to prostitute themselves in various ways during the era of hyperinflation, the film was repeatedly subject to censors' cuts—different cuts in different countries. In my first film course ever, in 1970, I remember seeing what was probably the best version available in the USA at the time, but it was far from complete. At least it still retained a pretty good balance between the Greta Garbo and Asta Nielsen plotlines. Later I saw what was probably the original American release print, butchered down to about an hour. The Nielsen plot, where she plays a character who becomes a rich man's mistress, was all but gone, with the Greta Garbo plot dominating.
Now the Filmmuseum in Munich has released the latest attempt at restoration on DVD. The accompanying booklet, with some lovely illustrations of set designs and toned frames, has one essay in English. Archivist Stefan Drössler traces the attempts to compile a complete version from many different truncated prints. The original German censor's records, so often a source of original intertitles for such restorations, are not known to survive. A 1989 restoration by Enno Patalas was the first major attempt to assemble something vaguely like the original. Jan-Christopher Horak initiated another restoration in the late 1990s, drawing upon newly surfaced footage from various archives. It was an improvement, but still probably far from the original. The current reconstruction tweaks that version. Still, as Drössler makes clear, with luck this version is only one more step toward a semblance of the original. More prints may surface—even, perhaps a nearly complete one like the miraculous Metropolis print that was, against the odds, found in South America.
In the meantime, the Filmmuseum DVD is as close as we can get to Pabst's pioneering move into New Objectivity. There's still about half an hour missing, but at 151 minutes, there's a lot more of the film than most viewers will have seen before. Again there is a second disc with documentaries on Pabst, including The Other Eye, an overview of his career. This time there are optional English subtitles, though the format is also Pal.
I was very impressed by the film. It's a network narrative, coincidentally with the same star who played in Hollywood's quintessential network narrative, Grand Hotel, seven years later. Most of the main characters live on the same street in 1921 Vienna, where the primary centers for interaction are the queue for the butcher's shop and the brothel hidden behind a dress shop. There are many characters who come and go in complicated scenes. I was also struck by the use of wide-angle lenses and depth staging (as above). Pabst has definitely gone up a notch in my estimation as a result of this release.
More German films
The great actress Asta Nielsen, who was one of the first international movie stars, had already made an incredible number of movies by the time she appeared in The Joyless Street, most of them German productions. Edition Filmmuseum has also released a collection of four short features Nielsen made during the 1910s. The selection was made to show off her range, with two comedies–Das Liebes-ABC ("The ABC of Love," 1916) and Das Eskimobaby ("The Eskimo Baby," 1916)–and two dramas–Die Suffragette (1913) and Die Börsenkönigin ("The Queen of the Stock Exchange," 1918; see top). She worked frequently with emigré Danish director Urban Gad, to whom she was married, but he directed only the third of these four. The others were respectively made by Magnus Stifter, Heinz Schall, and Edmund Edel. (David's essay on the Danish company Nordisk discusses some of Gad's films and his 1919 book on filmmaking.) The films average about 60 minutes each.
Although trained as a stage actress, Nielsen had a remarkably flexible, uninhibited acting style onscreen. She wasn't afraid to play gawky, plain girls but could also convincingly embody a glamorous woman of the world. Some of her films are terrific, some not so much, but they're always worth watching for her performances.
Another recent release is close to my heart, Ernst Lubitsch's Das Weib des Pharao (1921). In terms of subject matter, it's not one of his most likable films, with a rather silly plot about a pharaoh falling in love with a commoner. Paul Wegener chews the scenery as a Nubian ruler who wants the pharaoh his daughter instead. But if one can overlook the silliness, it's a pretty well-made film. The sets are fairly authentic compared with the usual sort of design one encounters in these costume epics, though the notion that a king's treasure would be inside a giant, hollow statue (see bottom) is pretty risible. Visually, it's gorgeous, and the print quality in this release is stunning. (There's a brief film about the restoration, with several of the flashiest shots from the film, here.)
For years, Das Weib existed in only a very choppy, incomplete version running about 40 minutes, discovered at Gosfilmofond, the Soviet/Russian film archive. It was hard to make out the plot. More reels were found in other archives, and a longer version was completed in 2008. Now ALPHA-OMEGA has put together a bang-up package of material. The original score was recorded and matched to the footage to determine a running time of 100 minutes. Footage still missing has, as has become common practice, been filled in with photos, and the plot now makes a lot more sense than it used to. The tinting and toning is based onsurviving footage.
I consider Das Weib extremely important in Lubitsch's career, as well as in the development of German cinema after World War I. It displays the influence that Hollywood films had on Lubitsch when foreign films were finally let into Germany in 1921 after a nearly five-year ban. To some extent he picked up principles of continuity editing, but it was the new styles of American lighting that he rapidly adopted. He also had the opportunity to work with American cameras and lighting equipment for the first time on Das Weib. The impact of highly directional arc lamps is visible in the frame just above, with its strong back and side light without frontal fill. (I discuss such aspects of Das Weib des Pharao in Herr Lubitsch Goes to Hollywood.)
The extras include the original trailer and a documentary on the restoration. An informative booklet accompanies the disc, including a reprint of program notes I wrote when the film was shown at "Il Giornate del Cinema Muto" in Pordenone. There are optional subtitles in ten languages. The Blu-ray and DVD can be purchased directly from ALPHA-OMEGA. There is no region coding.
Beyond Germany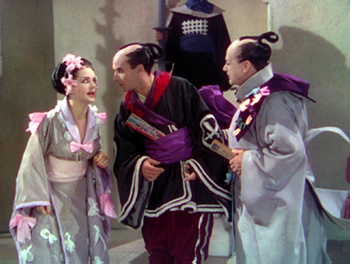 Back in my senior year of high school I heard a recording of The Mikado and instantly became a big Gilbert and Sullivan fan. Coincidentally a film of The Mikado (1967), performed by the D'Oyly Carte Opera Company, came out just at that time. The D'Oyly Carte company had put on the operettas in their original productions in the 1870s, 1880s, and early 1890s and had toured with the same basic productions almost continuously for about 107 years, until forced out of business for lack of funds. The Mikado film was a straightforward record of the theatrical production, filmed on the stage without an audience present. Over the next 15 years or so I was also lucky enough to see some of the plays onstage in Chicago and London. Apart from being charming works, the productions continued to use the same staging and business as when the operettas premiered; they were a living museum of Victorian theatrical practice. Unfortunately the company finally succumbed to financial woes in 1982; there have been sporadic attempts to revive it, but the traditional staging was finally abandoned, and a link to the past was lost.
I had long been intrigued by the fact that another version of The Mikado had been filmed in Technicolor in 1939, directed by Victor Schertzinger. I was dubious, in that most of the cast were not D'Oyly Carte members. Indeed, the leading tenor role, Nanki-Poo, was played by Kenny Baker, whose main claim to fame at the time was as a featured singer on Jack Benny's radio show. Still, the film did use three major D'Oyly Carte players: Martin Green, who took the comic baritone roles, in this case Ko-Ko; Sydney Granville, a bass, who plays Pooh-Bah; and Elizabeth Paynter, comic mezzo-soprano, as Pitti-Sing. (From left to right, Paynter, Green, and Granville.) So, when I learned that our friends at the Criterion Collection had put out a restored version on DVD and Blu-ray, I decided to take the plunge and watch it.
It turns out to be a strange mixture. Rather than filming the production onstage, like the later version, the producers created much larger but stylized sets in sound studios; there's never a hint of an exterior. The blocking and filming are stodgy, and Kenny Baker is barely adequate to his role. I'm not sure this aspect of the film would win converts to the operetta.
On the other hand, there are the marvelous performances of the three D'Oyly Carte actors, particularly Green and Granville, who were among the greatest members of the troupe during its long history. Having a record of this pair in such important roles is a treasure. And Constance Willis, a British stage actress whose only film this was, does an excellent job as Katisha, bringing in a deft humor that one seldom sees in this dour character. Moreover, the postures and gestures are faithful reproductions of the D'Oyly Carte company's approach. Until the copyrights ran out on the operettas, those who wished to produce them theatrically were given copies of the scripts with all the staging details written in; these had to be followed exactly. The same was true for both film versions of The Mikado. The poses of the young ladies in "Three Little Maids from School," with mincing gait, tilted heads, and coyly raised arms, are the same ones that all singers playing these roles would have replicated, as the vintage poster shows:
Ko-Ko's business with his executioner's ax in his first number, the Mikado's gestures in "Make the Punishment Fit the Crime," and many other moments are also historically accurate. The film even includes the traditional encores for two of the most popular numbers, "Here's a How-De-Do" and "The Flowers that Bloom in the Spring," though here there is no live audience demanding them. I saw the D'oyly Carte production of The Mikado three times, and these same songs and no others were always encored. Overall, such a record is invaluable, and definitely makes up for the less entertaining portions.
As always, Criterion's supplements are strong. Apart from some interviews, a silent D'Oyly Carte promotional film, and a booklet by experts, Ko-Ko's song, "I've Got a Little List," which was cut from the film, is a very welcome addition.
Finally, I'll just mention that Kino Classics has put out versions of the 1996 restoration of Louis Feuillade's 1915-16 serial, Les Vampires.  Feuillade is a favorite of ours. (For more on his work, see David's Figures Traced in Light and our entries here and here and here.) Whether in DVD or Blu-ray, Les Vampires is a must-have, providing 417 minutes of pure, crazy pleasure.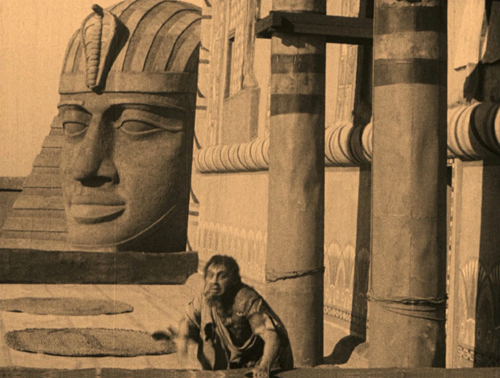 Das Weib des Pharao