Saturday | July 28, 2012
open printable version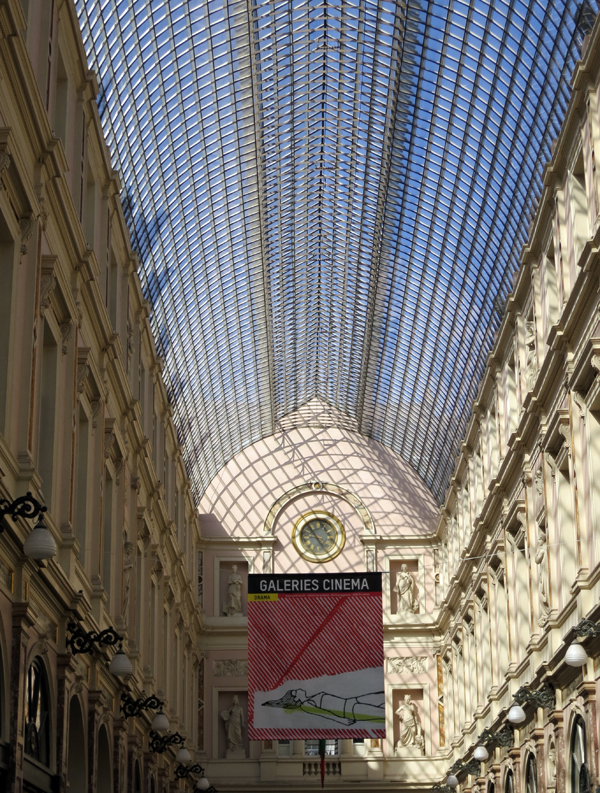 Galeries Cinéma banner, Brussels, 2012.
DB here:
The Cinéma Arenberg, in the splendid Galerie de la Reine, has long been a mainstay of Brussels film culture. Since 1939, the lovely Art Deco theatre was what we Americans call an art-house. Over the years Kristin and I visited the city, the Arenberg's autumn and spring schedules featured recent releases, but every summer the programmers plunged into plucky repertory programs. While the multiplexes ran Hollywood blockbusters, the Arenberg provided 90 or so classics and little-known releases under the rubric of Écran Total. It was here, for example, that I saw von Trier's The Kingdom and resaw Vanishing Point. Four years ago I left a little note about the three titles I watched during my last day in town: India Song, Serpico, and Darjeeling Limited. That trio gives you a sense of how varied and interesting the programming was.
The Arenberg closed down at the end of 2011, but the cinema has reopened under new management as Galeries Cinéma. It didn't sponsor an Écran Total season this year. Instead it offered brand-new releases on its three screens, along with some children's programs.
Most notable for me this time was Leos Carax's Holy Motors. Whatever you've heard about this film is probably accurate. I found it an exhilarating, frustrating, and continuously provocative descent into Surrealist role-playing. It's a tour of cinema genres and an anthology of bits of other movies, from Marey to Franju, and not forgetting Carax's own. Especially evocative were the poetic fusions, such as the way that the body stocking Oscar dons for digital motion-capture evokes both ninja outfits and the leotards of Feuillade's Vampires. Carax films Oscar's SPFX exercise in a way that connects Muybridge to video games and recalls the exuberantly spasmodic scene in Mauvais Sang in which Denis Lavant races madly down the street to the accompaniment of David Bowie's "Modern Love."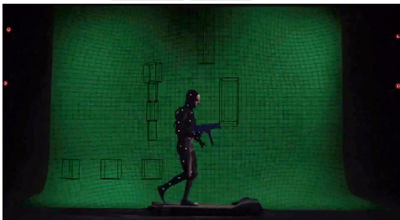 Whether you find Holy Motors infuriating or beguiling, you won't forget it.
Exquisitely shot on digital capture, Carax's film was given crisp, bright digital projection at the Galeries. And speaking of digital projection. . . .
The new issue of Film History, devoted to digital technology's impact on filmmaking and film culture, includes Lisa Dombrowski's article "Not If, But When and How: Digital Comes to the American Art House." It's a very fine survey of all the issues facing the art-film community at this moment. Lisa reviews the major technological and financing conditions before going into depth on a case study of three art theatres in Miami. The author of a very good book on Samuel Fuller, Lisa knows how to tie together industrial and aesthetic issues skilfully.
Another young scholar, this one at the Free University of Brussels, has concentrated on the digital transition in Europe. Since 2005 Sophie De Vinck has been studying how the conversion of theatres fits into European film policy. The result was her 2011 thesis, "Revolutionary Road? Looking back at the position of the European film sector and the results of European-level film support in view of their digital future." The thesis, running to a whopping 769 pages, is an immense resource, and not just for people interested in digital cinema. Sophie surveys the history of national and international support of the Western European film industry, from production through exhibition, and she provides both a broad context and very specific analysis.
Part of her argument is that the "diversity" aimed at by subsidized filmmaking hasn't been matched by diversity in audiences. But digitization offers a new chance to show films outside the dominant forms of commercial cinema and perhaps attracted new sectors of the public. "Every innovation usually brings with it possibilities for new or smaller sector players to strengthen their competitive position." Her examination of how digital conversion affects small and art-house venues provides a complement to Lisa's research.
I wish I'd known about Sophie's thesis when I was writing the blogs that became Pandora's Digital Box, but at least I can signal her work now. Best news of all: Sophie has generously made "Revolutionary Road?" available under a Creative Commons license here as a pdf. Full of valuable statistics and well-honed observations, her work helps us understand how the contemporary European film industry has survived and sometimes flourished over the last fifty years.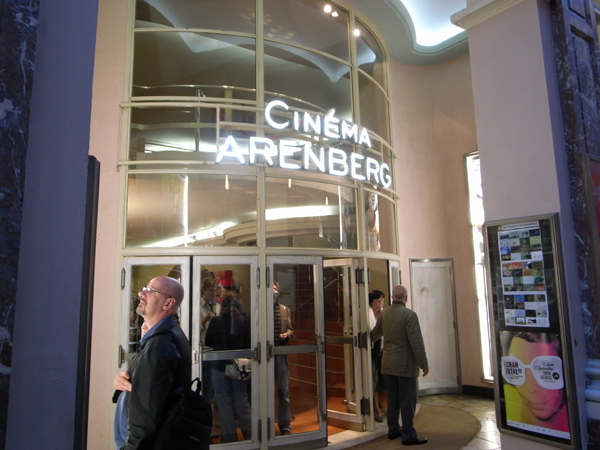 Cinema Arenberg, Brussels, 2008. The original design of the curved doorway and neon sign was restored in 2005-2006.
---
The indispensable site Cinema Treasures has a brief entry on the history of the Cinéma Arenberg/ Galeries. More extensive information can be found in Isabel Biver's luxurious survey, Cinémas de Bruxelles: Portraits et destins, which I wrote about in an earlier entry.
P.S. 1 August 2012: I just learned from Gabrielle Claes that Giovanna Fossati's book on digital restoration in film archives, From Grain to Pixel, is now available for free in pdf form here. It's well worth reading.