Thursday | July 24, 2008
open printable version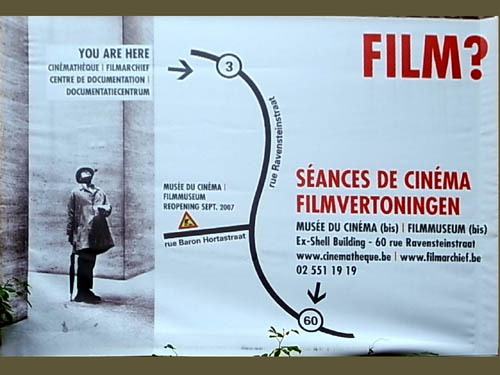 DB here:
I came back from a month in Europe to find a stack of magazines, books, and DVDs waiting. There was Before the Rain, much Cecil B. DeMille, and a mass of Anthony Manns (some discussed on Jonathan Rosenbaum's blog). How will I ever catch up? I was reconciled to the idea that I'd die before reading every book I owned, but now I have to face the same conclusion about movies on discs.
Herewith some items from my trip to Amsterdam, Bologna, and Brussels that I couldn't squeeze into earlier blogs. I end with the movie I watched upon my return.
DaViD's DVD depredations
In Bologna, I learned that Oksana Bulgakowa is at work studying how cinema captured everyday human gestures at earlier points in history. Visit her site, where a DVD is available on her research.
Speaking of DVDs, travel inevitably brings them into your baggage, despite the high prices and the abysmal exchange rate.
*At Bologna our Copenhagen pals gave us the new Danish Film Institute DVD, Danish Experimental Classics 1942-1958. Not quite yet available for sale, it should show up here—as has a third collection of Jørgen Leth movies. While you're sniffing around the site, eyeball the archive's new state-of-the-art storage facility.
*Hubert Niogret, indefatigable director of documentaries on Asian cinema, has also produced an excellent collection of interviews, Mémoires du cinéma francais: De la libération à nos jours. Together we sampled an outstanding Bologna specialty, gramigna con salsiccia.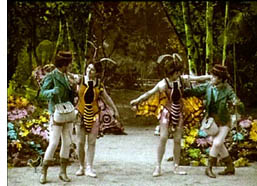 *Isabel Biver passed along the latest installment of Imagination in Context, a series of books and discs about early cinema and Antwerp. Animalomania includes English-language text and some nice films, including a hand-colored fantasy about butterfly collectors who wind up with pretty girls dressed as butterflies.
*At a sale table I found the Index DVD of Ivan Ladislav Galeta's works, which includes the remarkable Two Times in One Space (1976/1984). I caught up, finally, with the Austrian Film Museum's reconstruction of Frank Borzage's The River.
*In Brussels I picked up the StudioCanal collection of Méliès films, which complements the recent Flicker Alley collection. Of course then I had to splurge on Laurent Mannoni's gorgeous book, L'oeuvre de Georges Méliès.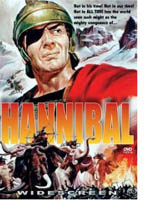 *Also snagged a batch of Gosha and Uchida swordplay movies, but in the Japanese line my real finds were a French edition of Night and Fog in Japan, one of Oshima's finest (also just out in the UK) and the Carlotta set of three 1930s Mizoguchi films: The Downfall of Osen, Oyuki the Virgin, and Poppies. All drawn from 16mm copies, these items vary drastically in quality. Osen is superb, but Oyuki is iffy, and Poppies is a rain of scratches, the worst copy I've ever seen.
*To top things off, Tom Paulus of the University of Antwerp, bestowed upon me his extra copy of Edgar G. Ulmer's Hannibal (1960) in SuperCineScope. This is what friends are for.
Interlude: Some Europix, arty and otherwise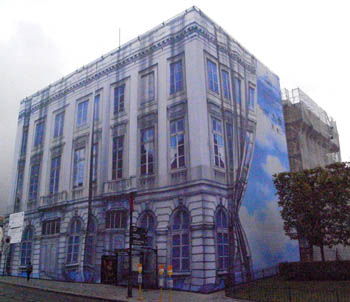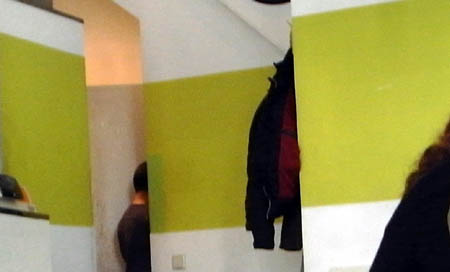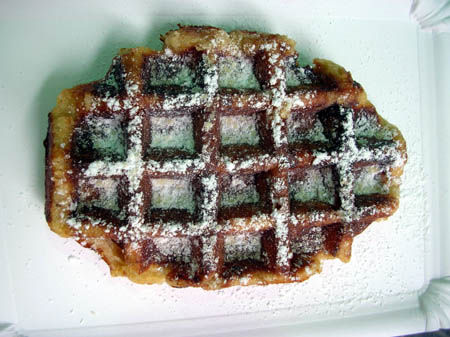 My last sigh x 3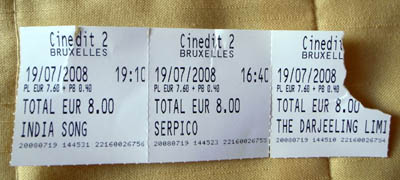 Every summer the Arenberg cinema holds a retrospective season, Ecran total, and it helps make Brussels a great film city. This time there were cycles dedicated to Delphine Seyrig, Al Pacino, the Japanese New Wave, and children, as well as a batch of classics. Prints are usually fresh, and the programming is very eclectic. So Saturday, the day before I flew home, I saw three movies at the Arenberg. I liked the West Anderson better than I expected to, though the clash between the overall feyness and a child's death left me a little stranded emotionally. I had forgotten the Lumet since the initial release; not up to Prince of the City methinks, but a sturdy, earnest piece of work. The Duras proved as mesmeric as ever, and still unthinkable on DVD (even though I have two DVDs of it). All in excellent prints and pinpoint-sharp projection. Cinephilia satisfied: No need to watch anything on the plane home the next day.
No need to eat much either, because of a delicious late meal with our old friend Geneviève van Cauwenberge, head of the film and media program at the University of Liège.
Trafficking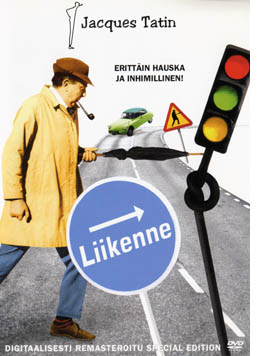 For my avant-birthday, Kristin (a) bought me a beautiful Krazy Kat page; (b) took me out for sushi; and (c) settled in with me to watch the new Criterion disc of Jacques Tati's Trafic. It's been one of our favorites for a long time; I saw it on initial release in Paris while researching my dissertation. It's not as densely loaded as Play Time, nor as structurally rigorous as M. Hulot's Holiday. (Kristin wrote about both these films in her book Breaking the Glass Armor; my bias aside, her analyses are really illuminating.) Trafic has its own charms, though, and Gary Giddins gets at several of them here. We've collected versions on tape and even a Finnish DVD, which calls him Tatin, but the Criterion looks to be the best version yet. (Still, why not anamorphic?)
Trafic is definitely odd, with a choppy opening and quickly-cut extreme long shots. This time around I was struck by how much a landscape artist Tati was. Sometimes he built his own massive milieu, as in Play Time, and sometimes he merged his constructed spaces with the real world, as in the houses of Mon Oncle. In Hulot and Trafic he exploited the vastness of real spaces, usually the backdrop for human foibles made minuscule. Trafic gives us a un-picturesque European countryside. Sliced by superhighways, the bland vistas are dotted with rusted cars, empty fields, and forlorn gas stations. Drivers hiking off for fuel or trying to patch up their vehicles dwindle to pathetic dots in the image. Cities are no better, choked with pale cars that advance fitfully. Then there's the huge convention center housing the auto show. The opening gag of men stepping carefully over stretched strings that we can't see etches tiny gestures into a monumental frame. Masters of ambivalent vastness: Antonioni, Angelopoulos, Tarr….and Tati?
The setpiece of Trafic is of course the car crash, and it, like Tati's characteristic running gags (e.g., cheap busts of historical figures as bonuses for gas fillups), reminds us of the follies of the car culture. In a sense, the entirety of Trafic seems an outgrowth of Play Time's final sequence, which turns a traffic roundabout into a carousel. But here there's little sense of a mundane world transformed into a playground. Instead, modern misery remains the norm, as pedestrians zigzag their way through infinite gridlock.
Beyond the satire, which can get fairly caustic, I have always loved Tati for juxtapositions so weird and remote that you wonder if they could count as gags. Then you wonder if you're the only person to notice them. In Play Time, everybody gets the running gag about the drunk at the bar of the Royal Garden tipping over on his stool. Far less evident is a moment I always find disconcerting. When the air-conditioning at the restaurant is finally switched on, the air vents make the loose skin on one woman's back ripple. The denunciation of flabby bourgeois comfort comes and goes in a flash, and when I first noticed it in the 1970s I thought: Is it accidental? Did Tati mean for me to see it? Does anybody else notice? And does this count as a gag, or just, well, peculiar?
Likewise, in Trafic, Tati can cut from a bisected car on display to a quasi-abstract angle on traffic, with one fender sliding past an identical one.
We're supposed to notice the purely sculptural analogy of split cars. And we're supposed to find it at least a little funny. Right? Right?
Whether you agree or not, Tati's vacant long-shots and unpredictable cutting leave space for such musings. Comedy with a question mark, from one of the dozen or so greatest directors who ever lived.
Kristin is now at Comic-Con, armed with fan-friendly T-shirts and a carrier bag from Lambiek. Her mission: to sell a copy of The Frodo Franchise to each of 125,000 attenders. Expect dispatches from her in the days to come.
P. S. My thanks to the staff of the vaults at the Royal Film Archive of Belgium, who were extremely helpful during my visit. I didn't manage to photograph everybody, but I owe special gratitude to the supervisor Marianne Winderickx, pictured below.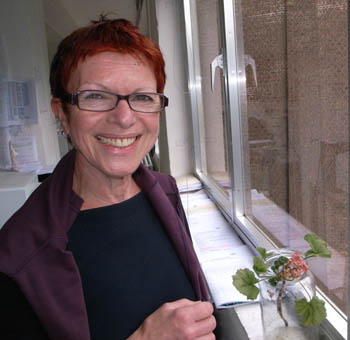 PPS 24 July: Olli Sulopuisto clears up my Tatin puzzlement: "In Finnish the trailing n is the mark of a possessive, similar to 'Jacques Tati's…'" Thanks to Olli.