Tuesday | October 11, 2011
open printable version
The Green Wave.
Kristin here:
The Vancouver International Film Festival has offered a rich selection of Iranian and Israeli films this year. I tried to see as many as I could, and most of the screenings were packed.
Iran
The range of Iranian films, made within the country and by émigrés, reflects the paradoxes of that unhappy nation. The glory days of the Iranian cinema of the 1980s and 1990s seem irrecoverable, with leading directors Abbas Kiarostami and Mohsen Makhmalbof and his family working abroad and their younger colleagues, mostly famously Jafar Panahi, being arrested and forbidden to work. Although this national cinema has triumphed at international film festivals, forces in the regime seem determined to squelch the creative people who made that prominence possible. Yet somehow impressive films continue to be made.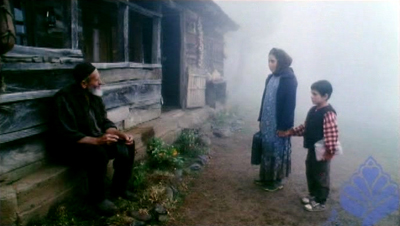 Mohammad-Ali Talebi's Wind & Fog recalls the classic Iranian films of the 1980s and early 1990s, simple stories centered around children's quests. Talebi himself is a veteran director whose career stretches back to the mid-1980, an era when major filmmakers were skirting the censors by focusing on children and seemingly uncontroversial situations.
Wind & Fog is set in the north of Iran, during the early days of the Iran-Iraq war—a safe enough era, since the loyalty to the government during such a conflict would be unquestionable. The story concerns an eight-year-old boy who becomes mute when his mother is killed during shelling. His father takes him and his older sister to live with their grandfather in the mountains while he works elsewhere. The forested, misty hills are beautifully photographed and contrast sharply with the desert landscapes familiar from other Iranian films. The children form the core of the action as the boy struggles both with his trauma and with bullying at his new school. Both child leads gives wonderfully affecting performances, and the gradual acceptance of the strange young boy by the villagers makes for the sort of happy ending that is rare in the contemporary adult-oriented dramas reaching festivals.
One such film is Goodbye, by Mohammad Rasoulof. Although made within the Iranian industry and presumably passed by the censors, it deals remarkably directly with the efforts of its heroine, a young lawyer named Noora, to leave the country. Initially she plans to depart with her journalist husband. A black-market agency has concocted a scheme to have her become pregnant, be invited abroad to give a paper (arranged by the agency), and give birth abroad; in that way she can avoid returning to Iran.
The film stays entirely with Noora, often filming her in medium-close-up against simple, blank backgrounds. The result is an austere visual scheme of black, gray, and blue-tinged white, with an intense concentration on Noora and her increasing doubts and anxieties. The only moments of everyday life come from a motif of Noora feeding her pet turtle and coping with its tank when it begins to leak. Eventually the turtle escapes, and we never learn its fate, an obvious parallel with Noora's situation. Possibly the authorities thought this story would be an exposé of illegal agencies fostering emigration, but our sympathies are entirely with Noora and her desire to flee.
I also caught up with A Separation, by Asghar Farhadi. David wrote about this exceptionally fine film from the Hong Kong Film Festival earlier this year. His earlier film, About Elly, is unfortunately not available on English-subtitled DVD but deserves to be released.
Maryam Keshavarz's Circumstance is often spoken of as an Iranian film, and it gained a higher profile when it won the Audience Award at this year's Sundance Film Festival. It actually was shot in Beirut and is a US/Iranian/French co-production. Based in part on Keshavarz's own youth in Iran, it deals with two lesbian teenagers in love and the increasing opposition they face from the brother of one of them—a reformed drug addict who swings to the opposite extreme by becoming an informant for the police. Circumstance has impressive production values and is skillfully shot. I found it a bit sensationalistic, as if the director were flaunting the fact that her film was made far away from the repressive society it depicts. Moreover, its heroines looked more like glamorous models than suffering teenagers. I also wished a more plausible explanation had been given to explain how the brother gained so much power within the police establishment, to the point where he pops up everywhere and seems able to determine the outcome of every situation the reckless girls get themselves into. Indeed, the general stigma attached to homosexuality in Iranian culture is not explored; the girls' troubles are largely reduced to a family melodrama of conflict between siblings.
The Green Wave is a documentary about the events of May and June, 2009 surrounding the suppression of the brief democratic movement that coalesced around the candidature of  Mir-Hossein Mousavi. Made in Germany and directed by Ali Samadi Ahadi, the film stitches together talking-head interviews with activists who have fled Iran, simple animated sequences visualizing accounts culled from blog entries written during the events, and clandestine footage of the demonstrations and brutal crackdown that followed. Much of the clandestine footage was captured on cell phones and other amateur video formats, and the quality is often poor. Still, it provides a valuable record of the police and military firing on and beating peaceful protestors and bystanders in the streets
The film is skillfully laid out, initially conveying the atmosphere of hope that surrounded the campaigning for Mousavi, moving on to show the election itself and how it was rigged to return Ahmadinejad to the presidency, and then focusing on the horrendous crimes committed by the government against its own people. The series of events recalls the hope of the democratic demonstrations in Tiananmen Square in 1988 and the equally brutal attacks on the crowds gathered there. The hopeful attitudes of the crowds in the early days of these events provide a sad contrast with the more recent successful revolutions in Tunisia, Egypt, and Libya, though the Iranian government's thorough control of its military made a similar outcome impossible. One can only trust that similar documentation of the current events in Syria are being created and will someday be assembled into an effective film like The Green Wave.
A note on This Is Not a Film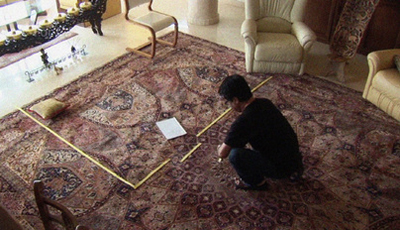 DB here:
Jafar Panahi, as you probably know and as this site noted last year, spent several weeks of 2010 in jail for "preparing an anti-government film." While he was under house arrest in 2011, he made what has been called, for want of a better term, an "effort." This Is Not a Film is at once funny and disturbing, playful and provocative. It takes its place in the remarkable tradition of Iranian films that oblige us to reflect on cinema–Close-Up, Salaam Cinema, Moment of Innocence, Through the Olive Trees, and Panahi's own The Mirror. At the same time, this non-film reminds us that artistic matters are tightly intertwined with both political ideologies and the everyday lives that surround their creators.
Panahi and another distinguished director, Muhammad Rasoulof, were arrested while they were making a film in Panahi's apartment. This Is Not a Film takes place in that space, as if to defy the government's control over what artists may create in the privacy of their homes. While never letting us forget the political price that Panahi may have to pay—banned from filmmaking for twenty years, sentenced to prison for six—the non-film reflects more broadly on what a film is. At first Panahi seems more or less resigned to his solitude, with his family away and his big-screen TV connecting him to the world outside. He gets a call from his attorney, who suggests that his appeals may shave off some penalties, but "prison is certain." He ponders this news, but then turns his attention to the real reason he's recording today.
Panahi explains that he will try to read, with supplementary explanations, the script that he had intended to film. Trying to "create an image of it," he runs yellow tape across his living-room carpet to mark out a room, a corridor, and a staircase, a skeletal spatial model recalling von Trier's Dogville. He starts to enact the story of a girl who's prevented from registering at a university by being locked in her room by her parents. In that reflecting-mirror fashion beloved by Iranian cinema about cinema, we're invited to see that film, and its reenactment here, as echoing the director's real-life situation.
The enterprise forces us to ask: Is even this partial, virtual version of an unfilmed film not itself a film? Can you shoot a script by reciting it? Up to a point, Panahi suggests yes. After a couple of tries, though, he falters and seems near tears. "If you could tell a film, then why make the film?" Rerunning a scene from Crimson Gold reminds him that during filming, a project swerves into unexpected territory: a performer's physical being creates a texture than can't be captured in language, let alone planned. "A film must be made before you can explain it." This isn't just a titillating theoretical aside. It acknowledges the Iranian cinema's gift for discovering a  spontaneous specificity in the most everyday events.
The script-reading-as-film project goes on hold, and mundane household matters intrude. It would be unfair to catalogue all of the anecdotal incidents that invade Panahi's stronghold. (Yes, as you may have heard, an iguana and a dog named Micky are involved.) The non-film ends with Panahi's co-director, Mojtaba Mir Tahmaseb, departing and leaving his camera behind. There follows one of those casual, piercing encounters with ordinary people that give Iranian cinema a unique glow. Without warning, the abandoned camera takes on a life of its own, suggesting that house arrest—particularly on the night of a fireworks festival—is as hard to define as a film can be.
An unhappy coda: Documentarist Mojtaba Mir Tahmaseb, the only other individual credited in This Is Not a Film, was one of six Iranian filmmakers arrested on 17 September and imprisoned. A petition on behalf of these people is online here.
Israel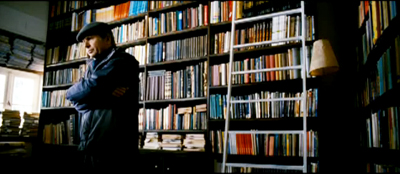 Footnote.
Kristin again:
Judging by the three Israeli fiction films on offer at Vancouver, the country's cinema is striving toward more straightforward entertainment appeal in some of its productions, though one of the three contains a strongly political subject.
Footnote is that rare comedy set in academia that actually focuses its plot around the main characters' research. The core conflict is between a father and son, both Talmudic scholars. Eliezer Shkolnik is a stubborn, bitter old man. His lengthy, meticulous study of variant versions of the Talmud was upstaged just before its publication by a colleague, Prof. Grossmann, who made a chance discovery that proved the same conclusions. Eliezer had continued to teach, but his main scholarly claim to fame has been a single footnote in a large introductory study, acknowledging his help.
Eliezer's son Uriel has become much more famous, based on his many popularizing books that have made him a public intellectual. Early on he is inducted into the Academy. Later, through a mistake, Eliezer receives word that he is to receive the prestigious Israel Prize, but the intended recipient is actually Uriel. Academic politics intervene when Uriel tries to decline the prize in favor of his father: it turns out that the scholar who had beaten Eliezer into print is dead set against him receiving the award. The title takes on a double meaning. In his publication on the Talmudic variants, Grossmann had not acknowledged Eliezer's work at all, and the missing footnote in that text becomes as significant as the actual one upon which Eliezer has pinned his sense of his own accomplishment.
The film is funny and fast-paced, cleverly using voiceover and PowerPoint-style graphics to lay out the exposition about father and son. It's apparent why Footnote won the prize for the best screenplay at Cannes. There are many droll touches, including an absurdly small conference room in which Uriel argues with university officials about denying the prize to Eliezer. There's also a scene where a guard tries to keep Eliezer from re-entering the Israel Museum during the Academy investiture party and he adamantly refuses to provide the information that would gain him access. The whole thing has something of the air of a Coen Brothers film.
Restoration, directed by Joseph Madmony, is a somewhat more conventional family drama, though again with a father-son conflict. The main character, Yaakov Fidelman, is an expert furniture restorer in an age of disposable products. The death of his partner reveals that the business is bankrupt, and Fidelman's son hopes to sell off the shop's valuable premises. Fidelman's young helper discovers that an old, seemingly worthless piano sitting in the shop is a Steinway worth a great deal—if it can be restored. The film is a slick, well-made item. It won the best-screenplay prize at Sundance this year. That surprises me a little, because it depends on an enormous coincidence. The young wastrel hired off the street as Fidelman's assistant happens to be a promising pianist who abandoned his career path, but who could recognize the value of the old piano.
Policeman (Nadav Lapid) is the one distinctly political film, but in a novel way. It deals not with the usual threats from Palestine and from nearby countries but with masculine identity class tensions inside Israeli society. The first half concentrates on Yaron, a member of an elite anti-terrorist unit, and his bluff, muscular comradeship with his partners. A sudden switch introduces Shira, a member of a cadre of well-off Israeli terrorists determined to invade a lavish wedding and take hostage some of the country's most wealthy industrialists. Yaron's squad is brought in to save the situation, and he is stunned when face to face with home-grown terrorists, including a beautiful woman with a gun. It's a fast-paced film that might do well in the U.S., though so far it apparently doesn't have distribution there.
P.S. 17 October: Panahi's appeal has failed and the original sentence of six years in jail and twenty years of forbidden filmmaking has been upheld. Panahi's attorney plans to appeal to Iran's Supreme Court. See the Variety story here.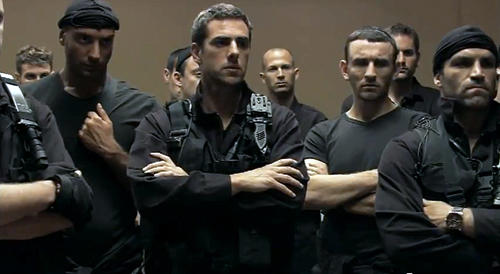 Policeman.