Sunday | October 16, 2011
open printable version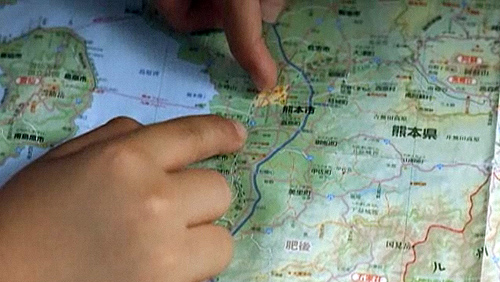 I Wish.
DB here:
Back from Vancouver Internatonal Film Festival, we're still assimilating. We just learned of the winners, but here are some more movies that won my admiration.
Three lives, four-plus hours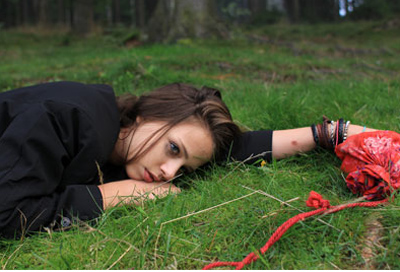 Art cinema has been attracted to mystery and intrigue plots since at least The Cabinet of Dr. Caligari. Antonioni needed an enigmatic disappearance to get L'Avventura going. Before and after there were Cronaca di un amore, La Commare Secca, Blow-Up, La Guerre est finie, and the works of Robbe-Grillet. Not to mention Vagabond and Toto les héros and, venturing to Asia, Chungking Express and Fallen Angels.
True to this tradition, in Dreileben (Three Lives, 2011), conventions of festival cinema—elliptical transitions, ambiguous dream sequences, retrospectively identified point-of-view shots, anecdotal realism, de-dramatization, open endings—punctuate, and puncture, a killer-on-the-loose scenario. The genre is respected to the extent of supplying teasing clues, some conveniently recorded on video and in an old photograph. (Shades of The Girl with the Dragon Tattoo.)
The murder-mystery element is, I think, part of the reason that this TV installment-story has been making the festival rounds. Yes, there's also its pedigree (three accomplished directors) and its use of the now-common strategy of network narrative. Each of the three episodes focuses on different characters whose paths cross. We get pieces of the whole story; scenes glimpsed in one episode are fleshed out in another.
The tryptych format recalls the Belgian Trilogy (Lucas Belvaux, 2002). But that exercise retold its story by centering on a core of characters, replaying events and switching point of view (and genre) from film to film. Dreileben's first two episodes focus on characters at some remove from the crime and the criminal, a strategy that redefines what counts as the central situation. Moreover, and unlike most network narratives, these plots show few points of contact. Characters connect very rarely across episodes, so that each tale gains a weight of its own. The mad-killer element comes to seem secondary for quite a while.
The first episode, Beats Being Dead, directed by Christian Petzold, is largely organized around the perspective of Johannes, a young medical student about to embark on a prestigious fellowship. He becomes attached to a moody immigrant woman working in a nearby hotel. Over the romance hovers not only a brutish biker club but also a mental patient, accused of murdering a girl, who escapes from Johannes' hospital and lurks around the forest. This episode is presented in a clean, almost enameled visual style sharpened by the abrupt scene shifts characteristic of modern cinema.
The second part, Don't Follow Me Around (Dominik Graf), seemed to me the strongest. Johanna, a female police psychologist, is brought to the town, apparently to profile the criminal, but actually to conduct a rather different investigation. She stays with an old friend and her husband, and Johanna's visit opens up a new psychodrama all its own. The rather narrow focus of the first, on a romantic triangle, here widens to consider frayed friendships, marital suspicions, and old passions. The character relationships get more complicated as things move along. The somewhat informal framings and jerky cutting (nearly three times as many shots as in the Petzold, in about the same running time) accentuate Johanna's discomfort and her eventual moments of confronting her past.
After two films hovering around the fringes of the crime, the third installment, One Minute of Darkness, signed by Christoph Hochhausler, seems to go to the heart of things. Now we follow the escaped lunatic Molesch pursued by Markus, a cop so flagrantly unhealthy that he seems to risk a coronary every time he rises from his sagging armchair. Yet this detective story turns out to be not quite as cut-and-dried as we expect. That's partly because of Molesch's encounter with a little girl and partly because the first episode is revealed in retrospect to unfold in a more indeterminate time frame than we might have thought. The film doesn't plug every gap, I think; I left thinking we needed a fourth or fifth installment. But that's probably part of the point.
Genre conventions permeate all three episodes, which seriatim present twentysomething romance, simmering melodrama, and classic sleuthing and pursuit, all spiced by stalker-in-the-shadows atmospherics. Dennis Lim's illuminating essay indicates that this trio of films is the product of a German debate about how filmmakers committed to "auteur cinema" can deal with matters of genre.
More broadly, works like Dreileben characterize much of today's festival moviemaking: an effort to graft modernist narrative strategies onto a genre-driven plot premise. (We see it in The Skin I Live in too.) A cynic could argue that a serial-killer investigation serves to attract audiences who might be put off by purely formal gymnastics. But actually mystery plots, based on hiding information and misdirecting our attention, mesh well with the narrational maneuvers of international art cinema. If crossover films like this bring in more viewers, that's a side benefit of merging two robust traditions—a storytelling mode that hides and then reveals secrets, and one that believes that even when revealed, secrets remain secretive.
POV = Perplexities of Vision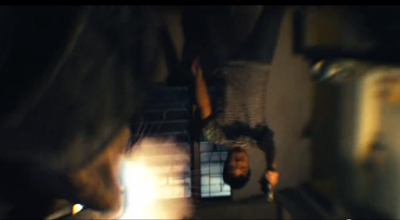 Headshot.
The barely-converging fates of Dreileben reminded me of the network knitting of Johnnie To's Life without Principle. In a similar way, two exercises in optical point-of-view echoed the last sequence of Panahi's This is Not a Film. In that non-film, the camera abandoned by a cameraman seems to be picked up by Panahi himself and carried beyond what we normally think of as "house arrest." But one of the resources of the POV shot is that it can coax us to ask who's seeing what we see. If we aren't given an identifying shot of the looker, we can start to wonder. Played upon in countless horror movies to hint at the eyes of the stalking monster/ killer, the unspecified POV in Panahi's hands (or perhaps not in his hands) becomes charged with political consequence.
Optical POV isn't as fully exploited as you might expect in Pan-ek Ratanaruang's Headshot. One of its premises is that Tul, a contract killer, is wounded in the cranium and as a result sees the world upside down. But the trauma takes place in the first few scenes, and what follows until the midpoint is a set of flashbacks explaining how he became a gun for hire. Present-time episodes showing him getting adjusted to his affliction alternate with past-tense scenes that supply him with motives for revenge.
So far, so noirish. Indeed, the iconography (crooked lawyers, not one but two femmes fatales, chiaroscuro scenes) and the plot (flashbacks, voice-overs, double- and triple-crosses) put us in familiar, quite enjoyable territory. Needless to say, like nearly all film noir heroes Tul has never seen a film noir, so he can't sense the walls closing in as quickly as we can. He remains idealistic—"I may kill people, but I'm not a crook"—and trusting to a fault.
The upside-down POV works okay as a general pointer to the film's Buddhist thematics, but the inverted shots are fairly few, introduced to defamiliarize a bit of action. They aren't exploited as a thoroughgoing formal device. For a while vision scientists believed, mistakenly, that when people wore inverting spectacles, they eventually learned to see the world rightside up. Is Ratanaruang suggesting that Tul adapted in this way?Early in the film the hero pins pictures on his wall upside down, but near the film's end I thought I saw a shot ostensibly through Tul's eyes showing us the inverted pictures on the wall, rather than the way they'd look if he saw upside down. In real life, as if it were relevant, it seems that wearing inverted spectacles doesn't make you see things right way round eventually. The world always looks flipped. But you can adapt to this upside-down array fairly quickly and execute normal activities like riding a bicycle and even reading. Presumably this explains why Tul's marksmanship remains lethally good in the gunplay finale.
Far more consistent–obsessive, actually–is the play with optical POV in the Romanian film Best Intentions by Adrian Sitaru. When Alex's mother has a stroke, he leaves Bucharest to visit her. She's recovering reasonably well, but Alex becomes so anxious about her care that he makes life miserable for her, his father, his girlfriend Lia, and the doctor, an old family friend. After the first scene, when Alex gets the call about her stroke, a drastically totalizing POV system kicks in. Whenever Alex is in the presence of anyone else—major character, minor character, onlooker—we see him through that person's eyes. If he's alone, usually on the phone, the shots of him are unassigned and objective, but when he's in public, he's only shown subjectively. Moreover, we never get a POV shot from his perspective.
A narrational game emerges. When Alex is interacting with only one other person, we quickly grasp who the Unseen Seer is. For instance, we understand that he's met at the train by his father, identified by his offscreen voice.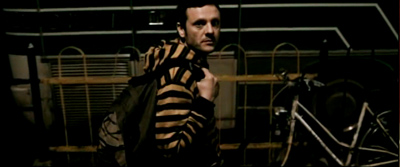 When Alex first visits his mother in the hospital, however, the POV floats momentarily. At first it might seem we're seeing Alex's entry through his mother's eyes,when he briefly acknowledges the camera's field of view.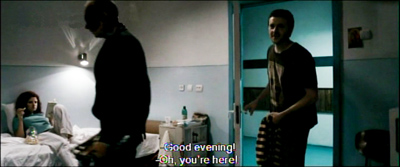 But when he moves past, we realize we're seeing him from the viewpoint of the woman in the bed beside his mother's.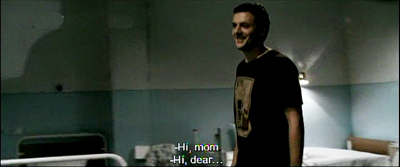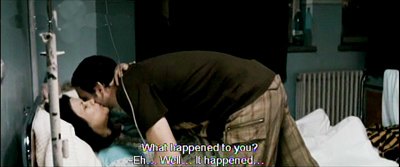 When he's with only one other character, the scene plays out without cuts. When cuts come within a scene, they're motivated as shifts from one character's POV to another's. Here we first see Alex and his mother through the eyes of the patient across the room, whom we glimpse in the background during his entrance above. When the mother's neighbor looks at them, that motivates a closer view of them.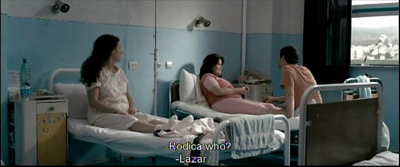 This tag-team POV becomes quite engaging when several characters are present. In a dazzling scene of three couples drinking around a tavern table, the dialogue is fast-moving and the cuts come quickly. I found myself trying to chart exactly whose view we're getting. Sometimes the POV gets anchored retroactively: one of several characters we see in shot A becomes the POV vessel in shot B. For more fun, the system develops in unexpected ways as the movie proceeds.
The experiment is worthwhile, and not just as a formal game. Recall Erving Goffman's notion that social life is a stage in which we enact the roles that put us in a good light. Best Intentions shows Alex as not only a caring son but a guy earnestly playing a caring son. In the Theatre of Everyday Life, he's something of a drama queen. Of course he's partly right to be concerned about the health-care system (he's probably seen The Death of Mr. Lazarescu), but that concern also handily motivates his incessant performance of his part.
As a result of Sitaru's rigorous formal constraints, Alex is onscreen for nearly every instant of this 101-minute movie. (The very brief exception is itself of interest.) His narcissism, his urge to control others, and his inability to really listen to his family and friends—all are perfectly captured by a stylistic strategy that constantly gives him center stage. I haven't seen Sitaru's previous film Hooked (2007), but that too used an enveloping POV strategy. Interestingly, there he assigned all three major characters optical POV shots. In Best Intentions, denying Alex his own POV underscores his fretful obliviousness to what anyone else thinks. He makes a scene in every scene, becoming an object of fascination and frustration, for others and for us.
Calming down
All these films, as well as others we've discussed in this year's VIFF, might seem to support the idea that Form Is the New Content. It takes a film like Hirokazu Kore-eda's I Wish to remind you of the power of less convoluted storytelling. Like Still Walking, it's a family drama-comedy, but a little more somber and a little more comic. Devastatingly simple, too.
A family has split up. One brother, Koichi, stays with his mother and grandparents in Kagoshima, where the volcano splutters ashes into the air. The younger brother, toothily grinning Ryu, has gone off to Fukuoka with father, a scruffy rock guitarist. The boys communicate by phone, hoping to reunite the family.
They hatch a plan. They've convinced themselves that if they make a wish at the precise moment that two bullet trains pass one another, that wish will be granted. So Koichi and Ryu plan a pilgrimage that eventually encompasses their pals and that becomes a confrontation with the mundane realities of death and solitude, mitigated by comradeship and the hospitality of strangers.
The boys' situation ripples outward to encompass the grandparents' friends and the sons' schoolmates and their parents, all of whom earn quietly incisive vignettes. Routines—classroom encounters, swimming sessions, Koichi's run-ins with teachers, Ryu's nights out with dad's band—are recycled without fuss, building up a textured sense of each boy's world. Kore-eda presents everything so unemphatically that he makes film direction look very easy.
Despite lacking the fanciness of the modern network narrative and its disjunctive time schemes and viewpoint switches, Kore-eda's plot, like that of Ozu's Early Summer, effortlessly creates a ramifying world in which our boys feel at once comfortable and apprehensive. Come to think of it, some of the kid comedy recalls the two brothers' antics of I Was Born But, and the surprisingly sympathetic young teachers, reminiscent of the adults in Ohayo, become co-conspirators and, a little bit, surrogate parents. I Wish is a modest movie; it almost lowers its eyes in front of you. It's also the closest thing to perfection that I saw in Vancouver.
---
For a lively roundup of ideas on Dreileben, see David Hudson's Daily MUBI entry. An informative presskit is here. Headshot has been bought for US release by Kino Lorber. An informative interview with Adrian Sitaru is here. I discuss arthouse genre crossovers in an earlier year's entry from VIFF. For a more thorough study of network narratives, see "Mutual Friends and Chronologies of Chance" in my Poetics of Cinema.
23 October 2011: Thanks to Christoph Huber for correcting an error in the initial post. Although there is a town called Dreileben, the film doesn't take place there, as I had said.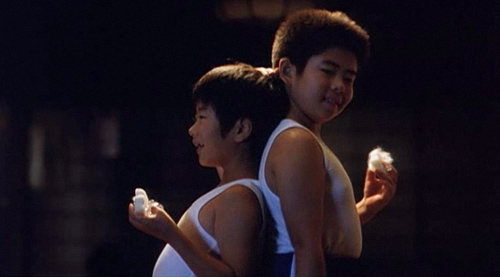 I Wish.