Thursday | July 7, 2011
open printable version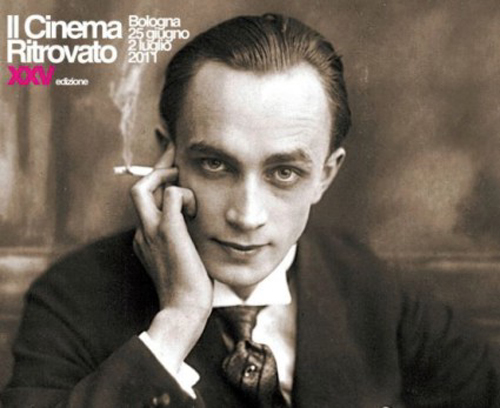 We're still catching up with last week's generous Cinema Ritrovato in Bologna, the world's premiere festival of restored and rediscovered films from all eras.
DB here:
O Segredo do corcunda (The Hunchback's Secret, 1924) was more than a curiosity.  Directed by the Italian Alberto Traversa, it was the first Brazilian feature screened abroad. It also has a documentary bent in that it shows a bit of what coffee farming was like in that era. The plot traces how the budding romance between a poor boy and the plantation owner's daughter is blocked by the overseer Pedro, who actually killed the boy's father.
The film illustrates penetration of Hollywood filming technique around the world. The linear plot includes a flashback explaining key motivation, a romantic subplot with helper characters, and a last-minute rescue built out of parallel editing. Scenes are filmed and cut according to continuity principles, with eyeline matches and angled changes of setup. There is even a split-screen delirium sequence.
Yet the film was out of step with Hollywood in one respect: the proportion of titles, especially dialogue titles. O Segredo do Corcunda has a lot of intertitles; they make up 22% of all its 518 or so shots. Somewhat similar proportions can be found in the mid-1920s in Hollywood, as Upstream and Cradle Snatchers indicate. But what's different is the proportion of dialogue titles to expository ones. Most Hollywood films of the period have a very small proportion of expository titles, usually no more than 15% of all titles, and often much less. Fazil, discussed in an earlier entry, has 118 dialogue titles and only seven expository ones. But in O Segredo the 65 dialogue titles comprise 57% of all titles, leaving the 49 dialogue titles to make up the difference.
Why does this matter? In The Classical Hollywood Cinema, I argued that American generally tend to favor methods that let the story seem to tell itself. Although an early silent feature might have many expository titles, in the late 1910s and the early 1920s, films began minimizing expository titles and letting dialogue carry the action. By the 1920s a US film would have relatively few expository titles. The pattern is visible across a film as well, with expository titles most common in the opening scenes but diminishing as the plot proceeds. In Segredo, not only do expository titles do more work, they're spread out pretty evenly across the film. An external narrational authority is there from start to finish.
I suspect that the method of fading external authority is an identifying mark of American silent film and is rarer in other cinematic traditions. If that hunch is right, we can ask: Why did other countries persist in using expository titles so much? Matters for further research!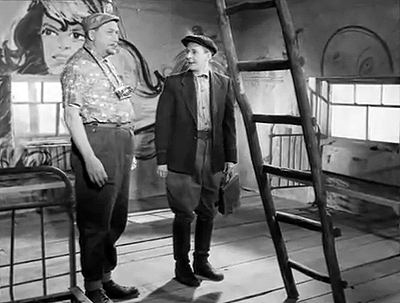 Polustanok (A Small Station).
Boris Barnet started out as one of Lev Kuleshov's circle, and he became a well-established director. Not as famous as the Big Three (Eisenstein, Pudovkin, Dovzhenko) or even Kuleshov, Barnet directed charming comedies like The Girl with the Hat Box (1927) and The House on Trubnoi Square (1928) and heartfelt dramas warmed by music, such as By the Bluest of Seas (1935). But many of his later films are unknown to me. I couldn't catch all the titles in the Barnet retrospective, but the two features and one short I saw convinced me of his gifts.
Those gifts come off as gentle and genial in the wartime feature A Good Lad (Slavny Maly, 1942). A French pilot's plane is downed in a Russian forest, where a resistance group is hiding out and forming its own little community. Living under the imminent threat of discovery doesn't forestall songs, romantic affairs, and mistakes born of the language gap. ("I love you." "I don't understand."  "I don't understand.") Somber notes are struck when the village poet strides along singing patriotic tunes set to Borodin's melodies, and soon the German soldiers are finding some partisans to threaten. With the villagers' help the plane is repaired and soars into the sky to engage the enemy. The film seems to take place in an otherworldly realm, floating between an idyll and a battlefront drama.
Twenty years later Barnet could indulge in a more relaxed pastoral. Polustanok (1963) is variously known as Whistle Stop or A Small Station. A Moscow scientist goes on a painting vacation to the countryside. He settles into a collective farm where many painters have come before and winds up in a shed that is underfurnished (the chickens have to be shooed out) and overdecorated (the walls are covered with graphic inspirations). With something of the episodic structure of M. Hulot's Holiday (though without its rigorous underlying timetable, at least to my eye), A Small Station rings variations on the fish-out-of-water situation of Pavel Pavlovich. He makes friends with a local delinquent, the party man, and cute girls. He even gets some support from the grumpy farm lady who has been painted many times and in many styles, some surprisingly unofficial in those Krushchev years. After Pavel sets painting aside, he and the delinquent build a brick stove for his shed. He signs it as if it were a work of art. He can return to Moscow reinvigorated, and as so often happens in films like this (Local Hero comes to mind), the departure is bittersweet.
Barnet's light touch was nowhere in evidence in the long-unavailable short Priceless Head (A Bestsenaya golova, 1942).  On every corner of an occupied Polish city, the Nazis have mounted a reward poster for a wanted partisan. He realizes he's trapped, and meeting a penniless woman unable to feed her sick child, he offers to let her turn him in. This impossible choice is rendered in precisely controlled drama, with not a wasted shot or false note. Priceless Head shows that Barnet was an outstanding dramatic director, as well as Soviet cinema's most unassuming lyricist.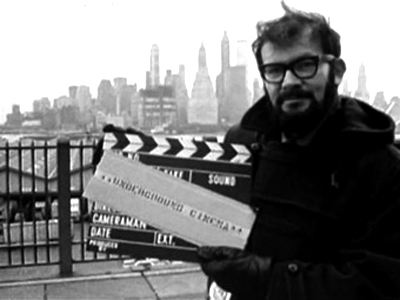 Underground New York.
What would a trip to Bologna be without a foray into the 1910s? Kristin will have a lot to say about the biggest discovery, the consistent excellence of Alberto Capellani, so I'll contribute a mite on the things I enjoyed. Of course I tracked the Feuillades. Roman Orgy (1911) was fairly tame, even allowing for a climax of Christians crunched by lions in the arena. Bébé est neurasthénique (1911) was shamelessly silly, with the little rascal pulling dishes off the table and then escaping punishment by feigning illness. His gift for rolling his eyes back into his head proved to be as funny on the tenth instance as on the first. But the most peculiar Feuillade entry was a sort of satiric PR response to Les Vampires. Lagourdette Gentleman Cambrioleur (1916) shows Musidora, no longer Irma Vep, absorbed in reading the novelization of Les Vampires. Marcel Levesque decides to woo her by pretending to be a debonair thief, so he convinces his valet and cook to pose as wealthy opera patrons. He'll then display his skills by robbing them in front of Musidora. The two-reeler accepts, in a mocking spirit, the charge from bluenoses that sensational stuff on the screen only encourages crime.
Lagourdette has its nice points, notably its tendency to supply very large close-ups of its principals. (Who knew that Musidora had freckles?) This technique, almost absent from Feuillade's features of the period, may have been an adaptation to the star-driven nature of the product. As Annette Förster noted in her introduction, the film involved a sort of product placement, and Gaumont's stars, no less than its literary spinoffs, were branded items. The movie is minor Feuillade but significant in showing that as early as 1916, filmmakers were seeking synergy.
Mauritz Stiller began directing in 1912, and through 1914 he turned out some 20 films. All have been assumed lost, but one surfaced in Poland a few years ago. It was restored in 2011 by the Swedish Film Institute, so once more Ritrovato hosted a "second world premiere." Gränsfolken (People of the Border aka The Border Feud, 1913) is derived from a Zola novel. A boy and a girl fall in love, but their families live on opposite sides of a border. For the girl's father, loyalty to country comes before all else, and so he tries to block the marriage. Nonetheless the couple unite, but they face a dilemma when the two countries plunge into war. Will the young man fight for his old homeland or his new one? And will his ferocious brother kill him as a traitor?
Stiller had mastered the tableau style of the 1910s. Although nothing in the film displays Victor Sjöström's virtuosity in staging, Stiller gets a lot of mileage out of the two families' densely furnished parlors. Every inch of the frame is used at some time or another; a figure lying on a tall bed can roll into view in the upper left corner of the shot. The exteriors are picturesque and often framed geometrically. I need to see Gränsfolken again to do justice to its visuals, but the fairly restrained playing and the emotional intensity of the situation prefigure what would become signature elements in Stiller's style in work like the Thomas Graal comedies and of course Herr Arne's Treasure (1919).
Jumping far ahead to the 1960s, it was a pleasure to see Gideon Bachmann's Underground New York. Shot in 1967, it treats protests against the Vietnam War as of a piece with the avant-garde film scene. Shirley Clarke, Jonas Mekas, the Kuchars, Bruce Conner, and other legendary figures are captured in quick, telling portraits. Andy Warhol confides that acting in his film involves not performance but "faking it." There are many lively moments—Conner dancing in pegged pants, Mekas tearing up company checkbooks—and enough nudity to suggest that new filmmaking and political protest were tied to erotic liberation.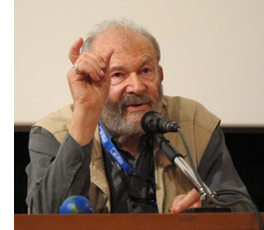 Bachmann, dynamic and articulate at 84, offered many thoughts on the film and how he wound up making it. A cosmopolitan intellectual, he began producing an interview show for WBAI radio, a major initiative in American film culture. His talks with Fellini, Tarkovsky, and others proceed from his conviction that "The person is more important than the film." By that he means that you never really make the film you have in your head—you get at best 80%–and you end up lying about your mistakes. But the person has an achieved identity. "My life's work is to meet the people behind the camera."
Over eight hundred hours of those meetings have been preserved in Bachmann's audio archive, Vox Humana—The Voice Bank. The model for Bachmann has always been not the interview, with its predictable questions and stale answers, but the conversation, "just friends talking." Bachmann, a straightforward and serious man, was forty when he made Underground New York, and he retains the mature lucidity on display in his comments in that film—and in his film criticism, which I remember reading with pleasure in Film Quarterly in the 1960s. We're likely to get an earful of his archive, for Criterion has already signed up the North American rights to the Vox Humana collection.
KT here:
Given the great abundance of films at this year's festival—some might say an overabundance—I singled out out three threads to concentrate on. I resolutely ignored the others unless I could somehow fit a film in here and there. Naturally I chose the second part of the Albert Capellani retrospective that began last year; I wrote about the 2010 season here and will do a follow-up soon. I also chose the 1911 "Cento Anni Fa" programs, since, as usual, the festival presented films from exactly one hundred years ago. Not surprisingly, the most interesting among these were by Feuillade, which David covers above, and Capellani. Finally, since I have a particular interest in Weimar cinema, I stuck with the "Conrad Veidt, From Caligari to Casablanca" retrospective.
The title refers to what are probably Veidt's two most famous roles, as the somnambulist Cesare in Das Cabinet des Dr. Caligari (1920) and his final performance, as the Nazi Major Strasser, in Casablanca (1942). But presumably on the assumption that just about everyone knows these two films well, Il Cinema Ritrovato didn't show either one. Instead, the program successfully assembled a group of lesser-known Veidt performances. Despite the fact that I've seen a lot of Veidt's films from the 1910s and 1920s, almost all the items on offer were new to me. The selection seemed designed to display the considerable range of an actor often identified with villainous roles, like his portrayals of Nazis in the 1940s, or downright demonic, like Ivan the Terrible in Waxworks.
Almost none of the films in the program were newly discovered or restored. Most were drawn from existing prints held by various archives. The Wandering Jew, for example, was a beautiful print from the National Film and Television Archive, but it was full of splices, often with whole lines of dialogue missing. The exception was The Thief of Bagdad, a newly restored version shown as one of the evening screenings in the Piazza Maggiore. Not having the stamina that we once had for nearly round-the-clock film viewing, David and I missed all of those. I also passed up the familiar Waxworks (1924, Paul Leni), which I gather was shown in the same dark, indistinct version that has been circulating for years. It's a film ripe for restoration, but perhaps no better material survives. That would be a pity, since it's the one film that three of the main Expressionist actors, Veidt, Werner Krauss, and Emil Jannings appeared in together. Leni is also an interesting director, as well as a set designer; perhaps a retrospective of his largely unknown body of work could be arranged someday.
Apart from these, the program pulled together an admirable selection of films. The earliest, Dida Ibsens Geschichte ("Dida Ibsen's Story," 1918, Richard Oswald), was a sequel to the original version of Das Tagebuch einer Verlornenen, later remade in 1929 by G. W. Pabst with Louise Brooks. Veidt features relatively little in Dida Ibsen, playing a rich man who takes Dida as his mistress. The film is stolen by Werner Krauss, however, playing a highly eccentric man who forces Dida to marry him and then terrorizes her and their little daughter. Their home is crammed with what appear to be the exotic souvenirs of the husband's adventures, including Asian furnishings and curios, as well as a parrot, crocodile, and lively python. Krauss carried the latter curled around his body much of the time. Indeed, where else could one see two snake-carrying villains in a single week? Three days later I watched Burl Ives sporting a cottonmouth moccasin in Nicholas Ray's Wind across the Everglades, a film from the color series that I managed to fit into my schedule.
Veidt's demonic roles are well represented here not only by Waxworks but also by the 1922 historical epic Lucrezia Borgia (also directed by the prolific Richard Oswald). I had expected the latter to be the usual stodgy historical drama, but it was livelier and more enjoyable than I had expected. Veidt plays the ruthless Cesare Borzia, lusting after his sister Lucrezia and scheming against her repeatedly until he leads a suicidal attack on the fort where her husband is defending her. The fort itself is an immense, lumpy set of the kind common in German epics of the 1920s, That, along with the huge armies of extras, suggests that this was one of the biggest-budget films prior to Metropolis.
Veidt was more versatile than such roles would suggest, however. He often played intense, suffering young men, as in one of F. W. Murnau's earliest surviving films, Die Gang in der Nacht (1920, not, as in the catalogue, 1922). Veidt plays a supporting role as a mysterious, spiritual young painter who has been blinded. His more cheerful side was in evidence in the wonderful musical The Congress Dances (19331, Eric Charell); there as the confidently scheming Metternich he smilingly relishes eavesdropping on officials and politicians and reading their sealed letters with a contraption involving a bright lamp and magnifying lenses. He plays a Prussian military hero in Die letzte Kompagnie (1930, Kurt—later Curtis—Bernhardt), an early talkie shown in what appeared to be an English-language version, part dubbed, part redone with the actors speaking English.
Veidt's ability to play both sympathetic and dastardly characters was shown off in the final two offerings, scheduled back to back, in both of which he plays diametrically opposed brothers: Die Brüder Schellenberg (1926, Karl Grune) and Nazi Agent (1942, Jules Dassin). Seeing the two films juxtaposed was odd. In each one, the evil brother is played by Veidt as he usually looked, with dark hair slicked back from his face, while the virtuous brother is gray-haired, reserved, with a little goatee (below). One has to suspect that Dassin saw the earlier film, and in fact Die Brüder Schellenberg was screened at the festival in an American print entitled Two Brothers.
---
The Mosfilm site offers some Barnet titles for downloading, without subtitles and for a fee. The short list includes A Small Station. The opening twelve minutes, with subtitles, can be found on YouTube. A Good Lad is available here, for free, without subtitles.
For a lovingly compiled fan site, see The Conrad Veidt Society, but beware the Wikipedia entry.
[Thanks to Armin Jäger for correcting my mistake on the date for The Congress Dances.]
Conrad Veidt and Conrad Veidt in Nazi Agent.