Thursday | April 14, 2011
open printable version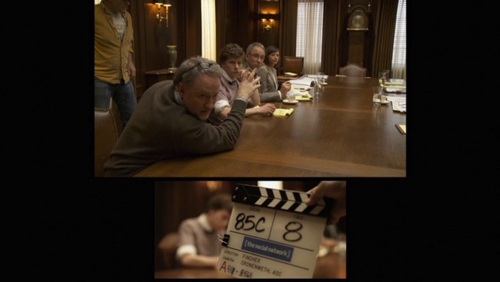 David Fincher, foreground left, lays out a scene for The Social Network
Kristin here:
Every year or so I write an entry on useful DVD supplements. These aren't necessarily very recent ones, but items I've come across that actually reveal something interesting about the filmmaking process—as opposed to the litanies of mutual praise that making-ofs too often spend time on. For the three earlier entries, see here, here, and here.
These posts are aimed partly at fans, of course, but also offer suggestions to teachers who use Film Art concerning useful teaching tools to be found among the supplements.
Often the most elaborate DVD extras are those for big fantasy and science-fiction films. There's certainly no shortage of clips and examples if you're teaching special effects! The trouble is to find good supplements about the basic techniques of pre-production and filming. I've included some effects-heavy films in past entries, but I'm happy this time to have two dramas whose supplements don't even mention special effects.
The Social Network ("Two-disc Collector's Edition," Sony Pictures Home Entertainment)
As with many DVDs, the long, chronologically organized account of how the film was made is the least interesting of the supplements. But hang on, because the short, specialized ones that follow are terrific.
The feature-length documentary, "How Did They Ever Make a Movie of Facebook?" starts with pre-production, a section which is mildly interesting but basically uninformative. It then continues with four parts: "Boston," "Andover," and "Los Angeles," and "The Lot." The "Los Angeles" scene includes an excellent scene showing the camera on a dolly, rapidly tracking back in front of Eduardo (Andrew Garfield) as he hurries to confront Mark Zuckerberg (Jesse Eisenberg). This 92-minute making-of skips post-production and ends with a montage of self- and mutual congratulations.
I should add that there are moments during this film where the rehearsals and the exchanges between the actors and Fincher on set do reveal something about how performances are crafted. Someone who wanted to teach a unit on acting might find it helpful to pull out clips of these interesting moments and have students read David's entry on the performances in the film.
Otherwise, save your 92 minutes and go straight to the "Additional Special Features."
First is "Jeff Cronenweth and David Fincher on the Visuals." At only 7 1/2 minutes, this is packed with good stuff. Cronenweth discusses why he and Fincher decided to go with Red HD cameras (below left) rather than the Vipers used for Zodiac and The Curious Case of Benjamin Button. It well illustrates of what we talk about in Chapter 1 of the ninth edition of Film Art: technical decisions being made for aesthetic purposes. According to Cronenweth, digital cameras innately have greater depth of field than 35mm ones do, and the featurette explains how to manipulate depth of field in digital filmmaking in order to guide the attention of the viewer. Finally, there's an enlightening example of how three cameras fastened together can take separate images that can be tiled into a long, panoramic space. The filmmakers can than create camera movements within that panorama, add lights, and otherwise manipulate the image in ways that will be imperceptible to the viewer.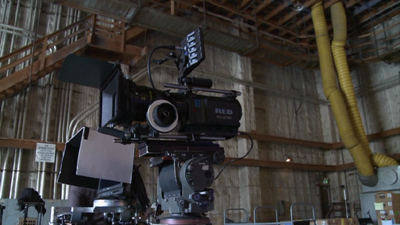 "Angus Wall, Kirk Baxter, Ren Klyce on Post" is just as good if not better. It's mostly about editing. About a minute in, Baxter, the editor, talks about how Fincher wanted him to conform to traditional rules of continuity editing, never crossing the axis of action. As he puts it, "We're always doing basic film law, but it can just be done extremely rapidly." In other words, the average shot length may be lower than in older Hollywood films, but the methods of handling space for clarity are still observed. One passage of this supplement shows the difficulty of keeping eyelines straight when shooting a group at a table (a topic we deal in Film Art using a simpler example from Bringing up Baby). Klyce, the sound designer, discusses being able to edit individual words from different takes to create exactly the dialogue the director wanted. He also points out that Fincher insisted that background noises be as loud as the dialogue being spoken by the principal characters present. That's a pretty unconventional approach, as we mention in our sound chapter.
At several points in this supplement, the juxtaposition of two or more images in a black background helps illustrate the point, as in the frame at the top of this entry.
The innovative music in The Social Network has rightly drawn a great deal of attention, including an Oscar and other awards. It's covered in "Trent Razor, Atticus Ross, David Fincher on the Score." Again some of the concepts we lay out in Film Art show up here. The composers and director talk about how music affects the spectator's expectations. They point out that variants of a key musical theme are used to connect three scenes (i.e., a musical motif links parts together to create a formal whole). That musical motif involves a slow, wistful piano tune played over a faintly ominous undercurrent of electronic tones. To indicate the progression across the film, the piano was recorded with the microphone at a different distance from the instrument each time, affecting its timbre.
"Swarmatron" is really an extension of the music supplement, this time focusing on a particular and eccentric musical instrument.
Finally, there's a segment on the big night-club scene, "Ruby Skye VIP Room: Multi-angle Scene Breakdown," which is about four minutes long. Multi-angle layouts of scenes juxtaposing the different camera angles within the frame have become fairly common on DVDs. Here, though, Kirk Baxter and Ren Klyce return to offer more insights into the post-production and how these disparate images and sounds were combined. This supplement is interactive, and one can choose which versions of the shots and sound to use. I didn't try all possible combinations. Choosing "1) Composite view" and "2) Interviews" worked well, I thought.
Another Fincher film, Zodiac, has been discussed in our "Beyond praise" series. Evidently Fincher understands what makes for a useful supplement–at least when it comes to the ones that deal with specific aspect of filmmaking.
District 9 ("2-disc Edition," Sony Pictures Home Entertainment)
To begin with, don't bother with the three short "The Alien Agenda: A Filmmaker's Log" films on the same disc as the feature. They're perfunctory and uninformative, probably something produced for cable channels to run as publicity.
The good stuff is on the supplements disc. Which has previews on it. I expect previews before the film, but in front of the supplements?! Maybe I just haven't noticed this before, but this is the first time I was actively annoyed by it. At least one can skip through them by pressing the "next" button three times.
The individual documentaries are pretty good of their type. "Metamorphosis: The Transformation of Wikus" focuses on the make-up designed for the main character, Wikus Van Der Merwe, in the portion of the film after he is infected by something that turns him into one of the aliens he has been trying to control. This is as straightforward and dramatic a demonstration of make-up as you're likely to see.
A lot of the film's acting involved improvising on camera, and "Innovation: The Acting and Improvisation of District 9" is an unusually interesting little supplement on acting. Again, teachers who want to teach an extensive unit on acting might want to use this. It creates a considerable contrast with the main Social Network making-of, where Aaron Sorkin states quite emphatically that there was no improvisation at all on his film.
"Conception and Design: Creating the World of District 9" goes into such topics as the design of the aliens' weapons (below, top). It's fairly typical of these sorts of supplements, but there is a discussion of how the space-ship design was consciously imitating the style of sci-fi films of the 1970s and 1980s. That is, Alien (1979) introduced the notion that space craft could be corroded and dingy(below, bottom)–as opposed to the squeaky-clean interiors of the ships in 2001: A Space Odyssey (1968). Thus the idea of styles and genres having their own histories, which we bring up in Film Art, is exemplified.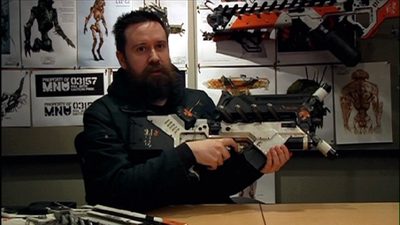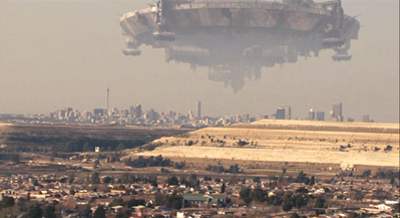 "Alien Generation : The Visual Effects of District 9" has some interesting footage exemplifying the challenges of trying to shoot improvised acting with a hand-held camera while having a motion-capture camera filming the same action simultaneously. With both cameras, complete with separate small crews, move in unpredictable ways, they tend to get in each other's way. There's also a nice moment at the end when a technician shows off a rotating still camera on a tripod. It's used to record the light coming from all directions, so that the digital effects can add in light that's consistent with that on set.
The New World (New Line Home Entertainment)
Note: Both the theatrical version DVD and the "Extended Cut" one (which restores 35 minutes cut by Malick for the theatrical release and is also available in on Blu-ray) have the same supplements.
With all the anticipation building up around Terence Malick's upcoming The Tree of Life, I wondered what a making-of for a Malick film would look like. Would the elusive Mr. Malick take part, or would he allow little or no behind-the-scenes footage?
Turns out he did not take part, but the makers of "Making The New World," a one-hour supplement, took an imaginative approach by attaching themselves to the second unit. That's the unit that typically films the action and landscape shots, scenes where the main actors are not delivering dialogue. In this case the unit had plenty of work to do. We see the filming of a fire at the fort, footage of the three ships sailing up the river in the marvelous opening scene, and a long battle between the Native Americans and colonists.
The documentary camera operators were allowed to tag along right behind or even in the midst of the cinematographer's team, who clearly cooperated extensively. A lot of what we witness is actual filming, often glimpsed over the shoulders of assistants, still photographers, the second-unit assistant director, the fight choreographer, and others. (See below.)
I doubt very much of the coverage was planned in advance.  The camera dodges around people who intrude unexpectedly into the foreground, and in a few cases the microphone is too far from what's going on, and the filmmakers insert subtitles to let us know what was said. The interview footage clearly included anyone the documentarists could corral between takes, including various bit players, make-up people, the assistant director, just whoever was available. It comes as a shock when about half-way through Colin Farrell appears briefly to make a few remarks. In this brief interview with one of the Indian actors, people pass close by in the background, making noise that competes with what he says: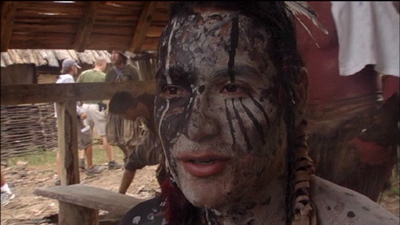 The result is a greater immersion in the filmmaking process than I've seen in any making-of. There's no real attempt to explain any aspect of filmmaking–no voiceover narration, no superimposed titles apart from the ones identifying the people speaking.
Overall, this caught-on-the-fly footage gives the impression that any aspect of filmmaking can be interesting. So often the directors of supplements foreground the stars and try to inject drama into what is already a fascinating subject. Here there might be a plastic tarp being put over a camera during the rain or a camera assistant instructing extras on a ship to make sure that their water bottles aren't in frame, and the supplement makers include it.
We do, of course, learn something about how Malick works. Experienced camera operators remark on how he doesn't use artificial lighting, and we see shots of men ripping openings in thatched roofs to allow sunlight into a scene: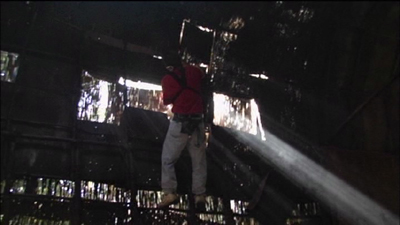 Christian Bale notes that Malick shoots 360 degrees around the space, so that crew members must be prepared to duck out of sight if he turns the camera their way. Others express surprise at the complete lack of storyboarding.
Being attached to the second unit also allowed the making-of team to show how the filmmakers cooperated with and included many Native Americans in the planning and execution of the film. It's great to see American Indians not only pleased with the way their ancestors are being portrayed, but excited by being able to experience something of their ancestors' way of life.
There's a touching moment when Buck Woodard, a Native American advisor on the film, is being shown around the frame of an Indian dwelling by the production designer, Jack Fisk. Woodard looks around with a smile, and as Fisk moves off to the left, Woodard turns away from the camera and whispers almost inaudibly, "It's just wonderful!"—clearly speaking to himself and not to Fisk or the microphone.
In short, this is a thoroughly ingratiating making-of—and how often do you see one of those?
One final note. Is it just me that's getting annoyed by the time-lapse photography in supplements that are used to show lengthy actions like set-building or light-shifting really fast? That was kind of impressive for a while, but it's a cliché by now. In The Social Network supplements the fast-motion is so fast that one can't really see what's going on. That sort of thing is cutesy, and it condescends to the viewer. (Even The New World supplements, which are much more casual, use this device once or twice.) I would like to see a set-building scene that actually shows something about how sets are built, not about how cool the supplement producers can make the process look.
---
The factors considered in these supplements tend to support David's arguments in The Way Hollywood Tells It that there are basic continuities of style between traditional studio filmmaking and what some scholars have characterized as "post-classical" Hollywood.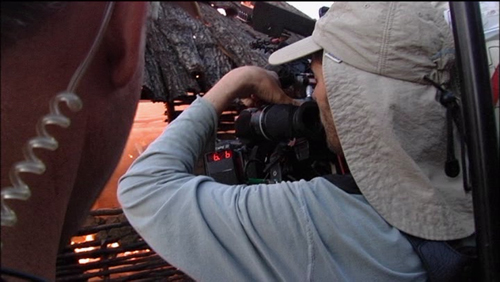 The New World.