Monday | May 24, 2010
open printable version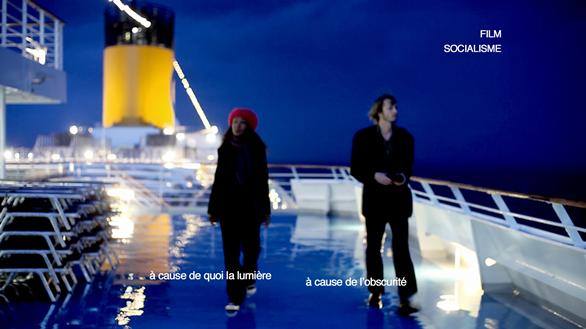 Kristin here—
How many directors are there whose bad reviews just make you more eager to see their new films? I'm not at Cannes and haven't seen Jean-Luc Godard's Film socialisme. But I've read some negative reviews, mainly those by Roger Ebert and Todd McCarthy. Now I'm really hoping that Film socialisme shows up at the Vancouver International Film Festival this year. (Please, Mr. Franey? I promise to blog about it.)
As you can tell from my writings, I'm no pointy-headed intellectual who won't watch anything without subtitles. I love much of Godard's work and have analyzed two films from early in what a lot of people see as his late, obscurantist period (Tout va bien and Sauve qui peut (la vie) in Breaking the Glass Armor). But I also love popular cinema. If I made a top-ten-films list for 1982, both Mad Max II (aka The Road Warrior) and Passion (left and below) would be on it.
Of course, those are old films by most people's standards. Godard's films have gotten much more opaque since I wrote those essays. I wouldn't dare to write about King Lear or Hélas pour moi. That's partly because I don't speak French, though a French friend of ours has assured us that that doesn't help much. Here Godard thwarts the non-French-speaker further by not translating the dialogue. Variety's Jordan Mintzer describes the subtitles that appear in the film: "To add fuel to the fire, the English subtitles of "Film Socialism" do not perform their normal duties: Rather than translating the dialogue, they're works of art in themselves, truncating or abstracting what's spoken onscreen into the helmer's infamous word assemblies (for example, "Do you want my opinion?" becomes "Aids Tools," while a discussion about history and race is transformed into "German Jew Black")." Mintzer's review provides a long description of the film; he mentions how baffling it is but doesn't offer any real value judgments on it. Like other reviews, though, it piques my interest in the film.
Since Godard has increasingly moved into video essays, I've not kept as close track of him. But I always look forward to seeing his occasional new features on the big screen. The man has a mysterious knack for making beautiful images out of the mundane. How could a shot of a distant airplane leaving a jet-trail across a blue sky be dramatic? Godard manages it in the first shot of Passion. (I won't show a frame from that shot, since it depends on the passage of time for its effect.) His soundtracks are dense and playful. Every few years the man cobbles together an incomprehensible plot based on rather tired political ideas and turns out something so visually striking that it might as well be an experimental film. I'm willing to watch and listen hard without assuming that I'm obliged to strain to find a message. McCarthy comments, "More personally, I have become increasingly convinced that this is not a man whose views on anything do I want to take seriously. […]" Did we take his views all that seriously back when he was a Maoist? I didn't, but La Chinoise is a terrific film.
That's not my point, though. As Ebert's and McCarthy's reviews both mention there are devotees of Godard who will most likely enjoy and defend Film socialisme. Ebert: "I have not the slightest doubt it will all be explained by some of his defenders, or should I say disciples." McCarthy says that Godard is one of an "ivory tower group whose work regularly turns up at festivals, is received with enthusiasm by the usual suspects and then is promptly ignored by everyone other than an easily identifiable inner circle of European and American acolytes." (McCarthy's review is entitled "Band of Insiders.")
I'm not sure what's wrong with being devoted to Godard, even to the point of defending films that may be obscure or even maddening. I personally haven't enjoyed his more recent theatrical releases like Forever Mozart and Éloge pour l'amour as much as his earlier work, but they're still better than most Hollywood, independent, and foreign art-house films. The man is pushing 80 and not likely to change, so live and let us acolytes live.
Not coming to a theater remotely near you
I'm not here to defend Godard—not yet, anyway. But on May 19, Roger posted an essay calling for more "Real Movies" to be made, essentially narratives based on psychologically intriguing characters in situations with which we can empathize. He doesn't say so, but I suspect this idea was inspired in part by his reaction to Film socialisme. His examples of real movies are some of the films he's enjoyed this year at Cannes. I haven't seen those, either, but I've read enough of Roger's writings and been to Ebertfest often enough to know he loves U. S. indie films like Frozen River and Goodbye Solo. Excellent films with fascinating characters, but they and most of the foreign-language films that get released in the U.S. play mostly at festivals and in art-houses, both of which tend to be confined to cities and college towns. I'm sure that such character-driven films would be more likely than Film socialisme to get booked into art-houses, but they wouldn't wean Hollywood from its tentpole ways.
Even the films that play festivals and arouse great emotion and admiration in the audiences will seldom break through into the mainstream. There simply aren't enough of those art-houses.
As with many of Roger's posts, "A Campaign for Real Movies" has aroused comments from people complaining about the lack of an art-house within driving distance of where they live. Jeremy Chapman remarked:
But Roger, if they did that ("Real Movies"), then I'd return to the cinema. And those in charge of the movie industry have proven again and again that they don't wish to see me there. They'd rather show regurgitated nonsense to people so desperate for some distraction from their lives that they'll go even though they know that they're watching rubbish.
If any of these films you mention play nearby, then I shall see them. But they won't. Instead I'll have the option of Avatar II or some remake of a movie that was quite good enough (or not) the first time it was made. I love the movies, but I'm so over the movie industry (at least in the US).
Talking to regulars at Ebertfest, one hears time and again that some of them journey across several states to have a quick, intense immersion in films that haven't played near their homes. Similarly, many who post comments on Roger's essays refer to having been limited to seeing indie and foreign films on DVDs or downloads from Netflix.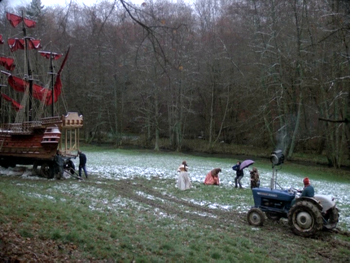 I completely sympathize with that problem. Even with Sundance's six-screen multiplex and the University of Wisconsin's Cinematheque series and Wisconsin Film Festival, most of the movies David and I see at events like Vancouver or Hong Kong don't play here. Sundance has to book pop films on some of its screens to allow them to bring art films to the others. Right now Iron Man 2 and Sex in the City 2 are playing there, alongside The Secret in Their Eyes and Letters to Juliet. If that's what it takes to keep the place going, then so be it.
However much people decry the crassness of Hollywood—and there's plenty of it to go around—or denounce audiences who only go to the latest CGI spectacle, the simple fact is that the market rules. Indeed, if there were a truly free market, we probably would see far fewer indie and foreign-language films. Film festivals are supported largely by sponsors, and the films they show are often wholly or partially subsidized by national governments. The festival circuit has long since become the primary market for a range of films that otherwise never reach audiences.
That may sound terrible to some, but consider the other arts. Some presses only publish books they hope will be best-sellers, while poetry and other specialist literature is relegated to small presses whose output doesn't show up in Barnes & Noble. That's very unlikely to change. Amazon and other online sales have been a shot in the arm for small presses, just as Netflix has made it far easier for people to see films they probably would not otherwise have access to. (Our plumber told me the other day that he had been watching a bunch of recent German films downloaded from Netflix. Well, that's Madison, as we say; high educational level per capita. But most people have the same option, if they wish.)
Art-houses are scarce in small cities and towns, but such places are not likely to have opera houses either, or galleries with shows of major modern artists, or bookstores which offer 125,000 titles. (As I recall, that's what Borders claimed to have when it first opened in Madison. Now they seem to be working on that many varieties of coffee.) Opera or ballet lovers are used to traveling to cities where they can see productions, and serious Wagner buffs aim to make the pilgrimage to Bayreuth at least once in their lives.
David and I are lucky. It's vital to our work to keep up on world cinema, so now and then we travel to festivals and wallow in movies for a week or two. Quite a few civilians plan their vacations around such events, too. We've run into people in Vancouver who say they save up days off and take them during the festival. Naturally not everyone can do that, but not everybody can see the current Matisse exhibition in Chicago (closes June 20) or the recent lauded production of Shostakovich's eccentric opera The Nose at the Metropolitan. I really wish I had seen The Nose, but I don't really expect the production to play the Overture Center here.
To some people, film festivals might sound like rare events that inevitably take place far away, like the south of France. Those are the festivals that lure in the stars and get widespread coverage. But there are thousands of lesser-known festivals around the world, dedicated to every genre and length and nationality of cinema. For those who like to see old movies on the big screen, Italy offers two such festivals, Le Giornate del Cinema Muto (silent cinema) and Il Cinema Ritrovato (restored prints and retrospectives from nearly the entire span of cinema history; this year's schedule should be posted soon). Last month in Los Angeles, Turner Classic Movies successfully launched its own festival of, yes, the classics. Ebertfest itself began with the laudable goal of bringing undeservedly overlooked films to small-city audiences, specifically Urbana-Champaign, Illinois. It was and is a great idea, and it would be wonderful if more towns in "fly-over country" had such festivals.
The films we don't see
Usually when someone calls for more support of independent or foreign films, there seems to be an implicit assumption that all those films are deserving of support, invariably more so than Hollywood crowd-pleasers. If a filmmaker wants to make a film, he or she should be able to, right? But proportionately, there must be as many bad indie films as bad Hollywood films. Maybe more, because there are always lots of first-time filmmakers willing to max out their credit cards or put pressure on friends and relatives to "invest" in their project. There's also far less of a barrier to entry, especially in the age of DYI technology.
True, the indie films we see seem better. By the time most of us see an indie film in an art cinema, it has been through a pitiless winnowing process. Sundance and other festivals reject all but a relatively small number of submitted films. A small number of those get picked up by a significant distributor. A small number of those are successful enough in the New York and LA markets to get booked into the art-house circuit and reach places like Madison. Yes, some worthy films get far less exposure than they deserve. But many more films that would give indies a bad name mercifully get relegated to direct-to-DVD, late-night cable, or worse. On the other hand, most mainstream films, no matter how dire their quality, get released to theaters. Their budgets are just too big to allow their producers to quietly slip them into the vault and forget about them.
The winnowing process for art-house fare happens on an international level as well. A prestige festival like Cannes dictates that a film they show cannot have had a festival screening or theatrical release outside its country of origin. Programmers for other festivals come to Cannes and cherry-pick the films they like for their own festivals. Toronto has come to serve a similar purpose, especially for North American festivals. Some films fall by the wayside, but the good ones attract a lot of programmers. These films show up at just about every festival. By the way, that kind of saturation booking of the year's art-cinema favorites at many festivals means that the distributors are more and more often supplying digital copies of films to the second-tier events. Going to festivals is no longer a guarantee that you'll be seeing a 35mm print projected in optimal conditions. At the 2009 Vancouver festival, I watched Elia Suleiman's The Time that Remains twice, because it was a good 35mm print and I suspected that I'd never have another chance to see it that way.
To each film its proper venue
There's no way that every deserving film will reach everyone who might admire it. Condemning the crowds who frequent the blockbusters won't help open new screens to offbeat fare. If someone loves Avatar, as long as they keep their cell phones off, refrain from talking, and don't rustle their candy-wrappers too loudly, as far I'm concerned they can go on believing that this is the best the cinema has to offer. Simply showing these audiences a film like A Serious Man, say, or Precious isn't going to change their minds about what sort of cinema they prefer. To break through decades of viewing habits, such people would need to learn new ones, which takes time and effort. People's tastes can be educated, but the odds are usually against it actually happening.
Finally, in defending art cinema against mainstream multiplex fare, commentators often cite Avatar or Transformers or the latest example of Hollywood's venality and audience's herd-like movie-going patterns. Yet every year major studio films come out that get four stars or thumbs up or green tomatoes. Last year, we had Cloudy with a Chance of Meatballs, Up, Inglourious Basterds, Coraline, and a few others that were well worth the price of a ticket. All of them did fairly well at the box-office while playing in multiplexes. Some readers might substitute other titles for the ones I've mentioned, but to deny that Hollywood is bringing us anything worth watching seems blinkered. As I said in 1999 at the end of Storytelling in the New Hollywood, where I criticized some aspects of recent filmmaking practices, "In recent years, more than ever, we need good cinema wherever we find it, and Hollywood continues to be one of its main sources."
Ultimately my point is that in this stage in cinema history, international filmmaking has settled into a defined group of levels or modes. Hollywood gives us multiplex blockbusters and more modest genre items like horror films and comedies. They bring us the animated features that are among the gems of any year's releases. Then there are the independent films and the foreign-language ones which together form festival/art-house fare. There are also the experimental films, which play in festivals and museums. The institutions that show all these sorts of films have similarly gelled into specialized kinds of venues suited to each type. A broad range of films is still being made. There are some few really good films in each category made each year. The question is not how many worthy films are getting made but how much trouble it takes to see them.
None of the current types of institutions is likely to change on its own. What will make a difference is the growing possibilities of distribution via the internet. Filmmakers who get turned down by film festivals can produce, promote, and sell their movies via DVD or downloads. True, recouping expenses that way is so far a dubious proposition; it's probably easier to get into Sundance than to do that. As I mentioned, digital projection may make some festivals less attractive to die-hard film-on-film cinephiles. On the other hand, in some towns opera-lovers who can't get to the big city now can see a digital broadcast of a major production each week at their local multiplex. Not as exciting as a trip to the city to see it live, but a lot cheaper and hence within the reach of a lot more people's means. All sorts of other digital developments will change movie viewing in ways we can't yet imagine.
_______________
Jim Emerson has been covering the Film socialisme battle of the reviews on Scanners, with quotes and links to the ones I mentioned and more. He also demonstrates that people have been baffled by Godard since Breathless, with reviews that "are, incredibly, the same ones he's been getting his entire career — based in part on assumptions that Godard means to communicate something but is either too damned perverse or inept to do so. Instead, the guy keeps making making these crazy, confounded, chopped-up, mixed-up, indecipherable movies! Possibly just to torture us." He offers as evidence quotes from New York Times reviews over the decades.
Eric Kohn gauges the controversy and offers a tentative defense of the film on indieWIRE.
For our reports on various festivals, see the categories on the right. We discuss Godard's compositions, late and early, here and his cutting here.