Saturday | September 12, 2009
open printable version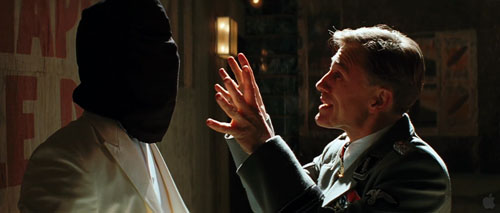 DB here:
How I spent part of my summer vacation: notes on three more films.
Gangbusters
Two major directors–one an emblem of goofy bravado, the other emerging as a contemporary master–gave us movies this summer, and both let me down. I have cautiously championed Tony Scott's recent work because at least he's willing to go all the way, however misguided the direction. From Spy Games on, he has stuck to the credo that too much is never enough. His technique is swaggering and undisciplined, mannered to the nth degree. Yet I find his fevered visuals more genuinely arresting than the safe noodlings of most of today's mainstream cinema. Man on Fire and Déja Vu reheat their genre leftovers into something spicy, if not nourishing, while Domino, the cinematic equivalent of hophead graffiti, wraps its sleazy characters in a visual design apparently inspired by the glowing interior of a peepshow booth.
So it's with a chagrin that I report that The Taking of Pelham 123 is utterly square. The violence isn't reveled in, the color scheme isn't garish, the story has a florid villain played by scenery-masticating Travolta, and Denzel Washington has never seemed more passive and drab. In Scott's DVD commentaries, he insists that art-school training led him to approach cinema with a painterly eye. But this project has the feel of a commissioned magazine illustration, not the delirious wall-size outrage that he could make if given his head.
I've respected Michael Mann since I saw Thief on its initial run. Heat seems to me on the whole his best work, though I admire many qualities of Manhunter, The Last of the Mohicans, The Insider, and Collateral. Ali and Miami Vice seem to me lesser achievements, and with Public Enemies he has gone somewhere I can't follow.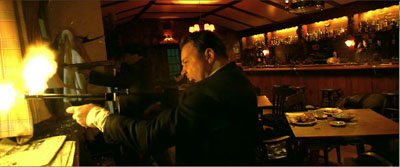 I found it a surprisingly flat exercise, skimming over familiar territory–the charming bandit vs. the square-jawed cop, the struggle of the freebooter vs. the mob, the cynical politics of law enforcement vs. the authentic impulses of the outlaw. The plot is unusually straightforward for Mann, and the last shot, which ought to be a corker, is wasted. Too many scenes are nakedly expository, relying on fussy period detail to carry them. At the same time, more basic exposition seemed to me botched at the outset. In the opening scene, shouldn't we get a clearer sense of what Dillinger's sidekicks look and act like? A classically constructed film would dwell on them, characterize them, give them bits of behavior that develop in the course of the film. Mann treats them as part of the scenery setting off his handsome hero. Later, when one of Dillinger's hired pistoleros goes kill-crazy, shouldn't we have been set up to see him as a possible risk?
Typically Mann romanticizes, even sentimentalizes, his hard cases in that tough-guy way we know from fiction. But I couldn't discern any vivid attitude toward his parallel protagonists Dillinger and Purvis. After Heat, where crook and cop both show a willingness to abandon women who want them, it's probably significant that Dillinger is characterized by his fidelity to Billie. Yet while she's in jail he's back to an insouciant night on the town with his familiar floozies. In all, I can't figure out why Mann made this movie about these people, or why we should care.
Collateral was already veering toward a certain obviousness of construction, when Vincent talks initially about how in impersonal L. A. a dead guy can ride the subway without anyone noticing. In Public Enemies the final line returns to the film's most underscored motif in a distressingly on-the-nose way. Similarly, one thing I admire about Heat is that it acts as if no other gangster movie has ever been made. Its scenes offer plenty of opportunities for cute citations of old crime movies, especially when Vincent (a different Vincent) catches his wife's lover watching TV. Instead, Mann treats the material as cut off from cinema, and this saves him from the coyness of so much genre work today.
Is he then a realist? His interviews and DVD commentaries indicate that he thinks of himself this way. Yet he strikes me instead as a genre purist. Each film is sui generis because it aims to recover the authentic dramatic core of the policier, the social comment film, or the wilderness adventure. But in Public Enemies, Dillinger's visit to the movie house to watch Manhattan Melodrama (1934), even though the event is historically accurate, hits the parallel chords hard. Dillinger, who's about to be cut down in a few moments, smiles in fascination when Gable says: "Die the way you lived–all of a sudden." In such scenes, Mann seems to me to have retreated into being a more ordinary filmmaker. The worst thing I can say about Public Enemies is that it risks becoming academic.
Mann's claims to realism are partly his efforts to deny being a self-conscious stylist. For many of his admirers, me included, his pictorial sense is a large part of what makes his work distinctive. There's plenty of controversy about the look of Public Enemies, and I have to come down on the side of the nay-sayers. I saw it twice, once in 2K digital projection in a superb multiplex in Europe. My second viewing was on 35mm, in a reliable Madison, Wisconsin venue. The digital version too often teemed with artifacts, blown-out bright areas, and disconcerting shifts in tonal values within scenes. The next two images are successive shots in the HD trailer, and I haven't adjusted them. The disparities between them reflect the sort of mismatches that struck me in the digital screening.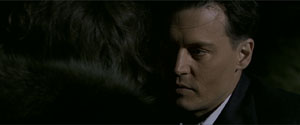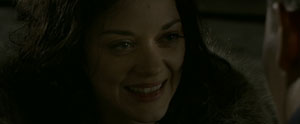 On film, the faces lost the edge enhancement and the mushy textures I saw in the digital version, and the tommygun fire was less tinged with yellow, pink, and orange. On the whole, I thought that the images benefited from the mercies of emulsion.
The chance to take high-definition video all the way, especially in low-light situations, seems to have invigorated Mann creatively, but it may have distracted him from basic craft. Investing wholly in a new look, he belabors even the simplest action through staccato cutting; getting people in and out of cars should not take such effort. Action scenes occasionally succumb to the jittery camera. I consider the climactic bank robbery in Heat somewhat awkwardly staged (though the dazzling sound work there compensates somewhat), and similar short-cuts can be found in the Wisconsin shootout here.
If you find my tone tentative, you're right. I didn't care for The Insider on first viewing; it took me a second visit to grasp what I now take as its virtues. That's why I saw Public Enemies twice. I expect as well that Mann's eloquent defenders, such as Matt Zoller Seitz, who has done a passionate series of shorts on Mann, will find fault with my evaluation. For the film's admirers, what I find sketchily indicated they could see as daringly elliptical; what I see as inconsistent they might consider calculatedly ambiguous. The incompatibilities of color and light could be part of Mann's experimentation too. I see his oeuvre as largely updating cinematic classicism, while others tend to see it as a daring leap beyond it. Maybe I'll come around eventually. For now, I have to consider Public Enemies the biggest disappointment of my fifty days.
A welcome basterdization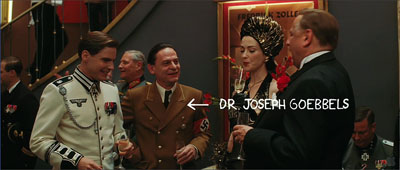 It's a measure of the changes wrought by the Internets that Inglourious Basterds has in about a month amassed a daunting volume of serious commentary. Without benefit of DVD (let's be charitable and assume no BitTorrenting), dozens of online writers have dug deep into this movie.  As if to demonstrate the virtues of crowdsourcing, this flurry of critical discussion has shown that most professional movie reviewers have tired ideas, know little about film history, and are constrained by the physical format and looming deadlines of print publication. At this point, I'm very glad I'm not writing a book on Tarantino; the sort of secondary sources that normally take years to accrete have piled up in a few weeks, and the pile can only grow bigger, faster.
So what is there left for me to say? A little, though I can't be sure every point isn't made somewhere else. In any case, surely you've seen it, so I don't have to warn you about spoilers, do I?
Since I thought Death Proof offered merely proof of the director's creative death, I went to Inglourious Basterds with low expectations. I came out thinking that it was the most audacious and ambitious American movie I saw in my fifty days of summer viewing.
To deal with the current controversy immediately: I didn't think its counter-history was intrinsically offensive or immoral, since I remembered those what-if-Germany-had-won counterfactuals in Deighton's novel SS-GB and Brownlow's film It Happened Here (1966). Did those express defeatism or an inability to counter the Nazi threat? So why not have a band of vindictive Jews seeking to match the Nazis in ruthlessness (except that their targets, so far as we see, are only soldiers and collaborationists)? We call it fiction.
You can quarrel about whether a revenge plot should carry some signals of the cost to the avenger, but I'm sufficiently convinced that tit-for-tat is embedded in human nature and will always be perceived, however recklessly, as virtuous. In any case, the movie's emblem of revenge, the powerful image of Shosanna laughing mockingly as she goes up in flames along with the audience, carries the strategic ambiguity of a lot of cunning popular art. It's at once a glorying in payback, a Jeanne d'Arc martyrdom, and a reminder of the fate of Jews elsewhere at that moment. It doesn't permit a single easy reading.
Granted, there are some low-jinks, like the misspelled title and heroine's name; are these jokes on Tarantino's notorious spelling malfunctions? Yet the movie seemed to me Tarantino's most mature (to use a term of praise that he hates) since Jackie Brown. I say that not because his other work is juvenile, which it's not (except for Death Proof). I call Inglourious Basterds mature because it exploits his strengths in fresh but recognizable ways.
First, strengths of structure. Tarantino's conception of storytelling owes at least as much to popular literature, particularly policiers, as it does to current conventions of screenwriting.
Take his penchant for repeating scenes from different viewpoints. In Elmore Leonard's novel Get Shorty, Chapter 2 ends with Harry, seeing Chili at his desk, exclaiming, "Jesus Christ!" Chapter 3 consists of the first stretch of their conversation. Chapter 4 starts with Karen approaching Harry's office and hearing him say, "Jesus Christ!" This overlapping-scene strategy, sketched in Reservoir Dogs, gets elaborated in Pulp Fiction and Jackie Brown.
Likewise, thrillers and crime novels commonly play on showing how distant lines of action unexpectedly intersect. In Peter Abrahams' Hard Rain the agent who becomes the hero tells the story of two coal miners, Bazak and Vaclav, who meet after tunneling from two ends of the field. Needless to say, Hard Rain's own plot enacts the same pattern. Charles Willeford's chance-driven, parallel-action novel Sideswipe could be a model for the structure of Pulp Fiction. So it should be no surprise that Inglourious Basterds, labeling its long sequences "chapters," should rely on the stepwise convergence of Shosanna's plotline and the Basterds' guerrilla operations, with the UK Operation Kino serving as the first sign of a merger.
So the film is built on large-scale alternation of the principal forces: Shosanna (Chapter 1), the Basterds (2), Shosanna again (3), the Basterds again (4), and finally the two strands knotting at the screening of National Pride (5). Landa also knits the two strands together, of course, starting when he investigates the tavern shootout at the end of (4). In Chapter 5 the alternation gets carried by classic crosscutting. We shift to and fro among Shosanna's plot, the capture of Raine and Utivich, the conflagration in the auditorium, and the deal struck between Landa and the US command. Yet right to the end both Shosanna and the Basterds have no awareness of each other's plan: only we grasp the double dose of Jewish vengeance. More than in most films, but typical for Tarantino, we're aware of the plot's abstract architecture.
Then there are strengths of texture—the moment-by-moment unfolding of the action. Again pulp fiction offers some models.
In Get Shorty, Leonard develops the scene I mentioned above in an extraordinary way. Chili, Harry, and Karen talk through the night about Chili's purpose and about the ways of the movie industry. Their conversation runs for a remarkable seven chapters and sixty pages, interrupted only by a brief flashback. When I met Leonard at a book-signing event, I asked him why he took up a fifth of the novel with a single scene. He said that he hadn't realized it consumed so much space, because it was "fun to write."
Tarantino can lay bare his chapter-block architecture because his scenes are devoted to this sort of prolongation. You may remember the bursts of violence, but what he fashions most lovingly is buildup. Here the spirit of Leone hovers over our director. In each entry of the Dollars trilogy, you can see the rituals of the Western getting more and more stretched out, filled with microscopic gestures and eye-flicks. Eastwood's lips stick slightly together and must peel apart when he speaks: This becomes a major event. I'm a primary-document witness to the fact that 1969 cinephiles were stunned by the long opening scene of Once Upon a Time in the West, which after painstakingly establishing the tics of several characters ends by eliminating them. Later, John Woo gained fame by dwelling on Homeric preparations for combat and endlessly extended bouts of gunplay. From these masters Tarantino evidently learned the power of the slow crescendo and the sustained aria.
Leone and Woo's amped-up passages rely chiefly on imagery and music. Tarantino is no slouch in either department, but he relies, like his beloved pulp writers, on talk. As everyone has noticed, the conversations in Basterds go on a very long time. In an era when scenes are supposed to run two to three minutes on average, Tarantino has only a couple this brief. The introduction at LaPadite's farm runs over eighteen minutes, by my count, and the more complicated Chapter 2, with intercut flashbacks and flash-forwards, runs about the same length. Thereafter scenes last anywhere between four and twenty-four minutes, and Chapter 5's crosscut climax consumes a stunning thirty-seven minutes. All but the last depend completely on dialogue. Leonard would probably consider them to have been fun to write.
Talk in Tarantino comes in two main varieties: banter and intimidation. At the coffee shop the Reservoir Dogs squabble and soliloquize; later exchanges will be conducted at gunpoint.  En route to the preppies' apartment, Jules and Vincent chat casually; when they arrive, the talk turns threatening. If Death Proof lets banter dominate, Inglourious Basterds goes to the other extreme. Here talk is a struggle between the powerful and the powerless.
As Jim Emerson points out, nearly every scene is an interrogation. This entails that someone in authority (Landa, Aldo, Hitler, the Germans who question Archie's accent in the tavern, Zoller) is trying to pry information out of someone else. Intimidation through interrogation gives every scene an urgent shape. Now Tarantino's digressions (three daughters, rats and squirrels, a card game, the correct pronunciation of Italian) don't read as self-indulgence, but rather as feints in a confidence game. Here Tarantino's tendency to write endless scenes, something he confesses in his recent Creative Screenwriting interview on the film, is fully harnessed to more classic, albeit unusually extended, scene structure.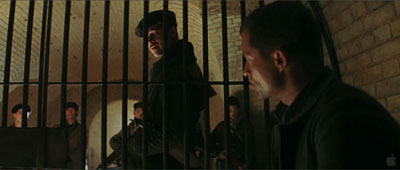 To keep us focused on the lines and the actors delivering them, Tarantino has adopted a classical approach to style. He shoots with a single camera, so every composition is calculated. "I'm not Mr. Coverage," he remarked in 1994, ". . . . I shoot one thing specifically and that's all I get." He foreswears handheld grab-and-go. In Basterds he locks his camera down, or puts it on a dolly or crane. Cinematographer Robert Richardson says that there is only one Steadicam shot in the film.
We don't usually call Tarantino tactful, but his technique can be surprisingly discreet. He has the confidence to let key dialogue play offscreen: in the café when Landa arrives at Goebbels' lunch, we stay fastened on Shosanna, a good old Hitchcockian ploy that ratchets up the tenson. Although Tarantino cuts rapidly throughout each chapter (on average every 5.6 seconds), he repeats setups quite a bit. This permits a simple change of angle or scale to mark a beat or shift the drama to a new level.
He can bury details on the fringes of the shot, as when the cut to the tight close-up of LaPadite shows him tossing his match into an ashtray sitting beside Landa's cap, which bears the insignia of a skull and crossbones. It's out of focus and on the edge of the screen, but the glimpse of it increases our fear that LaPadite is indeed harboring a Jewish family. As in Jackie Brown, another film that extends its scenes through detailing of performance, lighting, and setting, there seems no doubt that Tarantino, for all his PoMo reputation, appreciates some traditional Hollywood virtues.
He can inflect them, however. Richardson finds that Tarantino has an unusual approach to the anamorphic format.
I naturally move [the framing of characters] to one side or the other, especially when shooting anamorphic, whereas Quentin enjoys dead-center framing. For singles in particular, we're just cutting dead-center framing from one side to the other, with the actors looking just past the barrel of the lens.
I noticed this tendency most in the reverse angles. Tarantino's two-shots tend to be simple and symmetrical, shooting the characters in profile, as in the image surmounting this entry. But in over-the-shoulder shots, about half the frame is unoccupied—as if Tarantino were compensating, like his 1970s mentors, for an eventual TV pan-and-scan version of the scene.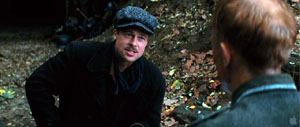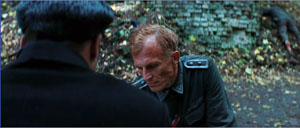 Or take the cliché of arcing the camera around a group of chatting people, picking up one after the other. Tarantino didn't invent this, but the opening scene of Reservoir Dogs probably helped popularize it. In Chapter 5 he uses the technique in the lobby of the  Le Gamaar cinema, only to break its momentum by having the camera trail Landa when he breaks out of the circle and retreats, in a paroxysm of giggles, after Bridget says she broke her leg while mountain climbing.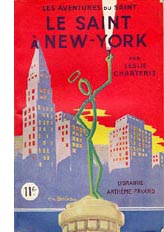 There are many other intriguing touches, like the mixed typography of the opening credits, all of which seem to use fonts derived from 1970s paperback novels. Or the reference to The Saint in New York, perhaps less important for its plot parallels than for the fact that author Leslie Charteris' later Saint novel, Prelude to War (1938), was banned in Germany and Italy for its attacks on fascism (even warning about the camps). So is reading a Saint novel a covert act of defiance on Shosanna's part? Later, she applies make-up in fierce strokes, like an American Indian, reminding us that Raine's Basterds model their tactics on the Apache.
Perhaps most striking is the dairy motif, from the glass of milk in Chapter 1 to Landa's ordering a glass for Shosanna in Chapter 3. Is this a hint that he suspects her of being the girl who fled the massacre? Or is it a test he offers to any French national he meets? In the restaurant scene, the extreme close-ups of the crème fraiche may underscore the possibility that Landa is looking for signs that she won't eat dairy products not prepared according to Orthodox dietary rules. Few filmmakers today would trust audiences to imagine this possibility on their own; instead we'd get an explanation to an underling. ("So here's a quick way to find out if we have a Jew ….")
Another nest of details involves the film-within-the-film, Nation's Pride. Many online critics have noticed that it provides the sort of film that Basterds refuses to be: We never see our squad in the sort of Merrill's Marauders skirmishes we probably expected going in. What I find intriguing about the movie, purportedly directed by Eli Roth, is that despite some anachronisms it exemplifies the sort of confrontational cinema we find in the silent Soviet pictures. Surprisingly, this was a tradition that Goebbels admired. Eisenstein's Battleship Potemkin, he claimed, "was so well made that it could make a Bolshevist out of anyone without a firm philosophical footing." So in Nation's Pride Roth and Tarantino have provided a Nazified homage to Eisenstein: a baby carriage rolls away from a mother, a soldier suffers an assault to the eye reminiscent of the wounding of the schoolteacher on the Odessa Steps, and even Soviet-style axial cut-ins are used for kinetic impact.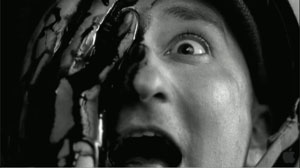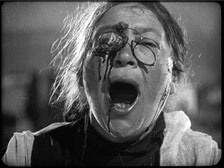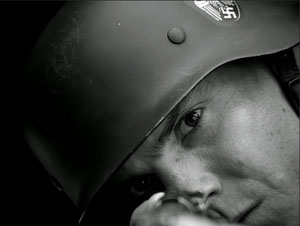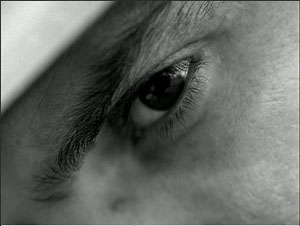 This pastiche of agitprop culminates in the sort of to-camera address we find in Dovzhenko. Zoller shouts, "Who wants to send a message to Germany?" But this is followed by Shosanna's spliced-in close-up addressing the audience in her theatre.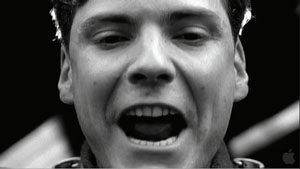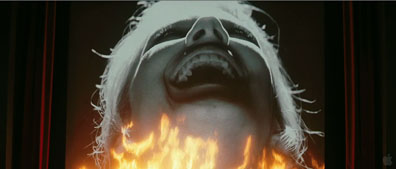 She makes her own confrontational cinema.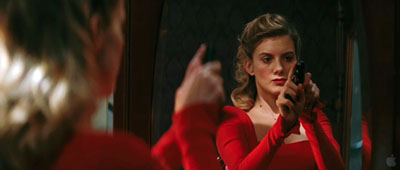 Several years ago the film theorist Noël Carroll speculated that the Movie Brats of the 1970s sought to create a shared culture of media savvy that would replace the traditional culture based on religion, classical mythology, and official history. For the baby boomers, knowledge of the Christian Bible and iconography of American history would be replaced by deep familiarity with movies, pop music, and TV. This secular sacred would bind the audience in a new set of traditions. On this path, Scorsese, Spielberg, and Lucas didn't go as far as Tarantino has. In his films every situation or character name or line of dialogue feels like a citation, a link in a web of pop-culture associations. (Aldo Raine = Aldo Ray = Bruce Willis, whom Tarantino once compared to Aldo Ray.) The only other filmmaker I know who has achieved this supersaturated cross-referencing is Godard, another exponent of the vivid-moments model (though he uses it to create a more fragmentary whole). Tarantino is the most visible evidence of what Carroll called "The future of allusion."
But it's too limiting to see Tarantino's films as merely anthologies of references. I think he wants more.
Many viewers seem to assume that Tarantino's film is somewhat cold. The Basterds are grotesques, parodies of men on a mission; Shosanna, though in a sympathetic position, must maintain a frosty demeanor. Even revenge, so central to films that Tarantino admires, is served frigid here, a purely formal postulate, like the urge for vengeance animating classic kung-fu films.
There is cinema that asks you to empathize with its characters. Then there is cinema that aims to thrill you with a cascade of vivid moments. There is How Green Was My Valley (1941) and Citizen Kane (1941). I think that Tarantino's films mostly tilt to the vivid-moment pole, seeking to win us through their immediate verve, the way film noir and the musical and the action movie often do. The young man arrested by great bits from blaxploitation and biker movies sees cinema not as merely piling up cinephiliac references—though that's surely part of it—but as a flow of tingle-inducing gestures, turns of phrase, shot changes, musical entrances. There can be pure pleasure in having time to see how actors move, or savor their lines, or simply fill up physical space by being centered in the anamorphic frame. Our fascination with Landa comes, I suspect, from the spectacle of a man who is utterly enjoying himself every second.
We might be tempted to claim that this effort to create what Jim Emerson calls "movie-movie moments" actually breaks the film's overall unity. But Tarantino keeps nearly everything in check by the architectural clarity of his plot. The carving of the swastika on Landa's brow sets you squirming, but it reveals itself as the culmination of a process we have seen piecemeal up to now. It's the last in a string of firecracker bursts that have kept the film humming along.
So I'm not convinced that Inglourious Basterds lacks emotion. The emotions Tarantino aims for will arise not from character "identification" but from the overall structure and texture of the work. We are to be stirred, enraptured, astonished by a procession of splendors big and small. It's the tradition (again) of Eisenstein, particularly in the Ivan films, but also of Leone and, in another register, Greenaway. Formal virtuosity isn't necessarily soulless; it can yield aesthetic rapture.
---
The most sophisticated analyses and interpretations I've found online are led off by the indefatigable Jim Emerson (start here to track his many entries on the subject), along with his knowedgeable readers, who furnished a book's worth of commentary and critique. Jim provides links to many other writers' work (here, for example), not all of which I've been able to absorb. For exhaustive, not to say exhausting, coverage of things Tarantino, visit The Archives.
On Tarantino's time-shuffling and its relation to crime fiction, see my Way Hollywood Tells It, 90-91. In Chapter 7 of Film Art Kristin and I provide an analysis of the replayed scene in Jackie Brown. Tarantino's comments on writing the Basterds script are in Jeff Goldsmith's article, "Glorious," in Creative Screenwriting 16, 4 (July/ August 2009), 20-29.  His comments on coverage come from Gavin Smith, "When You Know You're in Good Hands," in Quentin Tarantino Interviews, ed. Gerry Peary (Jackson: University Press of Mississippi, 1998), 102. In the same interview he has illuminating comments on the role of the axis of action. Robert Richardson discusses filming Basterds in Benjamin Bergery, "A Nazi's Worst Nightmare," American Cinematographer 90, 9 (September 2009); the quotation here is from p. 47. This feature is available online here.
Goebbels' remark on Battleship Potemkin is quoted in Klaus Kreimeier, The UFA Story: A History of Germany's Greatest Film Company, trans. Robert and Rita Kimber (New York: Hill and Wang, 1996), 207. For background on Goebbels' agenda for German cinema, summed up by Lt. Archie Hicox, see Eric Rentschler, The Ministry of Illusion: Nazi Cinema and Its Afterlife (Cambridge: Harvard University Press, 1996). I talk about axial cutting in Eisenstein and other Soviet directors at various points in The Cinema of Eisenstein.
Noël Carroll's comments about popular entertainment as a secular alternative to shared religious culture are in his essay, "The Future of Allusion: Hollywood in the Seventies (and Beyond)," in Interpreting the Moving Image (Cambridge: Cambridge University Press, 1998), 244, 261-63. On the idea of an emotionally arousing cinema that doesn't rely on attachment to character psychology, see my Cinema of Eisenstein.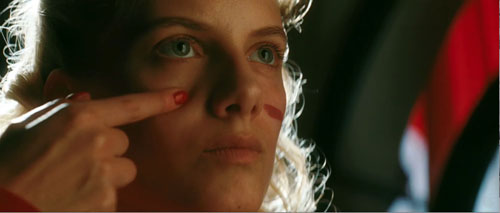 PS 20 Sept 2009: Curt Purcell, at The Groovy Age of Horror, finds a similar plot architecture emerging in the comic-book series Blackest Night.