Thursday | April 16, 2009
open printable version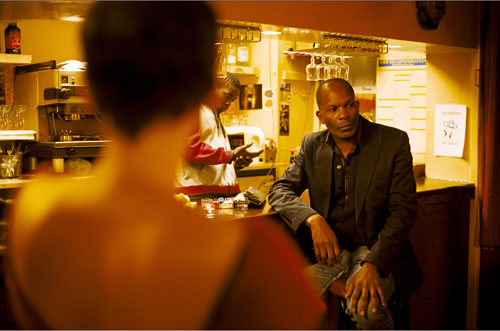 DB, flying back from Hong Kong:
Some of the most important films playing at the Hong Kong International Film Festival were already familiar to me—Still Walking, Il Divo, Gomorrah, Ashes of Time Redux—and some of my discoveries in Hong Kong have been covered in more recent entries.
What remains? Accentuating the positive, I'll not talk about the disappointing items, some with strong reputations. I hope to blog about others in the months to come, when I've had a chance to study DVDs.
In the meantime, Kristin has already touched on Beaches of Agnès, a real charmer. Varda can be whimsical without turning fey; even dressed as a potato she doesn't seem to be trying to grab attention. The film is a digressive, passionate memoir. The background on her early life is captivating, and her career as a photographer, shooting snaps of Pierre Vilar and Gerard Philippe, furnishes a stab of pathos. A montage of beautiful boys and girls: gone. Soon we get Varda's straightforward acknowledgment of Demy's death from AIDS. "All the dead lead me back to Jacques."
Götz Spielmann's Revanche, which I'd passed up at other fests, was a very solid psychological thriller. It's built around two contrasting worlds, the sex trade of Vienna and the placid, churchgoing lifestyle of a village. From the first comes Alex, a man-of-all-work in a brothel. He falls in love with a Ukrainian hooker, and between bouts of cocaine he vows to help her escape the business. In the village live the policeman Robert and his wife Susanne, trying to have a child. Their life is secure and cozy, though Robert is wound a bit tight. The two worlds intersect during a bank robbery, and the rest of the drama plays out in the countryside, with Alex taking refuge on his grandfather's farm. Alex and Robert become two variants of masculine anxiety, each defined by his way with a pistol, and their decisive confrontation is deftly postponed until the very last moments of the film.
I admire the way that Spielmann uses a spare long-take technique to increase suspense. Each scene usually consists of a single shot, taken from a judiciously chosen angle that unfolds the drama smoothly. There are barely 200 shots in nearly two hours, but the scenes don't seem stiff because the framing and staging are quietly varied. Shot/ reverse-shot cutting is reserved for two turning points, one in the middle and one at the end. It's nice to see a movie with no filler material, no passages of people driving in cars or going into the buildings, none of those time-wasting aerial shots of cities.
Some nice sound work too! No Country for Old Men has been rightly praised for its use of offscreen noise, but the Coens look rather showoffish compared to what Spielmann has accomplished here. A shot of Robert and Susanne on their patio is accompanied by the faintest rustle on the right channel: Alex, spying on domestic happiness like a character out of Highsmith or Ruth Rendell, has slipped away.
Similarly elegant in its staging and sound work is Claire Denis' 35 Shots of Rum. The teasing exposition—a man watches commuter trains, a young woman rides one—dares us to imagine scenarios that could involve both. Our speculations turn out to be too wild, since their relationship is the most uncomplicated to be imagined. Based frankly on Ozu's Late Spring, 35 Shots builds up its drama through daily routines, following its principals and their neighbors in everyday situations until, quite unexpectedly, a quiet crisis blossoms. Soon one scene ends: "We could be like this forever." Next scene: everything has been overturned, and characters must change their lives. Visually the film is a marvel, with glowing scenes of semidarkness and discreetly out-of-focus details. As in her masterful Beau Travail, Denis supplies a powerful last shot, this time of an object we've nearly forgotten.
Two more thoughts: In my discussion of Revanche and 35 Shots, I've had to be coy in explaining basic plot situations and character relationships. That's because these films work elliptically, holding back the sort of expository information that would be given in a concentrated dose early in most classical narratives. This narrational strategy poses no problem for an academic analysis, which tends to assume that the reader has seen the film. But it's more difficult to handle when you're writing a review. You don't want to spoil the viewer's surprise by explaining a core situation that the filmmaker has chosen to unfold gradually. If reviewers of Hollywood movies can't give away the ending, the reviewer of an art film probably shouldn't give away the beginning, or at least the information that it keeps in suspension for some time.
In other respects, though, there isn't a clear dividing line between the "psychological" drama of international festival cinema and the more "externally driven" action of mainstream entertainment. Popular cinema relies on physical props like clues, souvenirs, messages, and gifts to help drive the plot. So, less obviously, do art films. The two photographs in Revanche deepen the character drama while triggering a major realization. The accidentally discovered letter (a convention of melodrama akin to the overheard conversation) in 35 Shots not only explains past actions but primes us to expect some conflict to come. As Aristotle knew, stories seem to need tokens to drive character revelation and plot reversals. A narrative universal?
Japanorama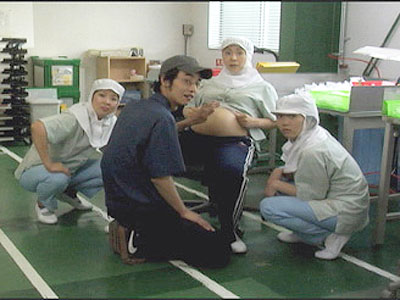 Naked of Defenses.
Many of the movies I most enjoyed were Japanese. No surprise there. I know I'm prejudiced in favor, but objectively speaking the Japanese industry has long combined high output with great diversity and depth. I'm inclined to think that across film history, the three most consistently excellent filmmaking nations have been America, France, and Japan.
During Filmart, Yoshizaki Masahiro gave a swift but informative report on the current state of Japan's "content industry." It is the currently the world's second-largest national film market , but it will sooner or later be replaced by China. Currently Japanese films are reclaiming the local audience, sometimes grabbing over half the annual box office. Unfortunately, that audience isn't growing, and with a plunging birthrate, it's unlikely to do so. Moreover, Japanese cinema has always been difficult to export, even in Asia. The great exception, of course, is anime, but even that is starting to slump. Anime is largely a television/ video format, yielding about twice in those platforms what it yields in theatrical income. But as advertising dollars have withered in the recession, anime has been cut back.
Despite all this, Japanese companies manage to release a staggering 400 or so films per year. (What counts as a release—theatrical? direct to video?—we leave for another day.) And the variety remains remarkable, judging by what I saw during my stay in Hong Kong. Put another way: Japan makes movies that are sweet, touching, funny, silly, and peculiar to the point of perversity. Not necessarily perversion, but that's there too. And yes, schoolgirls' panties are involved.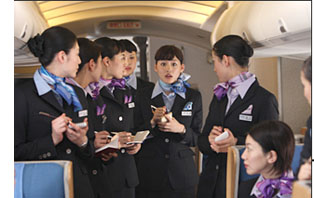 Not part of the festival, but playing in town was the diverting comedy Happy Flight. Like Airport and Airplane!, it weaves together various characters involved with a single flight. It concentrates almost completely on the professionals, from gate agents and mechanics to pilots and air hostesses. The one passenger depicted in detail rings true: After being allowed to bring an oversized bag into the cabin, he becomes a browbeating jerk.
The film maintains its infectious pacing, adorning the action with minor-key gags like the airport's "Somkin Room" for smokers. I also liked the moments of teamwork. When the stewardesses need a cake, they concoct one out of various packaged snacks. A young mechanic, constantly berated by his boss, thinks he's dropped a wrench into the plane's engine, and the whole ground crew searches the hangar for it. As with Airplane!, the final credits resolve several plotlines and add a few gags. If you like Waterboys and Swing Girls, also directed by Yaguchi Shinobu, you'd probably enjoy this.
Just as light, but a lot more intricate is Nakamura Yoshihiro's Fish Story. Another network narrative, this one traces how Japan's purported first punk song changed the course of history. The plot skips among periods from 1953 to 2012, when a comet is about to incinerate the earth. With many pop-culture in-jokes, from Beatles albums to The Karate Kid, this breezy, off-kilter item gets by on sheer adrenaline and on a cascade of puzzles. Why does the Fish Story song make no sense? Why does it contain a one-minute passage of silence? How are all these stories connected? And how can a song save the world? The narration cleverly withholds the basic relationships among the characters until a dizzying montage at the end wraps everything up.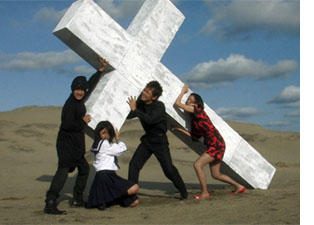 Still further out there on the Nutsometer is Love Exposure, your basic four-hour inquiry into Christianity, cross-dressing, superheroics, and schoolgirl underwear. The story starts with a boy who promises his mother he'll marry a woman like the Virgin Mary, but thanks to digital photography and an acrobatic approach to filming schoolgirls' nether regions, he becomes known to his peers as King of the Perverts. Director Sion Sono satirizes cult religions, which seems to include Catholicism ("Your sin is that you can't remember your own sin"), while devoting some attention to pornographic movies and "Candle in the Wind." Rambling and digressive, but rapidly paced, Love Exposure proves that nobody beats the Japanese for cheerful dirty fun.
A more straightforward Japanese entry in the Asian Digital competition was Ichii Masahide's Naked of Defenses (the most awkwardly titled film I saw). Two women work at a factory making plastic parts. Ritsuko, a plain but dogged supervisor, is becoming alienated from her husband after her miscarriage. She envies the pregnant and insouciant new hire Chinatsu, whose marriage is overcoming its problems. Plain and sincere in its technique, Naked of Defenses ends with an astonishing sequence. By all the evidence onscreen, Ichii got a pregnant woman to play Chikatsu and filmed her giving birth. Balancing this powerful ending is the striking performance of Moriya Ayako as a woman sinking into depression but who may be saved by friendship and maternal love.
I took the occasion to catch Departures at a local theatre, since I had missed it at earlier festivals. And I'm happy to report that it's distributed in the US by Regent Entertainment, run by Wisconsin graduate and old friend Steven Jarchow.
By now you've probably seen Departures too. At one level, it's a good old-fashioned Shochiku movie, mixing tears and good-natured humor. Some decry it as middlebrow sentiment, but I found it a touching, fluent tale. For me, the central attraction is the repertory of gestures. Our two professionals handle the recently deceased tenderly, but that doesn't preclude a crisp efficiency in flaring out a sleeve. I don't think I'll forget the way the undertaker grasps the dead person's clasped hands and then executes a circular snap. Precise manipulation becomes a sign of respect.
And it isn't all sunniness. Handling dead bodies is hazardous cultural territory in Japan. It is traditionally a task for the burakumin, a minority group long looked down upon. Although discrimination against the group has apparently diminished, the fact that a big star like Motoki Masahiro could play the role of a corpse-preparer could help dispel a lingering social stigma.
You could almost mount a Japanese film festival about mortality. Some musts would be Ozu's Brothers and Sisters of the Toda Family and Tokyo Story, Kurosawa's To Live, and Kore-eda's After Life. Another required item would be Dying at a Hospital (1993), a rarely seen Ichikawa Jun film screened as part of a tribute to the recently deceased director. It consists of staged episodes showing a few cancer patients in their last months. An elderly husband and wife both have cancer, but must separate and be treated in different hospitals. A widow laments her rotten luck. A lively young man can't accept the fact that he won't see his children grow up. A homeless man is brought in, filthy and disoriented, and as he becomes aware of his plight, he still apologizes for accidentally turning up his pocket radio.
These and other cases are accompanied by voice-over narration from the doctor and nurse who treat them. Interspersed with these scenes are rapid documentary montages of people enjoying life—eating, drinking, viewing cherry blossoms, celebrating festivals, just walking down the street. The intimate facial reactions we're denied in the hospital scenes are supplied in these vérité passages.
Dying at a Hospital is gentle and sympathetic, but its manner of shooting gives it special resonance. The hospital scenes are shot in planimetric fashion, with the camera rigidly facing a row of three beds, or a pair of beds, or only a single one. Everything is played in long shot, with no close-ups or camera movements to enlarge the faces.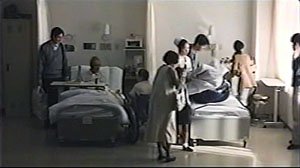 Patients, visitors, and hospital staff move through these blocks of space. The lighting effects are particularly subtle, accentuated by very gradual fade-ins and fade-outs, as if dawn were breaking or night were coming on. As the film goes on, Ichikawa introduces variations in scale and new cutting patterns, creating what I called in Narration in the Fiction Film a sparse version of parametric narration. For instance, the spaces become more compact as terminal patients are shifted from a shared room to a private one, which permits nuanced effects of distant depth.
Ichikawa's dry, physically detached treatment lets the poignancy of each situation emerge without any directorial boosting. The glimpses of daily life outside the hospital, zestful and shot on the fly, generate a powerful contrast: the preciousness of ordinary pleasures, and the dignity that must be accorded everyone about to leave them behind.
For a brief but sensitive appreciation of 35 Shots, see Ryland Walker Knight's comments here–perhaps best read, for reasons mentioned above, after you've seen the film.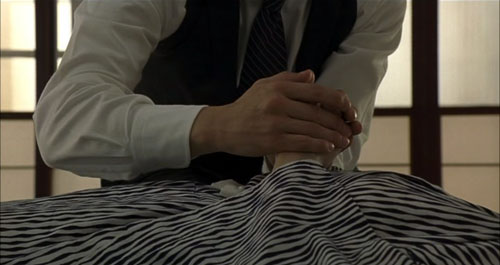 Departures.