Sunday | April 19, 2009
open printable version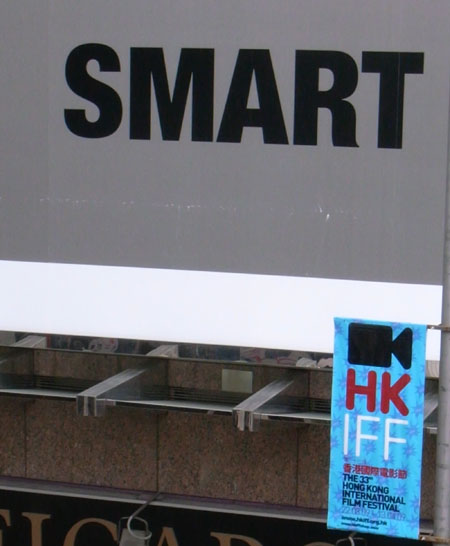 DB here, just back:
The numbers are pretty staggering. The Hong Kong International Film Festival ran 22 days (the first four incorporating Filmart, the Asian market). In 510 screenings, 279 films from 50 countries were shown. There were 19 world premieres, 17 international premieres, and 33 Asian premieres. Attendance figures are yet to be determined, but so far things look to match the nearly 600,000 tickets sold last year. (*Correction 1 May 2009: The figure of 600,000 refers to an estimate of total attendance at all events, including free screenings, panels, seminars, etc. Total tickets are currently estimated at 100,000. Thanks to Li Cheuk-to for the correction.)
Having stayed for the whole event, I felt some festival fatigue. But the final days of the fest were full of fine movies. I left feeling that all my time was well-spent—not least in seeing old friends and visiting some of the outstanding spots in this adrenaline-fueled city.
Ken Smith and Joanna Lee are forces of nature in the cultural life of Asia. Working mostly in musical performance, they arrange for performers' tours, consult with cultural agencies, translate, write, and do damn near everything else as well. Call them global impresarios. They helped coordinate the YouTube Symphony Orchestra, and they played central roles in the creation of the opera The Bonesetter's Daughter, a collaboration between Amy Tan and Stewart Wallace. This resulted in a 2008 production by the San Francisco Opera. The September premiere was broadcast in Hong Kong last Easter Sunday, and will be available at the RTHK website for playback for the following 365 days. Give it a listen here.
Ken's engrossing book, Fate! Luck! Chance!, documents the making of the opera and includes a libretto. You can read background on Ken's book here.
Above, Ken and Joanna take in pudding at a historic hole-in-the-wall eatery. The pudding comes in two varieties, milk and eggyolk-based. Mighty sweet, and as if by chance (or fate, or luck), the stools mimic the main attractions.
Old friends Linda Lai Chiu-han and Hector Rodriguez teach in the digital media and arts program at the City University of Hong Kong.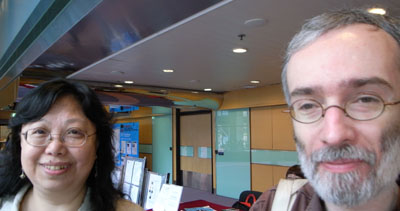 Linda has just had a film accepted for Oberhausen. She's on a roll: It's her second screening in this, the major festival for short films.
The W Hotel, where the Festival was headquartered, was posh to the max. Every time I went in, I expected someone to figure out that I wasn't well-dressed enough to be there. If you ever wondered what George Segal's ghostly sculptures would read, you could check out these pale volumes fastened to the shelves along the elevators.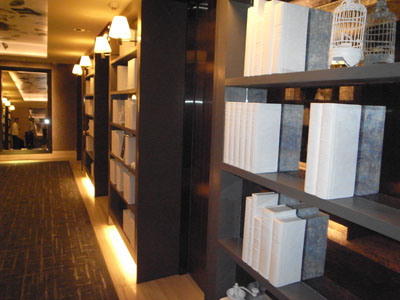 My own hotel was somewhat different. The B. P. in B. P. International House stands for Baden-Powell, and the place was teeming with Boy and Girl Scouts nearly every day. In the modern atrium hangs a reverent portrait of the man himself.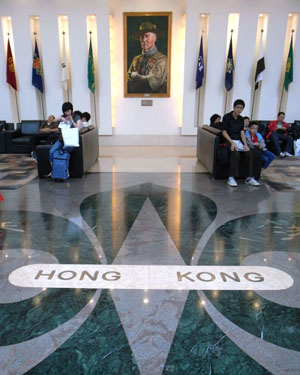 It was pleasant to stay beside Kowloon Park. Headed for the Cultural Centre or the ferry, I could avoid the crowds on Nathan Road by ambling through the park.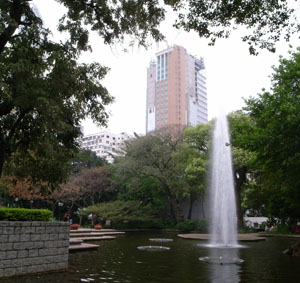 While I was in town, developers put the finishing touches on a neo-retro-colonialist complex at the south end of Canton Road.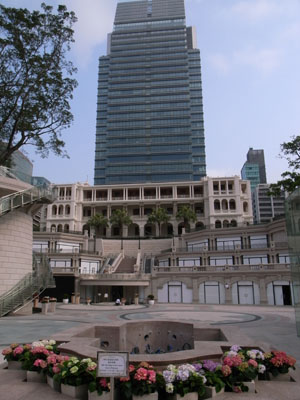 You must admit that Hong Kong sorely needs another shopping mall.
Back to the faces: Gary Bettinson (University of Lancaster), Emilie Yeh (Hong Kong Baptist University), and Darrell William Davis (Lingnan University).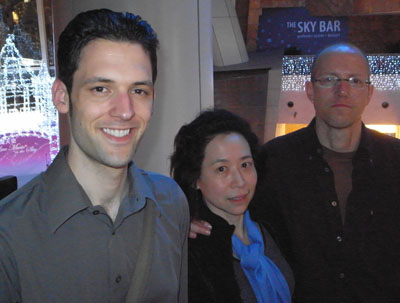 Gary writes on contemporary Hong Kong cinema, particularly Wong Kar-wai; most recently, he has an essay on 2046 in Warren Buckland's anthology on puzzle films. Emilie researches Chinese film, as does her husband Darrell, who started his career working on Japan. I've already mentioned their book on Asian media industries in an earlier blog, but also have a look at their fine Taiwanese Film Directors: A Treasure Island. I gave a talk for Emilie and Darrell at HK Baptist, and we had a good discussion among their students and colleagues.
More intellect: This year the festival paid tribute to Ingmar Bergman. A friend of his, Marie Nyreröd, brought her enlightening documentary, Bergman's Island. Here she's seen with another Bergman expert, my amigo Paisley Livingston, philosopher and film critic-theorist teaching at Lingnan University.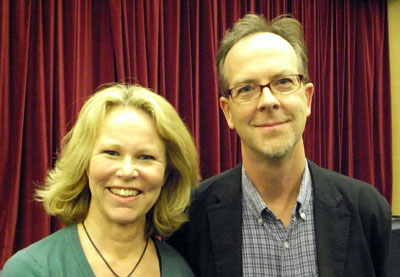 For over forty years, Erika and Ulrich Gregor have been colossal figures in world film culture–as critics, archivists, and festival programmers. They served on two juries during their stay here.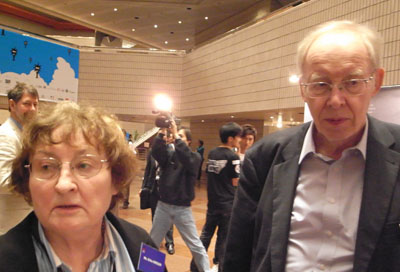 Scan earlier years of my Hong Kong visits and you'll find these three regulars: King Wei-Chu (FantAsia programmer), Peter Rist (Film prof at Concordia of Montreal), and Yvonne Teh, Hong Kong journalist. After a screening at the Science Museum, it's wonderful to sit out in a cafe.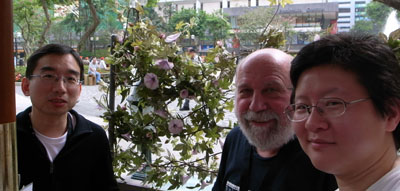 Here are Johnnie To and his right-hand man Shan Ding at To's magnificent office in Milkyway Headquarters.
The Milkyway team is busy. To's Vengeance, starring Johnny Hallyday, will open in Paris on 20 May. Mr. To and Shan continue to work with their collaborators on a remake of Melville's The Red Circle, and they're preparing a New Year's comedy as well. Here's Cheang Soi, one of the most ambitious of the younger HK directors (Love Battlefield, Dog Bite Dog). Soi is finishing Accident, which looks to premiere at the end of the summer.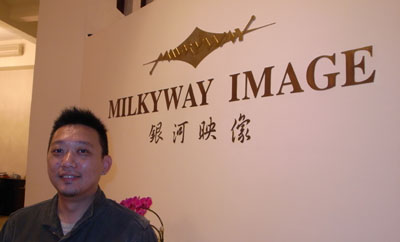 John Shum (aka Sham) is a legendary figure–a comedian since the 1980s, a producer, and an energetic advocate for local democracy.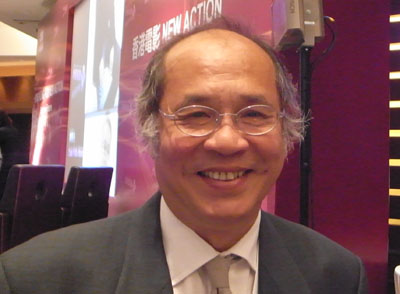 Wong Ain-ling has been a critic and festival administrator. Currently she works as Senior Researcher at the Hong Kong Film Archive. She played a crucial role in the restoration of Fei Mu's Confucius.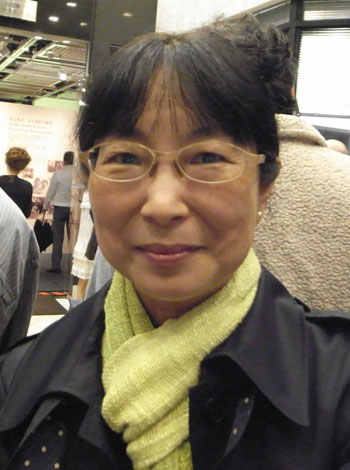 Derek Kwok (director of The Pye-Dog) is again collaborating with legendary actor-singer Teddy Robin Kwan.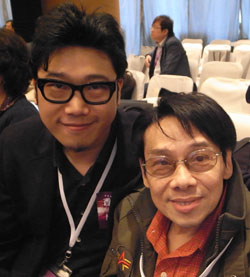 In all, another wonderful year of food (and food for thought), talk, and above all movies. You won't find a festival anywhere more dedicated to the power of film in all its variety. So once more my tagline: See you here next year?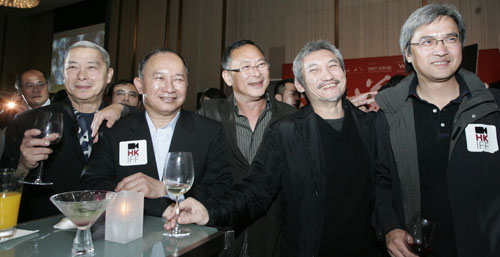 At the Film Workshop party: Lau Siuming, John Woo, Johnnie To, Tsui Hark, and Benny Chan. Thanks to Alvin Tse for the photo.