Friday | January 16, 2009
open printable version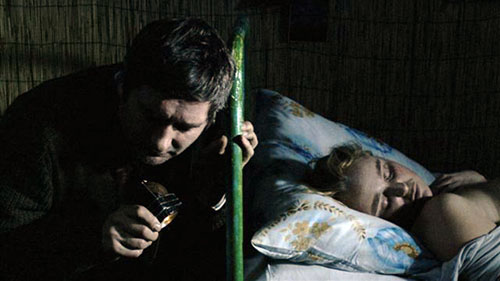 Four Nights with Anna.
DB here:
Three high points from the Palm Springs International Film Festival. Soon Kristin will offer some entries.
Four Nights with Anna is a GOFAM—a Good Old-Fashioned Art Movie. Set in a muddy Polish town, it follows a loner as he stalks a zaftig nurse. Leon watches her from around corners, studies her through her apartment window, and eventually sneaks sleeping powder into her sugar jar. This puts her out soundly enough to allow him to break into her apartment and watch her at close quarters.
My synopsis, like most retellings of this spare movie, not only spoils the experience but fundamentally changes it. Instead of laying out the premises explicitly, the film's narration supplies them in tantalizing, equivocal doses. Skolimowski follows the great tradition of distributed exposition, so that we get context only after seeing something that can cut many ways. Early we see Leon buying an axe; soon he fishes a severed hand out of a sack and tosses it into a furnace. Is he a serial killer? No. After a while we learn that he's the disposal officer for the hospital crematorium. Retrospectively fitting together these data provides a classic art-film pleasure, the equivalent of the curiosity-arousing clue sequences in a mainstream mystery.
The same goes for the ambiguous inserts that suggest a police interrogation. Only halfway through the film do these snippets become lengthy and explicit enough for us to place them in the story's time sequence. Just as the Nouveau Roman of Robbe-Grillet owed a great deal to the classic detective story, the European art cinema tradition has drawn heavily on the investigation plot, from Les mauvais rencontres (1955) to The Spider's Stratagem (1970). The premises of the thriller surface as well. The central conceit of Four Nights and of Kim Ki-duk's 3-Iron, of a stranger who quietly and obsessively prowls around homes, was also explored in Patricia Highsmith's 1962 novel Cry of the Owl, but not with Skolimowski's playful indeterminacy about who and what and why.
The trick, then, is in the telling. By accreting details that cohere gradually, Skolimowski's film not only engages curiosity and suspense, but also allows room for wayward, if dark humor. Leon's quaking abasement leads to embarrassment, pratfalls, and comically strenuous efforts to melt into his surroundings. Objects take on a precise life, as Leon crushes his grandmother's sleeping pills to powder and uses plastic silverware to fish a fallen ring from cracks in the floor. We never see Anna apart from Leon; she's either in the same locale or glimpsed in precisely composed shots of her at her window. The exact, constrained handling of optical point-of-view owes a lot to Rear Window, but Jimmy Stewart never went so far as to install a new window to enhance his peeping.
In its diffuse exposition, its teasing inserts, and its gradually unfolding implications, a GOFAM also asks us to appreciate unresolved uncertainties. During the Q & A, Skolimowski remarked that he liked "to play with a little ambiguity . . . to leave it for the audience to interpret." The locale? Indefinite, he says. The time period? Deliberately left vague. The mysterious final shot? "A third ambiguity." For the man who made the kinetic Identification Marks: None (1964), Walkover (1965), Barrier (1966), and Le Départ (1967), film is something of a sporting proposition. It's good to see him back in the game.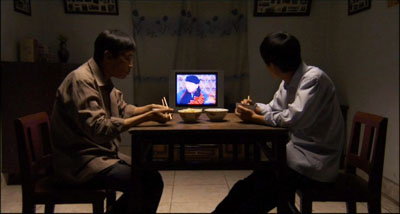 By contrast, The Shaft by Zhang Chi is a NFAAM, a Newfangled Asian Art Movie. That means minimalism. Single-shot scenes are captured by a distant, stable camera. Characters mutely go about their business, or just stand there. Pivotal plot moments take place outside the frame or between two static scenes. Any dramatic climaxes and grand passions are muffled or simply sufffocated.
The proximate sources of this Asian minimalism are probably the late 1980s films of Hou Hsiao-hsien. A European predecessor of the style, I think, is Fassbinder's Katzelmacher (1969), but its most famous early instance would be Akerman's Jeanne Dielman (1975).
Such a quiet style poses a problem: How to show plot changes and character development without lengthy dialogue? A common solution is to repeat setups in ways that diagram changes in character relationships. Have a young man pedal his bike up to his girlfriend and offer her a ride. Later as their relationship cools, show him in a similar framing riding callously past her.
Or show the couple wordlessly visiting a lake, but after they break up, show the girl standing there alone.
Tableaus can be used to parallel couples. Each pair meet near the village railroad trestle, but the compositions distinguish the couples.
Likewise, the shots showing the central family eating in front of the TV can be recalled through variation. The number of people at the table and their identities can change over the course of time.
The Shaft puts such conventions to solid use. In a rural Chinese town, young people face the choice of going to work in the mine or moving to Beijing. The film is built out of three stories, centering on a daughter, then her brother, and finally their father. At the end, the eventual revelation of what happened to the family's mother throws the preceding love stories into sharper relief.
Once the innovators have mastered a style through dint of effort, others can glide down the learning curve and pick it up quickly. But then they should try to add something new. Today the rudiments of the minimalist style are comparatively easy to acquire. To go beyond those, you need something else—a more elaborate play with pictorial variations, or more ingenious staging (the Hou solution), or a gift for adjusting to the contours of landscape (the Jia Zhang-ke alternative). The Shaft is well-carpentered. It is measured and poignant (especially in its final story), and it concludes with a stunning trio of shots. Its very modesty, though, suggests the conventions of NFAAM need some renewal, even some shaking up.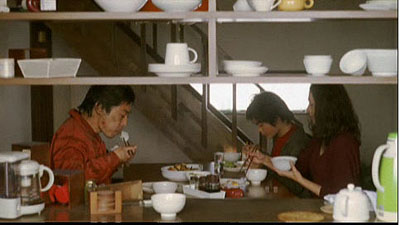 Shaking things up is what Kurosawa Kiyoshi's Tokyo Sonata is all about. A salaryman is downsized, but he can't bear to tell his family. He pretends to go off to work while he actually tries to find a new job, any job. In the meantime, his sons display more ambition and courage in their limited worlds, than he does, while the mother tries to defuse the emerging tensions.
For an hour or so, this story is engrossing on naturalistic terms, alternating comedy and pathos. It might continue in a vein of gentle realism characteristic of that perennial Japanese genre, the shomin-geki, ending with everyone's stoic reconciliation to the vagaries of life. But the director of Cure and Charisma will go along with this formula only up to a point. Why not break the form? You can argue that the simple purity of The Shaft plays too cautiously; once you've figured out how things will probably unfold, who cares to see the rest? A smooth cup is lovely, but a cracked one possesses its own enigmatic appeal.
So Kurosawa careens his homely tale into grotesque territory. The tone and plot logic that he's cultivated so carefully are fractured by some violent emotions, implausible coincidences, and unexpected twists. Granted, his technique remains unruffled.Kurosawa follows Japanese traditions of enclosing faces in apertures and arranging people in gridwork patterns that still leave room for natural movement. The beginning of the story's wild detour is discreetly signaled by a variant of the film's first shot. But the composure of the handling makes the challenge to our expectations all the more disruptive.
I shouldn't say much more, except to note that I meant the word fracture to suggest that the film mends its bones eventually. The final moments are taken up with a delicate performance of Debussy's Clair de lune. Neither GOFAM nor NFAAM, risk-taking and in the end quite moving, Tokyo Sonata attests to the unpredictable innovativeness of Japanese filmmaking.
I may add other thoughts to Kristin's upcoming dispatch, but for now I just note that Palm Springs is the only festival I know that uses Béla Tarr soundtrack cuts for pre-show music.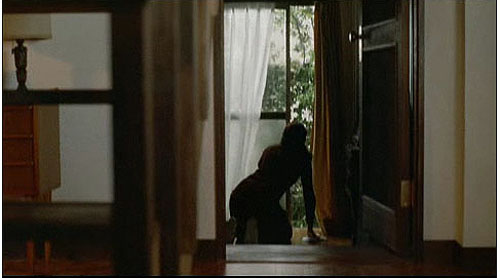 Tokyo Sonata.