Thursday | October 2, 2008
open printable version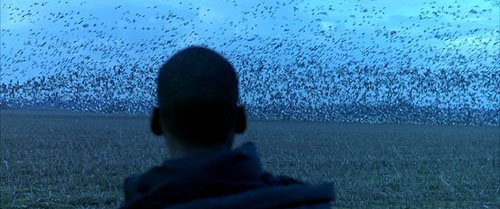 Ballast.
After six days, plenty to report from the Vancouver International Film Festival. It has been unusually warm and sunny during our first week, but we have diligently spent most of our time in darkened theaters.
Kristin here:
Another country heard from
It's a rare day when one gets to see a Haitian film. It's an equally rare day when one gets to see a Jordanian film. On Monday I saw both, and the contrast between them could hardly have been greater.
Eat, for This Is My Body (Mange, ceci est mon corps, 2007), a Haitian/French co-production is Michelange Quay's first feature. A Haitian-American, Quay received his MFA in directing at New York University.
The film's opening is extraordinary, with a series of low-altitude helicopter shots beginning over the ocean and then moving rapidly across huge shanty-towns and finally into bleak mountain canyons in the country's interior. After this passage of flight over bright landscapes, the bulk of the story takes place in and around a quiet, dark, nearly deserted colonial mansion somewhere in the countryside.
I've noticed that there seems to be a mini-revival of 1970s-style art cinema conventions. After many years in which art cinema tended to mean intricate psychological studies, a more challenging, formalist avant-garde seems to surface now and then. While watching Eat, for This Is My Body, it occurred to me that it could almost have been called Haiti Song, so strongly did it remind me of Marguerite Duras's India Song. There enigmatic actions, often dancing, were staged in a colonial house. Eat, for This Is My Body's action is, if anything, more enigmatic, though in this case the native population is present in the house in the person of a dignified manservant and a group of nine boys brought at intervals into the house, apparently as a treat.
The story is so minimal as to be non-existent. Apart from the nine boys, there are only three characters: an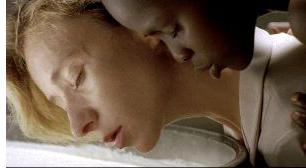 old woman, a young woman, and the black servant. Not until about 70 minutes into a 105-minute film are these characters identified, though only to the extent that the younger woman is revealed to be the daughter of "Madame." There are hints of an erotic attraction between the daughter and the servant, though this comes to nothing. The daughter's wandering through the local town, among the teaming population engaged in washing, selling, and other everyday activities suggests that she may be gaining some insight into native Haitian culture—but this, too, remains a mere hint. Ultimately, the film creates not a narrative, but an evocative narrative situation full of mystery. The film was shot on 35mm and creates a lovely, austere style for the scenes shot within the mansion.
The Jordanian film, Captain Abu Raed (2007), takes a more familiar approach, centering around a likable, heartwarming protagonist. Raed, an airport janitor, finds an old pilot's hat, and the children in his working-class neighborhood assume he really is a pilot. He plays along, less to feed his own ego than to inspire their imaginations through false tales of his adventures abroad. Gradually he becomes more involved in the lives of some of his listeners, and the film progresses from the sugar-coated tone of the opening scenes into a darker situation as Raed seeks a way to save the family of a violent neighbor.
Director Amin Matalqa was raised principally in the U.S., but he returned to his native country for this, his first feature. It is also the first feature film to come from Jordan in decades, and it reflects a slow but distinct movement into movie production in some of the Middle-Eastern countries where conservative religious views have long suppressed it. Captain Abu Raed is technically polished and makes considerable use of Amman cityscapes and ancient ruins as backdrops for the action. It's also definitely a crowd-pleaser, judging by the sold-out audience I saw it with.
Another rarity is Australian director Benjamin Gilmore's first fiction feature, Son of a Lion (2007), which he filmed entirely in the Peshawar region of Pakistan. That's an area adjacent to the northwest border of the country with Afghanistan, notorious as a refuge for Taliban fighters and probably Osama bin Laden. The program lists Son of a Lion as an Australian/Pakistan production. I doubt any Pakistani funding went into it, but Gilmour wrote the script with the advice of the local people, and non-professionals play all the characters. The credits also contain quite a few Pakistanis performing tasks behind the camera.
The story seems inspired in part by the "child's quest" narratives of the Iranian classics of Abbas Kiarostami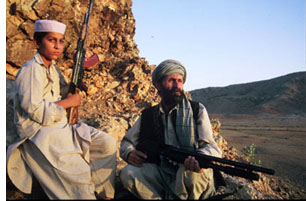 and Mohsen Makhmalbaf. A strict, traditionalist widower who makes guns wants his 11-year-old son to follow in the family business, while the boy longs to attend school. Apart from his father's determined opposition, Niaz's desires fly in the face of the local culture. Gun shops are everywhere, and every male adult seems to be armed. Shopkeeper casually step into the street to fire off weapons to test or demonstrate them. At one point the falling bullet from such random shooting kills a bystander. Between the personal scenes Gilmour intersperses occasional scenes of men sitting around and discussing the situation, debating whether they would shelter Bin-Laden if asked to or turn him in for the reward; they also speculate on America's image of their part of the world.
Son of a Lion was shot under difficult and dangerous circumstances on digital video (with post-production handled, amazingly enough, by Peter Jackson's Park Road Post facility in New Zealand). The shots of the beautiful desert landscapes are not up to those we are used to from Iranian films, but they manage to suggest the grandeur of the area and to give a fascinating and humanizing insight into a region which the American government and media portray as merely a hotbed of terrorism.
Moroccan films are not quite as rare as these, but they're certainly not common. As Burned Hearts (Morocco/France, 2007) was being introduced, I realized that the only other Moroccan film I had previously seen was by the same director, Ahmed El Maanouni. That had been Trances, a semi-documentary1982 film about a touring pop-music group. It was shown last year at the Il Cinema Ritrovato festival in Bologna, having been the first film restored by Martin Scorsese's World Cinema Founda tion.
Burned Hearts was another film that seemed to transport me back to the 1970s art cinema. A young man returns to his childhood home after being educated as an architect in Paris. His tyrannical uncle is dying, and flashbacks present the painful memories evoked by the familiar sights and sounds of the city, this exploration of the character's mental paralysis, along with the black-and-white cinematography of the locations, evokes both Duras and Antonioni. But El Maanouni refuses to concentrate solely on the hero's concerns, bringing in several intriguing characters from the neighborhood and having groups spontaneously break into song and dance in the streets and shops.
Melodramas from Mexico
These films all come from regions seldom represented in international film festivals, but Mexican cinema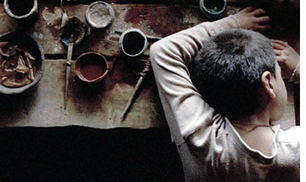 has had a growing presence in such venues in recent years. Two I've seen so far are very different from each other. The Desert Within (Desierto adentro, 2008), Rodrigo Plá's second feature, already has a reputation after winning a cluster of prizes at the Guadalajara Film Festival. A period piece beginning in the late period of the Mexican revolution and extending into the 1930s, it tells the story of a peasant who inadvertently brings destruction on his village and decides that the only way to expiate his guilt is to drag his family far into the desert to build a church. The film takes a bitter view of Catholic guilt, with the protagonist forcing suffering, sexual frustration and death upon his children as his obsession grows.
The other Mexican film, All Inclusive (2008), deals with another family crisis, but one which takes place over a few days in a luxurious resort on the "Mayan Riviera." The story is slickly told by director Rodrigo Ortúzar Lynch and beautifully shot by Juan Carlos Bustamante, but I found the story forumulaic. A man who has just been told that he has only a short time to live, goes on vacation with his family, whom he has not informed of his condition. As he struggles with his secret, his wife and three children undergo their own crises. One daughter faces up to the fact that she is a lesbian, the son becomes entangled in an online "affair" with another man's girlfriend, and the wife, assuming that her husband is being unfaithful, allows a young scuba instructor to seduce her—all this observed by the sardonic goth daughter.
As the tensions grow, a hurricane approaches, and the climactic set of revelations and reconciliations come just as it hits. During the narrative, each of the troubled family members manages to find someone gorgeous willing to bed them and/or hear their tales of woe. The idea that the bearish husband, seeking escape in a local bar, would run across a stunning 23-year-old Cuban woman who would take him into her home, listen at length to him, and finally, of course, teaching him to enjoy life. This gives him the courage to return to his family and tell them the truth. Once the family members have bared their soles, they become a jolly, well-adjusted bunch. It's an entertaining story with likeable characters and touches of humor—but it's a bit too much to believe.
Americans in Canada
Apart from Craig Baldwin's Mock Up on Mu, which David will cover, I've seen two American indies so far. Momma's Man (2008) is directed by Azazel Jacobs. It deals with Mikey, a man traveling on business who has problems with his flights and ends up staying with his parents in their New York loft. Finding excuses not to return to his wife and baby in California, he fritters away his time by reverting to his childhood pursuits. The film takes the daring step of being centered on an unsympathetic character who is the point-of-view figure for all but a few scenes. It manages to convey his gradual move from indecision to obsession and eventually a full-blown breakdown in a believable fashion.
Part of the appeal of Momma's Man comes from the fact that Mikey's parents are played by Ken Jacobs, the great experimental filmmaker, and his artist wife Flo Jacobs. It is set in their actual New York loft, a maze of odd filmmaking devices, accumulated pop-culture artifacts, and artworks. The two give extraordinary performances, managing to seem wise and caring and at the same time obsessive and eccentric to a degree that might have contributed to Mikey's breakdown. Although Jacobs cast an actor as Mikey, one has to suspect that the film is at least somewhat autobiographical, and the casting of his parents has created a uniquely convincing portrait of a family.
David and I were delighted to see RR (2007) on the program. It's the latest feature by American avant-gardist James Benning. Jim is an old friend, having been a graduate student in our department at the University of Wisconsin-Madison during our early years there. He has concentrated largely on landscape films, usually consisting of lengthy, static shots. This one consists wholly of distant views of trains in what appear mostly to be western and Midwestern locations. In virtually every case the shot holds until the entire train has moved through the shot or out of sight—or stopped, in a few cases.
As so often happens with structural films, small variations become evident to the alert viewer. A shot of a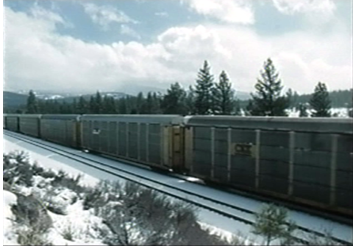 car stopped for a train passing through a small town contains tiny reflections in the windows of a nearby house that may draw the eye. Some trains are covered with spray-painted graffiti, while others are pristine. One is led to speculate about what the cars may be carrying, and there is a hint of social comment in that activity. A considerable portion of most of the trains consists of tankers, presumably carrying the gasoline or other petroleum products that are currently causing so much trouble in our economy. Others contain numerous livestock cars, and one lengthy train contains nothing else. Among the views of many freight trains, we are treated to a glimpse of a single very short passenger train zipping through the briefest shot in the film.
RR draws us to enter into perceptual play, often with a distinct touch of humor. Few of Jim's films have contained the measure of their shot length in their mise-en-scene so decisively. The length and speeds of the trains determine the duration of the shots, and one learns to watch for the number of engines pulling or pushing a train as an indicator of how long the train is likely to be. A few shots show trains moving slowly and decelerating at an almost imperceptible rate, teasing us as to whether they will stop altogether and whether the shot will end if they do. At times a train may move through the shot, only to reveal another on a parallel track. One shot plays a very clever game with us. I won't reveal what it is, but the shot comes perhaps a third of the way through: an oblique view along a track with bushes prominently in the foreground and a short, arched underpass in the middle distance.
Jim has continued to shoot in 16mm in an increasingly digital age, and he consistently manages to make gorgeous images that look more like 35mm. The last one of RR, involving a vast wind farm, is a stunner.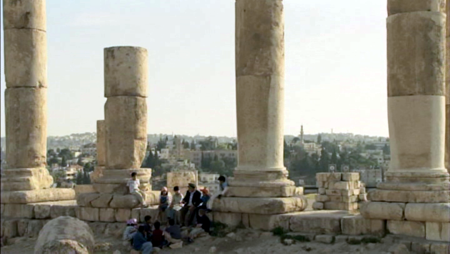 Captain Abu Raed.
David here:
An unusually good VIFF, with many films to get your eyes open.
Enter the Dragons, with Tigers
As usual, the venerable Dragons and Tigers thread is offering some remarkable new films from Asia. The Good the Bad the Weird lived up to its reputation, not to mention its title, offering frenetic action and comic-book (in the good sense) bravura. Sell Out!, a Malaysian satire of corporate maneuvering and media brainwashing, doesn't get points for subtlety—the goliath is called the FONY corporation—and sometimes it tries too hard. Still, it's likeable enough, and the fact that it's a musical adds a welcome bit of froth. The funniest bit, for me, was the opening parody of an art movie, which does actually get integrated into the main action.
Two late works by long-time Japanese directors offered a study in contrast. Kitano Takeshi's Achilles and the Tortoise starts out sweet and ends very sour, not to say bitter. In telling the story of a boy whose spontaneous love of drawing is forced into narrow commercial channels, Kitano suggests that art is a racket. Across the decades, schools and galleries push the pliant, nearly comatose young artist to create a signature style. He is told to be original, but also he must harmonize with fashion and tradition. With a grim obstinacy he tries to fulfill what the business demands, and to the end he is still trying.
Achilles is less willful than Takeshis' and Glory to the Filmmaker!, and it tells a more coherent tale, but their glum narcissism is still in evidence. The film cries out for an autobiographical interpretation: is the naïve filmmaker corrupted by exposure to international art cinema? Pictorially, there's some confirmation of this: Kitano seems to have abandoned his early films' ingenious use offscreen spaces and planimetric compositions. Like his hero, who can't achieve artistic singularity, Kitano has become a surprisingly academic and anonymous stylist.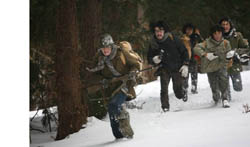 One can't claim high originality for the style of Wakamatsu Koji either, but at least United Red Army has a gripping premise. The 1960s student movement was driven by opposition to the war in Vietnam and Japan's cooperation with US policy, but in the following decade some factions emerged that were committed to violent revolution. Small cadres sequestered themselves in mountain cabins. Their exercises in "criticism and self-criticism" devolved into games of increasingly murderous aggression.
Wakamatsu's technique is unstressed: No fancy angles, neverending tracking shots, or virtuoso compositions, just a businesslike application of today's wobbly handheld look. The cunning lies in the film's structure. After a half-hour montage summarizing the formation of the group, we are carried into the hideouts and watch the punishment grow more feverish and self-destructive under the domination of two leaders who seem parallel to Mao and Madam Mao.
By the end of the second hour, the remains of the army are on the run, struggling through vast snowy landscapes. Soon four survivors straggle into a ski lodge, hold the owner's wife hostage, and face their final challenge: wave after wave of police assaults. Waiting for the inevitable outcome, the survivors spare time for grim humor: On 28 February one remarks, "I'm glad the all-out war won't be tomorrow. Then my death anniversary could come only every four years." And they can pause for an exercise in political discipline. After a lad takes an extra cookie, he criticizes himself. Stern reprimand follows: "That very cookie you ate is an anti-revolutionary symbol." Unsentimental and unsparing, United Red Army is over three hours long, with not a longueur in sight.
A man parks his car to pick up some cake at a bakery. He has been away from home all night; now he's rude to the lady behind the counter. Having bought a couple of cakes, he finds that a sinister black car has double-parked and hemmed him in. His efforts to find the owner lead to a spiral of comic and pathetic confrontations with an orphan child, burly Triads armed with whitewash, and a pimp with a distinctly bad haircut.
Creating something of a network narrative, Chung Mong-hong's Parking in its modest way offers a cross-section of Taiwanese society, from the prostitute brought over from China to a jaunty barber who more or less controls the switch-points of the story. The ending will strike some as dovetailing all the cards a little too smoothly, but I found it satisfying, if only because it lets our haughty hero show unexpected resilience and compassion. This is only Chung's second feature, but his work bears watching.
For once, it really is rocket science.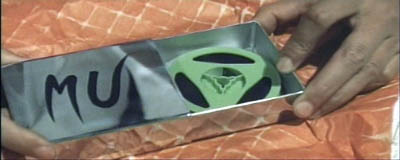 If you've already figured out the deep connections among Scientology, the aerospace industry, ritual sex magic, New Age spirituality, and the migration of Los Angeles hipsters to San Francisco in the 1950s, Mock Up on Mu won't come as news. If, like me, you haven't the faintest idea about the cat's-cradle ties among these cultural phenomena, Craig Baldwin's latest collage-essay-epic-lyric-narrative (all terms he applies to it) is the very thing you need. It's as exuberantly peculiar as his earlier work like Tribulation 99 and Spectres of the Spectrum, flooding us with a relentless voice-over that splits off from and reconnects with the torrent of images grabbed from all manner of movies.
These earlier films had stories of a sort, swollen conspiracies and ominous coincidences that make Baldwin the eccentric cousin to Fritz Lang. But Baldwin says that these stories couldn't really engage people, couldn't get them to identify. Mu tells a more personalized tale. L. Ron Hubbard, founder of Scientology, has colonized the moon and sends Agent C to earth to arrange for people to be shipped up. Agent C runs afoul of Lockheed Martin, corrupt aerospace executive, and becomes attached to Jack Parsons, an early rocketeer who in the 1950s assumed the secret identity of Richard Carlson, so-so Hollywood actor. Meanwhile, Aleister Crowley rules a secret society at the center of the earth….
Or maybe not.
Actually, I won't swear to much of what I just said. Baldwin's phantasmagoria tests my memory, as well as plausibility. The story line is swallowed up by what he calls footnotes—swarming digressions, tangents, and flashbacks which are conjured up in imagery that shoots off in a dozen different directions. A few frames from a kiddie science movie or a grade-Z space opera, juxtaposed to Parsons' rapid-fire account of the history of rocket testing, whiz by almost subliminally.
In any case, there are characters and a more or less linear story. But Baldwin is Baldwin, so things can't be so simple. He has for the first time staged and shot footage of actors, and their scenes form a sort of string that you can follow. But just as crystals grow in fantastic array along a string, alien footage exfoliates out from the staged scenes. Baldwin aims, he says, at "a dialectical density."
The result is a narrative experiment I've never seen before. With a simple cut, our characters are replaced by figures from other films, who become, in some spectral fashion, both alien inserts and our characters.
Confused? Here's an example. Agent C (who will turn out to be Marjorie Cameron, muse of many West Coast artists) is riding with rocket scientist Jack Parsons. A series of shots shows them in the car's front seat.
As the scene goes on, one character gets replaced by another.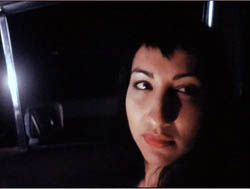 Eventually both of our originals have been replaced.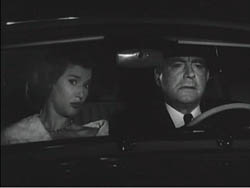 The stand-ins can even change position as the dialogue continues uninterrupted (but always mis-synchronized).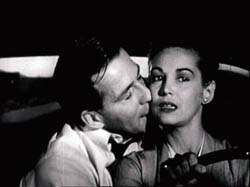 The cuts make the inserted characters surrogates or avatars for our people, but they retain wisps of their original, enigmatic existence. They also remind us that situations like driving in a car are genre stereotypes, schemas so common that individual instances can serve as place-holders for one another. Yet the shots always return to the original actors, anchoring the associations and keeping at least one plane of the narrative moving forward.
These phantasmagoric shifts make the identity transformations in I'm Not There look labored. In Mock Up on Mu Baldwin may have found a new method of cinematic storytelling. Don't expect Hollywood to pick it up soon.
Pulling half away
How do you tell your audience what it needs to know to understand what it's seeing, and what it will see? A film can handle exposition (aka backstory) in several ways. Most films favor concentrated and preliminary exposition: Most information is given in one spot and quite early on. This is when you get the opening dialogue when characters say to one another: "Look, you're my sister. You can tell me." (Ohh…They're sisters.) Concentrated, preliminary exposition is usually clunky, but it can be done with finesse, as in the opening soliloquy of Jerry Maguire.
The major alternative is distributed exposition, where information about the backstory is spread out, evenly or unevenly, across the film. This is common in mystery films (as when, under pressure, characters start to confess their relation to the murder victim) and in "puzzle films" like Memento, where we only gradually understand the relations among the characters. Delayed and distributed exposition in straight dramas is common in European art cinema, but it's rare in the US, although independent films like Claire Dolan and Man Push Cart have made good use of the technique. Kristin already mentioned a similar strategy at work in Eat, for This Is My Body.
Lance Hammer's Ballast comes garlanded with praise from festivals and major news outlets like the New York Times. For once the advance word is justified. I thought that Ballast was an exceptional intimate drama, focused almost entirely on three people and their layered relationships in a country town in the Mississippi Delta.
At this point I should mention how the three principals are connected, but part of the daring of Hammer's film is to postpone, for almost an hour, telling you such things. He says he wanted a film that is, like the Delta, "spacious and quiet and slow." Here the very issue of what we need to know is put into question. By blocking our knowledge of characters' relationships, Hammer forces us to confront moments of action in a pure state. Each instant, each shot even, gains an integrity and gravity it wouldn't have if we knew the full dramatic context.
Take the opening. After a brief, wordless prologue showing a boy in a field of crows, we're in a vehicle pulling up at a bungalow.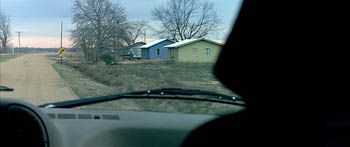 The indistinct figure of a man goes to the door. Inside, a brief shot shows a black man's face in silhouette.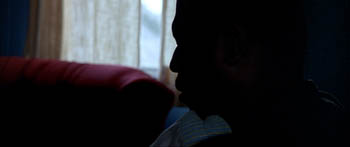 Soon, the first man, who is white and weatherbeaten, is seen at the door, expressing concern for the man inside.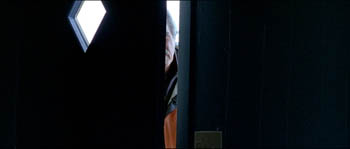 The white man enters, wrinkles his nose at a smell, and proceeds to another room, where a figure, turned from us, lies on a bed.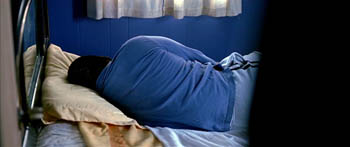 The black man continues to sit impassively before his TV, though now we can see his face more clearly.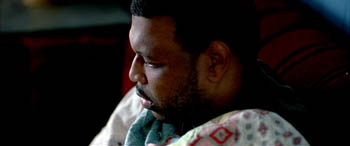 Who are these men? What connects them? Who has died? An ordinary film would tease us with these questions but answer them fairly soon (say, in the next three or four scenes). Here, we will have to wait a considerable time to find out the answers. In the meantime, what we have registered in place of an action arc is the atmosphere of shock, sorrow, grieving, and lowering skies. And almost immediately a rather dramatic event will occur, nearly offscreen, and its causes will remain equally opaque for quite some time.
Ballast's delay in spelling out its story premises is sustained by two unusually quiet main characters. Lawrence, the man sitting in the darkness, leads a solitary life and speaks reluctantly and briefly. Likewise, the boy James is often silent or alone. These two don't soliloquize, and they live one day at a time. We must simply observe their behavior, try reading their minds, and more generally absorb the emotional tenor of their lives.
The sparseness of the exposition also puts us on the alert for any scrap of information that will fill in the blanks. For instance, references to "the store" flash out as clues to possible connections among the characters. Hammer's strategy demands that the audience exercise a degree of patient concentration that most films never ask for.
For roughly the first half of the film, then, Hammer's narrational technique creatively impedes our full understanding of the basic givens of the story. Once the relationships have coalesced (though there are still some revelations to come), the dialogue becomes more explicit and, some would say, the drama more traditional. But the visual narration continues to mute and elide dramatic moments. At some points pieces of action are rendered opaque by the bobbing, jump-cut camerawork. Most memorably, a clumsy embrace is hidden by a "wrong" camera setup, all the better to make us wonder about the impulses behind the gesture. Hammer matches his oblique plotting with an oblique visual style.
Hammer has cited Bresson as an inspiration, and in conversation he also mentioned late Godard, who has become willing to avoid exposition for nearly an entire film. Unlike Godard, who seems to revel in the pure artifice of withholding information, Hammer appeals to realism: The gradual piecing together of the narrative, he remarked to me, is like our coming to know people in life, bit by bit.
Correspondingly, by the end of Ballast we come to feel more empathy for Hammer's characters than for Godard's, and possibly even for most of Bresson's enigmatic souls. But the empathy doesn't come cheap, and it isn't wallowed in. The climax is brushed past in one sideswiping shot; blink and you'll miss it. In another interview, Hammer speaks of "putting something out and pulling half away." By leaving us to fill in that half, Hammer exhibits his respect for his characters, and for his audience.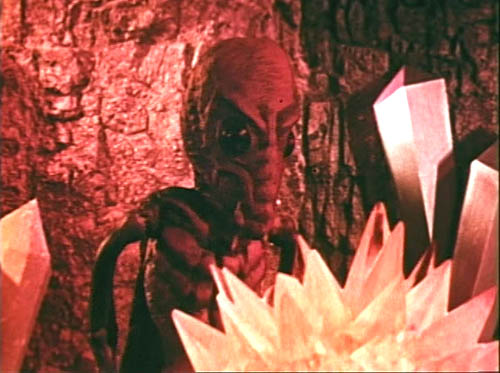 Mock Up on Mu
P. S. For dispatches from 2006 and 2007 editions of the VIFF, type Vancouver into our search box.