Thursday | September 25, 2008
open printable version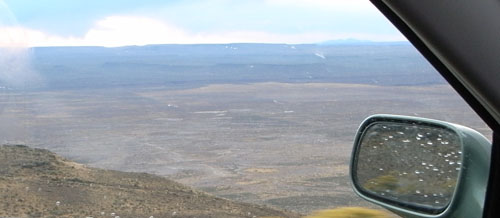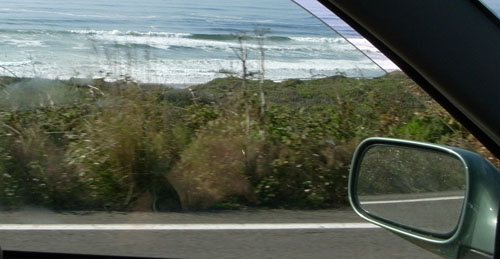 DB yet again:
Our road trip started back on the twelfth of September. We drove to Iowa City and ate at our grad school hangout, Hamburg Inn no. 2. (We even remember Hamburg Inn no. 1, long since vanished.) We pressed on through Nebraska to Denver, for a meeting of the Amarna Research Foundation, which helps support the Egyptian expedition on which Kristin works. She gave a presentation about the unique composite statuary of the Amarna era containing a new hypothesis that Barry Kemp, head of the expedition, found promising. After enjoying the hospitality of ARF president Bill Petty and his wife Nancy, we visited the Rocky Mountain National Park.
After a long day's drive west, we overnighted in Elko, Nevada, where we learned that Barack Obama was scheduled to give a stump speech the next morning. We hung around and joined an enthusiastic group from all over northern Nevada to hear what he had to say.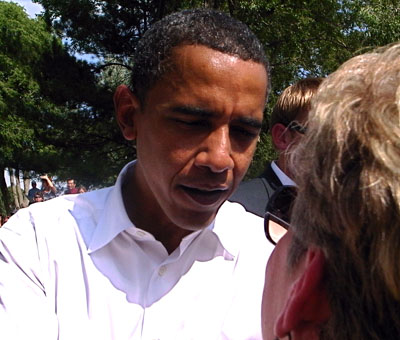 After shaking hands with Barack, we moved on, rolling through Utah and into Oregon and Crater Lake National Park. Then up the coast highway to Seattle, where our nephew Sanjeev works for Microsoft and lives with his wife Maggie. We did some nifty touristic things in Seattle, and then with Sanjeev and Maggie we pressed on to Vancouver for its annual film festival.
During our westward passage through Grand Island (neither grand nor apparently an island), Craig, Elko, Klamath Falls, Coos Bay, Tillamook, and Tumwater, we saw many intriguing things. There was, for instance, the perfect rainbow in the bleakly beautiful northwestern Nevada desert.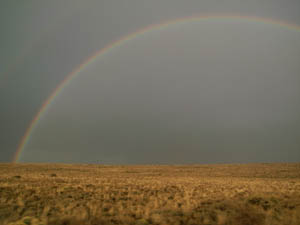 In a little Colorado town, we found the toilet seat with fishing lures embalmed within.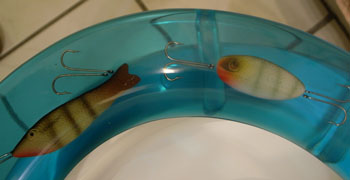 In Snoqualmie Falls, Washington, while we downed burgers and malts at the Candy Factory & Café, four red-hot mamas came in and spontaneously started singing 1940s swing, Andrews-sisters style.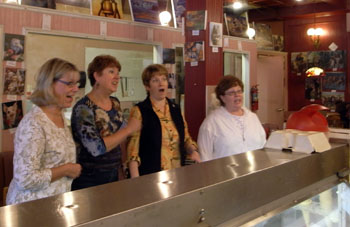 Yet such roadside attractions can't compensate for our trip's biggest drawback. We didn't see a single complete film, not even on the free HBO available in motels. We used our late evenings to wolf down Subway subs and scan the Internets for news of lipstick, pigs, and less important things like the free fall of the U. S. economy.
Still, even without watching movies we did run across many traces of cinema. So don't worry: This isn't a travel entry, but rather an offhand effort to note the ways film keeps crossing our path, sometimes in surprising ways.
Movies everywhere
For instance, Bill Petty, an ardent Egyptomane, has created a home theatre unlike any other. The Pharaohs surely look with envy on this screening room.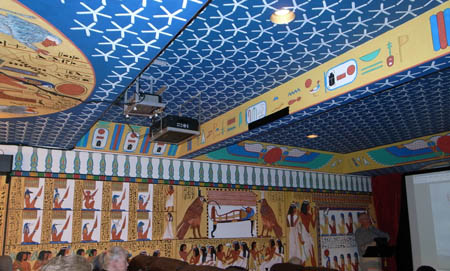 In this venue, Bill showed us his home-made mashup of the Lon Chaney Phantom of the Opera with the Andrew Lloyd Webber score. That was the closest we got to movie viewing on the trip.
Also in Denver, we ate breakfast with Diane Waldman, old friend and film prof at University of Denver, and her husband Neil. We of course wound up in a restaurant with movie posters.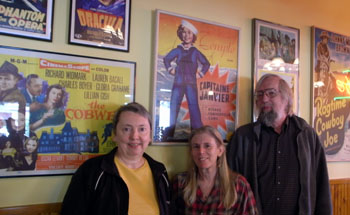 Passing through Vernal, Colorado, we spotted the most austere multiplex we'd ever seen.

Then there was Donna Kupp's Books in Reedsport, Oregon. Donna has an excellent collection of classic paperbacks and magazines.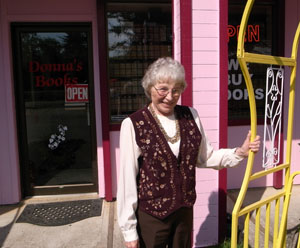 The high points of our purchases were an original souvenir program for The Covered Wagon and a pretty issue of Photoplay from 1932, which featured a gossipy story about the making of Grand Hotel.
The ladies' big-band quartet wasn't our reason for stopping in Snoqualmie, of course. You know why. The town was the shooting location of Twin Peaks. Hence this inevitable snapshot.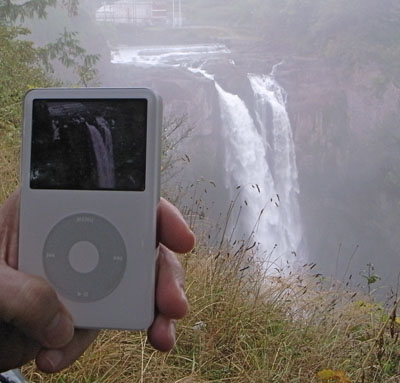 In Seattle, we discovered Stephanie Ogle's outstanding Cinema Books on Roosevelt Way, N. E. This store is stuffed to the rafters with film items old and new–books, magazines, posters, and stills. Kristin even autographed some copies of her books.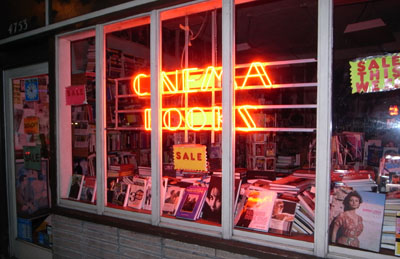 We picked up several items there. Earlier that day, we visited Paul Allen's lively Science-Fiction Museum. Sumptuous exhibits, but we weren't allowed to photograph them. We did, however, get a chance to study a clone of the alien from The Day the Earth Stood Still.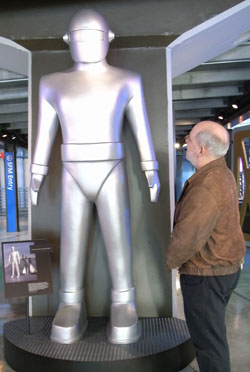 As usual, a trip to an art museum provokes me to think of cinema. You don't need much nudging to see this Rubens prototype for a Last Supper ceiling as a steep low-angle Welles or Hitchcock shot.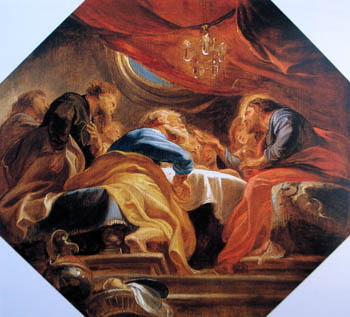 Less obviously, Abraham Janssens' Origin of the Cornucopia (c. 1619) suggests a wide-angle lens at work. The three dryads stuffing the cornucopia are monumental, and monumentally skewed.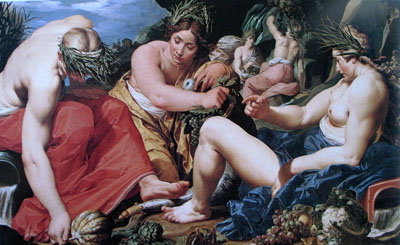 The stretched arm of the dryad on the left and the tipped knee of the one on the right seem to bulge right out of the picture plane. Check the hands, which thrust out of the picture and loom larger than the ladies' heads. In particular, though you can't see this in reproduction, the thumbnail of the figure on the right is a little blob of paint sitting on the painting's surface, accentuating the sense that this hand is pointing right at us. Such images remind us that 2-D and 3-D are not so easy to keep distinct.
Our road trip confirms that movies are everywhere, waiting in the corners of our lives, ready to be activated with barely any prompting. Nonetheless, these are all merely teases, snacks making us eager for the banquet to come in Vancouver.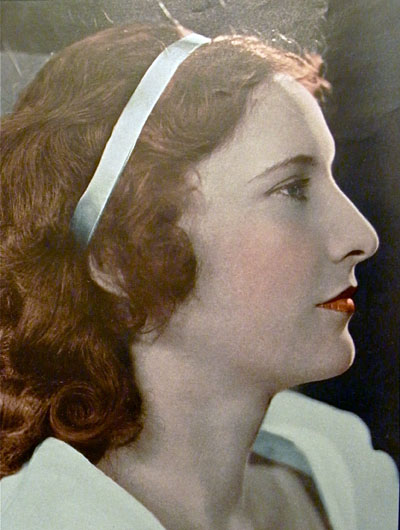 For Jim Emerson: Barbara Stanwyck, from Photoplay (Oct 1932).