Thursday | March 22, 2007
open printable version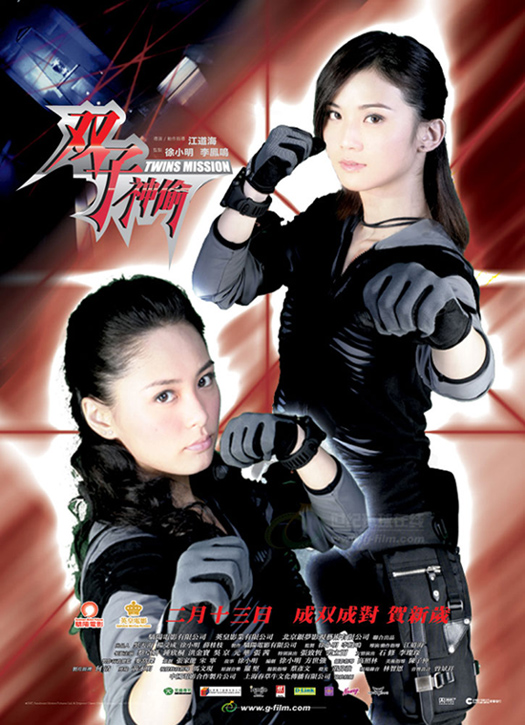 The annual Hong Kong Filmart is a trade show for all aspects of film/TV production and distribution. As in past years it commands several floors of the Convention and Exposition Center, shown in yesterday's entry. There are many screenings (thinly attended) but the main business is dealing. Representatives from Europe and Asia meet and greet in their display spaces, or more often in restaurants and hotel rooms. Here are some snapshots from the floor of the market, which I managed to visit on Wednesday.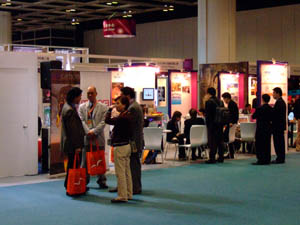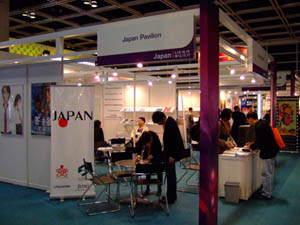 The cheerful Park Jiyin gave me some publications and DVDs from the Korean Film Council. She had read Film Art in her university courses!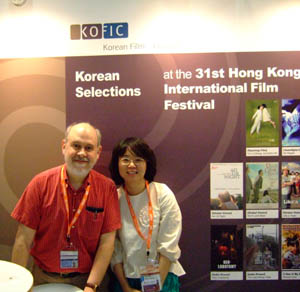 Sanrio's display areas were pretty nifty.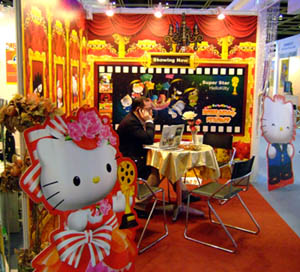 On the Filmart floor I again ran into King Wei-chu, brandishing yet another of his poster treasures while we talked with Ip File, a publicity executive for Celestial Pictures (current owners of the Shaw film library). Mr. Ip also worked as an assistant director to Chor Yuen, one of the best Hong Kong directors of the 1950s-1970s.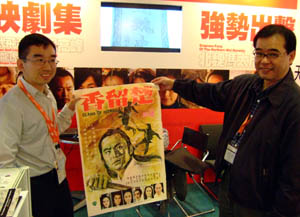 After cruising Filmart I caught the trade screening of Twins Mission, a goofy but likeable Hong Kong film by martial arts choreographer Kong Tao-hoi. Twins, in case you don't know, are, or is, a pair of girl pop singers who have made some films before this, notably The Twins Effect (2003). In this entry, Twins are now trapeze artists, and they encounter a squad of kung-fu killers, all themselves either male or female twins. It's gradually revealed that our Twins were trained in the martial arts along with many other twins…by kung-fu masters who are twins. Confused yet? Given that our Twins don't resemble one another, the premise seems a sendup of the very idea of twins and, er, Twins.
The agreeable fight sequences are enhanced by digital effects; my favorite passage includes a moment when a spinning blade trims one girl's eyelashes. There's a mawkish subplot about a little kid with cancer, but the presence of Sammo Hung and Yuen Wah, who literally plays his own evil twin, more than makes up for it.
A sequel seems already to be shot. This movie, released about a month ago, ends without resolving the plot, and then we're asked to watch out the rest of the story. Maybe the next installment will develop the subplot involving Sam Lee overacting as a mainland cop, a trail that leads nowhere here. Morever, the 35mm print I saw jumped from scarily sharp HD footage (every pore on the face all too crisp) to fairly poor digitized stuff to soft, sometimes out-of-focus 35 footage. Did they change formats partway through the shoot?
Yes, I learned later that night. I met Grady Hendrix and Goran Topalovic, directors of the New York Asian Film Festival (aka Subway Cinema), for drinks at the movie-themed coffeeshop/ bookstore Kubrick. They bought books, I bought books, then we sat outside chatting. Soon Ryan Law joined us. Ryan has recently expanded the server for the Hong Kong Movie Database, of which he's the founder and mainstay.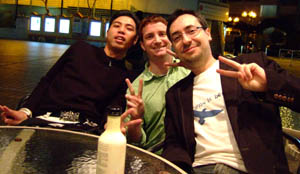 Ryan, Grady, and Goran
Ryan said that for reasons of economy, it's become very common for HK movies to mix analog and digital formats. He said that in fact Twins Mission used film, HD, and Betacam!
Leisurely talk on a balmy spring night was a good ending to a full but unhurried day, and I came back to write the blog you see now. Tomorrow: more film viewing and a visit to a night shoot of Johnnie To's installment of Triangle.