Sunday | July 5, 2015
open printable version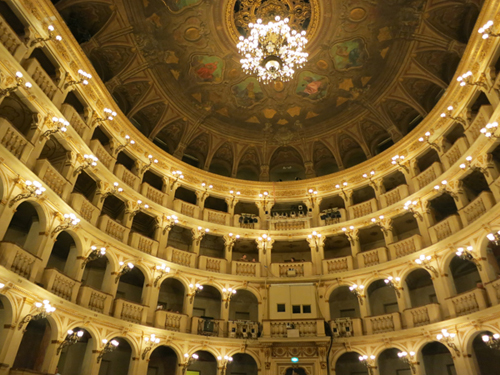 DB here:
The Teatro Comunale of Bologna is an eighteenth-century opera house that was launched by a premier of a work by Glück. It has hosted massive productions of Wagner, Rossini, and Verdi, and was a favorite venue of Toscanini's. Elegant and imposing, with box seats and an orchestra pit, it makes you feel like you're in Senso or Liebelei.
In some years Cinema Ritrovato has secured the Teatro for gala screenings of silent films, complete with orchestral accompaniment. One show of Lady Windermere's Fan was a delight. In another year, the hammering Meisel score for The Battleship Potemkin nearly blasted me out of my seat. I was sitting up front.
This year it was Rapsodia Satanica (1917) that got the Comunale treatment. This apparition has lost none of its exuberant morbidity, and we got to watch it with the original Pietro Mascagni score. Timothy Brock found that the original orchestra parts were lacking hundreds of tempo changes, because Mascagni himself conducted during screenings and never inserted them. Through careful testing against the film, Brock managed to create a score that brought a packed Communale audience to its feet cheering. One more testament to the power of 1910s cinema.
1915 and all that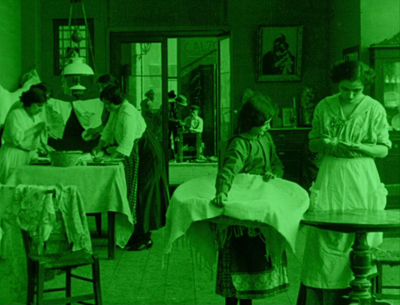 Assunta Spina (1915).
I tried, really tried, to see other wonders from all the places and periods on display at this year's overstuffed Ritrovato. But because of my love of  'teens films, both American and not, I kept coming back to as many items from that era as I could squeeze in.
There was, centrally, the series Cento Anni Fa (A Hundred Years Ago), curated by Marianne Lewinsky and Giovanni Lasi. 1915 was, of course, a decisive year in American cinema, to be forever identified with Griffith's monumental The Birth of a Nation. Standard histories would have it that this was the stroke that revealed the artistic power of cinematic storytelling. Griffith's colossus was naturally very influential, but it wasn't an isolated accomplishment. Earlier films, such as Weber/Smalley's Suspense (1913), and other 1915 films–De Mille's The Cheat and Walsh's Regeneration in particular–are more typical stylistically of what Hollywood silent cinema would turn out to be.
Add to this list another 1915 item. If film history were an exercise in fairness, Reginald Barker would be recognized as one of the directors who set American filmmaking on its "classical" road. Working under Thomas Ince's supervision, Barker showed a flair for economical framing, frequent changes of setup, and bold cutting within scenes. His Typhoon (1914) is at many moments more nuanced in its analytical editing than Birth.
1915 was a fine year for Barker. He turned out the long-praised The Italian (shown in the series), as well as the dynamic Civil War drama The Coward, along with superb William S. Hart westerns like On the Night Stage.
So The Despoiler, another Barker from 1915, did not disappoint. It survives only in a cut-down French print, but it still packs a sensational punch.
The original, according to a contemporary review, involves a border war in which troops invade a small town. The leader of the dark-skinned horde fastens on one beautiful woman, who has taken refuge in a nunnery. She is about to sacrifice herself to save the others, when the colonel learns that she is his own daughter. She is saved, and at the very end the whole thing is shown to have been a dream. The French version Châtiment ("Punishment"), painstakingly restored by the Cinémathèque Française in 2010, was modified to fit propaganda demands of the war period. Here the daughter really gets raped, and she shoots her attacker. The colonel turns his troops loose on the nunnery, but halts them in time when he realizes who the victim is. No dream stuff here.
Barker's style is fluid, and he builds great suspense when the daughter, barely recovered, prepares to shoot her ravisher with his own pistol. The scene has judicious depth staging, as when the soldier lies drunkenly on the cot but he's blocked by the woman's gradual decision to use the weapon. At the proper moment she swivels aside to reveal his head lolling in the background.
The match-on-action when the woman turns and pulls up her sleeve is more perfect than many such cuts in Griffith's films. She then strides to the background to give us a full view of her target.
A brief shot of the daughter's attacker is replaced by a 3/4 view of her drawing a bead on him, with Jesus taking her side.
Other countries' 1915 output wasn't ignored. We got Denmark's Revolutionary Wedding, proof that August Blom had not given up the somewhat rigid version of the tableau style he had used in Atlantis (1913). More florid were the Italian offerings. Assunta Spina (lovingly restored by Bologna's own Cineteca and now available in a DVD), is a classic of the nation's silent cinema. It was treated to a carbon-arc projection one evening in the courtyard. The less-known but no less flamboyant Il Fuoco ("The Fire") is a melodrama about a rich woman who destroys a naive, passionate painter.
The two films are famous for showcasing the divas Francesa Bertini and Pina Menicelli respectively. But they're just as important as powerful illustrations of the variety of 1915 pictorial styles. Assunta Spina is a triumph of tableau staging. By contrast, the opening of Il Fuoco, detailing the first encounter of the owl-woman and the burly artist, is as rigorous a piece of editing that I've seen anywhere at the period. Assunta Spina fills the frame with layers of depth (above and first still below). Il Fuoco makes play with bold optical POV, especially when the painter is transfixed by his languid model.
To which one can only say: Zowie.
Bluebirds of happiness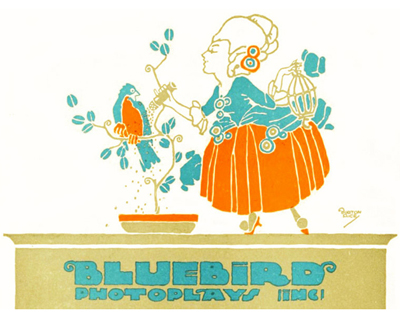 Back in the 1980s I wanted to see some films from Universal's Bluebird Photoplay series. It had been accepted wisdom that the Bluebirds were among the first American films seen in Japan, and accordingly they had influenced Japanese filmmakers. My searchings led me merely to fragments at the Library of Congress. But today, according the Ritrovato's indispensable catalog, about thirty complete titles have been found in archives. The most famous, Lois Weber's Shoes (1916), screened at Bologna in 2011.
The Bluebird franchise was identified with feel-good stories, often rom-coms centered on women and derived from fiction by women. Mariann Lewinsky points out that the unit was a training ground for Rudolph Valentino, Mae Murray, Tod Browning, Rex Ingram, and several other notables. A striking number of Bluebirds were directed by women, in particular Elsie Jane Wilson. About 170 films were produced under the logo, and Hiroshi Komatsu's catalogue entries confirm that they had a powerful impact on Japanese fans and filmmakers.
Four Bluebird titles, all discovered at the French CNC archive, confirmed the ingratiating charm attributed to the brand. Little Eve Edgarton (1916) centers on a botanist daughter who's whip-smart in science. Her father tries to marry her off to an older colleague, but she resists. The Love Swindle (1918) is more elaborately plotted. The main couple meet cute during a comic home invasion, in which Diana Rosson proves better at defeating hungry tramps than Dick Webster, who gets conked out trying to protect her. After a date, Dick decides Diana's too modern and highbrow for him. Diana, undaunted, takes a room in a pension and masquerades as her own impoverished sister, Miranda. Dick naturally falls for Miranda.
Here again, the polish and inventiveness of 'teens Hollywood comes through. Stylistically, we find nearly everything characteristic of classical presentation: scene analysis, angled shot/reverse shot (though no over-the-shoulders), surprising camera movements, expressive low and high framings. In narrative terms, our heroines conceive goals and pursue them tenaciously. Rosamond in The Dream Lady (1918) even makes a list of her four aims in life. Getting a house is surprisingly easy; marrying a real gentleman takes a little longer.
There are as well ambitious storytelling gambits. At one point in The Dream Lady, an orphan girl imagines that she has a mother and lives in nice surroundings. Director Elsie Jane Wilson cuts freely between the girl's fantasy and Rosamond looking in on her. One startling cut matches on the girl's gesture of flouncing her ribbon, taking us between dream and reality. (It's actually a cheat–wrong arm–but perhaps the change of angle covers the disparity. Sort of like here.)
Then there's the plot of The Little White Savage (1919). It starts with a circus boss and his sidekick telling customers how they acquired a star attraction, a wild girl purportedly from an island on no maps. The flashback yarn is absurd from the get-go, and it gets wilder as it proceeds, as the heroic sidekick somehow goes from he-man adventurer to pious parson. In a surprisingly salacious passage, Minnie, escaped from the sideshow, hops into the clergyman's bed. They squeeze and nuzzle unashamedly as nosy townsfolks watch in horror.
It's all a tall tale, of course, confirmed when the frame story reveals Minnie as simply a cute modern girl. The Confession (Fox, 1918), hinged on a more serious lying flashback and may have supplied the premise for The Little White Savage. Again we find the 1910s as an era of fertile innovation. "Its breezy bold difference makes it worthwhile," wrote a critic of this Bluebird release. "What Paul Powell and scenarist Waldemar Young have done here is the sort of adventure that makes screen progress."
A bigger-budget Universal release served as pendant to the Bluebirds. Lois Weber's Dumb Girl of Portici (1916) was a collaboration with dancer Anna Pavlova. A truncated version had long lain at the British Film Institute, but Geo Willeman and Valerie Cervantes found a 16mm print at the New York Public Library. That enabled them to create a very pretty, nearly-complete version, which now concludes with a lengthy Pavlova dance. The super-production, now running nearly two hours, was based on Daniel Aubert's 1828 opera and offers some ambitious spectacle.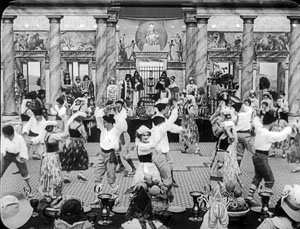 As a prestige entry with crowd scenes, lavish sets, and one of the stage's top stars, it's about as far from the humble Bluebirds as you can get. It's notably stiffer and less dynamic too; what is it about costume pictures that makes for an academic approach? Still, The Dumb Girl of Portici and the Bluebirds exemplify the ways in which filmmakers of the period laid down many paths of exploration for the future.
The devil you know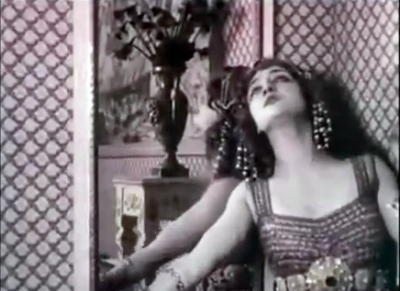 I first saw Rapsodia Satanica some years back during a Brussels visit.  I liked it fine, but seeing it with tinting and hand-coloring, on the big Comunale screen, with a live orchestra convinced me that it really needs its score. The plot is thin, but with the music throbbing along with its heroine's seductive pirouettes and mournful drifting, the whole thing makes powerful cinema. It was in fact billed as a "Cinematic-Musical Poem," suggesting that here lyricism will dominate.
With the score tightly matching fluent acting, I'm reminded of a point Kristin made some years ago. She wrote about the 'teens as an era in which many directors opened up new domains of cinematic expressivity. Having developed effective methods of storytelling, they began looking for techniques that would deepen the emotional impact of the action. Rapsodia satanica is practically a case study for this tendency.
Countess Alba sells her soul to regain youth. One of her suitors kills himself, the other flees. She winds up alone on her estate. This simple story is elaborated through many techniques of mise-en-scène. There are the dancelike performances; Satan practically coils himself around his victim's calf. There are the costume changes, as Alba moves from her heavy dowager dress to diaphanous veils in her voluptuous phase, and then, in her solitude, a simple shift. When she thinks the surviving lover is about to return, she wraps herself in the veils she wore before. Even the hand-coloring adds impact; as in the pair of stills below, often Alba's dress is the only colored mass in the shot.
The hallucinatory images gain both precision and passion from the soaring score. Our heroine sells her soul to Satan in exchange for a return to youth. The moment when she sheds her elderly skin and emerges, like the butterfly we'll see later, as a ravishing beauty is accompanied by a motif that exfoliates just as lushly. An offscreen pistol shot is prepared by a driving crescendo, but the orchestral outburst is still startling. The countess registers the realization that one lover has killed himself, and diva Lyda Borelli synchronizes her attitudes with that climax: body clenched at first, then sliding toward a more doleful pose.
At forty-two minutes, Rapsodia Satanica is practically, as Gian Luca Farinelli remarked in his introduction, an experimental film. Its unsettling use of multiple mirrors, trapping the heroine in fractured reflections, sets up Charles Foster Kane's zombie-like passage through his palace. The film's second part, in which the heroine drifts through landscapes and enormous rooms, looks forward to the American "trance films" of the 1940s and the Cinema of Walkies, from Neorealism and Antonioni to Tarkovsky. In all, the film lets us recognize the persistence of some trends across film history, and appreciate that the 1910s are not as far away as they might seem.
---
Thanks to Guy Borlée and Cecilia Cenciarelli for help with this entry.
The immense catalogue of this year's Cinema Ritrovato, essential for background to the screenings, can be purchased here. There's a pdf for reading or downloading here. These folks think of everything.
For contemporary accounts of The Despoiler, see the Lantern pages here and here. The Cinémathèque Française webpage provides a detailed explanation of the restoration. The Photoplay review of The Little White Savage is here.
You can read more about Bluebirds at Adrian Curry's "Poster of the Week" site on mubi, from which I took the Bluebird logo above. Be sure to scroll down to enjoy the gorgeous designs on display.
For more on why the 'teens are crucial, see the Vimeo talk, "How Motion Pictures Became the Movies." On continuity editing, you might start here; on tableau staging, here. Kristin's article is "The International Exploration of Cinematic Expressivity," in Karel Dibbets and Bert Hogenkamp, eds., Film and the First World War (1995).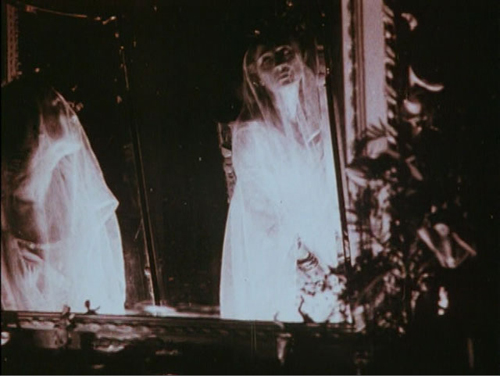 Rapsodia Satanica.