Wednesday | October 15, 2014
open printable version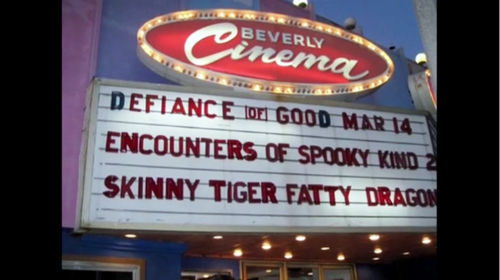 Out of Print (2014).
DB here:
Out of  Print is a new documentary (on 35!) by Julia Marchese about a hallowed Los Angeles theatre, the New Beverly. The film has gone up on Vimeo here.
It's a portrait of a theatre and its history. It's also a portrait of a team that is a community that is a family that is a way of life for hundreds of people. The film includes interviews with Joe Dante, Stuart Gordon, and other friends of our blog.
After she finished the film, Ms Marchese found herself in a very different situation at the theatre. She explains here.
We haven't heard the last of this, I expect. In the meantime, netizens are rushing to watch the movie, which is indeed enjoyable. In its late sections it constitutes a plea for retaining and circulating 35mm prints as well as digital copies. It's also an invigorating testament to revival and repertory cinemas and to the creativity of programmers.
---
Thanks to John Toner of Renew Theaters for the link!