Friday | October 17, 2014
open printable version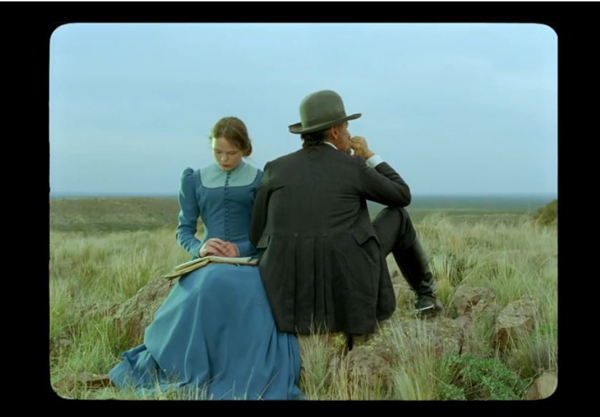 Jauja.
Kristin here:
The Vancouver International Film Festival ended this past Friday. I had hoped to post a wrap-up entry over the weekend, but illness intervened. Herewith a summary of several films I enjoyed this year.
Too clever by half
Some films are obviously and thoroughly pretentious. This year Field of Dogs (Lech Majewski, 2014) fell into that category. I had had high hopes for it, since I very much liked Majewski's The Mill & the Cross at the 2011 festival. Unfortunately, it's a completely different film, overcomplicated and, for me, nearly unwatchable.
Two film, however, suffered from a different problem. They had absorbing stories and interesting stylistic approaches. I enjoyed both very much–except for unwise additions, in each case unnecessary and annoying.
Stations of the Cross (Dietrich Bruggemann, Germany, 2014) revolves around Maria, an adolescent girl raised in a household where a strict, old-fashioned version of Catholicism is practiced. Bruggemann takes the not uncommon approach of filming each scene in one lengthy, and in most cases static, take. In the opening scene, a priest instructs a small class of children about to take First Communion. The camera is placed in a planimetric framing, a technique used in several shots in the film: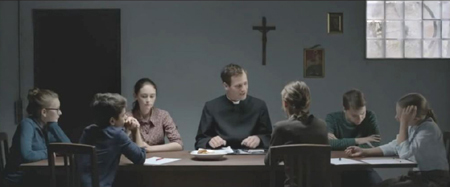 As the lesson continues, Maria, seated to the priest's right, gradually emerges as the student most versed in the topics under discussion. She stays after the others leave and hints to the priest that she wants to sacrifice herself to earn a miracle for her four-year-old brother, who has never spoken. Her belief that she must deny herself virtually all pleasures, comforts, and even necessities, as well as her guilt over the slightest perceived infraction, become increasingly apparent across the narrative. Her arguments with her harsh and inconsistent mother, who dominates the family, reveal her suffering. Despite the static shots, the story is never boring, and a scathing indictment of this brand of religious extremism builds up.
The problem is that Bruggemann inserts chapter titles before each scene/shot, numbered and with the descriptions of the fourteen Stations of the Cross. This inevitably connects Maria's sufferings to those of Jesus. Each scene contains some parallel, however tenuous, to the station that it is supposed to illustrate. I found this distracting and occasionally ludicrous, as when the title describing Christ's being stripped of his clothing cuts to a shot of a partially undressed Maria seated on a doctor's examining table. (Jay Weissberg's review for Variety sees deliberate humor in the film, but as far as I could see, Bruggemann takes all this as deadly serious.) This could have been an excellent film without the insistence on allegory, but as it is, one must try to ignore the interruptions to focus on the story.
Something rather similar happens in Jauja (Lisandro Alonso, Argentina, 2014). Again there is an absorbing story, though a very different one. In nineteenth-century Patagonia, a Danish engineer is doing surveying work to help a military group determined to wipe out the indigenous population. When his daughter runs off into the forbidding desert with a young soldier, the engineer follows on his own and experiences a series of increasingly disturbing and mystifying incidents, including some that could be classed as magical realism.
This is fascinating stuff, and in the print we saw, the beautifully composed landscape shots (almost the entire film takes place out of doors) were presented in a masked format reminiscent of old lantern slides or stereoscope images (see top, the opening one-shot, long-take scene). Most of the images from this film on the internet are in a more conventional 1:66 ratio, but the masked version seems far superior. One can only hope that the video release preserves it.
It's a lovely, evocative, disturbing film, but just as we see a shot of the protagonist disappearing into a valley in a bleak landscape of black volcanic rocks, there is a cut to an epilogue set in a beautiful Danish castle. The daughter wakes up and goes for a walk with some dogs. End of film. How this is supposed to relate to the preceding story is a mystery, and one which thoroughly undercuts the tension slowly built up over the course of the Patagonian-set story. The scene of the hero disappearing would have made a fitting ending, leaving the solution to the tale's mysteries open-ended.
I note from a recent story in Variety that Alonso has been chosen as the second filmmaker to be hosted in the Film Society of Lincoln Center's new "Filmmaker in Residence" program. That's good news, I think, but I hope Alonso will trust more in his story-telling ability and less in flashy tactics like this pointless epilogue.
Brief notices
One director who displays such trust is Alejandro Fernández Almendras, whose Chilean revenge tale To Kill a Man (2014) is both entertaining and morally and psychologically complex. We are almost entirely confined to the presence and knowledge of Jorge, a forest ranger who has grown accustomed to the casual violence in the neighborhood where he lives. He tries to avoid trouble, but his family is increasingly harassed by Kalule, a loathsome petty gang leader. As Jorge is mugged, his son is shot and then wrongfully imprisoned, and his house pelted with stones and threatening messages, he doggedly insists on going through the police, while his wife becomes increasingly frustrated with their lack of response.
Finally, after Jorge's daughter is assaulted and nearly raped, he decides to act and sets out to eliminate Kalule. The film then follows his patient, careful planning, culminating in an understated but riveting long take of the truck in which Jorge has his victim trapped as he systematically sets up the mechanics of the killing. The death itself is not shown: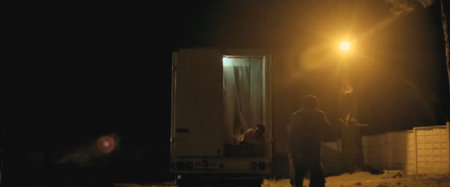 Hitchcock has said that in making Torn Curtain's big fight scene in the farmhouse, he wanted to show just how physically difficult it is to kill someone–as opposed to the seemingly effortless killings that fill American genre films. Almendras' film is almost entirely about how difficult it is in all ways. Jorge takes a long time making his fateful decision, in executing it, in dealing with the body and evidence, and in living with what he has done. Most spectators, attuned to more conventional revenge plots and frustrated by Jorge's initial resignation in the face of intolerable injustice, are probably cheering him on from an early point in the plot. But, as Almendras thoroughly shows us, it just isn't that easy.
Charlie's Country (Rolf De Heer, 2013) also centers very tightly on a protagonist beset by difficulties, but it sets a very different tone. It's another Australian film focusing on aborigines and their problems under the rule of the white majority. Charlie is a genial elderly man living in impoverished circumstances in a village set aside for aborigines and run by local police. Their laws mystify him. His gun is taken because he cannot afford a license, and when he fashions a spear for hunting for food, it is taken away and destroyed as a dangerous weapon.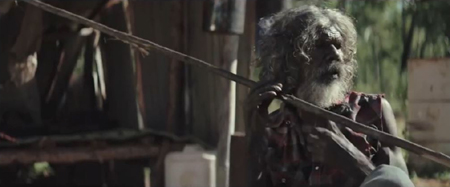 His health declines so far that the authorities send him to a hospital in a city far from his home, an apparent signal that he is dying. Instead, he escapes, lives with some street people, and finally makes his way home.
The film is entertaining enough, though it deals with familiar subject matter. It exists, though, primarily as a love letter to David Gulpilil, the most successful Australian aboriginal actor. His first film is also one of his best-known outside Australia, Walkabout, which I saw when it first came out, just after I had gotten my BA and was about to commence film-studies as a graduate student. (It's a bit disconcerting to watch him playing an old man here and realizing that he is three years younger than me!) Gulpilil turns in an endearing performance that pretty much carries the movie.
I enjoyed and was impressed by Russian director Andrei Zvyagintsky's Leviathan (2014), though I'm not sure it quite lives up to all the hype following its debut in competition at Cannes, where it won best screenplay. The story centers around the owner of a sprawling, dilapidated garage in a declining fishing port on Russia's northwestern coast. He struggles to prevent a corrupt local mayor from appropriating his property illegally. (The hypocritical official wants to use the land to build a church to further his own reputation.) At the same time, the protagonist has remarried, and he must deal with his teenage son's reluctance to accept a young stepmother.
The depiction of modern Russian society in the provinces is a grim one, albeit one displayed in sweeping landscape shots that suggest the waste of this stunning region. Many scenes involve the characters putting away great quantities of vodka. These include a hilarious set-piece in which the family and friends drive into the countryside for a drunken picnic complete with a shooting competition using portraits of historical Soviet leaders as targets.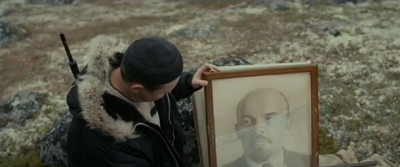 Leviathan will be released in the USA by Sony Pictures Classics on December 31.
Papusza (Joanna Kos-Kralize and Krzysztof Kralize, 2013) is the second new black-and-white Polish film I've seen this year. The first was the much-heralded Ida (Pawel Pawlikowski, 2013), an austere tale of a young woman in the 1960s, about to take her vows as a nun when she learns that she comes from a Jewish family persecuted during World War I. Papusza is a more easily engaging film, with a relatively fast-moving historical drama set among Poland's Roma ("gypsy") population.
Papusza centers around Bronislawa Wajs, the first Roma woman to learn to read and write; she became a well-known poet nicknamed Papusza. The film adeptly balances sympathy for the Roma group at the center of the story, the victims of racial prejudice, with a clear-eyed depiction of the less savory aspects of Roma culture. Girls, kept ignorant and oppressed, are married off at a young age. The Roma society practices its own prejudices, rejecting any interactions with people outside their clan and treating non-Roma as fair game to be fleeced at any opportunity.
The lively culture of the Roma and their closeness to nature are shown in impressive landscape scenes, as in shots of the caravans on the move through bucolic countrysides or when the band sets up a camp and market outside a traditional church (below).
As of now there is no indication that the film will receive an American release. The only DVD available seems to be the Polish one, with no optional subtitles. Various small streaming services claim to be offering it, but again, possibly without subtitles and in some cases with timings that don't correspond to the original 131 minutes.
And so another year at Vancouver has ended. As usual, we are left with the feeling that this event is one of the most pleasant ways to catch up with a huge amount of what is happening in world cinema.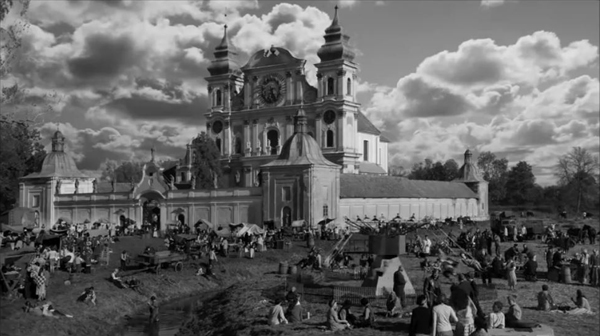 Papusza