Sunday | March 6, 2011
open printable version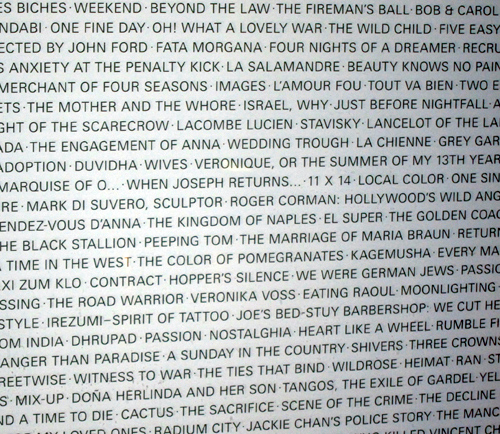 Vitrine outside future quarters of the Film Society of Lincoln Center (detail).
DB here:
During our month in NYC, we didn't visit only art museums (although KT was at the Met a great deal). We also, no surprise, hit some of the city's premiere movie spots. The places were often as impressive as the films, and all deserve the support of cinephiles both local and visiting. Herewith, a recap of our visits.
Fun things happen on your way through the Forum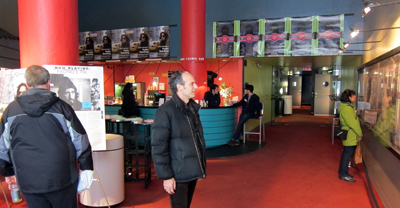 Mike Maggiore, in the lobby of Film Forum.
Film Forum, running since 1970, has established itself as an outstanding venue for new releases and classics. It has done heroic work over the years. I stopped by to see my old Wisconsin friend Mike Maggiore, one of FF's programmers, and met his colleagues, including Karen Cooper, a legend in US film culture. They had just recently had a remarkable triple-night string of visitors: Scorsese introducing his new documentary Public Speaking, Jerry Schatzberg with Scarecrow, and Paul Schrader with a fresh print of Diary of a Country Priest. The current FF program, running on three screens, is here and it's very rich.
Uncle Boonmee will have hit FF by the time you read this. Chris Ware's gorgeous poster decorates the Forum lobby.
The gem of Astoria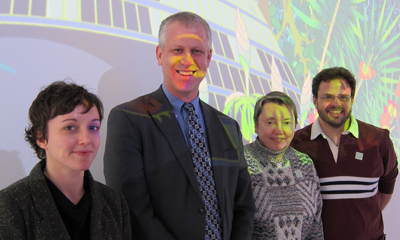 Under MoMI projection, Rachael Rakes (Assistant Film Curator), David Schwartz (Chief Curator), KT, Ethan de Seife (Professor, Hofstra).
The refurbished Museum of the Moving Image in Astoria is a thing of great beauty. Family-friendly, with lots of hands-on kid activities, it also offers a bounty to the cinephile.
For one thing, it has a superb screening theatre. We sampled it when MoMI screened a pretty print of King Hu's The Valiant Ones (1975). Kristin and I were happy to see our old favorite again.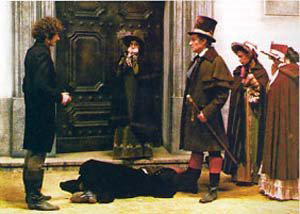 The same hall gave us a restoration of Manoel de Oliveira's Doomed Love (1978). The movie, 4 ½ hours long, was shot in 16mm for television. It frankly acknowledges its novelistic source by including stretches of letters and florid declamation ("I will be dead to all men, except you, Father!"), as well as a plot turning on forbidden love and oppressive social relations. This is a world of parlors, convents, trusty servants, candlelit rooms, barred windows, and lovers who actually waste away. The title could apply to virtually every character, down to the maidservant who adores our protagonist and vows, "When I see I am not needed, I will end my life." The affair draws others into its downward spiral, leaving the hero plenty of time to reflect on his misery and the pain he has inflicted on others.
The plot is quite engrossing in the manner of a triple-decker novel. That makes it all the more surprising that we get no Viscontian spectacle or even the plush upholstery of a Masterpiece Theatre episode. The presentation is rather dry and detached. I wondered if Ruiz's recent Mysteries of Lisbon, drawn from another novel by Camilo Castelo Branco, was in effect a reply to Oliveira's film. By comparison with Ruiz's sparkling compositions and glissando flashbacks, Doomed Love looks reticent and austere.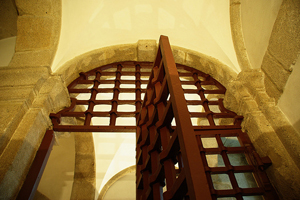 The austerity is heightened by a self-conscious stylization. The music is aggressively modern, and the lengthy takes (the average shot runs about a minute) are often shot with the low, straight-on camera reminiscent of early cinema.The film begins with a partial view of a door opening, inviting us into the story world, but obliquely. The film closes with a hand lifting a bundle of love letters from the sea and a voice-over (Oliveira's) explaining how the novel came to be written. The images provide as overt a marking of a narrative's beginning and its end as you could ask for, and one completely in keeping with the film's balance between respect for artifice and its concern to let compromised passions leak through.
MoMI also hosts a splendid exhibition of media technology. One floor is a wonderland of cameras, sound rigs, printers, and projectors of all sorts, from film to TV and beyond. One favorite among many: A Mitchell VistaVision camera from 1954. It's a funny-looking thing, but it took very crisp pictures. The horizontal film transport allowed larger and sharper images than the vertically-run formats that were normal for 35mm.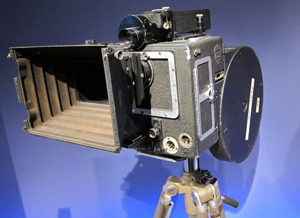 There are also displays devoted to screenplays, make-up, hairdressing, and special effects. I was especially taken with the finely detailed miniature for the Tyrell corporation building in Blade Runner.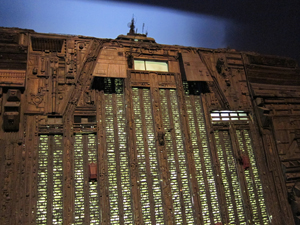 In all, MoMI deserves all the praise it has gotten after its reopening. Rochelle Slovin, the founding director of the museum, started in 1981 and is retiring this week. She can be proud of what she and her colleagues have accomplished.
Jaywalking down Broadway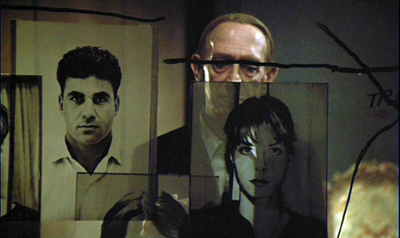 Wundkanal (Thomas Harlan, 1984).
Then there's Lincoln Center, another long-time shrine of cinephilia. Like MoMI, the Film Society is in the process of building. The new complex will house theatres, a café, and a flexible lobby space. It's scheduled to open in late spring.
The Film Society's František Vlácil retrospective early in our stay brought this little-known filmmaker to my attention. I had seen only his best-known item, Marketa Lazarova (1967), and that quite a while back. So I was happy to catch his charming early short, Glass Skies (1958), and three features.
Vlácil mastered both filmic poetry and prose. The White Dove (1960) is a simple, lyrical story of two young people who never meet: a girl living in a beachside town and a wheelchair-bound boy in the city. Alternating sequences show them brought together by the homing pigeon that the girl sends out. The boy in a moment of thoughtless cruelty shoots the pigeon with his air rifle. Soon, with the help of an artist living in the same apartment house, he nurses the bird back to health. The film is richly shot in crisp, wide-angle black-and-white, and Vlácil exploits eyeballish imagery to create links between the girl's seaside milieu and the artist's Chagall-like paintings.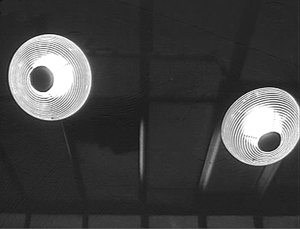 Like most filmmakers moving from the 1960s to the 1970s and from black and white to color, Vlácil recalibrated his visual design. Smoke in the Potato Fields (1976) gets your attention from the start with its disconcerting cutting during an airport departure. Laconic and elliptical, shot with long lenses and long takes, it tells an understated story of a middle-aged doctor moving to a small-town clinic. We get a cross-section of the townsfolk, from ambulance driver and gravedigger to censorious nurse and an unhappy married couple. The central drama concerns the doctor's care for a tomboyish girl who gets pregnant and considers an abortion.
Shadows of a Hot Summer (1977), set in 1947 and shortly before the Communist takeover of the Ukraine, is more conventionally gripping. A farm family is held prisoner by rapacious resistance fighters. The taciturn father has no allies among the locals, who seem to resent his prosperity, and he dares not call attention to his plight. As in a Boetticher film, the hero plays his hand judiciously, mostly passive but carefully picking the battles he can win. The final sequence, precipitated when the marauders find him hoarding shotgun shells, is a taut, suspenseful exercise in action cinema. Shadows of a Hot Summer has daring stretches of silence and an unsettling score, along with discreet zoom shots typical of the period worldwide. These installments in the Vlácil retrospective show that we nonspecialists still probably underestimate the range of artistry that could be achieved in the apparently inhospitable atmosphere of Communist Eastern Europe.

Film Comment Selects brought us a host of strong items, of which I caught four. I had missed Jia Zhangke's I Wish I Knew (2010) at Vancouver, so I was happy to catch up with it. It seems to me a moving but minor effort in his career, lacking the bolder organization of the comparable Useless (2007; the latter in our blog here) and 24 City (2008). I didn't think that the figure of the wandering woman Zhao Tao, punctuating people's recollections of life in Shanghai, developed very much. Still, I was struck by how much Jia's interviewees were able to say about the effects of the Cultural Revolution on their lives, and there is an unforgettable account by a woman of her father's execution at the hands of the KMT.
I'm a big fan (at a distance) of the Chauvet caves and their Ice Age imagery, so Herzog's Cave of Forgotten Dreams (2010), a 3D tour of the site, was right up my alley. The film turned out to be a strong argument for 3D (as Kristin anticipated), since it lacked that sense of cardboard-cutout planes you usually get and really brought out volumes. The tigers, bison, and other wondrous creatures seemed to bulge and ripple across the walls.
The biggest revelation the Film Comment program held for me was the double bill of Thomas Harlan's Wundkanal (Gunwound, 1984) and Robert Kramer's Notre Nazii (Our Nazi, 1984). Wundkanal was made by Thomas Harlan as part of his crusade to expose the bad faith of postwar Germany, where many former Nazis held positions of power. Harlan's father was the Nazi filmmaker Veit Harlan, and as Kent Jones pointed out in his illuminating introduction, the son seems to have taken upon himself the burden of guilt that his father should have felt.
Wundkanal proposes that a terrorist gang has kidnapped the respectable citizen Dr. Seibert, interrogated him about his murderous past, recorded the sessions on videotape, and eventually staged some of their own suicides as part of the exercise. Dr. S. is played by Alfred Filbert–himself a Nazi let out of prison for medical reasons. The whole production, then, becomes both a vision of Germany's blindness to history and a trap for a man whom Thomas Harlan suggests has gotten off far too easily. "A new idea: to use the real criminal, to deceive him and convince him it was a film about him."
Filmed by the great Henri Alekan, it is a phantasmagoria. We are in a sunless bunker jammed with old photos, thermos jugs, automatic pistols, video clips from a Harlan film, and other detritus: a sort of chamber-play version of a Syberberg no-man's land. Questioned by offscreen interrogators, Dr. S. admits to his crimes plaintively. The hallucinatory quality of the exercise is enhanced by sound cuts that split a sentence into bits (sometimes clear and close, sometimes filtered through speakers) and a drifting camera that may start on Dr. S. but then wanders across the litter to end on a video image of Dr. S. testifying in another session, at which point the sound of that session may take over. In one passage, the camera tours the room and picks up several bits of Dr. S.'s testimony, in the real space and in several video monitors crowding the area.
Kramer's Our Nazi is in a way a making-of for Wundkanal, but it's also a powerful film in its own right. Acting as his own cameraman for the first time, Kramer (director of the classic militant films The Edge,  Ice, and Milestones) takes us behind the scenes to show Thomas Harlan's obsessions and to expose Filbert more directly than Wundkanal does. Harlan talks of the fatal love he had for his father, reflecting that the old man's charm finally withered in the face of his inhuman complicity with the Reich. Intercut with this soliloquy are shots of Filbert being made up for his video scenes, as he talks of his dueling scars and his youth: "All the ambitious men became Nazis."
Our Nazi gives us two disturbing confrontations, one with Kramer sitting Filbert down and charging him with crimes against humanity, the other more prolonged and painful. Harlan and the crew encircle their star and hurl accusations at him. This scene, glimpsed and abstracted in Wundkanal, pulls the viewer in different directions as the feeble old man tries to escape Harlan's relentless recitation of Filbert's war crimes. In the discussion with Kent Jones after the screenings, Paul McIsaac rightly called the Kramer film a demonstration of the concreteness that direct cinema can yield. Shot in Hi-8, Our Nazi counterbalances the abstract, somewhat detached artifice on display in Wundkanal. Kramer dwells on unexpected details, such as Alekan hesitating to autograph a souvenir production photo for old Filbert. The two movies need to be seen together because they engage in a crosstalk that yields provocatively different information, emotions, and cinematic resources.
Our month in New York went by all too fast. We seldom visit the city these days; I'm in Hong Kong more often than Manhattan. Our trip brought back memories of my undergrad visits from Albany in the 1960s (packing four films into a day-trip) and, during the 1970s, doing dissertation research and visiting friends and teaching for a semester at NYU. It also allowed me to get back in touch with some of my oldest friends, like Rich Acceta-Evans from junior-high days. And the trip reminded me of what a cosmopolitan film culture is like, with institutions like these and still others (Anthology Film Archives, MoMA, etc.) braving tough times to bring the right movies to lucky audiences.
---
Apart from those named above, I want to thank the friends we met with during our stay. Scott Foundas was particularly helpful on this entry. I gave talks at various venues, so I'm grateful to Malcolm Turvey of
Sarah Lawrence College
, to the
NYU
Film Studies faculty, and to Patrick Hogan at
the University of Connecticut–Storrs
. Special thanks to Ken Smith and Joanna Lee for arranging
a visit
to the Museum of Chinese in America for a discussion of 
Planet Hong Kong.
Speaking of Planet Hong Kong, I discuss The Valiant Ones in Chapter 8 there, as well as in the essay "Richness through Imperfection: King Hu and the Glimpse," in Poetics of Cinema. For a sensitive examination of Doomed Love, go to Tativille.
Some films in the Film Society's Vlácil retrospective are available on DVD from Facets Multimedia. Wundkanal and Our Nazi have been issued on a single DVD edition with English subtitles, and it can be found on the Edition Filmmuseum site. Every film studies and filmmaking department should order it, I believe. See also "Truth or Consequences," Kent Jones' essay in Film Comment 46, 2 (May/ June 2010), 48-53, from which I've taken the Harlan quotation. Jones discusses other films, including Christoph Hübner's 2007 study of Thomas Harlan, Wandersplitter, which is also available on a Filmmuseum disc. Thomas Harlan is one of the main interviewees in the documentary Kristin recently wrote about, Harlan: Im Schatten von Jud Süss.
For more coverage of the "Film Comment Selects" series, see R. Emmett Sweeney's review on the Movie Morlocks site, with particularly discerning remarks on I Wish I Knew. Jesse Cataldo provides sharp commentary on Wundkanal at The House Next Door.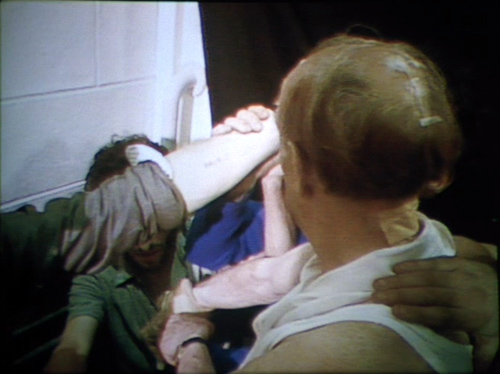 Alfred Filbert, confronted with the tattooed arm of an Auschwitz survivor (Our Nazi).