Archive for the 'Directors: Wyler' Category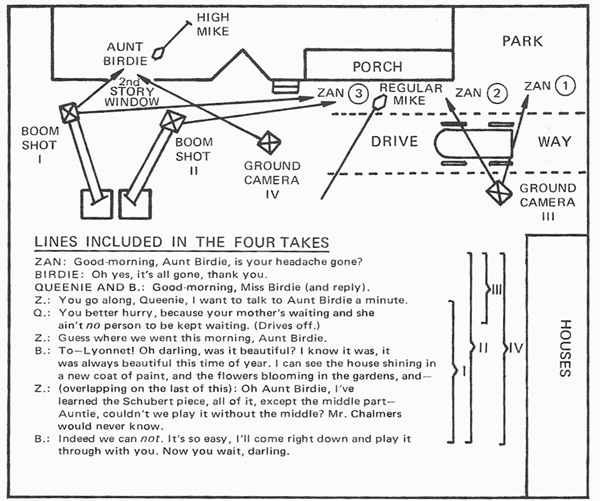 From The Film Criticism of Otis Ferguson, p. 15.
DB here:
The genre of the movie review doesn't encourage writers to exercise their curiosity. Writing to deadline, a reviewer must issue a snappy, not to say snap, judgment after one viewing. (Maybe even on DVD or a private Vimeo site.) This doesn't mean that all reviewers lack curiosity, but the demand for quick and brief appraisal leaves them little opportunity to ask questions they can't answer. At the same time, probably many reviewers do lack an interest in probing a film more deeply; that's why they liked becoming reviewers in the first place. I once met a film blogger who said a good review should be no more than 100 words long.
Being researchers primarily, Kristin and I have the luxury of approaching films differently. For one thing, we write long, because the web gives us the freedom to do so. For another, we practice a criticism of enthusiasm, as the Cahiers crew used to call it. We write about what we like or admire or find intriguing. We turn back to old films and try to give a boost to recent films, often little-known, that we think deserve attention. We skip over the films we think bad (as well as many good ones we just don't have space to consider). We want to steer people to movies, old or new, we've found stimulating.
Often what provokes us is a film that lays down a challenge. Often we ask what we can learn about cinema from this or that film. What does the film suggest about the potential of the medium, the resources of a tradition, some intriguing formal or stylistic strategies, or just the creative choices open to filmmakers in certain times or places? What can you do today with a Crazy Lady thriller? How does a film like Gravity balance the coherence of a classical narrative with the sensuous novelty of an experimental film? What does a recent release reveal about the conventions of cop movies or rom-coms or martial-arts films–and the ways those conventions can be revised or challenged? How does a director devise new staging strategies, or revive old ones?
In short, we often try, on the basis of the movies we see, to build up a storehouse of ideas about cinema's artistic possibilities. On many occasions, our blog entries are film analyses, not reviews. Often we try to know the film as intimately as possible–something that surprisingly few critics aim to do. We try to develop our curiosity by suspending the reviewer's demand for a swift verdict and admitting that even drab and mundane movies may have something to teach us.
It's refreshing, then, to turn from today's film reviewing to that of the 1940s. It's partly academic duty: I'm writing a book on Hollywood storytelling of the period, so one purpose is to discover rareish films that haven't made it to the canon. Another purpose is to see if my hunches about 1940s film culture are borne out. (More about those hunches in an upcoming entry.) Yet another purpose is just to revisit the people I read in my youth—notably James Agee and Parker Tyler, but also Manny Farber and, most belatedly, Otis Ferguson.
The Ferguson touch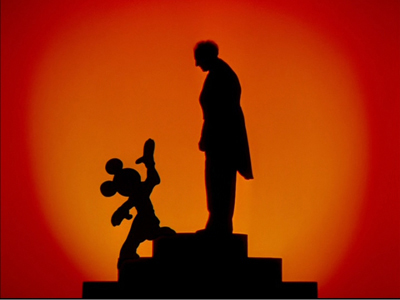 Of these critics Ferguson remains the least known today. That's a pity, because he was an exceptional writer. His flowing prose, at once slangy and fastidious, could twist syntax into funny and eloquent shapes. Here he is on Stokowski conducting Fantasia.
As a background and continuum for this there is the noise and motion of an orchestra assembling and tuning up, than which there is nothing more fascinating, nothing more exciting with promise in the world. But over and above this, on some kind of promontory and silhouetted in awful color is Dr. Leopold in a claw-hammer coat, leading with expression that only falls short of balancing a seal on its nose an orchestra which made that part of the sound-track yesterday in shirtsleeves and is at the moment out for a cigarette. I rarely bray aloud in the theatre, as this is rude and also may get you into an argument with men who have muscles in their arms, but when Dr. L yearned out over the strings to the left of him in a passage for horns (which are in the center when they're there at all) and the bedazzlement of color yearned sympathetically from baby-blue to baby-something-else, I released a short one.
Mind you, Ferguson adores Disney and Fantasia in particular. Very soon after the passage quoted, he says this of the film:
Dull as it is toward the end, ridiculous as it is in the bend of the knee before Art, and taking one thing with another, it is one of the strange and beautiful things that have happened in the world.
Ferguson wrote mostly for The New Republic, concentrating on jazz, literature, and the theatre before settling in as the weekly film reviewer in 1934, at age twenty-seven. He soon became an editor there. He continued with the magazine until early 1942. In a remarkable convergence, Farber replaced him as film reviewer for NR, and Agee started writing for The Nation later the same year.
Writing for The New Republic didn't give Ferguson a bias toward films of leftish social comment. He welcomed liberal films but insisted they be vibrant and engaging as films, and even reactionary messages didn't automatically make a movie bad. "I can see at the start that this film, Lives of a Bengal Lancer, is going to cause me a lot of grief, first because from a social point of view it is execrable, second, because it is a dashing sweat-and-leather sort of thing and I like it." Why like it? It is less about British imperialism and more about showing how men pull together, portraying "the rough satisfaction of combining finely with all the others to make the thing work, to go off smoothly." A few years later he found the film "just as politically incorrect and marvelous as ever." He asked that his fellow leftists "stop demanding a ten-reel feature on the Rise of Western Imperialism and look around to see what can be done with pictures."
Maybe you, like me, hear some of Agee's lilt and Farber's barrelhouse slang in Ferguson's sentences. Whatever the extent of his influence on them, he belongs to the same vein of journalistic demotic that made the 1940s the first, perhaps the only, great age of American movie criticism. In Ferguson's case, that's partly because like his peers he remained open to being surprised by the "strange and beautiful" movies he met. He was also curious as to how they achieved the qualities he most respected.
This motion and this air of life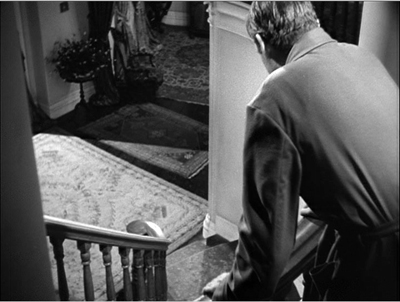 A good critic, I think, traffics in ideas and information as well as opinion. More than most critics today, but like Agee and Farber, Ferguson had some definite ideas about what best suited the film medium.
Ferguson liked his movies straightforward and clean-edged. He admired some foreign imports, but sheer artiness on the Soviet-European silent model, he noticed, had become a cliché. He used his review of Three Songs of Lenin as an occasion to deplore "pure cinema." Instead of discussing Vertov's film, he fills his column with a hypothetical city symphony, telling of desolate streets waking to a fusillade of rapid editing. "You cut in the big dynamo wheels, all the wheels, all the powerhouses, wheels and wheels. Rah, montage." Ferguson's sentences, each phrase an imagistic burst, rise to a fast-cut climax.
A kid coming out of the door of the mean house, with pennies for a loaf of whole-wheat, and running past the feet and in front of the wheels, and tripping on the broken cement, falling, smack. Close-up of the head showing a splash of blood spreading on the mean stones, and flash to the apartment house, up, up, to a window, in through the window to the cream being poured into the coffee, being drunk in bed, in silk pyjamas, spilling, a splash of coffee spreading on the silk pyjamas.
Any good? I'm afraid not. But it is pure cinema.
Ferguson realized that by the early 1930s the montage style was already an anachronism, as conventional as a gavotte. What, then, was a more adequate alternative?
For one thing, an unpretentious plot that maintains a clear "line" (one of his favorite words). That line should drive forward rapidly but without fuss or jitter. Ferguson started reviewing soon after Hollywood filmmakers were mastering a dramaturgy appropriate to the new demands of talkies. Any novel or play, he realized, could now be molded into a fresh, sprightly shape.
If there is any one thing that the movie people seem to have learned in the last few years, it is the art of taking some material—any material, it may be sound, it may be junky—and working it up until the final result is smooth, fast-moving, effortless…Whoever started the thing in the first place, Hollywood has it now, and Hollywood speaks a different language.
This glide-path storytelling depends on a certain naturalism of behavior and appearance. As a medium, film can render the behavior of typical, fully realized human beings. In an important essay of 1940, "Life Goes to the Movies," Ferguson noted that the actors seen on the screen continued to bear the traces of the lives they had led before coming to Hollywood. Glamorous they might be, but men like Pat O'Brien and James Cagney "were in so many instances a part of common life just yesterday that they haven't had time to forget it, dress it up, and bury it." A film by Lang or Ford or Milestone imbeds within a dynamic plot many work routines, character exchanges, and "life in action and at mess and horsing around."
When [the miners of Black Fury] were working, or chewing the fat, or drinking their pitiful nickels away in the bar they were no strangers to you…[They were] so cleverly worked into a story-pattern of cause and result, environment and hopes, that they were neither symbols nor foreigners but people you knew and hoped the best of. You knew their work and their dinner table, their mean streets and threadbare pleasures; and everything about it was simple and just-so, through the medium of the most complex and expensive art on earth. 
The word Ferguson finds for this quality: honest.
Along with his concern for unassuming naturalism in characterization and behavior, Ferguson likes his details. Come to think of it, reviewers always like details—things they can single out as either well-judged or overbearingly symbolic. (Mentioning them also shows that the reviewer is sharp-eyed.) Details come in two varieties: those that nuance the main line of the drama, and those that aren't integrated dramatically. Stray bits can be an object of the reviewer's scorn, but Ferguson, like Agee and Farber (and Bazin), particularly prizes moments that show life leaking in around the edges of the script.
One appeal of classic Hollywood cinema is that while the action thrusts forward energetically, there can be time for irrelevant bits that suggest a world beyond the mechanics of plot. In Foreign Correspondent, Hitchcock can decorate his intrigue with side details:
He loads his set with them without loading down his action; and because everything and everybody aren't direct accessories to the plot, so many mechanical aids, you get the effect of life, which also has its dogs and casual passers-by who are real without having anything to do with any plot you know about.
The smooth, naturalistic storytelling Ferguson values is incarnated in another quality, one as important for him as for the pioneering tastemaker Gilbert Seldes (The Seven Lively Arts): Movies should move. Static talking scenes are of less value than drama translated into action. This doesn't mean that every scene must be a fight or a chase, only that the scene should project a flow of physical activity in which skilful performers realize the story concretely. Melodrama, gangster films, comedy light or slapstick—all find their ultimate expression in charged motion, big or small. The stateroom scene in A Night at the Opera sits at one extreme, but at the other is a moment ("a minor thing, too") in The Little Foxes:
Herbert Marshall has come out to lean his weak fury against the bannister. Bette Davis has come home from the battle-line, entering from the door across the space below, preoccupied and busy with gloves and stuff, to take five steps, six, seven (we know he is there, we are waiting) and another step and, stop. The dramatic part of the scene lifts up like a full chord in the orchestra, and we think, it is this woman who has looked up with her hard nervous eyes to find this object of hate.
Ferguson had another reason for singling out The Little Foxes. He had watched it being filmed, and he had information to impart.
Knowing how everything is done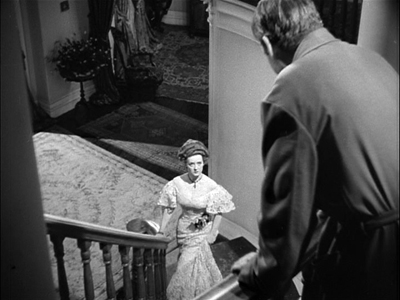 Ferguson's criteria for good cinema deserve to be analyzed in more depth. (Colin Burnett does that job skilfully here.) And I would happily quote his prose for a long time. But my topic today is critical curiosity, and Ferguson shows himself curious about something that chimes with my interests, and maybe yours too.
Agee famously declared that he didn't want to know how movies were made, fearing that it would make him too forgiving. "My realization of the complexity of making any film would be so much clarified that I would be much warier than most critics can be in assigning credit or blame." By contrast, Ferguson seems to have thought that grasping the complexity of moviemaking could only enhance your appreciation of the artistry—while, admittedly, making you more merciful. While his contemporaries were sensitive to film style and form to an unprecedented degree, he really wanted to know, with exactitude, how movies were made.
This impulse fits his critical credo. In writing about jazz, he assigned the critic two tasks: "(1) to spread knowledge and appreciation of his subject among those who don't know but might learn about it; (2) to encourage those who are doing the work and tell them how it is 'coming over,' with as little bias and as much understanding as possible."
He goes on:
And that is quite a task, requiring a constant and humble passion to know everything of what is being done and how everything is being done; and just as steady a passion for learning how to explain this so that it will somehow mean something to the performer and his audience alike. The best people I have discovered to learn about music from are actual musicians, who would not be found dead in the kind of talk used to describe their work.
What did Ferguson mean by knowing "everything of what is being done and how everything is being done"? The passage admits a lot of interpretations, but it surely includes the sort of insider skills he delighted in explaining in his jazz essays and reviews. Likewise, he asks the film critic to acquire, as fully and subtly as possible, not just wide viewing, sensitive scrutiny, and book learning–but also craft knowledge.
From April to June of 1941—what a year to pick—Ferguson was in Los Angeles. Editorial infighting "banished" him there, Malcolm Cowley tells us, but Ferguson was more upbeat:"The paper is sending me to Hollywood to see if there is one." He filed reviews, interviews with the likes of Fritz Lang and Garson Kanin (a Ferguson favorite), and longish essays on the mores of the colony. He learned the iron grip of distribution, the venality and corruption behind the scenes, and the weary compromises, the cry we still hear today: "I made that one so I could make them give me this one."
But he kept his spirits up. He loved LA's drive-ins, low rents, open-air produce markets, and, ironically for us, its absence of smog. ("The air is pure and that's all there is to it.") Ignore the professional naysayers: "It is as possible to live in Hollywood quietly, sanely, and pleasantly occupied with whatever it is you do, as it is in New York, which is the best city I know." He defended his temporary home in a gentle demolition of Edmund Wilson's sneering diatribe against writers unfortunate enough to live in California and to write for the movies.
Ferguson valued work in any realm, and he realized that movie people toiled very hard, six days a week from nine till six and beyond. To keep your head above water, he wrote, "you work like hell." The result of all that hustle could be quite good, thanks to everyone involved. ("The best piece of 'direction' in the picture might have been suggested by a grip.") Still, as so many before and after him, he saw that the ambitious director could steer a project toward excellence. His encomium to the Little Foxes staircase scene continues as an homage to William Wyler:
But it is actually the man who devised this much, to put her in the center of the screen, to warn us in advance, to give us that sense of an even count up to the point of collision, and then, seven, eight, collision. And that man is the director; it is in a picture like this that you can see him at work.
Ferguson's chance to see the director at work was recorded in "The Camera Way Is the Hard Way," an article he wrote for The National Board of Review magazine. He visited the Little Foxes set while Wyler and company were filming a very simple scene, and he marvels at how complicated and tiring the process was.
Four cameras in one
Zan and Addie are arriving in a carriage to have breakfast, and Zan's Aunt Birdie greets them from an upstairs window. Zan calls up to her and asks if she could skip the difficult middle part of a piece she'll be playing tonight. Birdie refuses to let Zan off and starts down to help the girl rehearse.
That's it. According to Ferguson, the morning on the set has been spent trying out some angles and dialogue lines, and the afternoon will undertake to shoot everything in the scene. The scene is chiefly expository and lasts less than a minute in the final film, but it will take many hours to shoot.
For his article, Ferguson supplied the (rather rough) diagram seen at the top of today's entry. He also supplied the dialogue as best he recalled it, along with the characters' names. (Apparently Addie was called Queenie in the script.) He notes that the shots were taken out of continuity: the shots of the carriage occur early in the final sequence, but they filmed later that day, so he labels them as setup III. Although the passage has no moving shots, two high-angle setups were taken from a camera crane.
As I trace Ferguson's steps, I'll add some comments of my own.
Ferguson's shot breakdown doesn't include the two shots that start the scene: Zan and Addie's arrival, seen from inside the estate's gate, and an initial low-angle view of Birdie greeting them with "Good morning, darlin'."
The first isn't notated in Ferguson's diagram, and the second corresponds to his Ground Camera IV setup. The scene's third shot returns to the first setup, showing Zan swinging open the driveway gate and calling up to Birdie.
| | |
| --- | --- |
| | Zan: Good morning, Aunt Birdie. Is your headache all better? |
Ferguson has this line spoken during a different camera setup, but the finished film includes it here.
Birdie: Oh yes, it's all gone.

Addie: Good morning, Miss Birdie.

Birdie: Good morning, Addie.
This is Ferguson's Ground Camera III setup. It's not angled quite as he diagrammed it; but of course he wasn't looking through the lens. Moreover, he doesn't mention that it has been shot with a wide-angle lens, creating a vivid foreground plane framing a distant one–a strategy typical of The Little Foxes.
Zan: I'm going to stop a minute, Addie. You drive the horse in.

Addie: Your mama will be waitin' to have breakfast with you, baby, and she ain't nobody keep waitin'.

Zan: All right, Addie.
Wyler completes his composition by bringing Zan into the vacant space (presumably her position 2). Now two planes of action become three. Some years later André Bazin analyze this deep-space and deep-focus imagery with some precision, but Ferguson puts it his own way. "We see Queenie start to preach the law and are not conscious that as her law keeps laying down we have fallen back to see the whole group."
| | |
| --- | --- |
| | Addie: Hnh! (Drives horse out of frame.) |
The momentary foreground blockage "wipes away" the depth composition and covers the cut to a new angle; no need for exact matching of Zan's position in the next shot.
| | |
| --- | --- |
| | Zan: Aunt Birdie, guess where we drove this morning. |
This is Ferguson's setup labeled Boom Shot I. "The first thing is established: the audience must know where it is, who is talking to whom." Today we'd add that this establishing shot relies on the classic shot/reverse-shot schema that uses OTS (over-the-shoulder) framings.
Birdie: To Lyonnet!

Zan (off): Uh-huh.

Birdie: Oh, darling, was it beautiful? But of course it was. It was.…
This is the complementary reverse angle to the previous setup, taken from Ground Camera IV. Ferguson: "As we see Zan looking up, we instinctively raise our eyes to see that it is Birdie in the window."
| | |
| --- | --- |
| | Birdie (off): …always beautiful this time of year. |
As we heard Zan offscreen in Birdie's shot, now the cut overlaps Birdie's line so we see Zan's reaction (Boom setup II). Ferguson was sensitive to this reaction-driven editing. "One of the first things in making a word effective is in showing its effect on someone–so after the cutting room has got through, we see Birdie as Zan is speaking to her, Zan as she hears Birdie." The reverse-angle on Birdie gave her to us as a single (and not, say, with Zan's shoulder in the foreground, the mate to the high-angle shot before). Similarly, the answering shot presents a high angle on Zan, putting us "between" them. This is a standard option for shot/ reverse-shot cutting when one character is higher than the other.
| | |
| --- | --- |
| | Zan (taking a step forward): Aunt Birdie, I've learned the Schubert.… |
Zan takes up position 3 in Ferguson's diagram. Her step forward takes advantage of the pause after Birdie's line.
| | |
| --- | --- |
| | Zan: …for tonight. (Birdie is a bit distracted for an instant.) |
For a brief moment, Wyler's shot catches Birdie no longer listening to Zan, as if she were wishing she could see Lyonnet again. Later we'll learn that Birdie's husband keeps her home because of her alcoholism.
| | |
| --- | --- |
| | Zan: …I…(Birdie looks back to Zan.) |
Again, Wyler's cutting emphasis reactions, so that new lines of dialogue don't line up with cuts on the image track. Eisenstein called this "wickerwork" patterning.
Zan: …can play the whole thing.—Except the middle. Oh, couldn't we skip the middle? Maybe Mr. Marshall wouldn't know.

Birdie: No, we couldn't! I'll come right down and play it right through for you. You wait now! (Birdie ducks out of window.)
As often happens, a return to the establishing setup signals the end of the scene. Wyler could have returned to the tight low-angle reverse on Birdie, showing her ducking back into her window, but this framing keeps Zan and her fretfulness in play, while we're still able to grasp Birdie's abrupt withdrawal from the shot.
The classical way is the hard way
Watching this scene filmed over many hours, Ferguson was struck by two ideas that would become central to discussions of classical Hollywood style decades later.
First, he noticed the intense labor that goes into the presentation. Contrary to today's multiple-camera practices, the crew used only one camera, so there was the need to shift the beast among four setups, each one of which had to be lit. Then the actors had to repeat their lines over and over, sometimes when they were on camera, but just as often when they weren't.
Each different take was run over several times, with waits for adjustments, with actors getting weary enough of the hundredth "Good morning, Aunt Birdie," to stumble a little as they went on from there.… Each different shift of anything at all, let alone the whole camera, involved a hundred adjustments down the line, with all those batteries of great and small lights on their shaky, grotesque stands dragging their tangle of cables behind, with the microphone equipment and its tangles, screens and flats and scrims and broads and dobos [gobos?] enough to start a new language, with carpenters tacking on a board to cover and painters putting on a touch to bring up an outline. 
Always an admirer of honest, painstaking work, Ferguson notes that his diagram seems complicated and that if you follow it out shot by shot, as we have, "you will not want to be a movie director again."
Ferguson makes a second crucial point. We don't notice either the style or all the work that went into it. Indeed, the very point of that work is to make the images flow smoothly, as if naturally belonging together. (Of course we would look up at Birdie, as Zan does, and then look down on Zan from Birdie's vantage point.) Hollywood's old adage, "Never let style distract from story" (still heard today) is clearly echoed in this passage:
This business of repetition, changes, repetition, changes: you don't see it in the picture, but they were not just playing leapfrog. In fact, the very reason you don't see it is its own justification: you are not conscious of camera or effects, for the little bit flickers past in the final version and you are conscious only that a story is starting as you follow. Only!
For the last fifty years or so, people have started their analysis of the classical continuity system with the recognition that the simple and apparently invisible effects are actually sustained by intense work and finely judged choices. By visiting the set, Ferguson saw how even a simple expository scene required enormous effort and patience on the part of dozens of artisans and artists. Combining skill and will, the craft of cinema has its own demands. As if constructing a Hollywood Tao, Ferguson realized that the Camera Way is a hard road, but it pays off in the assured, effervescent flow of action, movement, and emotion that he prized.
We've nuanced these ideas considerably since Ferguson's day, but he deserves credit for bringing them into sharp focus just as American studio cinema was embarking on a new era. And his critical policy of enthusiasm owes something to his recognition that even a bad narrative film is damned hard to make. Thanks to his curiosity about how everything is done, he helped readers appreciate cinema as an art owing a good part of its power to craft.
Ferguson trafficked in ideas and information as well as opinion. He was enthusiastic and eager to learn more and impart what he learned to his readers. To me, that makes him a great critic.
Ferguson was born in 1907 and was raised on a Massachusetts farm. He left high school to join the navy, where he served overseas. He came home, finished high school, and went to Clark University on a scholarship. His writing talent eventually landed him jobs at the New Republic. After Pearl Harbor, he enlisted in the Merchant Marine. He was killed in the Mediterranean in 1943 when a radio-guided bomb struck his ship.
This entry is part of a series. The series continues here.
---
Two collections of Ferguson's work have been published. The Film Criticism of Otis Ferguson, ed. Robert Wilson (Temple University Press, 1971) has been my main source for the material I've covered here. Also of importance is In the Spirit of Jazz: The Otis Ferguson Reader (Da Capo, 1997), which includes essays on music, theatre, and film, as well as memoirs and unpublished pieces. Particularly interesting are his pieces on his seafaring days, filled with the sort of expertise that comes out, unshowoffishly, in his remarkable reviews of films like Captains Courageous. Malcolm Cowley supplies a lively and informative memoir of Ferguson in the foreword to In the Spirit of Jazz.
Here's Ferguson's parody of For Whom the Bell Tolls ("In a word, show me the way to cojone"). Kent Jones compiles some fine Ferguson quotes on the Criterion site.
Nearly all sources on Ferguson reprint the same photograph. I haven't found a better alternative, so here you are.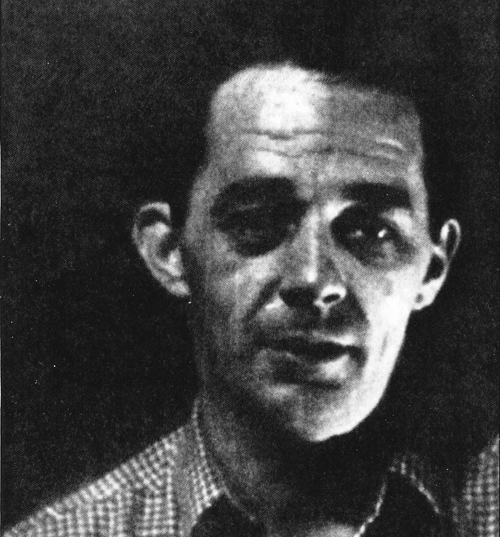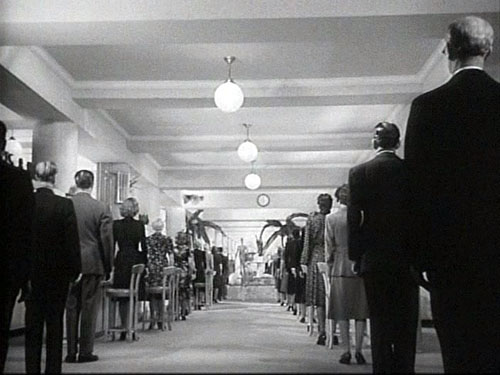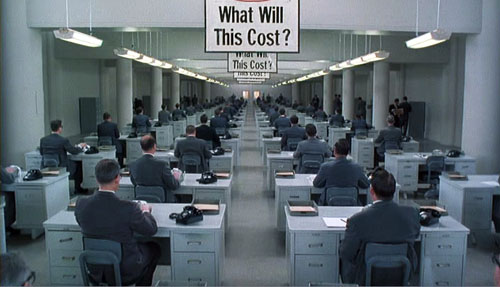 The Devil and Miss Jones (1941); The Hudsucker Proxy (1994)
DB here:
I've been waiting for thirty years for Alice in Wonderland. No, not the theatrical release of Tim Burton's version. That interests me only mildly. I'm referring to the DVD release of the 1933 Paramount picture. I saw it on TV as a kid, and remembered it only dimly. But it bobbed up on my horizon in the summer of 1981 when I was doing research on our book The Classical Hollywood Cinema.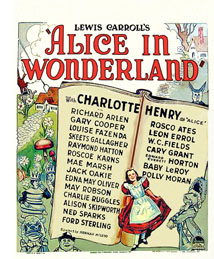 I was in the old Academy library in Los Angeles studying the emergence of certain compositional schemas. I can't recall what put me on the track, but I requested the shooting script of Alice. What came was Farciot Edouart's copy, over six hundred pages teeming with sketches for each shot. And a lot of those shots had a startling similarity to good old Citizen Kane.
I was reluctant to attribute pioneering spirit to director Norman Z. McLeod. Instead, I realized that these images' somewhat freaky look owed more to one of the strangest talents in Hollywood history.
I tried to see Alice in Wonderland, but I couldn't track down a print. So for years I've been waiting to find if it confirmed what I saw on those typescript pages. In the meantime, for the CHC book and thereafter, I've bided my time, sporadically looking in on the career of one of Hollywood's most eccentric creators. He's the subject of a new web essay I've just posted here (or click on the top item under "Essays" on the left sidebar). Today's blog entry is a teaser trailer for that.
Deep thinkers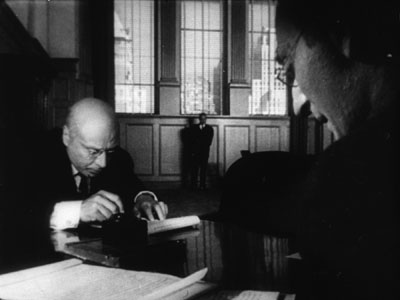 It's commonplace now to say that Citizen Kane (1941) pioneered vigorous depth imagery, both through staging and cinematography. Many of the film's shots set a big head or object in the foreground against a dramatically important element in the distance, both kept in fairly good focus. But where did this image schema come from?
The standard answer used to be: The genius of Gregg Toland and Orson Welles. In the 1980s, however, I wanted to explore the possibility that something like the deep-focus look had been a minor option on the Hollywood menu for some time. Once you look, it's not hard to find Kane-ish images in 1920s studio films, from Greed (1924) to A Woman of Affairs (1929).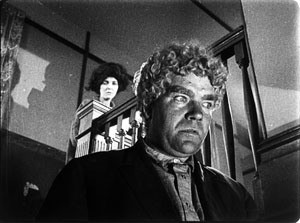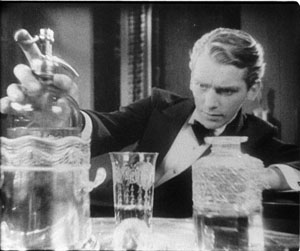 During the 1930s, William Wyler cultivated such imagery in some films shot with Toland, such as Dead End (1937), and some films shot by other DPs, such as Jezebel (1938). In turn, Toland had undertaken comparable depth experiments in films with other directors. Moreover, yet other directors, notably John Ford, had used this sort of imagery in films shot by Toland and others, such as George Barnes, Toland's mentor. There are plenty of non-auteur instances too. (See my post on 1933 Columbia films.) We also find similar imagery in films from outside America. Here's a stunner from Eisenstein's Bezhin Meadow (banned 1937).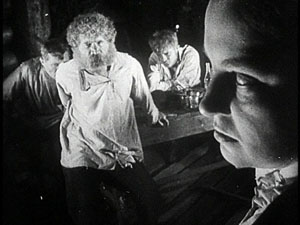 You see how complicated it gets.
What I concluded in Chapter 27 of CHC was that Toland and Welles didn't invent the depth technique. They fine-tuned it and popularized it. Their predecessors, in the US and elsewhere, had staged the action in aggressive depth and used many of the same compositional layouts. But the wide-angle lenses then in use couldn't always maintain crisp focus in both planes (below, American Madness, 1932).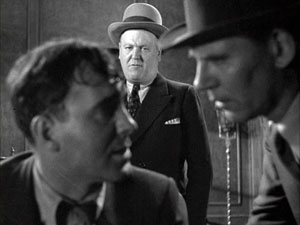 Welles and Toland found ways to keep both close and far-off planes in sharp focus. They deployed arc lamps, coated lenses, and faster film stock. Although it wasn't publicized at the time, we now know that some of the most famous "deep-focus" shots were also accomplished through back-projection, matte work, double exposure, and other special effects, not through straight photography. Again, though, this tactic was anticipated in earlier films. One of my favorite examples comes from a matte shot in Mr. Moto's Gamble (1935).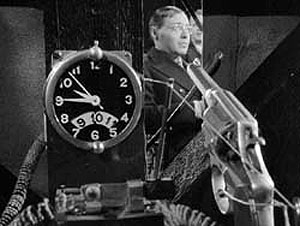 Menzies seems to have planned for similar fakery. In the script for Alice in Wonderland we find: "CLOSE UP, leg of mutton. The room and characters in the background are on a transparency."
The flashy depth compositions of the 1920s and 1930s were typically one-off effects, used to heighten a particular moment. Welles and Toland pushed further by making the depth look central to Kane's overall design and by featuring such imagery in fixed long takes. The prominence of Kane may have encouraged several 1940s filmmakers, such as Anthony Mann, to make the depth schema part of their repertoire. But as the style was diffused across the industry, the hard-edged foregrounds became absorbed into dominant patterns of cutting and spatial breakdown. The static long takes of Kane remained a rare option, perhaps because they dwelt on their own virtuosity.
Digging up films made around the time of Kane, I found many filmmakers experimenting with the look that Toland and Welles highlighted. You can see touches of it in The Maltese Falcon (1941) and All That Money Can Buy (1941). Above all, there are two remarkable movies directed by, of all people, Sam Wood. Our Town (1940) turns Wilder's play (itself surprisingly melancholy) into a Caligariesque exercise.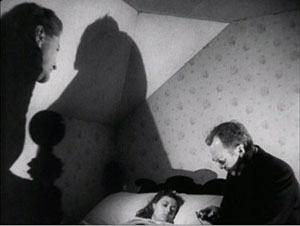 Several shots anticipate the low-slung depth, bulging foregrounds and all, that became the hallmark of Citizen Kane a year later.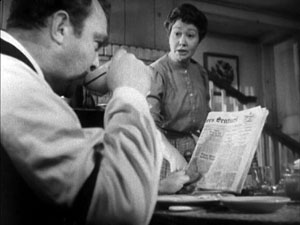 Our Town also uses postproduction techniques that yield depth-of-field effects you couldn't get in camera.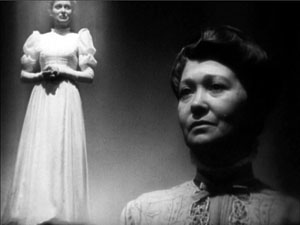 Perhaps even more startling is Wood's Kings Row (1942), with deep-focus imagery that occasionally rivals Kane's.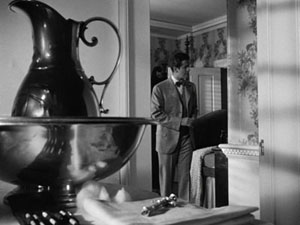 From the evidence I was encountering, it seemed that Welles and Toland's accomplishment was to synthesize and push further some deep-space schemas that were already circulating in ambitious Hollywood circles. Connecting some dots, I realized that one of the earliest champions of aggressive imagery in general, not just big foregrounds and deep backgrounds, was William Cameron Menzies.
Menzies frenzies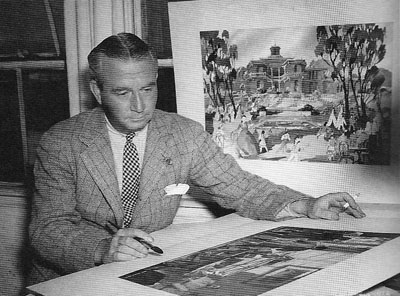 Menzies started out as an art director, most famously for United Artists. He designed sets for Mary Pickford's Rosita (1923, directed by Lubitsch) and several Fairbanks films, notably The Thief of Bagdad (1924). He won the first Academy Award for set design and went on to a noteworthy career—most famously as production designer for Gone with the Wind (1939). He also directed films, such as Things to Come (1936) and Invaders from Mars (1953). Most significant for my purposes, he was production designer for Our Town, Kings Row, and three other films of the early 1940s directed by Sam Wood. And he designed the 1933 Alice in Wonderland. The drawings I saw in Edouart's script were by Menzies or his assistants.
Menzies was one of the chief importers of German Expressionist visuals to the US. Although his early efforts leaned toward Art Nouveau effects, by the end of the 1920s he was cultivating a dark, contorted look keyed to the harsh geometry of city landscapes.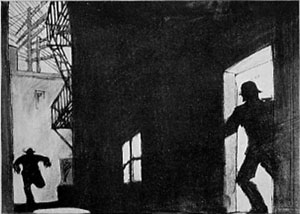 Since the late 1920s, Menzies had explored the possibility of steep depth compositions. He didn't usually employ a big foreground, but he did favor overwhelming perspective–either abnormally centered or abnormally decentered. Here is his sketch for Roland West's Alibi (1929) and the shot from the finished film.
Menzies loved slashing diagonals created by architectural edges and worm's-eye viewpoints. The harrowing opening of Things to Come is full of such flashy imagery.
Menzies calmed his style down for GWTW, although the sequences he directed bear traces of his inclinations. And in his work for other directors he managed to slip in a few odd shots. Here, for instance, is a typically maniacal central perspective view from H. C. Potter's Mr. Lucky (1943). Squint at this image and you'll see that it's weirdly symmetrical across both horizontal and vertical axes.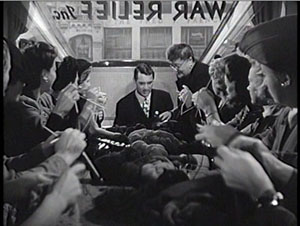 When he met Sam Wood, it seems, Menzies found a director ready to let his imagination roam further. In these collaborations, we get depth shots à la Welles and Toland, but also skewed perspectives. Pride of the Yankees (1943/44) searches for ways to make a baseball stadium look like a Lissitzky abstraction.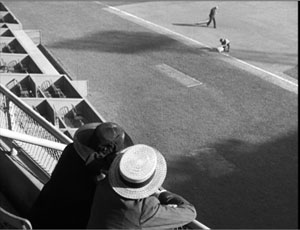 Menzies subjects the partisans of For Whom the Bell Tolls (1944) to his sharp diagonals as well.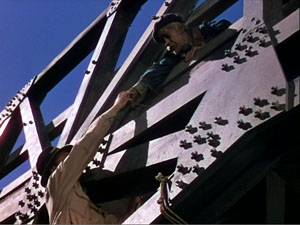 Alice, we hardly knew ye
What then of Alice in Wonderland? Back in the early 1980s, I wasn't permitted to photocopy or photograph script pages. Here is one of the few sketches I later found for the film. Alice crawls into the mirror with looming armchairs in the foreground.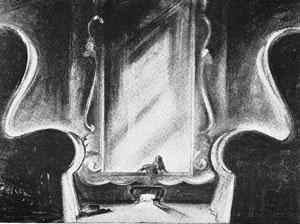 Surely, I thought, the film would be an early example of the depth aesthetic that would be developed by Welles, Wyler, and Wood/ Menzies. Alas, the film has nothing like those imperious armchairs.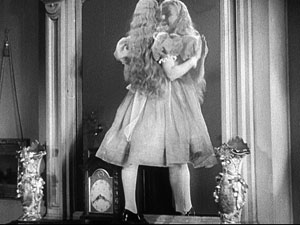 In fact, Alice proves a huge disappointment on the pictorial front. Menzies expended all his ingenuity on the special effects, coordinated by Paramount master Farciot Edouart. Although the spfx are not in the league of that other big 1933 effects-film King Kong, they are pretty solid for the time. It's just that this remains a painfully arch, flatly filmed exercise.
But I look on the bright side. Menzies created some memorable movies, both on his own and with other directors. (Of his directed films, not only Things to Come but Address Unknown, 1944, remain of interest today.) Perhaps most important, his stylistic boldness may have encouraged other filmmakers to try something fresh. Most immediately there is Since You Went Away (1944), a big Selznick production that bears traces of the Menzies touch.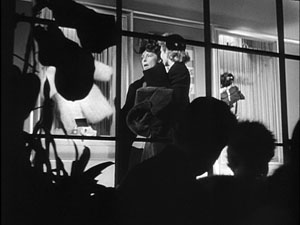 More broadly, Menzies represents a strand in American cinema that never really disappeared. His frantic Piranesian perspectives, canting the camera and filling the frame with grids, whorls, and cylinders, are still in use. And his head-on, wide-angle grotesquerie looks ahead to the Coen brothers. This shot of a department-store manager in The Devil and Miss Jones (1941) could come from any of their films.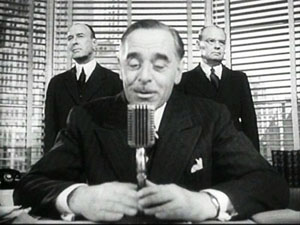 Menzies' films, though mostly not celebrated as classics, gave American cinema the permission to be peculiar. Meet me in the sidebar for a closer look at one of Hollywood's most eccentric creators. Special thanks to Meg Hamel for going beyond the call of duty in posting that essay.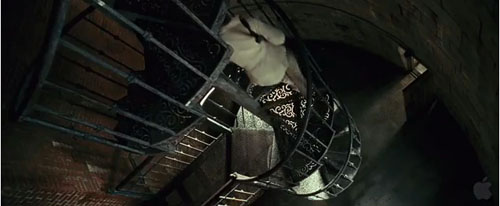 Invaders from Mars (1953); Shutter Island (2010).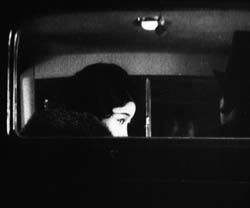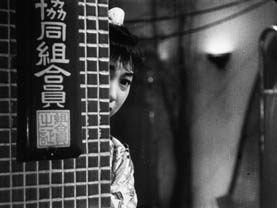 DB here:
Earlier this month, when I was giving a lecture on Mizoguchi Kenji at our university museum, I showed two images from A Woman of Rumor (Uwasa no onna, 1954). It's a little-known film of his, and it's probably not up to his finest, but seeing the stills again on the big screen made me want to write about one scene. That scene displays aspects of Mizoguchi's artistry that I touch on in one chapter of Figures Traced in Light and in the website supplement here.
This blog entry constitutes, I suppose, another supplement. After all, I couldn't include in the book all the moments in Mizoguchi's work that I find fascinating. But since comparison is a good way to get under a movie's skin, my examination of a parallel scene from another movie may have more general interest. Even though Woman of Rumor doesn't seem to be available on video, maybe looking at this pair of examples would inspire some readers to take an interest in one of the two or three greatest filmmakers who ever lived.
In the court of Regina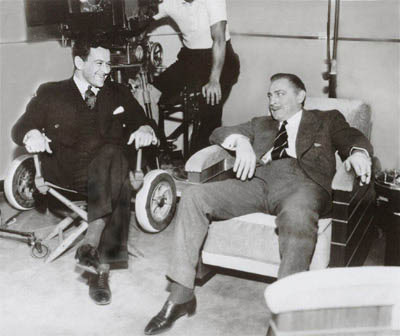 William Wyler and John Barrymore.
What a year 1941 was in the American cinema! We remember it for Citizen Kane but it also brought us How Green Was My Valley (a better film than Kane, I think), and items like Sergeant York (the biggest box-office hit), Dumbo, The Philadelphia Story, Suspicion, Ball of Fire, High Sierra, The Lady Eve, Meet John Doe, The Maltese Falcon, They Died with Their Boots On, and one of the most daring movies ever made in America, The Little Foxes.
An adaptation of Lillian Hellman's play, The Little Foxes offers a study in unbridled capitalism. It shows how economic interests pit the South against the North and white against black. Psychologically, it analyzes a household gripped by the ruthless domination of the matriarch Regina (Bette Davis), the wiliest member of a family of grasping entrepreneurs. Regina has all but flattened her husband and is trying to make her daughter Alexandra oblivious to the family's corruption.
The Little Foxes was also bold in its style—in its own way, as venturesome as Citizen Kane. It hasn't been fully appreciated because Wyler is still thought of as a rather middlebrow talent, an overcautious director who toned down the flamboyance of Gregg Toland's deep-space and deep-focus compositions.
Some day I hope to blog in defense of Wyler, middlebrow movies, and Midcult art in general. That would involve a detailed analysis of Little Foxes. (1) For now let's just say that Wyler's direction of the film won the admiration of no less than André Bazin. Bazin taught us to appreciate Wyler's work, though with some prompting from Wyler and Toland (as I suggest here). Wyler was also appreciated by Mizoguchi, who, apparently grudgingly, told his screenwriter Yoda that he admired Wyler's use of the "vertical frame." (2) Later I'll suggest one way of understanding that phrase. Mizoguchi met Wyler at the 1953 Venice Film Festival, when Ugetsu Monogatari was up against Wyler's Roman Holiday for the Silver Lion.
One scene not discussed by Bazin or Mizoguchi, as far as I'm aware, has always gripped me. Regina's brother Oscar has a wife, Birdie, who has turned into a passive alcoholic. Birdie has learned of plans to marry Xan off to Leo, her shallow son. Her will has been broken by Regina and Oscar, but she summons up the courage to blurt out to Xan that she mustn't marry Leo, no matter how strongly the family insists. Xan, who has no inkling of how her family twists people to suit their ends, protests that no such thing could happen. But Oscar overhears Birdie warning Xan off.
Birdie and Oscar are about to leave at the end of the evening. Wyler begins with a standard two-shot, very slightly off-center. But as Birdie frantically warns Xan, Oscar's sleeve and pant leg appear in the lower left of the frame, with the swagged curtain at the doorway hiding his face.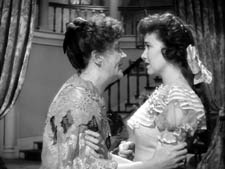 For us, this creates suspense. Only after Birdie has babbled out her warning do the two women notice he's there. Xan, not knowing how Oscar abuses Birdie, heads off to bed.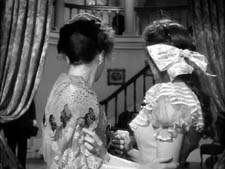 As she climbs the staircase (very important in the film and the original play, this staircase) and heads off to her bedroom, Wyler's camera arcs to reveal Oscar. Wyler now cuts to show, more or less from Birdie's point of view, Xan going into her room.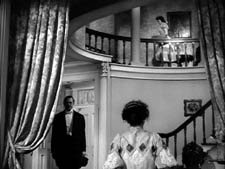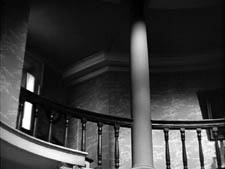 Birdie watches anxiously, then turns to face Oscar, with a look of resigned apprehension.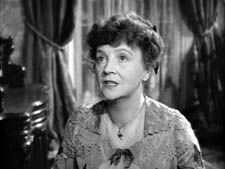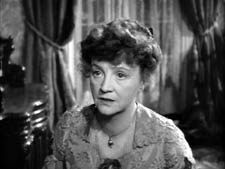 Again suspense: Oscar won't punish Birdie with Xan watching, but the girl's departure puts Birdie in jeopardy. In addition, Wyler's shot of her reaction anticipates the wrath she'll face. (Patricia Collinge's fluent performance is equal to the dynamics of Wyler's visuals.) These cuts anchor our empathy; Wyler has been saving the close-up of Birdie for this moment.
We return to the master framing as Birdie heads toward Oscar, passing into a patch of shadow. As she does so, he raises his hand abruptly.
Wyler cuts to a two-shot. Oscar slaps Birdie so hard she seems to bounce against the left frame edge. She cries out and then tries to stifle her voice—a psychologically apt gesture for this woman who muffles her sorrows throughout the film.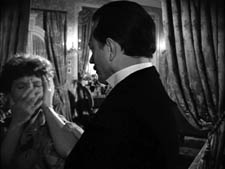 Again, Wyler daringly sets a key action off-center. The brutal discontinuity of the cut, which crosses the axis of action and sharply changes shot scale, accentuates Oscar's violence. It's also rather elliptical; run the cut slowly, and you never see his hand strike her.
Xan hurries out of her room and comes to the banister, her face on the upper right balancing the placement of Birdie's in the prior shot. In the next shot, we see, over her shoulder, Oscar stride out. Birdie follows meekly, assuring Xan that nothing's wrong. The coda of the scene will emphasize Xan's puzzled anxiety, a phase in her process of coming to understand the domineering fury that rules her family.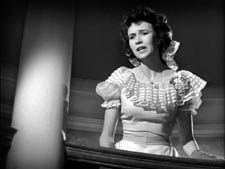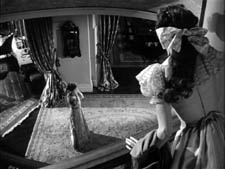 Low- and high-angle shots like this last pair recur throughout The Little Foxes, and I suspect that these are the sorts of thing Mizoguchi was invoking in mentioning Wyler's "vertical" space. Wyler's steep angles activate upper areas of the frame that many American directors hadn't explored.
The act of overhearing a revealing conversation is a standard dramatic convention, but Wyler has refreshed and nuanced it. We know how it would be normally handled. We'd see either a shot showing Oscar stepping fully into the background, or a series of cuts showing first Birdie and Xan and then Oscar listening and watching. Wyler revises the standard schema, taking it for granted that we can pick up on a subtler cue than usual: just a bit of Oscar's body intrudes.
As a result we have to be more alert. The information isn't centered, but rather tucked into the lower left. And this option conceals Oscar's face. Not that we're doubting he's angry, but delaying showing his anger builds up greater tension. Wyler, unlike today's directors, knows when to build up to revealing things that we anticipate, making the final outburst more forceful when it comes. Further, the rest of the scene continues to deny us a clear view of Oscar's anger, all of which gets squeezed into his gesture of slapping Birdie. It's Birdie's reaction that Wyler stresses, and Oscar's contempt for her is conveyed simply by his bearing, his gesture, and his manner of stalking out of the foyer.
It's not too much to talk about rigor here. The schemas dominating today's filmmaking, the stylistic paradigm I call intensified continuity, would demand tight close-ups of everybody from the start. But providing them would make it harder for Wyler to raise the emotion when the startling slap comes. Maybe a contemporary director would render this spike in slo-mo, or with a wobbly handheld camera, but that tends to seem overbearing and pumped-up—as a lot of current stylistic pyrotechnics do. In any case, I'm betting that no American director today would use Oscar's sleeve in the quietly ominous way Wyler does.
Mizoguchi's game of vision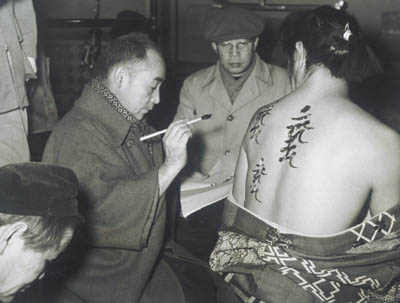 Mizoguchi Kenji, in glasses, during the making of Ugetsu.
Mizoguchi is renowned for his long takes, which are often sustained in distant views featuring considerable camera movement. In the Mizo chapter in Figures Traced in Light, I suggest that these stylistic choices spring from his effort to engage the viewer mesmerically—as he put it, "to work the viewer's perceptual capacities to the utmost." He asks us to downshift our attention to the finest details of the action, which he then modulates for expressive effect. I draw examples from various films across his career to show how he creates drama out of remarkably slight differences in character position, lighting, and other factors.
But what happens when he foreswears virtuoso camera movements and single-take scenes and breaks the drama up into several shots? Today, many ambitious directors seem to take pride in stretching out their takes, so cinephiles are sometimes inclined to see a cut as a loss of nerve and a concession to the audience. But I try to show in Figures that Mizoguchi sustains his concern for nuance when he creates an edited sequence. The modulation of fleeting details is to be found in his closer shots too.
In A Woman of Rumor, Hatsuko runs a teahouse that funnels customers to the geisha establishment behind it. She has tried to protect her daughter Yukiko from the shame of her profession. Hatsuko has also been cultivating a young doctor she hopes to marry, giving him money to set up a clinic. Now the doctor, Matoba, has become attracted to Yukiko. The scene I'm examining takes place during the performance of a noh drama. Hatsuko leaves the auditorium and finds Yukiko talking with Dr. Matoba.
As she passes around a screen, she hears Yukiko saying she wants to learn piano in Tokyo. Hatsuko looks left, and Mizoguchi cuts to an approximation of her optical point of view on the couple in the lounge.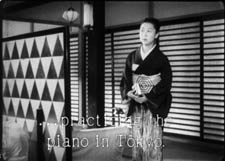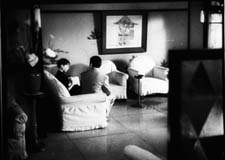 So far, so conventional. Mizoguchi seems to follow the intercutting option for treating a scene of overheard conversation. But he goes further. Having laid out the action, Mizoguchi starts the lesson in just-noticeable-details . . . with a sleeve. He cuts to a reverse shot putting Matoba and Yukiko in the foreground. Hatsuko is still back there, though. We can see her kimono sleeve on the left, poking out from behind the screen.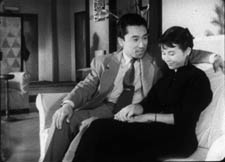 A sharp-eyed viewer might also spot Hatsuko's shadow on a wall, in the center of the shot, over Matoba's shoulder. This blow-up shows both the sleeve and her silhouette.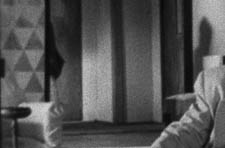 Here, friends, is one reason we want to watch films in 35mm, and projected really big.
It's now that Yukiko says that she may leave her mother, and Matoba replies, "Maybe I'll go too." This is devastating to Hatsuko. The two people whom she loves most seem to care nothing for her. Her shocked reaction is given in a medium-shot showing her shifting out from behind the screen, her face partially hidden.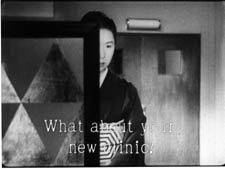 Mizoguchi has picked one variant of the overheard-conversation schema: shot of speakers/ reaction shot of eavesdropper. But he's done so in his own way, using the barely discernible kimono sleeve to signal Hatsuko's presence in the full shot of the couple. Likewise, the shot of Hatsuko listening is far from the usual close-up. Like other Japanese directors, Mizoguchi was fond of this arresting single-eye image. He used it earlier in his career, as shown in the first frame at the top of this entry, from Hometown (Furusato, 1930). The second frame is the last shot of his last film, Street of Shame (Akasen chitai, 1956). Quite a shot to end your career on, I'd say.
Most Japanese directors use this single-eye framing as a one-off flourish, but not Mizoguchi. The device epitomizes his demand that we concentrate on a detail. Isolating half a face gives impact to the slightest shift in the eye and eyebrow. Moreover, the split face reappears as a pictorial motif later in the scene.
As Matoba says he'll go back to Tokyo for his doctorate, Mizoguchi cuts back to the setup for the second shot. Hatsuko moves left to sit on a chair around the corner from the sofa. This prepares for another, more prolonged game of visibility.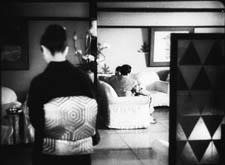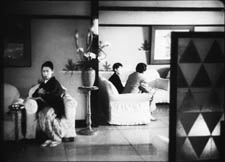 Now we get a thirty-second take of the couple on the sofa. As the scene develops, it becomes evident that Matoba is seducing Yukiko. Hatsuko slips in and out of visibility, her actions responding to and even echoing Matoba's pressure on the girl. First, as he talks with Yukiko, we see Hatsuko's sleeve and shoulder, between the vase and his shoulder. But as he slips his arm around Yukiko, her elbow moves aside, in an echo of his gesture.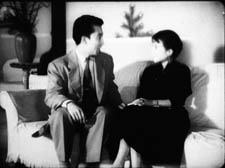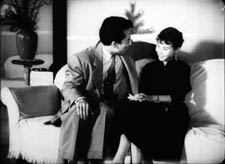 Then, when Matoba presses his attention ("We'll help each other . . . Depend on me"), Hatsuko's face pops into view as her fingers emerge to grip the edge of her chair. Mizoguchi then lets her face subside, again slicing it in half.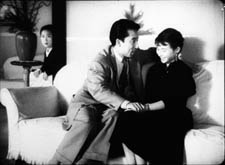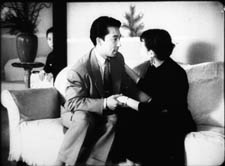 In effect, this shot replays and expands upon the tactic governing the earlier two shots. Again we get the just-noticeable presence of the sleeve, but now rhyming with the action in the foreground. And again we get the facial reaction, impeded by a vertical cutoff, but this time in the distant shot rather than in a closer view. It turns out that those first four shots were training us for this more intricate game of vision.
At the moment Hatsuko's face is sliced in half, Mizoguchi cuts. Now he prolongs the close view as he had extended the full shot of the couple. In this thirty-second shot, we watch her reaction, played out in slight modulations—changes in her facial expression, changes in the aspect of her face that we see, and changing relations to the curling palm plant in the vase before her.
We get a new angle on Hatsuko, slightly high, as Matoba says, "I'll tell her." Hatsuko stands up abruptly and the camera tilts to follow her.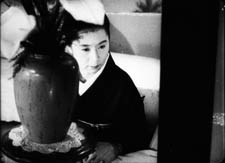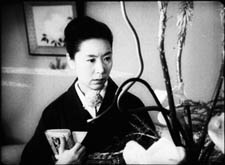 With the simple action of her rising up, Mizoguchi changes his composition sharply. Hatsuko's position in the frame changes only a little bit, but the massive vase on the left gives way to the curling stalks on the right. Radically refreshing a shot through minimal means is one felicity of Mizoguchi's art.
Then, as if the full import of Matoba's betrayal dawns on her, Hatsuko lowers her head sadly. Again her eyes are split up, this time thanks to the twisting stalk. In a characteristic Mizoguchi gesture, she turns from the camera, as if ashamed to face us, but also summoning up reserves for the next emotional shift.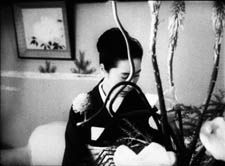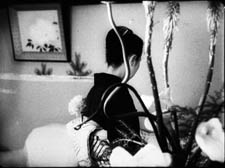 When she turns back, her face burns.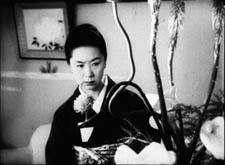 I take this to be the scene's emotional climax. Mizoguchi could have given it to us much sooner, by having Hatsuko turn angry as she peeped out from behind the screen. Instead, his game of vision allowed him to build patiently toward this unimpeded shot of her reaction. It prepares us for the next stages of the drama, later scenes in which she will confront her patron and launch jealous accusations at Yukiko.
Now we hear the performance ending, and Hatsuko lifts her head. This phase of the scene ends when Mizoguchi cuts to audience members coming into the lounge and greeting her.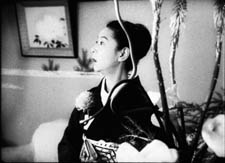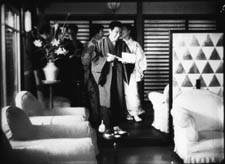 By 1954 Mizoguchi had surely seen The Little Foxes. Had he decided to redo Wyler's virtuoso staging in his own manner?
Both directors work with similar ingredients: overheard conversation, depth shots, judicious close-ups, and partial views. But the narrational weightings differ. Wyler's film aligns and allies us with the people talking, whereas A Woman of Rumor ties us to the listener. (3) Wyler's eight shots take eighty-one seconds; Mizoguchi's eight shots take about two minutes.
Wyler's handling is brisk, tense, and remarkably nuanced within the Hollywood tradition. Mizoguchi gives us his scene more sedately, wringing just-noticeable differences out of unassertive performances and simple elements of setting. No slap here, just a drama of wounded pride, lost love, and jealousy played out in the face, back, and sleeve of Tanaka Kinuyo, shifting behind a floral arrangement. What Wyler gives us as one sharp effect, Mizoguchi turns into a delicate, prolonged game of vision.
Am I fussing over minutiae? No; Wyler and Mizoguchi did. We just have to follow where they lead. As I try to show in my essay on blinking in cinema (4), directors attend closely to things that might seem trivial. Our analysis needs to be as fine-grained as their craft and artistry.
Oh, yes: at Venice Ugetsu won the Silver Lion. Wyler had to be content with Roman Holiday's three Academy Awards.
(1) I sketch some of the possibilities in On the History of Film Style (Cambridge: Harvard University Press, 1997), 225-227.
(2) For more on Mizoguchi's competition with Wyler, see Figures Traced in Light (Berkeley: University of California Press, 2005), 134.
(3) I'm referring to Murray Smith's deft analysis of what he calls alignment and allegiance in our relation to film characters. See Engaging Characters: Fiction, Emotion, and the Cinema (Oxford: Oxford University Press, 1995), Chapters 5 and 6.
(4) "Who Blinked First?" in Poetics of Cinema (New York: Routledge, 2007), 327-335.
PS 3 December: Thanks to Michael Kerpan for a name correction, and for the information that Woman of Rumor was once available on a French DVD.
PPS 27 February 2008: Good news. Now Woman of Rumor is available on the wonderful Eureka! Masters of Cinema series, along with the superb Chikamatsu Monogatari. The discs come with voice-over commentary by Tony Rayns and essays by Keiko McDonald and Mark LeFanu.