Archive for the 'Directors: Ophüls' Category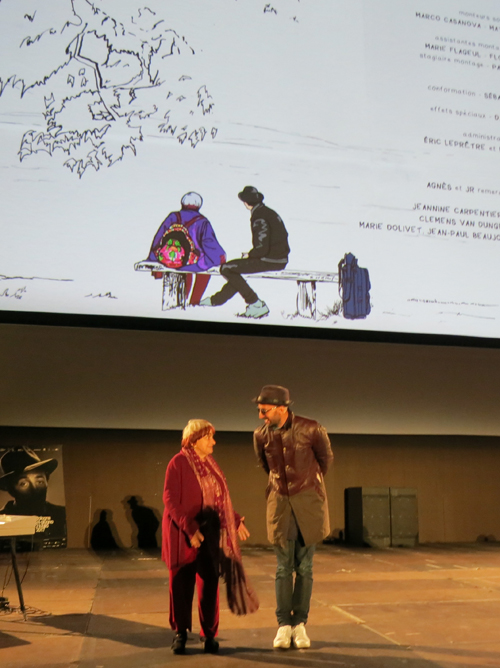 Agnès Varda and JR, Il Cinema Ritrovato, 1 July. Photo: DB.
DB here:
This final post from Il Cinema Ritrovato is no less a miscellany than the others. With over 500 films screened, Kristin and I invariably missed things that others raved about. Still, we saw enough powerful cinema to make us want to flag some key items for you.
Silents, please
Kristin has already mentioned one of the most startling items we saw, Le Coupable (1917) by André Antoine. I'm still processing the audacity of this film. The prosecutor in a murder trial abruptly claims the defendant as his son. We then get the familiar flashback format, shifting from the courtroom to the events leading up to the crime and the arrest. But the shifts between present and past are so quick, and the bits we see of the trial are given in such intense, stark singles, that they gain an astonishingly modern pulse.
Add in marvelous use of locations, real alleys and corridors and cafes, and you have a very impressive movie.
Once more, 1917 proves to be dynamite.
From the same year came Furcht (Fear), by Robert Wiene. Count Grevin wanders anxiously through his castle for about sixteen minutes of screen time before we realize, thanks to a flashback, that he's haunted by his theft of a precious Indian statue, stolen from a temple. Soon a priest materializes, either on the castle grounds or in Grevin's imagination, to declare that he has only seven years to enjoy life before vengeance strikes. Which it does, of course. Conrad Veidt plays the priest with the smoldering glare, and ambitious superimpositions show how committed German cinema was to special effects. Dr. Caligari was three years off.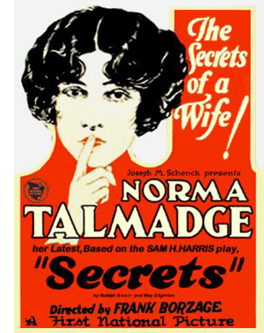 Not that other years should be slighted. Le Collier de la danseuse (The Dancer's Necklace, 1912) was an agreeably preposterous crime movie. (The thief has a jacket with fake hands dangling from the sleeves, just the thing for escaping handcuffs.) The film boasted the low, almost Ozuesque, camera height typical of other Pathé productions of the year.
Borzage's Secrets (1924) traces a marriage through three large flashbacks, with the first emphasizing romantic comedy, the second suspense, and the third family melodrama. Norma Talmadge, who savored a split-personality role in De Luxe Annie (1918), gets to play a woman at three ages here. The central section, devoted to a Griffithian siege on a lonely frontier cabin, showed Borzage's ability to whip up enormous excitement, with an unexpectedly sad twist. The whole movie has over 11oo shots, indicating just how committed American filmmakers had become to fine-grained scene breakdowns.
All in all, the silent films on display this year were as revelatory as ever.
Cinematic geometries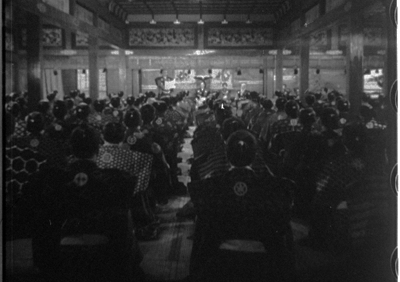 The Abe Clan (1938).
For some years Ritrovato has included a Japanese sidebar curated by Alexander Jacoby  and Johan Nordström. This year the theme was socially critical jidai-geki, or historical films. Some of them were fairly familiar to Western cinephiles because copies were circulated by the Japan Film Library Council from the 1970s onward. Examples include The Abe Clan (1938) and Fallen Blossoms (1938), both very good films. Along with these, the Bologna series gave the Yamanaka Sadao classic Humanity and Paper Balloons (1937) another well-deserved airing.
Some of these are fairly intimate dramas, others use a lot of spectacle. The image from Abe Clan above is fairly typical of the monumental turn some jidai-geki took in the late 1930s. Several of the films starred members of the left-wing Zenshinza kabuki troupe, perhaps best known to aficionados from Mizoguchi's staggering Genroku Chushingura (1941-1942).
Three of the other films showed the range of this genre during Japan's "dark valley," its turn to authoritarian rule and imperial warfare. The Rise of Bandits (1937), by Takizawa Eisuke, was a rousing but melancholy Robin Hood tale. A lord's honest son tries to save a shipment of gold from marauders, but he's framed by his duplicitous brother. So he becomes the outlaws' leader, at the cost of his wife's life and his father's trust. Some superb action sequences, including a fiery final assault on the castle, alternate with semicomic scenes among the bandits, with the hero's cynical sidekick twisting not-too-bright thugs around his finger.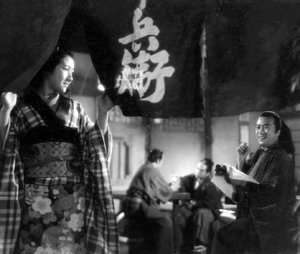 Hagiwara Ryo's The Night Before (1939, production still above) was based on a Yamanaka script, and like Humanity and Paper Balloons, it braids together several characters' fates. As rival samurai factions struggle during the Meiji restoration, ordinary people–an artist, a family running an inn, a young man wanting to make his name as a warrior, a bitter and disenchanted samurai–try to get by. One of the innkeeper's daughters is attracted to the youth, another daughter who works as a geisha eyes the artist, and the old man seems to escape into endless games of shogi with a neighbor. The film has a panic-stricken climax, in which the factions collide in darkness along the riverside and innocents get swept up in the violence. As with many films in the series, the critique of mindless militarism isn't far below the surface.
The Man Who Disappeared Yesterday (1941), by the great Masahiro Makino, is a murder mystery. An unpleasant landlord is the victim, and there are plenty of suspects. The scattered clues didn't seem to me to play entirely fair, but the investigation is largely a pretext to explore adjacent households and obfuscate what turns out to be complicated post-murder maneuvers. At the climax, all the suspects are seated in a single line to hear the magistrate's solution, just as if they were in Nero Wolfe's office.
Makino's style accentuates the spatial layout through a remarkable ten zoom-ins that yank us to one or another suspect as the explanation is given, sometimes with flashbacks. Camera zooms (as opposed to optical-printer ones, as in Citizen Kane) are rare in any national cinema of this period, and Makino uses them almost in the spirit of Hong Sangsoo, more to perk up our attention than to enlarge anything for closer scrutiny. (Admittedly, the last one rivets us on the guilty party.) The same geometrical impulse encloses the tale: an opening crane shot down, a closing one upward. As often in Japanese cinema, The Man Who Disappeared Yesterday marks and repeats film techniques to give a decorative flourish to the story.
Technique also comes to the fore, of course, in Divine (1935), a French production directed by Max Ophüls. The attraction isn't just the dizzying camera movements, swimming through a tangle of backstage paraphernalia and crawling up stairways. Max is more than a master of the tracking shot. In one witty passage, framing and cutting coordinate to stretch the distance between a couple who can't tear themselves away from each other. (In my last frame, the milkman's head slides almost out of frame.)
The plot centers on a country girl who becomes a follies performer and is framed as a drug dealer by a Lothario and a lesbian. This contraption seems more or less a pretext for Ophüls to indulge his endless fascination with women striking poses for men while asserting their own demands. The abrupt and unexplained happy ending is the logical wrapup for a film less concerned with a plausible plot than a display of Woman in all her dazzling divinity. There. How's that for a Sarris sentence?
Bigger than life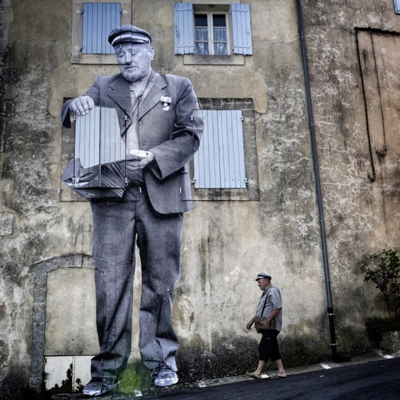 Although there were some repeats on Sunday, the final big event of the festival was the screening, to some 3000 people on the Piazza Maggiore, of the new film by Agnès Varda and JR. Kelley Conway reviewed its Cannes premiere for us earlier, and now that we've seen it, we like it a lot.
Varda has the ability to take a whimsical, borderline-cutesy idea and turn it into something poignant, as in Daguerreotypes and Opéra-mouffe. (Nursery-rhyming titles, like Mur Murs and Sans toit ni loi, encapsulate her attitude.) Her latest, an associational documentary along the lines of The Gleaners and I, depends on the premise of traveling through France and making enormous photographic portraits of ordinary people. These are then mounted on buildings in their home town–hence the title Visages Villages.
The result is both intimate and monumental. A postal clerk or a woman truck driver take on the billboard proportions of politicians and pop stars.  Without any sense of slumming, Varda and JR can memorialize a woman living in a building about to be demolished, and can spare time for a haggard hermit who has dropped out of the system. It's as powerful a populism as any you'll see, but done with humor, genuine curiosity, and respect for the integrity of each subject. A playful approach to art can yield serious emotional effect.
As Visages Villages goes on, it turns introspective. Varda recalls episodes from her life and tries to incorporate one of her photos, a casual shot of Guy Bourdin, into a skewed tipsy WWII bunker rusting on a beach. She recalls young days with Godard and Karina, so that now when Godard dodges a meeting, she becomes rueful ("The rat!"). This lady gleaner is always gathering fragments, and we're lucky she shares them with us.
Again Bologna gave excellent, overwhelming value. The surprises never stopped. Dropping into a film I hadn't seen in three decades, Rancho Notorious, I not only had fun but realized once more Lang's diabolical genius. A peculiar insert of a boot slipped into a stirrup puzzled me, but after an hour I got it. (Forgive me, Fritzie, for I knew not what I did.) Long may this festival flourish.
---
Thanks as ever to the vast and dedicated staff of Il Cinema Ritrovato, particularly Guy Borlée, Gian Luca Farinelli, and Mariann Lewinsky.
I discuss the trend toward monumental jidai-geki in chapters 12 and 15 of Poetics of Cinema. More detailed analysis can be found in Darrell William Davis's book Picturing Japaneseness: Monumental Style, National Identity, Japanese Cinema.
Visages Villages (aka Faces, Places) is distributed by the Cohen Media Group.
Agnés Varda and JR. Photo: DB.