Archive for the 'Directors: Iosseliani' Category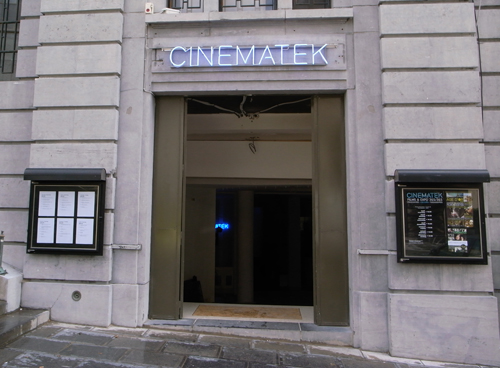 DB here:
Every summer Brussels hosts one of the world's most unusual film festivals. By global standards it's a small event: it showcases only twenty or so titles, each screened twice. The films are on the whole unknown. The prizes are minuscule by the million-plus benchmarks set by Dubai and Abu Dhabi. The venue stands behind an inconspicuous doorway. Yet for me it's an unmissable event, a crucial influence on my thinking about film and my search for cinematic satisfaction.
Jacques the gentle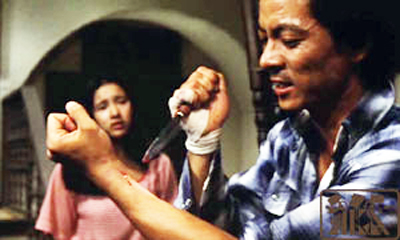 Young Murderer (Seishun no satsujin sha, 1976).
Between 1948 and his death in 1988, Jacques Ledoux was the curator of the Royal Film Archive of Belgium. He made it into one of the cinema's legendary places, at once Mecca and Aladdin's cave. On remarkably small budgets, he assembled broad and deep collections. He bought many titles for distribution to local cinemas and schools. He created a public screening program that for decades has shown five different films (two of them silents), every day of the year. The year Ledoux died he received an Erasmus Prize for his services to European culture.
His early life could have come out of an East European movie. Born in Poland in 1921, he fled to Belgium to escape the German onslaught. He hid in several places, including a monastery. There the abbot gave him work publishing Benedictine books. In the abbey's screening room Ledoux discovered a copy of Nanook of the North. He offered it to the just-started Belgian Cinémathèque, and its supervisor, the filmmaker Henri Storck, offered Ledoux a job. Finding film archivery more appealing than studying science and medicine, he stayed with the Cinémathèque. Interestingly, "Jacques Ledoux" was a pseudonym; one translation is Jacques the Gentle.
Not always gentle Jacques in his scraps with other archivists and local politicians, Ledoux pledged himself to filmmakers, audiences, and—a rarity at the time—overseas film scholars. New Wave directors and Parisian critics made railway pilgrimages to Brussels to see films unavailable in France. When Kristin and I started doing research in the archive in the 1979, Ledoux welcomed us and guided us to treasures we hadn't known existed.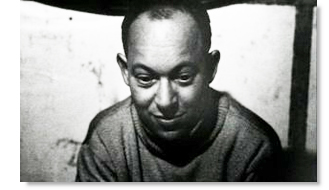 Unlike the very public Henri Langlois, Ledoux worked best behind the scenes. Probably most cinephiles today know him only from his brief appearance as one of the sinister experimentalists in La Jetée (1961). He resisted being photographed, and he refused to wear a necktie. Unsurprisingly, he admired directors who strayed from the beaten path. He created the first festival of experimental cinema at Knokke-le-Zoute, in 1949.
His desire to widen everyone's knowledge of cinema found another outlet when he created the Prix l'Age d'or/ Prijs l'Age d'or in 1958. It was aimed to reward, as Ledoux put it, "a film that, by questioning taken-for-granted values, recalls the revolutionary and poetic film of Luis Buñuel, L'Age d'or." Ledoux wanted to encourage a cinema that was subversive in both content and form.
The first prizes were given within the framework of the Knokke event: in 1958, to Kenneth Anger; in 1963, to Claes Oldenberg; in 1967 to Martin Scorsese (for The Big Shave). In 1973, the prize assumed something close to its current form. Several films were screened for the public, and the award, now in the form of cash, was decided by a jury system. The first winners were W. R.: Mysteries of the Organism (in 1973); Borowczyk's Immoral Tales (1974); Raul Ruiz's Expropriation (1975); Angelopoulos' Traveling Players (1976); Hasegawa Kazuhiko's Young Murderer (1977); and Antoni Padros' Shirley Temple Story (1978).
The winners emerged from a vast and powerful field of competition. In 1973, the first formal year of L'Age d'or, there were sixty-nine films screened, including Aguirre, the Wrath of God, Oshima's Ceremonies, Paul Morrissey's Heat, Tout va bien, and works by Rosa von Praunheim, Wim Wenders, and Miklós Jancsó. There was even The Discreet Charm of the Bourgeoisie, but Buñuel didn't win a prize named after his own film! The number of titles dropped a little as the years passed, but it's good to know that in 1978 Assault on Precinct 13, Eraserhead, Perceval le Gallois, and films by Ruiz, Littín, and Schroeter were in the competition.
Ciné-Discoveries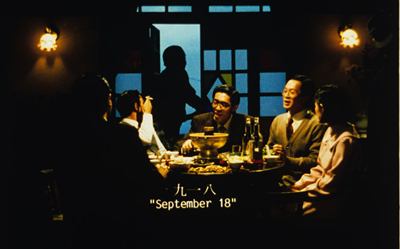 City of Sadness (Hou Hsiao-hsien, 1989); screened at Cinedécouvertes 1990.
Things changed a bit after 1979. The L'Age d'or criteria were modified to identify "films that by their originality, the singularity of their viewpoint, and their style [ecriture] deliberately break from cinematic conformity." For whatever reasons, hard-edged subversive cinema was harder to come by. In the meantime, the Prix was absorbed into a broader festival Ledoux launched in 1979, Cinédécouvertes.
Cinédécouvertes became a "festival of festivals." It culled its selection from films that had been screened at Rotterdam, Berlin, Cannes, Venice, and other events. What set Cinédécouvertes apart was its determination to expand film culture.  All the films on the program had no Belgian distribution. Each cash award (today, two of 10,000 euros each) would go not to the filmmaker but to a distributor willing to pick up the film. This is a very tangible way to help films of quality find a local audience.
Over the last ten years, Cinédécouvertes has awarded prizes to Audition, Chunhyang, Werckmeister Harmonies, Oasis, Tropical Malady, Day Night Day Night, Mogari no Mori, Afterschool, and Police, Adjective. The L'Age d'or prize has been given to Aoyama's Eureka, Reygadas' Japón, Encina's Hamaca Paraguay, Balabanov's Cargo 200, and several others. Not every film has been picked up for local distribution, but the impulse to elevate films that go beyond the obvious festival favorites has continued. Ledoux's successor as curator, Gabrielle Claes, has maintained the legacy of L'Age d'or and Cinédécouvertes. The July festival flourishes in the Cinematek's newly rebuilt complex and in its other venue, the lovely postwar-moderne building in the Flagey neighborhood.
The annual Brussels event helped me find my way through modern cinema. There I saw my first Kiarostami (Where is My Friend's Home?), my first Tarr (Perdition), my first Hou (Summer at Grandpa's), my first Oliveira (No; or, the Vainglory of the Commander), my first Sokurov (The Second Circle), my first Kore-eda (Maborosi), my first Panahi (The Mirror), my first Jia (Xiao Wu). The Cinematek's talent-spotters were quick to find many of the most important filmmakers of the 1980s and 1990s, and I'll be forever grateful for their acumen. After I saw these films and many others here, my ideas about cinema got more cogent and complicated. My life got better, too.
Now most of these filmmakers find commercial distribution in Belgium, so Gabrielle's scouts must scan new horizons. This year as usual Cinédécouvertes boasted some familiar names like Iosseliani, Wiseman, Guzman, and the eternal troublemaker Godard. But there are also filmmakers from Costa Rica, Sri Lanka, Ireland, Peru, Colombia, and Ukraine.  The landscape of film is vast, as Ledoux always reminded us, and a small festival can nonetheless open windows wide.
Mind games, or just games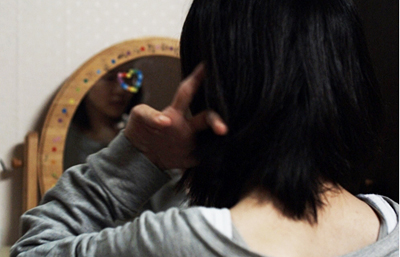 Elbowroom.
Psychology is at the center of festival cinema. Deprived of car chases and exploding buildings, arthouse filmmakers try to track elusive feelings and confused states of mind. That this can be dramatically engaging in quite a traditional way, as was shown by one of the Cinédécouvertes winners, How I Ended This Summer.
Director Aleksei Popogrebsky puts two men on a desolately beautiful island in the Arctic. They're initially characterized by the way they execute the routines of measuring weather conditions. Sergei, the stolid older one, is soaked in the ambience of the place, enjoying fishing and boating while insisting on exactness in the log. Pasha is a summer intern, a little careless because he's exhilarated by the atmosphere: he's introduced first taking a Geiger-counter reading but then hopping and racing along a cliff edge to the beat of his iPod.
Soon, though, Pasha must give Sergei a piece of bad news that comes in over the radio. Out of awkwardness, fear, refusal of responsibility, and other impulses, he avoids telling his mentor. The consequences are unhappy for each. The film takes on the suspense of a thriller, with conflicts surfacing in a cat-and-mouse game at the climax. Yet before that, more subtly, we have watched several tense long takes of Pasha's face as he tries to cover up his failures. Not surprisingly, How I Ended This Summer won one of the two Cinédécouvertes prizes. It is an engrossing case for character-driven, locale-sensitive cinema.
Elbowroom tackles psychology from a more opaque and disturbing angle. With no exposition or backstory, we're plunged into an institution for the handicapped. During the first ten minutes, without dialogue, a handheld camera lurks over the shoulder of a young woman who tries with twisted fingers to apply lipstick. Soon she is preparing to have sex with another inmate, and after their liaison she is whacking her feeble roommates, who sob under her blows. Eventually we'll recognize this introduction as a summary of her days: fighting with others, being coaxed or berated by staff, meeting her lover, and taking up cleaning tasks. Only far into the film will we learn about how she got here and what her fate will be.
Soohee, stricken with cerebral palsy, is played by a young woman with a milder disease. Very often the camera doesn't let us see her face, fastening instead on a ¾ view from behind. This seems to me partly a matter of tact, but its ultimate effect is to force us to infer Soohee's state of mind from her behavior. The visual narration remains resolutely outside the character. Psychology gets reduced to gestures— spasmodic smearing of lipstick, the clasping of a necklace, the seizure of a baby doll (with which she's bribed). Only at the end does a long held close-up of Soohee's twitching, smiling face give us fairly direct access to her feelings. Despite the smile—which can be read as a sort of perverse victory for her—Soohee isn't the noble victim; we've seen her petty and selfish side already.
This trip into a world most of us haven't seen before is presented without conventional pieties, and it's unsettling. Elbowroom, Ham Kyoung-Rock's first feature, offers the sort of challenge to aesthetic and moral conventions that the L'Age d'or Prize was designed to encourage. The film won it.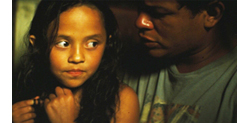 Characters' psychological developments can also be brought out by parallel construction. A willful little girl and a scientist cross paths in Paz Fábrega's Cold Water of the Sea. Karina is on a beach holiday with her family and insists on wandering off at intervals. Marianne is a medical researcher, here for a vacation with her boyfriend. When Marianne finds Karina asleep along the road one night, the girl claims that her parents are dead and that her uncle abuses her. But next morning she's gone, and fears for her safety are only the first of several anxieties that haunt Marianne's holiday. While Karina incessantly bedevils her mother and makes mischief with other kids, Marianne descends into ennui as she watches her boyfriend devote his time to selling a piece of family property.
Once more Rossellini's Voyage to Italy proves to be a template for festival cinema. What is wrong with Marianne goes beyond her diabetes: she feels bored and useless. But while Rossellini adhered primarily to the viewpoints of his dissolving couple, Fabrega opens out the portrayal of upper-class anomie by intercutting episodes from the lives of working-class families. The film has two fully-developed protagonists, with Karina's verve balancing Marianne's increasing torper. Splitting his story allows Fabrega to make some social points (the family camps on the beach, the couple stays in a motel with a scummed-over swimming pool) and to suggest secret affinities between the little girl and the professional woman. Cold Water of the Sea seemed to me an honorable effort to let some air into the premises of the standard portrayal of a cosmopolitan couple's ennui.
Parallels likewise form the core of Otar Iosseliani's Chantrapas, another of his celebrations of shirkers, layabouts, con artists, and free spirits. The title is Russian slang for a disreputable outsider (derived from the French ne chantera pas, "won't sing"). Here the outsider is Kolya, a young Georgian director who turns in a movie that can't pass the censors. He emigrates to Paris, where he finds an aging producer (played by Pierre Etaix) eager to tap his talent. But the new project's backers try to take over the project in scenes deliberately echoing the ones of Party interference.
Chantrapas lacks the shaggy intricacy of Iosseliani's "network narratives" like Chasing Butterflies (1992) and Favorites of the Moon (1984), the latter of which I enjoyed analyzing in Poetics of Cinema. When we're given a single protagonist, as in Monday Morning (2002),  Iosseliani's characteristic refusal of motivation, exposition, and introspection creates a more plodding pace. No mind games here. In earlier films, his favorite shot—panning to follow people walking—creates convergences and near-misses and comic comparisons in the vein of Tati. Here the pans serve as merely functional devices, almost time-fillers, and comedy is largely lacking. Still, Iosseliani avoids the easy traps. A Soviet censor bans Kolya's film, then congratulates him on making such a good movie. When the Parisian preview audience flees the theatre, we can't call them philistines. Kolya's movie, despite its stylistic debt to Iosseliani's own films, looks awful. In the end, even cinema seems less important than smoking, drinking, eating, and, above all, loafing.
It was a documentary, Nostalgia de la Luz by Patricio Guzmán, that won the second Cinédécouvertes prize. It starts as a memoir of Guzmán's fascination with astronomy, explaining that the unusually clear skies of Chile have attracted researchers who want to probe the cosmos. Because the light from heavenly bodies takes a long time to reach us, Guzmán casts his observers as archeologists and historians: "The past is the astronomer's main tool." This is the pivot to the film's main subject, the search for the disappeared under the US-installed dictator Pinochet.
The analogies rush over us. The enormity of the universe is paralleled by the immensity of Pinochet's oppression of his country. Captives in desert concentration camps learned astronomy, but eventually they were forced inside at night; the skies' hint of freedom threatened the regime. Some of the astronomers are friends or relations of the disappeared and see research as therapeutic, putting their personal sufferings in a much more vast cycle of change. Above all there are the old women who patiently scour the desert for traces of their loved ones. A woman tells of finding her brother's foot, still encased in sock and shoe. "I spent all morning with my brother's foot. We were reunited." Scientists try to know the history of the cosmos, and ordinary people tirelessly challenge their government's efforts to conceal crimes. Both groups, Guzmán suggests, acquire nobility through their respect for the past.
Taking some chances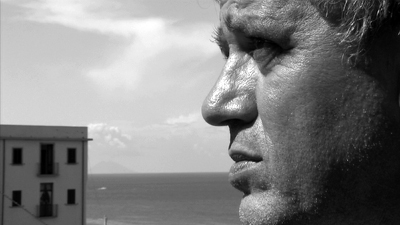 More formally daring was Totó. This was the first Peter Schreiner film I've seen, and on the basis of this I'd say his high reputation as a documentarist is well-deserved.  Without benefit of voice-over explanations, we follow Totó from his day job at the Vienna Concert Hall (is he a guard or usher?) to his hometown in Calabria. The film is an impressionistic flow registering his musings, his train travel, and his conversations with old friends, many of the items juggled out of chronological order.
Schreiner avoids the usual cinéma-vérité approach to shooting. Instead the camera is locked down, the framing is often cropped unexpectedly, and the digital video supplies close-ups that recall Yousuf Karsh in their clinical detail. We see pores, nose hair, follicles at the hairline; the seams of sagging eyelids tremble like paramecia. In addition—though I won't swear that Schreiner controlled this—the subtitles hop about the frame, sometimes centered, sometimes tucked into a corner of the shot, usually with the purpose of never covering the gigantic mouths of the people speaking. All in all, a documentary that balances its human story with an almost surgical curiosity about the faces of its subjects. The Jean Epstein of Finis Terrae would, I think, admire Totó.
I had to miss some of the offerings, notably Oliveira's Strange Case of Angelica. (Fingers crossed that it shows up in Vancouver.) Eugène Green's Portuguese Nun was screened, but I've already mentioned it on this site. Other things I saw didn't arouse my passion or my thinking, so they go unmentioned here. Of the remainders, two stood out above the rest for me.
My Joy (Schastye moe), by Sergei Loznitsa, is a daring piece of work. After a harsh prologue, it spends the first hour or so on Georgy, a trucker whose effort to make a simple delivery takes him into the predatory world of the new Eastern Europe. He meets corrupt cops, a teenage hooker, and most dangerously a trio of ragged men bent on stealing his load. After an anticlimactic confrontation, the film introduces a fresh cast of characters, including a mysterious Dostoevskian seer. The film becomes steadily more despairing, culminating in a shocking burst of violence at a roadside checkpoint.
At moments, My Joy flirts with the idea of network narrative. When Georgy turns away from a traffic snarl, the camera dwells on roadside hookers long enough to make you think that they will now become protagonists. One character does bind the stories together: an old man who fought in World War II and who now helps the seer at a moment of crisis. The sidelong digressions, slightly larger-than-life situations, and the floating time periods suggest a sort of Eastern European magic realism. But the whole is intensely realized, at once fascinating and dreadful. After one viewing, I wanted to see it again.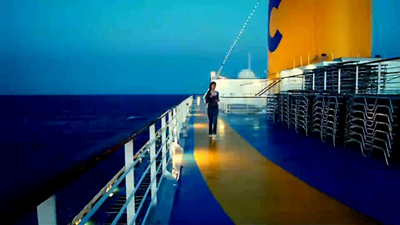 My favorite, as you might expect, was Godard's Film Socialisme. There are the usual moments of self-conscious cuteness (the zoom to the cover of Balzac's Lost Illusions, for instance), but on the whole it's pretty splendid.
Contrary to what a lot of people claim, I don't think Godard is an "essayist" in most of his films. (Perhaps in Histoire(s) du cinema, but rarely elsewhere.) He tells stories. Granted, they are elliptical, fragmentary, occulted stories, free of expository background and flagrantly unrealistic in their unfolding. Into these stories he inserts citations, interruptions, digressions: associational form gnaws away at narrative. But stories they remain.
The first part of Film Socialisme takes place on a cruise ship. As it visits various ports on the Mediterannean, some passengers learn that a likely war criminal is on board. Then, like Loznitsa, Godard shifts to a new plot. In the French countryside, a garage-owner's family is invaded by a TV crew. (As far as I can tell from the untranslated dialogue, the son and daughter are purportedly running for elective office.) Finally, in the last eighteen minutes or so, we get pure associational cinema—not an essay, I think, but something like a collage-poem: a busy montage of clips seeking (or so it seems to me) to ask what sort of European politics is possible after the death of socialism.
Andréa Picard has already written a superb commentary on the film, and it would be useless for me, after only two viewings, to try to go much beyond her account. I'd just say that the first two stories show the same sort of ripe visual imagination we have come to expect from late Godard. The images are oblique and opaque, framed precisely but denying us much in the way of story information. Who are these people? Who's related to whom? (Who are the women apparently linked with the mysterious Goldberg?) More concretely, who's talking to whom?
Godard cuts among images of varying degrees of definition in a manner reminiscent of Eloge de l'amour, but here color is paramount. We get saturated blocks of blue sky and blue/ turquoise/ charcoal sea. See the image further above, or this one, which is virtually a perceptual experiment on the ways that color changes with light and texture.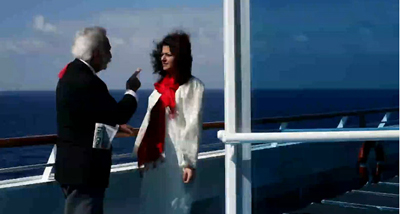 Anybody with eyes in their head should recognize that such shots show what light, shape, and color can accomplish without aid of CGI. They aren't simply pretty; they're gorgeous in a unique way. No other filmmaker I know can achieve images like them. We also get entrancing scatters of light in low-rez shots in the ship's central areas and discotheque.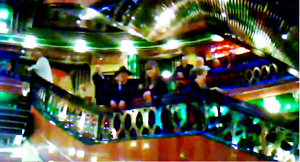 Just as noteworthy from my front-row seat was Godard's almost Protestant severity in sound mixing. For the first twenty minutes or so, the sound is segregated on the extreme right and extreme left tracks, leaving nothing for the center channel. We hear music on the left channel and sound effects on the right, or ambient sound on one side and dialogue on the other. The result is a strange displacement: characters centered in the screen have their dialogue issuing from a side channel. Sometimes a sound will drift from one channel to another and back again, but not in a way motivated by character movement ("sound panning").  Having accustomed us to this schizophrenic non-mix, Godard then starts dropping a few bits into the center channel. But for the bulk of the shipboard story, that region is largely unused.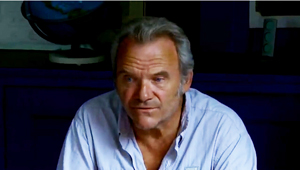 We leave the ship with a title, "Quo Vadis Europa," and now we're in Martin's garage, listening to him being interviewed by an offscreen woman. His voice squarely occupies the central channel, with offscreen traffic sliding around the side channels. The same central zone is assigned to the wife and the kids. Would it be too much to say that the working people have taken control of the soundtrack? In any case, although the side channels are very active, the sound remains centered during a permutational cluster of family scenes (parents and children alone, father with daughter, mother with son, boy with father, daughter with mother).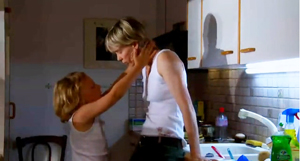 This section ends with a final confrontation with the nosy reporters. The overall episode can be seen as a revisiting of Numero deux (1975), another uneasy family romance and one of Godard's first forays into video.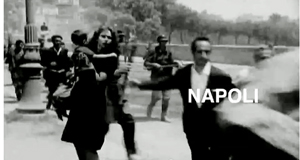 The rapid-fire finale would require the sort of parsing that Histoire(s) du cinema has invited. Through footage swiped from many other filmmakers, Godard revisits the cruise ship's ports of call, investing each with a symbolic role in the history of the West. Egypt and Greece get considerable emphasis, but so do Palestine and Israel. This history is, naturally, filtered through cinema: not just footage of the Spanish Civil War but clips from fiction films like The Four Days of Naples (1962). After glimpses of Eisenstein's Odessa Steps massacre, we get shots of today's kids standing on the steps declaring they have never heard of Battleship Potemkin.
Exasperating and exhilarating, Film Socialisme shows no flagging of its maker's vision. "He's a poet who thinks he's a philosopher," a friend remarked. Or perhaps he's a filmmaker who thinks he's a painter and composer. In any case, Film Socialisme will be remembered long after most films of 2010 have been forgotten. More intransigent than most of his other late features, and unlikely to be distributed theatrically outside France, if there, it shows why we need "little" festivals like Cinédécouvertes now more than ever.
---
The home page of the Cinematek is here. A complete list of L'Age d'or and Cinédécouvertes winners is here. Last year, between research and preparing for Summer Movie Camp,  I had no time to blog about the festival. But you can go to my earlier coverage for 2007 and 2008.
As one who cares about Godard's aspect ratios, it pains me to use illustrations from online sources, which are notably wider than the version I saw projected in Brussels. When I can get my hands on a proper DVD version, I will replace these images with ones of the right proportions.
Seeing movie seeing: Display monitors in the reception area of the Cinematek.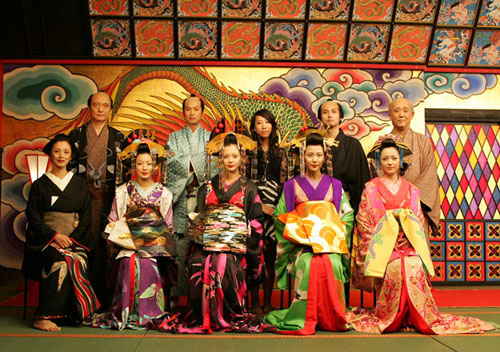 Sakuran.
From DB: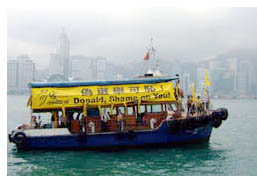 While I've been here, Hong Kong has been embroiled in two big stories. First is the runup to the election for chief executive. Hong Kong has indirect elections, whereby groups purportedly representing constituencies, chiefly various business interests, are in turn represented by electors. On the day of the vote, I saw several demonstrations demanding both new environmental policies and universal suffrage. So much for the myth that Hong Kong people don't participate in politics.
Current chief executive Donald Tsang Yam-kuen, Beijing's appointee, won the election, with 649 votes out of 789 voting members. Tsang has promised to introduce direct voting and universal suffrage by 2012. We'll see.
The other big story has been the aftermath of a 2006 shootout involving police constable Tsui Po-ko. The latter has the confusing intricacy of a Hong Kong cop movie. Some years ago Tsui allegedly killed another cop and stole his pistol; a year later he robbed a bank. (The Economist offers a summary here.) An inquest has been under way. Wednesday's South China Morning Post (not available free online) reports on the contents of Constable Tsui's notebooks. There are indications that he was tailing political figures and calculating how an ambush might be carried out beneath traffic underpasses.
The media have gone wild over this and even replayed the episode of the local version of Who Wants to Be a Millionaire? on which Tsui appeared as a contestant. Today's edition of the SCMP reports an even weirder turn. An FBI expert has testified that Tsui suffered from schizotypal personality disorder. This is characterized by "social isolation, odd behavior and thinking, and often unconventional beliefs." Sound like you or me?
Moving to the more comforting world of cinema, let me catch up on some of the films I've seen at Filmart and the Hong Kong International Film Festival.
Ying Liang's The Other Half: A shrewdly constructed story about a young woman with marital troubles who becomes a legal stenographer. Ying interweaves her life crises with the monologues of locals who come to seek action from the lawyer. These incidents were derived, Ying explained in the Q & A, from actual cases the non-actors knew. Ying collected over 100 law cases and then showed his script to lawyers and legal professionals, some of whom appeared in the film. Single-take scenes predominate, making good use of the deep-focus capacities of digital video. A vivid angle into ordinary life in China, with insights as well into problems of industrial pollution.
Li Yu's Lost in Beijing: Less interesting, I thought. A fairly traditional melodrama involving an innocent woman caught between two macho men, husband and boss, and the boss's scheming wife. The glimpses of life in Beijing were more valuable than the supposedly scandalous sex scenes that feature heavily in the early reels.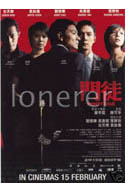 Derek Yee's Protégé: Yee is a mid-range Hong Kong director who can turn out solid entertainment and sometimes, as with One Nite in Mongkok, some social criticism. In Protégé, you know you're in for a rough time from the start. A smack-addled mom staggers onto a sofa to die, and her little girl waddles over to yank out the needle and drop it carefully into a wastebin. Whether you love or hate The Departed, Protégé reminds us that Hong Kong film can chop closer to the bone than anything from our purportedly hard-edged directors.
Daniel Wu plays an undercover cop who's taken years to become virtually a son to drug kingpin Andy Lau. Their intriguing relationship counterbalances Yu's efforts to wean an addicted mother off the stuff. There are some fascinating quasi-documentary scenes of cooking heroin and harvesting Thai poppies. The parallels between the drug addicts whom Andy despises and his own need for shots of insulin are insinuated, not slammed home. Yee mixes grim realism with some showy melodrama, adding an explosive drug bust. (That sequence contains a startling shot that in itself justifies the existence of CGI.) Despite an overlong denouement and a few loose ends, the film seems to me better than the average local genre fare.
Ninagawa Mika's Sakuran: Anachronism has a field day in this story of a cunning girl's rise to be top geisha. Riotous sets and costumes, along with big-band swing music, create the suffocating but ravishing world of courtesans and their patrons. A sentimental ending telegraphed far in advance, but no less welcome for that.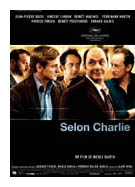 Nicole Garcia's Selon Charlie: Screened in Filmart, this 2005 pic seemed to me a solid if somewhat academic drama. A network narrative about a fugitive archaeologist in a town full of philandering husbands and bored wives, it's your basic bourgeois life-crisis tale, decorated with parallels to a mysterious hominid found at a dig site. It has the usual Eurofilm tact and shows how the French have adapted Hollywood's screenplay structure to fit the well-upholstered stories they like to tell.
Benoît Delépine and Gustave Kervern's Avida: Black and white almost throughout, in 35mm that looks like muddy 16, this surrealist pastiche starts strong. Early scenes offer a new riff on Tati's Mon Oncle, in which a toff returns to his cyberautomated mansion and encounters problems with dogs and plate glass. Then we're in Buñuel-Carrière territory (Carrière is in the movie), as a dognapping leads to an amazing scene of pooch decapitation. Things seemed to me to drag as the episodes got sillier and less visually expressive. Rhinos, lions, elephants, big beetles, and a highly diverse sampling of the human species do walk-ons. Not so much metaphysical as pataphysical.
Iran: A Cinematographic Revolution: A documentary on the pre-1990s Iranian cinema. It's informative, cautious about the role of the mullahs, and filled with intriguing clips from Hollywood-style melodramas and the neorealist-flavored efforts of the 1970s. Good talking heads too (though no Kiarostami). The film reaffirms how single-mindedly the cinema agencies pursued film festivals as a way of increasing the profile of the nation's culture; the motto was "No festival without an Iranian film." But can Iran really have trained a total of 90,000 film-related workers, as the docu says?
Johnnie To's Exiled: I hadn't yet seen it on the big screen. That's where it belongs. The first sequence evokes Once Upon a Time in the West's opening, and it's followed by an exhilarating, utterly implausible gun battle. Watch out for that spinning door!
When Mr. To previewed this opening for me last spring, I didn't think he could top it, but he does. The later scene in the underground clinic will rank with one of the great action sequences of all time. I won't spoil it for those who haven't seen it by previewing a still. Let's just say that To finds fresh compositional tactics in close quarters, as in the hotel climax.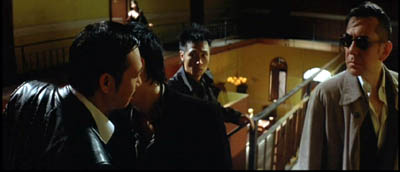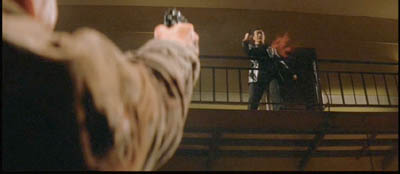 Full of visual invention and neat character bits, Exiled shows that To keeps trying new things. I wrote a little about To's style in an earlier post, and some backstory on the Exiled rooftop sets can be found here.
Cheang Pou-soi's Dog Bite Dog: This tale of a hired killer from Thailand and the raging young cop who pursues him presents a world in Hobbesian frenzy, with all against all. The most unrelentingly violent Hong Kong film I've seen in years, Dog Bite Dog starts with imagery of the killer hiding in the bowels of a ship, scraping up flecks of rice from the floor. After consummating his hit, he moves through a landscape of garbage, hiding out in a landfill and rummaging in a recycle bin for scraps to doctor a girl's wounded foot. I don't know any film that insists so intently on the textures of urban offal.
The cop trembles under the pressure of his own torments, and the parallels between the two men climax in a knife fight in a crumbling Thai temple. As is often the case in local cinema, Father is to blame. This visceral movie surely couldn't be released theatrically in the US. Even the most jaded action aficionado is likely to flinch from certain scenes.
Cheang's previous film is the suspenseful Love Battlefield. Of Dog Bite Dog he remarked, "I wanted to show [the audience] this Hong Kong film that does not have choreographed action." For more, see Grady Hendrix's coverage here and Twitchfilm's longish review.
Otar Iosseliani's Gardens in Autumn: The first shot, in which old men quarrel over which one gets to buy a cheap coffin, puts us firmly in Iosseliani's parallel universe. As often, he speaks for those who just opt out. A minister of agriculture loses his post and drifts among ne'er-do-well pals, hookers, and girlfriends. A film about drinking, eating, smoking, rollerblading, music-making, and middle-aged sex, Gardens in Autumn also satirizes the rich, who are just as lazy as our heroes but waste their lives shopping. There are also prop gags, including the pictures of heifers and boars that show up in quite unexpected places.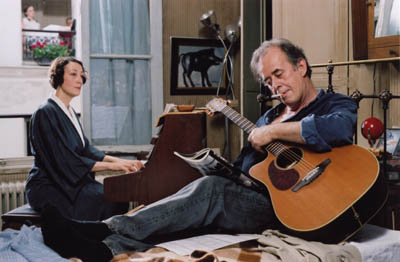 Iosseliani casts himself as an easygoing gardener who draws cartoons on a cafe wall. Some of these images recall people and shots we see in the movie, as if we're watching the old buzzard create the film between swigs of vodka. An elegiac poem to the subversive force of idleness, with a final scene celebrating women.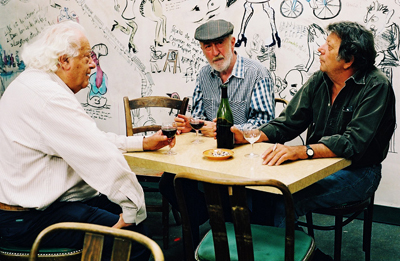 Over the next couple of weeks, more frequent posts, I hope, including glimpses of this highly photogenic city. For the moment, this from a double-decker bus must suffice.