Friday | November 3, 2023
open printable version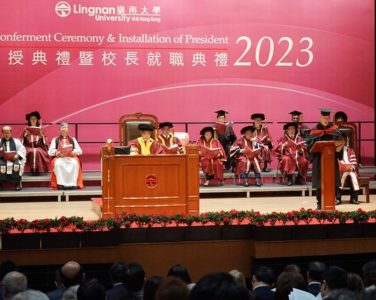 DB here:
On 2 November, Lignan University of Hong Kong conferred upon me an honorary doctorate. My health situation kept me from attending, but I sent a statement of thanks. I'm grateful for the honor, and for Professor Darrell Davis for reading it at the ceremony (pictured above). Here it is.
I am deeply proud to receive an honorary doctorate from Lingnan University. It is one of the jewels in the crown of Hong Kong higher education. I have enjoyed my many visits to the campus and have made many friends during that time. Conversations with them have inspired me to improve my work.
I fell in love with Hong Kong film before I came to love Hong Kong. In the 1970s I was deeply moved by Bruce Lee's films beyond their obvious visceral appeal, they showed a young Chinese man standing up for justice and righteousness. I now realize that Bruce Lee embodied the dignity and compassion for others that remain central to the spirit of Hong Kong itself. In the years that followed, my appreciation of Hong Kong cinema grew, and I was inspired to express my ideas in a book on it. As I became more acquainted with its many fine filmmakers and the craftspeople who supported them, I came to realize that the same spirit has continued in this film culture.
My admiration for Lingnan, therefore, is part of my overall respect for the excellence of Hong Kong cinema and of the community it represents.
I regret that my health situation does not allow me to participate more fully on today's occasion, but remain assured that my heart is with Lingnan University, its students and faculty, as well as the people of Hong Kong.
My thanks to the University, to Professor Davis and Profesor Emilie Yeh Yueh-yu (below), and  to Ginn Fung Kai Chun and Amy Pang Wing Si for their kind assistance.