Thursday | January 12, 2023
open printable version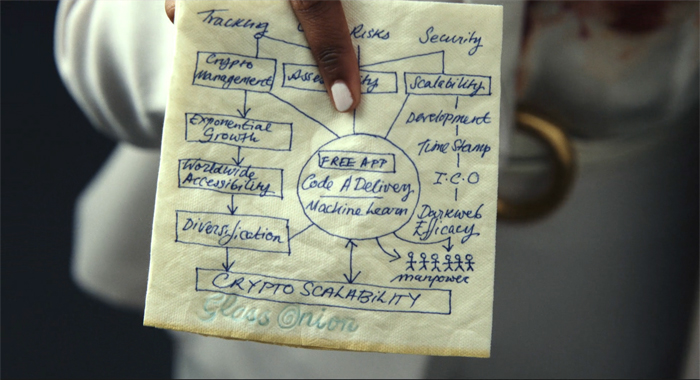 Glass Onion (2022).
DB here:
Rian Johnson's enthusiasm for classic mysteries made it inevitable that I'd get interested in writing about Knives Out. Although I merely allude to the film in Perplexing Plots, I devoted a blog entry to it. While thinking about a follow-up on Glass Onion, I began a rewarding correspondence with Jason Mittell, adroit blogger and author of Complex TV: The Poetics of Contemporary Television Storytelling. Today's entry reflects my thoughts after this exchange of ideas.
Despite the near-universal acclaim received by Glass Onion, it didn't whet my interest as much as its predecessor. It's a little too campy and overproduced for my taste. But Johnson's ingenuity in manipulating  conventions of the Golden Age detective stories by Christie, Sayers et al. makes it ripe for the sort of analysis I try out in the book. So here we go.
Needless to say, there are spoilers for Glass Onion and Knives Out. But I bet you've seen both films.
Tools of the trade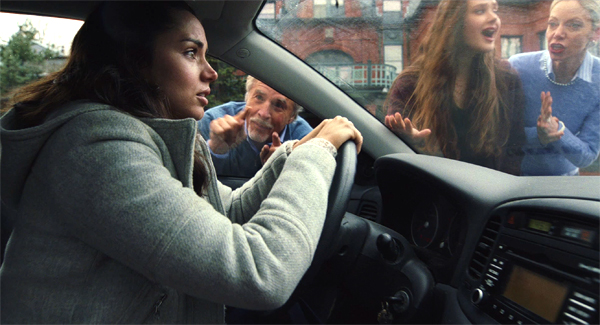 Knives Out.
Plotting a story is a craft, and it has some essential tools. There is, for instance, the ordering of events. Will you present events in linear story sequence, or will you arrange them in a nonchronological pattern? You can't avoid choosing one or the other or some combination of the two.
There's also the matter of viewpoint. Will you attach the audience to what a single character experiences, or will you roam among several characters?
And there's segmentation: How will you break your plot up into chunks? In literature, we have sentences, paragraphs, and chapters. In theatre, scenes and acts. In film, scenes and sequences (and sometimes reels or chapters). Even one-shot movies have moments of pause or shifts of viewpoint that mark off phases of the action.
These are forced choices that every storyteller must face. It's these three–linearity, viewpoint, and segmentation–that Perplexing Plots relies on in order to analyze both mainstream storytelling and mystery fiction.
In addition, the craft requires the audience to be engaged–at least interested, at most emotionally moved. You must choose whether to get your audience to empathize with certain characters or to keep the characters remote and unknowable. Do you want to arouse anger, approval, or some other emotion? You must decide how the choices of linearity, viewpoint, and segmentation can trigger these responses.
For example, your plot can usually build empathy for a character by showing incidents in which that person is treated unfairly. Those actions will be more intense if they're rendered from the character's viewpoint. This is what Rian Johnson does in Knives Out when he shows Marta persecuted by the vindictive Thrombey family, and then exploited by Hugh. The disparity in power (David vs Goliath) heightens our sense of indignation and makes the finale seem to be poetic justice (My house/my rules).
Some emotions depend directly on choices about chronological sequence. If your plot signals that some past events are significant but then doesn't reveal them, you're using linearity to create curiosity. If the plot summons up anticipations about particular future story events, you create a degree of suspense. If your plot introduces an event that momentarily seems out of keeping with the linear story, you can summon up surprise.
Each of these "cognitive emotions" ("cognitive" because they rely on knowledge and belief) is shaped by perspective and segmentation. Creating curiosity, suspense, and surprise depends on viewpoint: each character will have different states of knowledge about the course of events. In Knives Out, Hugh Drysdale is not suffering curiosity about whodunit: he knows he did it. But because we're attached to Marta and detective Benoît Blanc, we share their state of uncertainty–and suspense about what may come.
Similarly, decisions about segmentation will often be made based on the cognitive emotions in play. You might end a book chapter or a play's act or a film's scene on a note of curiosity ("Then whose body is in that grave?"), suspense (the stalker draws near the prey), or surprise ("I'm your father!").
As my examples from Knives Out suggest, the three tools I've picked out have special purposes in a mystery story. Perhaps one reason for the enduring popularity of mystery as a narrative device is its ingenious use of linearity, viewpoint, and segmentation to build cognitive emotions, especially curiosity. But a perennial problem of the genre is to build up other emotions. So we need sympathetic detectives and victims along with unsympathetic suspects, cops, and gangsters to engage us. Some writers also vamp up the suspense factor by putting the investigator in danger, a hallmark of hardboiled stories and domestic psychological thrillers (Rinehart, Eberhart, and their modern counterparts). Perplexing Plots traces some of these creative options through the history of mystery fiction.
Hidden stories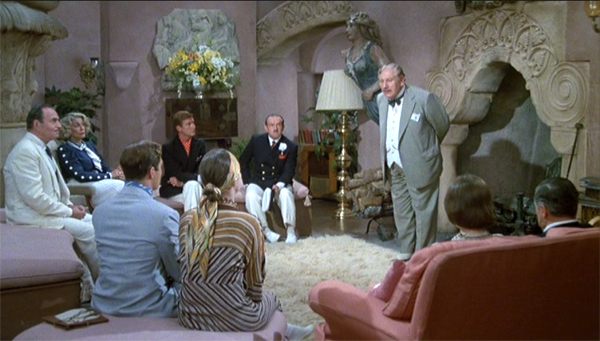 Evil Under the Sun (1982).
The mystery plot centered on an investigation tells two partial and overlapping stories. The investigation is presented as an effort to disclose what happened in the past, an incomplete and puzzling chain of events. Writers in the 1920s started to call this "the hidden story."
In the standard case, the detective reveals those events and makes a single continuous story out of everything. The revelation is typically saved for the climax of the present-time story line, with the detective explaining the missing events in a summing-up. Often all the suspects are gathered and the detective reviews the evidence before presenting the solution to the puzzle. In other instances, the detective may confide the results to a friend or an official.
The summing-up is often a verbal performance, with the detective recounting the hidden story. A classic example is the Christie novel Evil Under the Sun (1941), in which Hercule Poirot explains to the assembled suspects how the crime was committed. To make this scene less monotonous onscreen, filmmakers often illustrate the hidden story by brief flashbacks, as in the 1982 film adaptation of the Christie novel. Johnson employs this strategy in Knives Out, supplying quick shots of how Hugh's scheme was enacted.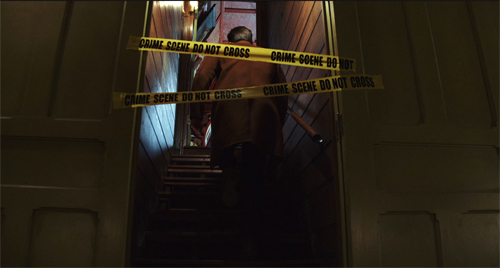 The detective's explanation often rests on yet another hidden story line: parts of the investigation we didn't see. Very often the detective operates backstage, pursuing clues we didn't notice. Sherlock Holmes absents himself for a good stretch of The Hound of the Baskervilles, leaving Watson to explore the mystery of the Moors. Only later do we learn what Holmes was up to. Rex Stout's Nero Wolfe likes to keep his assistant Archie, our narrator, ignorant of information that he asks other operatives to dig up for him.
As a result, in the final summing-up, the detective's filling in of the plot may include telling us of his offstage busywork. Again, that may be rendered on film as flashbacks to make sure the audience appreciates the sleuth's cunning. These might include flashbacks that replay parts of the inquiry, but from a new viewpoint. In the film version of Evil Under the Sun, we see Poirot's first visit to the cliff's edge.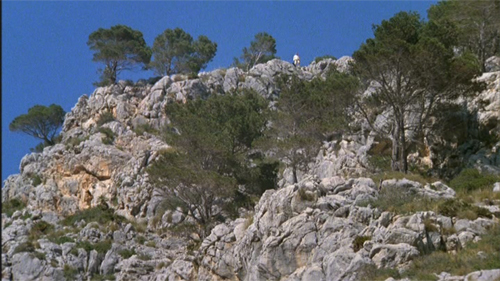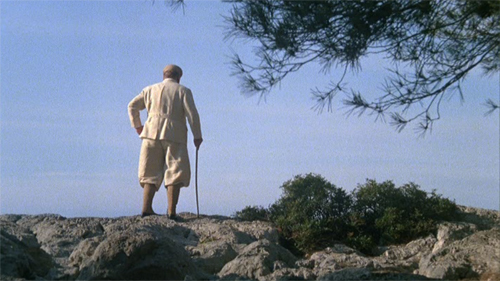 But the replay during his summing up expands this by dwelling on the vertiginous effects he feels.
In Glass Onion, Johnson finds a fresh way to treat the detective's offstage machinations, and that depends, as you'd expect, on exploiting the three basic tools.
A package of puzzles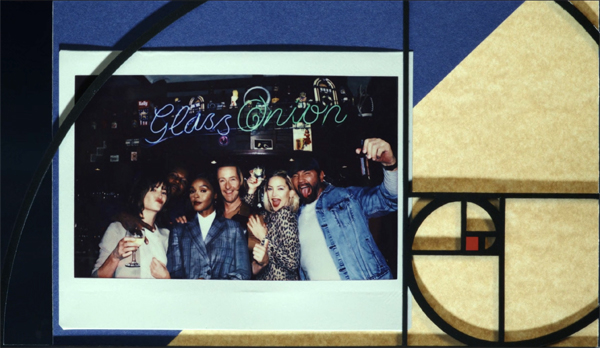 The most obvious innovation involves segmentation. Johnson splits his plot into two almost exactly equal halves. The first, running about seventy minutes, is a more or less complete classic puzzle.
Tech magnate Miles Bron invites his old friends for a weekend party on his private island. Their affinities go back to their days hanging out together in a pub, the Glass Onion. A fifth friend, Cassandra "Andi" Brand, co-founded Alpha with Miles, but he cheated her out of her share when she refused to expand into questionable paths. Andi shows up at the island to join what Miles calls the Disruptors. There's Claire, an ambitious politician; Lionel, a scientist working for Miles on a new energy source; Birdie, a scatty fashionista; and Duke, an aggrieved online spokesman for patriarchy. Famous detective Benoît Blanc joins the party, even though it's unclear who invited him.
These characters are introduced in a rapid opening sequence that shuttles us from one to the other as each gets a puzzle box. Crosscutting and split-screen imagery yield an omniscient narration; we seem to know everything. Johnson points out the expositional advantages: "The box gave it an element of fun, a spine, and a way for all the characters to be on speaker phone solving the mystery of how to open it together, so you see the dynamics between them in real time."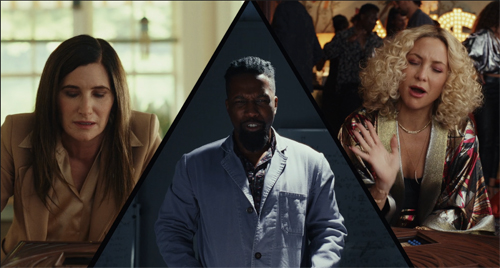 Then we see a so-far unnamed woman receive a box and break it open. Finally we find Blanc himself, stewing in boredom in his bathtub. In all, a shifting spotlight has introduced us to all but one of the major characters.
Once the group assembles on the pier to board the ship that will take them to Miles's island, the narration narrows its range and concentrates mostly on Blanc's reactions.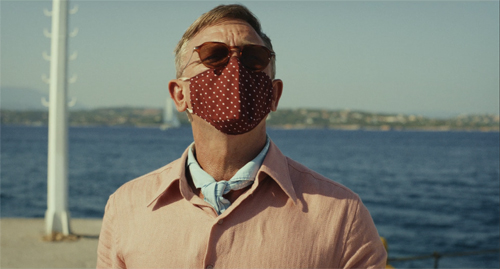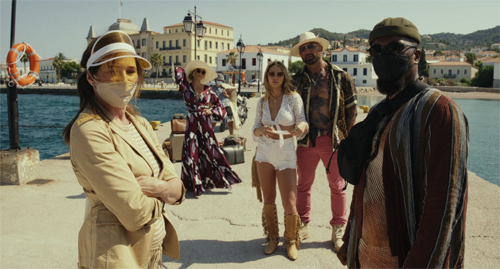 In what follows, Blanc observes the others, occasionally trailing them, and asks questions about their pasts. By and large, this half of the film will be attached to him, though sometimes the narration will stray briefly to others (chiefly to give each a motive for killing Miles). The first half assigns Blanc the conventional role of curious investigator.
Miles has planned a murder game in which he's the victim, but that puzzle collapses the first evening when Blanc solves it instantly. A new crime emerges: Duke abruptly dies of poisoning. And soon someone shoots Andi. Blanc gathers the suspects and announces he nearly has a solution. "It's time I finished this. . . . Only one person can tell us who killed Cassandra Brand."
In the spirit of Golden Age whodunits, Johnson has poured out a cascade of mysteries, big and small. Who sent Blanc the extra box? Why did Andi, still smarting from her courtroom loss to Miles, show up at his party? When Duke died, he drank from Miles's glass, so who was trying to kill Miles? Duke's pistol mysteriously disappears; who took it? The same person who killed Andi?
Johnson's narration can be both reliable and unreliable. During the drinking session a quick long shot reveals that Miles forced Duke to take the poisoned glass. This is a daring gesture toward Fair Play (that some of us noticed), but Johnson will try to cancel our impression. He will soon offer a lying replay to blot this out.
To further swerve suspicion from Miles, Johnson uses viewpoint. We see Miles reacting in shock to a POV image of the fallen glass with his name on it, as if he were just realizing he, not Duke, was the target.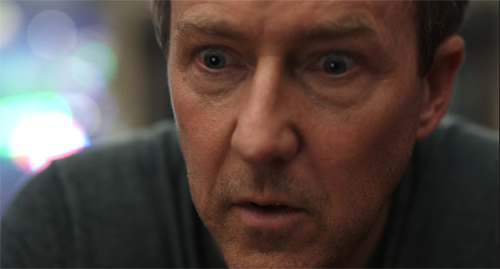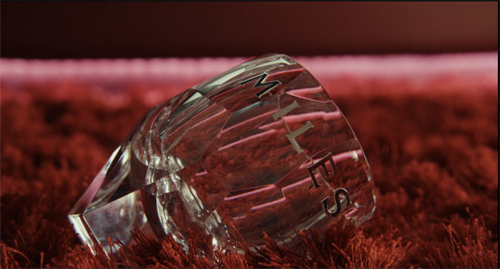 Of course he's faking, but by privileging his viewpoint in order to underscore his reaction Johnson suggests he's innocent. Cheating? Not really, just misleading. Johnson gives with one hand, takes away with the other–as his mentor Agatha Christie does in prose (as I try to show in the book).
Fugue states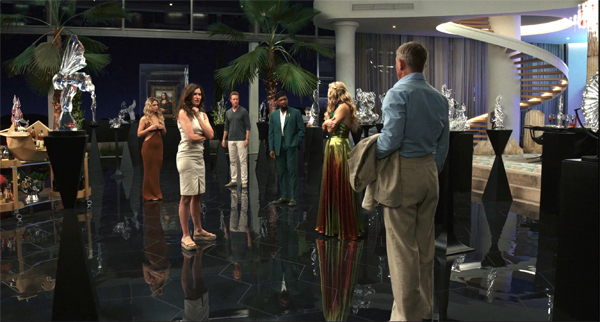 So Blanc has a lot to explain. But instead of continuing the traditional summing-up denouement, Johnson pauses and in effect replays the first half of the film by concentrating on the detective's offstage activities.
Turns out, Blanc has been much busier and less naive than he seemed in the first part. A conventional assembly-of-the-suspects climax would have included explanations of his scheming, but Johnson daringly fleshes these out to forty minutes that annotate scenes that we've already witnessed. In this play with linearity, gaps are filled, and new information is provided.
The second part starts with a young woman delivering the wrecked puzzle box to Blanc. She is not Andi but her twin sister Helen. (Yes, Johnson unblushingly taps the convention of false identity, with twins no less.) Andi is dead, killed by carbon-dioxide fumes in her garage. Helen suspects not suicide but murder and gives Blanc an account of Andi's career through flashbacks. These bursts of nonlinearity skip freely from the gang's youthful days to Miles's cheating of Andi.
Moved, Blanc coaxes Helen to impersonate Andi and go to the party, as if accepting Miles's invitation. (Blanc will convince the authorities to suppress news of Andi's death for a time.) The two of them form a team to investigate Miles's posse and find Andi's killer. So now two puzzles–who sent Blanc the box? why did Andi, or rather "Andi," show up at the island?–are set to rest. Just as important, as Knives Out focused our empathy on Marta, this second half gives us Helen as a sympathetic figure, so the puzzle element is enhanced by emotion.
Blanc's saunters around the compound are now replayed as more purposeful, while "Andi" stands revealed not simply as an intruder but a snoop. Some scenes are only sampled, while others are fleshed out through viewpoint shifts. In addition, the narration offers hypothetical flashbacks when Helen and Blanc play with the possibilities of who might have killed Andi.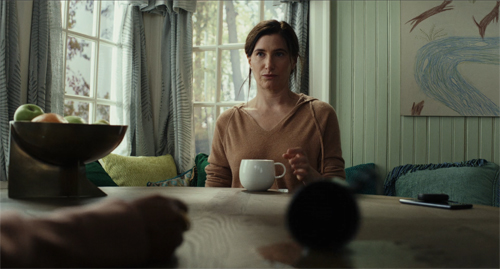 Driving the second part is the search for a crucial piece of evidence that would have won Andi the court case: the Glass Onion napkin on which she jotted down a plan for the company. After the trial she found it and told Miles's circle; her murder was triggered by the killer's plan to recover the napkin. When Helen finds it, she can confront Miles. In a final twist, it's revealed that the bullet that apparently killed Helen was blocked by Andi's diary. At her return to the group, Blanc can launch a proper summing-up and denunciation of the guilty.
The annotated replays run about 37 minutes. These incidents could have been much more concisely presented as part of Blanc's explanation, but as Jason Mittell pointed out to me, this new plot structure gives the second part a dynamic we associate with another genre: a film tracing a big con, like The Sting. There's a pleasure in seeing how scenes we interpreted one way now stand out as manipulated by Blanc and Helen.
Blanc's explanations, and Miles's efforts to block it, take another sixteen minutes. Eventually the Disruptors unite to support Andi, and Miles is facing murder charges. The film ends not with a shot of the complacent Blanc but of the righteous Helen/Andi, the co-protagonist of the second part, a figure of vengeance and vindication.
Replays that amplify and contextualize scenes we've already seen are common in mysteries and other genres. Johnson's originality comes in building one long segment out of such replays. To make it work he relies on our memory of the chronological order of previous scenes to create a double-entry plot structure in which the detective's backstage scheming revises and corrects our perception of the core action. You could lay out the action on a table of the sort I occasionally resort to in Perplexing Plots.
Johnson's pride in folding the second half of the film back over the first part is teased when a guest at Birdie's party explains the fugue that Miles has embedded in the puzzle box. "A fugue is a beautiful musical puzzle based on just one tune. If you layer this tune on top of itself, it starts to change and turns into a beautiful new structure."
Johnson's virtuoso play with segmentation has a place in the mystery story tradition; Perplexing Plots reviews several Golden Age examples. (One somewhat similar novel is Richard Hull's Excellent Intentions of 1938.) You can imagine a version of Glass Onion that attaches its viewpoint to Blanc and Andi from the start, with the "infiltration" strategy of something like Notorious (1946) or Mission: Impossible II (2000). But that wouldn't engage us through its gamelike, self-consciously artificiality. No film I can recall has so thoroughly routed the offstage activities of the detective onto a track parallel to that of the unfolding crime. Creating a double-column plot like this shows not only the cleverness of design demanded by mystery stories but something I stress throughout the book: the eager drive of popular storytelling toward innovation and novelty–within familiar boundaries.
---
Thanks to Jason Mittell for a stimulating correspondence and to Erik Gunneson and Peter Sengstock for further suggestions.
Johnson discusses how he shaped the guest assembly on the pier around Blanc's viewpoint in "Notes on a Scene" in Vanity Fair. A lengthy piece in Vulture explains some of the citations and in-jokes in the film.
P.S. 13 January: Thanks to Antti Alanen and Fiona Pleasance for correction of two names!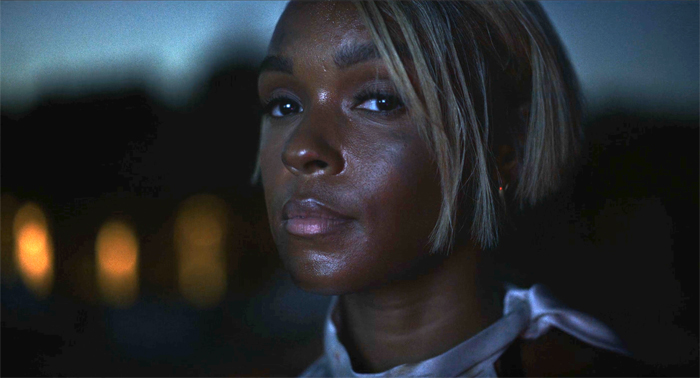 Glass Onion.