Monday | October 10, 2022
open printable version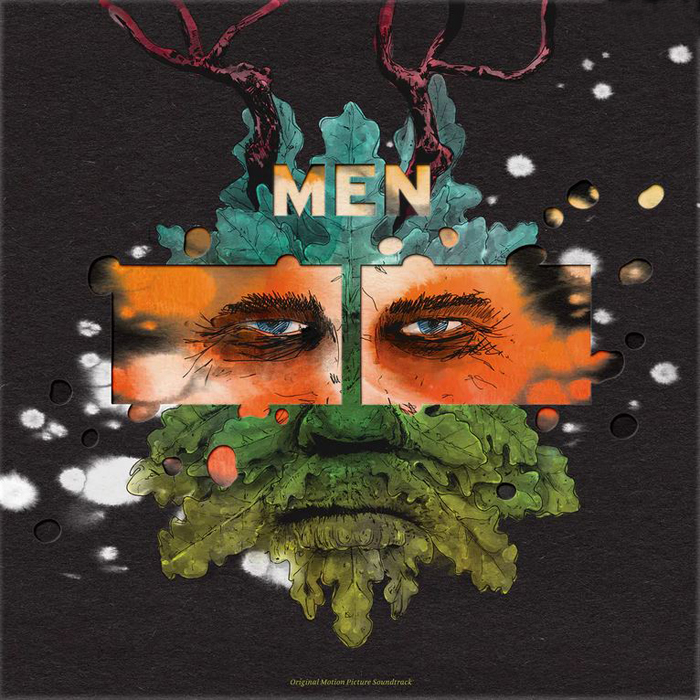 Kristin here:
Regular readers of this blog may remember that back in early May I posted an entry trying to answer, at least to my own satisfaction, the question "How did 'prestige horror' come about?" As I wrote at the time, the piece wasn't motivated by any particular interest in the horror genre. Instead it resulted from the confluence of three films considered to be in that category being released during the summer season: The Northman, Men, and Nope, all by interesting directors. That's when I discovered the phenomenon of prestige horror as a trope among reviewers. I also discovered that the indie producer-distributor A24 has been a major contributor to the small group of films usually mentioned when anyone writes about prestige horror. (For a good summary of A24's impact on the horror genre, see here.)
Later, having seen A24's next release, Alex Garland's Men and quite liked it, I read some uncomprehending and dismissive reviews of it. (These were largely from mainstream critics; horror buffs who wrote about it tended to "get it.") I decided to analyze this challenging film and posted the result here.
Two days before Men was released on May 20, Variety Intelligence Platform posted an article by Kaare Eriksen, "Can A24 sustain its box office boom?" (This specialty wing of Variety is behind a pay wall; for those who subscribe, find it here.) Everything Everywhere All at Once was already about six weeks into its unexpectedly lucrative run. Eriksen commented of A24, "Its next film, 'Men,' which releases nationwide on Friday, may extend this momentum."
Not surprisingly, Men did not extend that momentum. As Eriksen points out, it was made on a small budget–though how small we don't know, as I have seen no figures on the cost of the production. Its worldwide gross of a little over $11 million seems unlikely to have made it even slightly profitable. It appeared on streaming services not long after the film went out of theatrical circulation, which was not typical of A24's approach. Ordinarily they have left a longer window between theatrical and streaming. Men quickly became available as VOD from several services. How much it made in that fashion is unknown.
I wondered how much impact the failure of Men would have on A24's financial well-being and decided to find out. It turns out, not much. Perhaps the studio's head will move away from prestige horror a bit, but A24 was never a specialist in horror in the way Blumhouse is. A24's films have ranged from high-profile Oscar winners like Room and Moonlight to the modest animated feature Marcel the Shell with Shoes on (bottom). It isn't shying away from more conventional horror films as the recent releases of X, Bodies, Bodies, Bodies, and Pearl show.
[October 31: Will Pearl boost Ti West's series into the prestige horror category? (The series will become a trilogy with MaXXXine.) As with Ari Astra's films, Martin Scorsese has again gained A24 attention by describing his reaction to Pearl: "I was enthralled, then disturbed, then so unsettled that I had trouble getting to sleep. But I couldn't stop watching." Several news outlets covered his laudatory remarks.]
Festivals and awards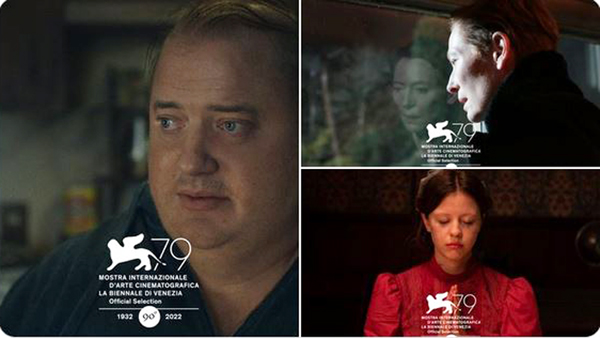 There's nothing like a premiere at a major film festival or the bestowal of a big award to signal prestige. I mentioned in my prestige-horror piece that A24 had films in that sub-genre premiere at SXSW (Ex Machina, which also won a visual effects Oscar) and Sundance (The Witch). This year the studio took a leap upward with three films premiering at the Venice International Film Festival (above, from A24's twitter page). Two were in competition: The Whale, by Darren Aronofsky, and The Eternal Daughter, by Joanna Hogg. One premiered out of competition: Pearl, by Ti West, an origin story for and sequel to X (2022).
Festival director Alberto Barbera, asked about blockbuster films at this year's festival, said: "We had discussions with all the studios. There wasn't really a blockbuster similar to Joker or Dune, but we still have great presence from the U.S. studios: WB, Sony, Searchlight, Universal, Netflix, Amazon. And for the first time we have two films from A24. I'm really glad we could make it work with them and hope it's the first of many collaborations." Barbera is presumably talking about the number of films in competition. Apparently he is anticipating future A24 films on upcoming programs. None of A24's films won an award at the festival, though one result was that Brendan Fraser has joined the Oscar buzz for a best-actor nomination.
A24's The Inspection, a film about a gay Black man determined to join the Marines, was chosen as the closing film at the New York Film Festival on October 14.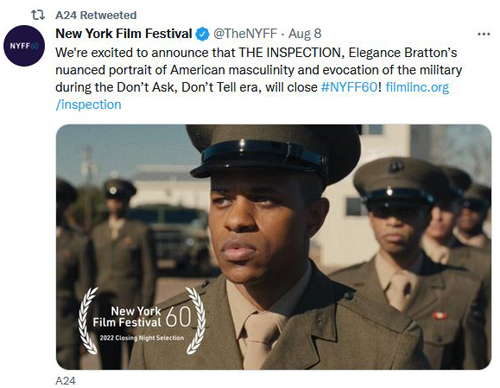 It has already played at the Toronto Film Festival.
Will A24 feature among the Oscar nominees? "In Hollywood it's never too early to start thinking about the Oscars," as Clayton Davis wrote in a July 28, 2022 article, "Award Season Preview: Despite Industry Changes, Winning Oscars Remains Top Studio Priority."  Studio by studio, he comments on their chances for nominations:
There's already a pair of populist contenders in Paramount's blockbuster "Top Gun: Maverick" and A24's metaverse action-dramedy "Everything Everywhere All at Once," which have cemented themselves in the best picture discussion.[…] With "Everything Everywhere All at Once" becoming the highest-grossing film in the history of independent studio A24, they may have more capital to play with to get Michelle Yeoh an overdue nomination for best actress. They'll also give a qualifying run to "The Whale" from "Black Swan" (2010) by Oscar-nominated director Darren Aronofsky, said to have the comeback performance of the year from Brendan Fraser. They're also partnering with Apple Original Films once again for "Causeway," formerly "Red, White and Water" from Lila Neugebauer and starring Jennifer Lawrence, who also produces.
Having already started lists of predictions for the top Oscar contenders, Davis puts Everything Everywhere All at Once at number 6 for best picture. (Davis includes films yet to premiere, especially at Toronto.) Michelle Yeoh tops his best-actress category.
[November 4, 2022: Variety's Cynthia Littleton has this to say in a recent story on The Whale's Oscar chances: "A24, which is releasing 'The Whale' in theaters, is known for the NYC swagger that befits a top indie distributor."]
[December 3, 2022 A24's films won four awards from the New York Film Critics Circle awards, the highest number won by any studio.]
Other signs of continued prestige include a brief weekly series called "Post-Horror Summer Nights" that recently ran at the Barbicon in London. Two of the four films were from A24: The Witch and Hereditary. Also, A24 has picked up the North American distribution for Close, Lukas Ohont's Grand Prix winner at Cannes this year.
The brand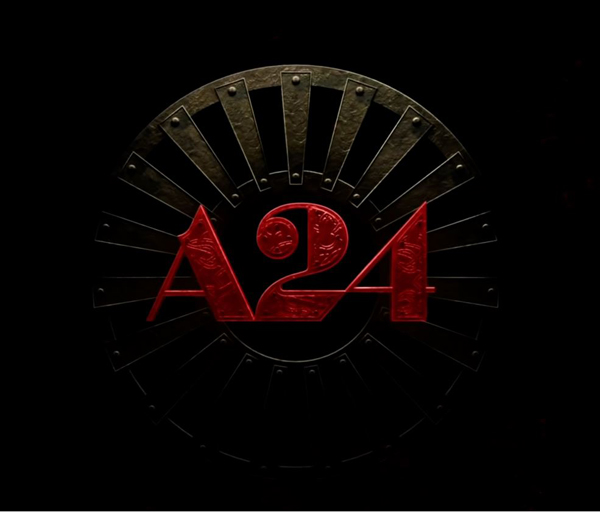 A24 probably is the most widely recognized indie studio. It has its own devoted fans, many of them in that younger demographic so beloved of movie producers and exhibitors. It works hard to maintain that brand recognition. Naturally it has its own Facebook and  twitter pages and is undoubtedly elsewhere on social media sites I ignore. It also has a podcast. It re-designs its logo in eye-catching ways to fit each film, as with the Green Knight opener above.
A24 has its own line of merchandising, selling limited-edition items. Some bear its logo and others relate to specific films.
As the notes in these examples indicate, the majority of items on the shop page are sold out.
Blu-rays of some of their films, often in fancy collectors' editions, are available. There are soundtracks as well, only on vinyl. A red-vinyl release of the Men soundtrack with a slipcase "featuring six interchangeable covers with watercolors by Julian Gross" (top). It is not shipping until December, so it's an iffy choice for a Christmas gift. It's also apparently the only option if you want the soundtrack on physical media; it is otherwise available only for download.
The items are fairly pricey, though I doubt they affect the studio's bottom line much. Nevertheless, I suspect that they give fans a feeling of connection with A24 and endow it with a quirky aura that fixes it in people's minds.
Since they are only sold through the studio's own shop, at least all the income goes to A24 and not to amazon. Theoretically, that is. Someone bought up a batch of the Green Knight vinyl track (green, naturally), which is now sold out on A24's shop. That entrepreneur is currently selling them through amazon for $99. The soundtracks originally cost $35 from A24. I guess this is another indication of prestige or at least fan devotion among people potentially willing to purchase a copy despite the considerable markup.
The devotion seems genuinely to be there. In a conversation about "The A24 Effect," Sam Sanders and Nate Jones are discussing the studio's skill at marketing films and creating a brand through merchandising:
SS: How much of that is the merch? I don't think I've ever experienced a movie studio in which people in my circles are actually excited about the merch. One of my friends yesterday was raving about his A24 fleece. […] What is that?
NJ: That's a very big part of it. No one's walking around in a Focus Features hoodie the way that they are in A24 stuff. It goes back to the marketing, the realization that plugging into these downtown fashion circles is another way to cut through the noise. And they do these limited-edition drops that create this sense of exclusivity that mirrors the way that these films are so treated in the cultural conversation.
Sanders calls A24 "the coolest movie studio around." The "special recipe" they detect consists of three strands: youth culture, horror, and "auteur-prestige cinema," such as Room, Lady Bird, and Moonlight.
The finances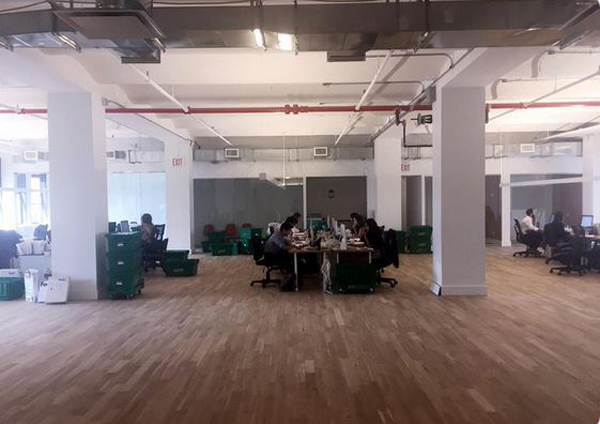 Despite the unfortunate failure of Men, A24 is doing quite well.
For one thing, on August 1, HBO Max recently added 28 films from A24 to its offerings, mostly films the company only distributed in its early years. Variety predicts that this list will grow as the studio's deals with Apple+ and Showtime expire.
More importantly, A24 is expanding based on new investments. On September 1, The Economist took note in an article entitled "The Rise and Rise of A24" (behind a pay wall):
The bosses of A24 declined to talk on the record, coyly hoping their output speaks for itself. It has proved persuasive to financiers as well as awards juries. In March the company was valued at $2.5bn as it took in $225m in investment; the lead investor is Stripes, a private-equity firm that helps businesses grow. The funds will let A24 boost its production capacity. It has opened an office in London (and poached two BBC commissioners); it hopes to make films and TV programmes in other territories soon, possibly in foreign languages.
In Erikson's "Can A24 Sustain Its Box Office Boom?" (linked above), he mentioned "A24's reported exploration of a $2.5 billion to $3 billion sale last year, with newer streaming entrant Apple apparently interested at one point. This apparently was a result of the pandemic-related slump rather than any underlying vulnerability on A24's part.
In another symptom of financial health, in October 2021, A24 signed a 15-year lease on four floors of a major new office building at 1245 Broadway. This building was just finished last month. I presume the studio will soon transfer its headquarters from its current modest headquarters, one floor in 31 West 27th Street, to which it moved in 2015 (above). Given the rather bare-bones appearance of the current office, I presume this is a considerable expansion and a more prestigious location. A24 seems confident that it will be around for quite some time.
I am not a fan of the studio itself, only some of the films it has made. Apparently a common accusation leveled against A24 is that it is pretentious, or its films are, or its fans are. But "pretentious" is a word used freely, depending on the tastes of the person using it. Many of the great filmmakers of cinema history are thought of as pretentious by some. The strengths of A24 are that it is surviving in an industry context where films with modest budgets are struggling in the theatrical market and franchise films dominate. In the same "The A24 Effect" podcast linked above, critic Alison Willmore points out that the studio owns no intellectual property that has generated a franchise and that its films are mostly originals or based on fairly obscure literary sources. This helps account for the considerable variety in the types of films A24 releases. It is good to see an indie studio managing to survive and even thrive these days.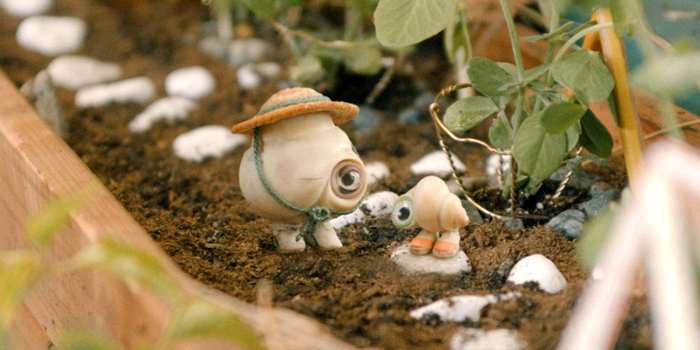 Marcell the Shell with Shoes on (2022)