Sunday | December 26, 2021
open printable version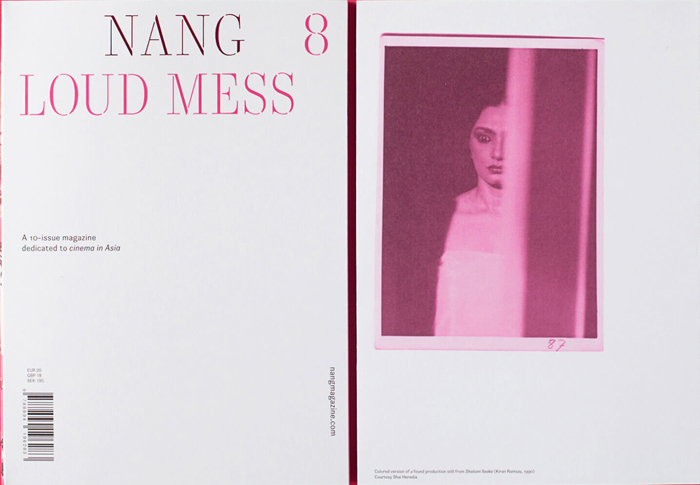 DB here:
Nang is an anomaly in today's film culture. A limited-edition magazine published only in hard copy, it carries no advertising, film reviews, or festival reports. It's printed on exquisite, environmentally-sensitive paper, with binding that allows it to open and stay flat. It radiates casual elegance, and it's devoted to modern Asian filmmaking. A preface explains:
Thanks to a unique group of guest editors and contributors, Nang broadens the horizons of what the moving image is in Asia, engaging its readers with a wide range of stories, contexts, subjects and works connected by the cinema.
This sounds fairly conventional, but Nang's mission is also "to expand (the idea of) what a cinema magazine can be today." This ambitious goal comes from this remarkable declaration of principles by Publisher and Editor-in-Chief Davide Cazzaro. He reveals Nang's deep commitment to analog publishing and to quality, highly diversified content.
Cazzaro's statement only hints at the riches within every issue.There are historical studies, such as Debrashree Mukherjee's article on female barristers in Mumbai cinema and Chew Tee Pao's account of archiving the Singapore feature Medium Rare. Experts such as Aaron Gerow, Jasper Sharp, Sam Ho, Victor Fan, Noel Vera, Darcy Paquet, Mark Schilling, and Goran Topalovic offer incisive, in-depth pieces. But this is no musty academic journal. There are cartoons, paintings, collages, and other forms of graphic art. There are poems and short stories as well: issue no. 3 is devoted to fiction.
Nang is passionately dedicated to honoring and understanding the creative process of filmmakers. Given my proclivities, I remain in awe of issue no. 5,"Inspiration," which includes writings by and interviews with Mira Nair, John Woo, Jia Zhangke, Hou Hsiao-hsien, Tsui Hark, and many other directors. Me being me, I was especially keen to find out the Nair planned Monsoon Wedding by laying out "a sea of index cards" on her bed to keep the plot lines balanced.
No less revelatory is no. 6, "Manifestos," which include previously untranslated manifestos from modern Asian film movements. There are documents from Taiwan, Indonesia, South Korea, India (Satayajit Ray, Ritwik Ghatak), the Philippines, and many other locales. There's even serious consideration given to Kim Jong Il II's 1973 On the Art of the Cinema, an effort by the North Korean dictator to specify the demands of a communist cinema. Each entry is graced by photos of hands cradling rocks.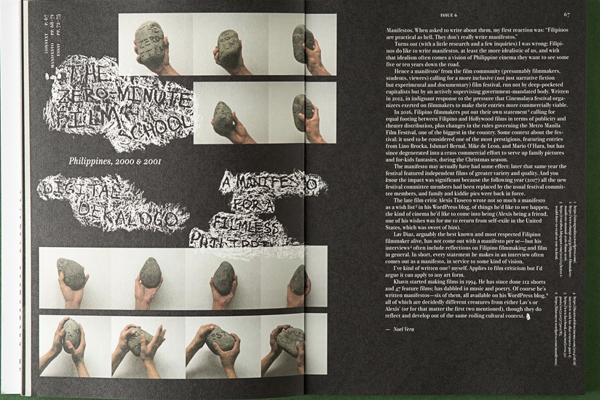 Other issue topics are less clear-cut. "The Scent of Boys" is largely devoted to same-sex cinemas, but through an unusual route: writers were asked to reflect the sensory and sensual aspects of bodies and their interactions on the screen. Critics, historians, and filmmakers reflect on figures and films that have shaped their sensibilities. Issue no. 8, "Loud Mess," is about "the power of transgression" in many dimensions–horror, eroticism, sound.
I really can't do justice to the splendors on display in Nang. Go to the Blog page for a potpourri of articles and background on the editors. One concession to the digital realm: A ten-year look back at Nang. Most back issues are still available; go here to see the possibilities and browse some pages. Bargain-priced too, considering that these are in effect art books. But hurry: issue no. 9 is already out, and the next one is said to be the last.
Nang is an energetic, imaginative effort to open up new aspects of Asian filmmaking. Davide Cazzaro and his guest editors have given us a true labor of love–obviously, their love of Asian cinema, but also an acknowledgment of what many of us feel: This is one of the world's greatest film traditions.
---
Thanks to Goran Topalovic for calling my attention to Nang and Davide Cazzaro for providing me sample issues!