Friday | July 2, 2021
open printable version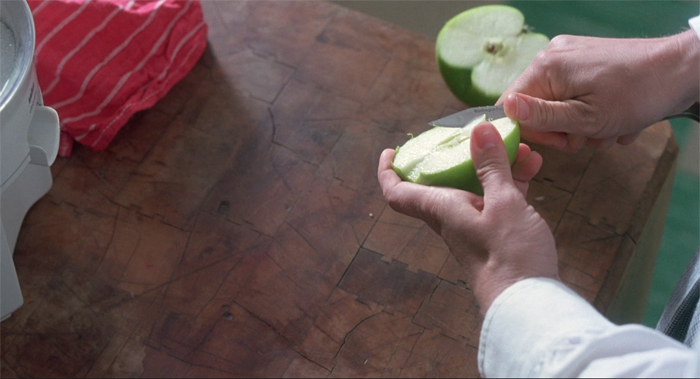 The Hand That Rocks the Cradle (1992).
DB here:
"Every film trains its spectator," I wrote a long time ago. In other words: A movie teaches us how to watch it.
But how can we give that idea some heft? How do movies do it? And what are we doing?
Many menus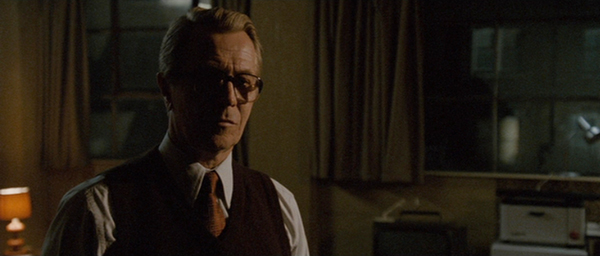 Tinker, Tailor, Soldier, Spy (2011).
In my research, I've found the idea of norms a useful guide to understanding how filmmakers work and how we follow stories on the screen. A norm isn't a law or even a rule; it's, as they say in Pirates of the Caribbean, more of a guideline. But it's a pretty strong guideline. Norms exert pressure on filmmakers, and they steer viewers in specific directions.
Genre conventions offer a good example. The norms of the espionage film include certain sorts of characters (secret agents, helpers, traitors, moles, master minds, innocent bystanders) and situations (tailing targets, pursuits, betrayal, codebreaking, and the like). The genre also has some characteristic storytelling methods, like titles specifying time and place, or POV shots through binoculars and gunsights.
But there are other sorts of norms than genre-driven ones. There are broader narrative norms, like Hollywood's "three-act" (actually four-part) plot structure, or the ticking-clock climax (as common in romcoms and family dramas as in action films). There are also stylistic norms, such as the shoulder-level camera height and classic continuity editing, the strategy of carving a scene into shots that match eyelines, movements, and other visual information.
Thinking along these lines leads you to some realizations. First, any film will instantiate many types of norms (genre, narrative, stylistic, et al.). Second, norms are likely to vary across history and filmmaking cultures. The norms of Hollywood are not the same as the norms of American Structural Film. There are interesting questions to be asked about how widespread certain norms are, and how they vary in different contexts.
Third, some norms are quite rigid, as in sonnet form or in the commercial breaks mandated by network TV series. Other norms are flexible and roomy (as guidelines tend to be). There are plenty of mismatched over-the-shoulder cuts in most movies we see, and nobody but me seems bothered.
More broadly, norms exist as options within a range of more or less acceptable alternatives. Norms form something of a menu. In the spy film, the woman who helps the hero might be trustworthy, or not. The apparent master mind could turn out to be taking orders from somebody higher up, perhaps somebody supposedly on your side. One scene might avoid continuity editing and instead be presented in a single long take.
Norms provide alternatives, but they weight them. Certain options are more likely to be chosen than others; they are defaults. (Facing a menu: "The chicken soup is always safe.") An action film might present a fight or a chase in a single take (Widows, Atomic Blonde), but it would be unusual if every scene in the film were played out this way. Not forbidden, but rare. Avoiding the default option makes the alternative stand out as a vivid, willed choice.
Very often, critics take most of the norms involved for granted and focus on the unusual choices that the filmmakers have made. One of our most popular entries, the entry on Tinker, Tailor, Soldier, Spy, discusses how the film creates a demanding espionage movie by its manipulations of story order, characterization, character parallels, and viewpoint. It isn't a radically "abnormal" film, but it treats the genre norms in fresh ways that challenge the viewer.
Because, after all, viewers have some sense of norms too. Norms are part of the tacit contract that binds the audience to creators. And the viewer, like the critic, looks out for new wrinkles and revisions or rejections of the norm–in other words, originality.
Picking from the menu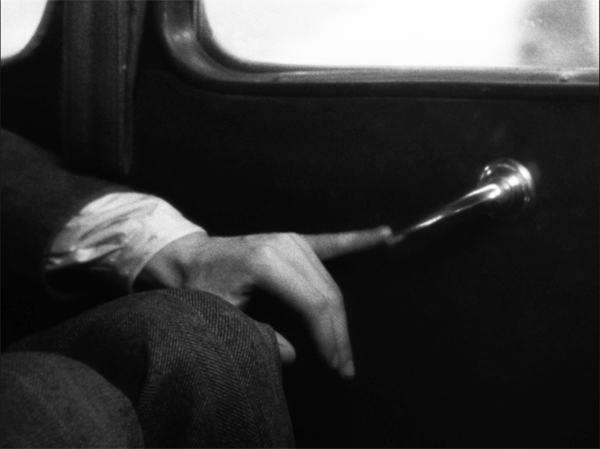 Norms of genre, narrative, and style are shared among many films in a tradition or at a certain moment. We can think of them as "extrinsic norms," the more or less bounded menu of options available to any filmmaker. By knowing the relevant extrinsic norms, we're able to begin letting the movie teach us how to watch it.
The process starts early. Publicity, critical commentary, streaming recommendations, and other institutional factors point up genre norms, and sometimes frame the film in additional ways–as an entry in a current social controversy (In the Heights, The Underground Railroad), or as the work of an auteur. You probably already have some expectations about Wes Anderson's The French Dispatch.
Then, as we get into the film, norms quickly click into place. The film signals its commitment to genre conventions, plot patterning, and style. At this point, the film's "teaching" consists largely of just activating what we already know. To learn anything, you have to know a lot already. If the movie begins with a character recalling the past, we immediately understand that the relevant extrinsic norm isn't at that point a 1-2-3 progression of story events, but rather the more uncommon norm of flashback construction, which rearranges chronology for purposes of mystery or suspense. Within that flashback, though, it's likely that the 1-2-3 default will operate.
As the film goes on, it continues to signal its commitment to extrinsic norms. An action scene might be accompanied by a thunderous musical score, or it might not; either way, we can roll with the result. The characters might let us into their thinking, through voice-over or dream sequences, or we might, as in Tinker, Tailor, be confronted with an unusually opaque protagonist whose motives are cloudy. The extrinsic norms get, so to speak, narrowed and specified by the moment-by-moment working out of the film. Items from the menu are picked for this particular meal.
That process creates what we can call "intrinsic norms," the emerging guidelines for the film's design. In most cases, the film's intrinsic norms will be replications or mild revisions of extrinsic ones. For all its distinctiveness, in most respects Tinker, Tailor adheres to the conventions of the spy story. And as we get accustomed to the film's norms, we focus more on the unfolding action. We've become expert film watchers. We learn quickly, and our "overlearned" skills of comprehension allow us to ignore the norms and, as we stay, get into the story.
Narration, the patterned flow of story information, is crucial to this quick pickup. Even if the film's world is new to us, the narration helps us to adjust through its own intrinsic norms. The primary default would seem to be "moving spotlight" narration. Here a "limited omniscience" attaches us to one character, then another, within a scene or from scene to scene. We come to expect some (not total) access to what every character is up to.
In Curtis Hanson's Hand That Rocks the Cradle, we're initially attached to the pregnant Claire Bartel, who has moved to Seattle with her husband Michael and daughter Emma. When Claire is molested by her gynecologist Dr. Mott, she reports him. The scandal drives him to suicide, and his distraught wife miscarries. She vows vengeance on Claire. Thereafter, the plot shuttles us among the activities of Claire, Mrs. Mott, Michael, the household handyman Solomon, and family friends like Michael's former girlfriend Marlene. The result is a typical  "hierarchy of knowledge"–here, with Claire usually at the bottom and Mrs. Mott near the top. We don't know everything (characters still harbor secrets, and the narration has some of its own), but we typically know more about motives, plans, and ongoing action than any one character does.
More rarely, instead of a moving spotlight, the film may limit us to only one character's range of knowledge. Again, scene after scene will reiterate the "lesson" of this singular narrational norm. That repetition will make variations in the norm stand out more strongly. Hitchcock's North by Northwest is almost completely restricted to Roger Thornhill, but it "doses" that attachment with brief asides giving us key information he doesn't have. Rear Window and The Wrong Man, largely confined to a single character's experience, do something similar at crucial points.
Sometimes, however, a film's opening boldly announces that it has an unusual intrinsic norm. Thanks to framing, cutting, performance, and sound, nearly all of Bresson's A Man Escaped rigorously restricts us to the experience of one political prisoner. We don't get access to the jailers planning his fate, or to men in other cells–except when he communicates with them or participates in communal activities, like washing up or emptying slop buckets.
The apparent exception: The film's opening announces its intrinsic norm in an almost abstract way. First, we get firm restriction. There are fairly standard cues for Fontaine's effort to escape from the police car that's carrying him. Through his optical POV, we see him grab his chance when the driver stops for a passing tram.
The film's title and the initial situation let us lock onto one extrinsic norm of the prison genre: the protagonist will try to escape. Knowing that we know this, Bresson can risk a remarkable revision of a stylistic norm.
Fontaine bolts, but Bresson's visual narration doesn't follow him. The camera stays stubbornly in the car with the other prisoner while Fontaine's aborted escape is "dedramatized," barely visible in the background and shoved to the far right frame edge. He is run down and brought back to be handcuffed and beaten.
The shot announces the premise of spatial confinement that will dominate the rest of the film. The narration "knows" Fontaine can't escape and waits patiently for him to be dragged back. In effect, the idea of "restricted narration" has been decoupled from the character we'll be restricted to. This is the film's first, most unpredictable lesson in stylistic claustrophobia.
Got a light?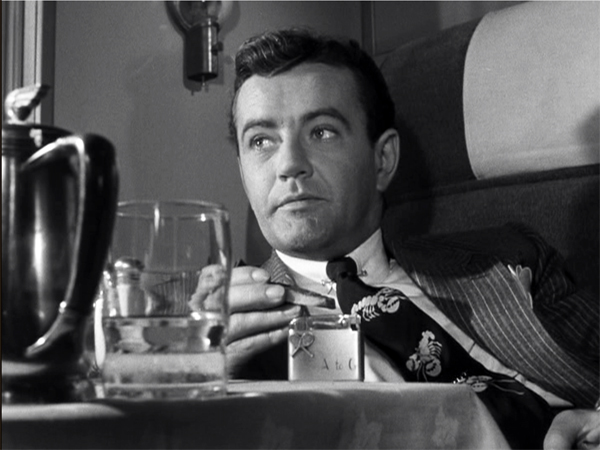 Most intrinsic norms aren't laid out as boldly as the opening of A Man Escaped, but ingenious filmmakers may provide some variants. Take a fairly conventional piece of action in a suspense movie. A miscreant needs to plant evidence that incriminates some innocent soul.
In Strangers on a Train, that evidence is a cigarette lighter. Tennis star Guy Haines shares a meal with pampered sociopath Bruno Antony, whose tie sports colorful lobsters. Bruno steals Guy's distinctive cigarette lighter.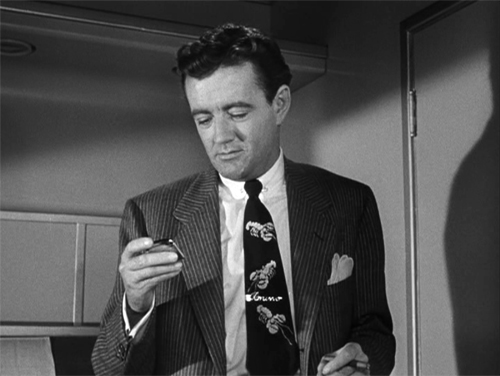 Bruno has proposed that they exchange murders: He will kill Guy's wife Miriam, who's resisting divorce, and Guy will kill Bruno's father. Bruno cheerfully strangles Miriam at a carnival, aided by the lighter.
When Guy doesn't go through with his side of the deal, Bruno resolves to return to the scene of Miriam's death and leave the lighter to incriminate Guy. The film's climax consists of the two men fighting on a merry-go-round gone berserk. Although Bruno dies asserting Guy's guilt, the lighter is revealed in his hand. Guy is exonerated.
Once the lighter is introduced in the early scenes, it comes to dominate the last stretch of the film. In scene after scene, Hitchcock emphasizes Bruno's possession of it. Sometimes it's only mentioned in dialogue, but often we get a close-up of it as Bruno looks at it thoughtfully–here, brazenly, while Guy's girlfriend Ann is calling on him.
When Bruno picks up a cheroot or a cigarette, we expect to see the lighter.
One of the film's most famous set-pieces involves Bruno straining to retrieve the lighter after it has fallen through a sidewalk grating.
Bruno has dropped it before, during Miriam's murder, but then he notices and retrieves it. It's as if this error has shown him how he might frame Guy if necessary. The image of the lighter in the grass previews for us what he plans to do with it later.
What does the lighter have to do with norms? Most obviously, Strangers on a Train teaches us to watch for its significance as a plot element. It's not only a potential threat, but also Bruno's intimate bond to Guy, as if Bruno has replaced Ann, who gave Guy the lighter. The film also invokes a normalized pattern of action–a character has an object he has stolen and will plant to make trouble–and treats it in a repeated pattern of visual narration. The character looks at the object; cut to the object; cut back to the character in possession of the object, waiting to use it at the right moment. Our ongoing understanding of the lighter depends on the norm-driven presentation of it.
Once we're fully trained, Hitchcock no longer needs to show us the lighter at all. En route to the carnival to plant the lighter, Bruno lights a cigarette with the lighter, although his hands conceal it. But then the train passenger beside him asks for a light.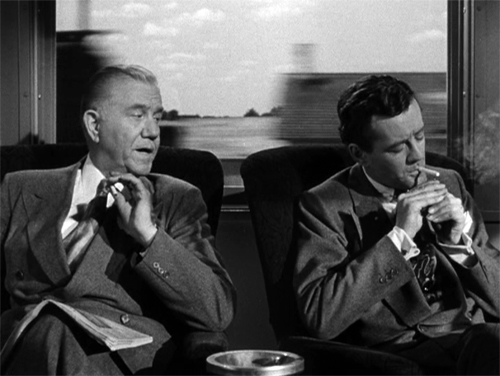 In order to hide the lighter, Bruno laboriously pockets it and fetches out a book of matches.
If we saw only this scene, we might not have realized what's going on, but it comes long after the narrational norm has been established. We can fill out the pattern and make the right inference. Bruno wants no witness to see this lighter.
The hand that cradles the rock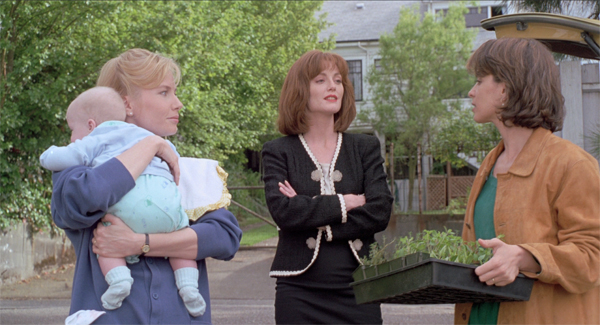 In The Hand That Rocks the Cradle, under the name Peyton Flanders, Mrs. Mott becomes nanny to Claire's daughter and infant son. Pretending to be a friendly helper, she subverts Claire's daily routines and her trusting relationship with Michael. As in most domestic thrillers, the accoutrements of upper-middle-class lifestyle–a baby monitor, a Fed Ex parcel, expensive cigarette lighters, asthma inhalers, wind chimes–get swept up in the suspense. Peyton weaponizes these conveniences, and through a somewhat unusual narrational norm the film trains us to give her almost magical powers.
We get Peyton's early days in household filtered through her point of view. Classic POV cutting is activated during her job interview. She notices that Claire's pin-like earring drops off and she hands it back to her.
Attachment to Peyton gets more intense when she sees the baby monitor and then fixates on the baby.
We're then initiated into her tactics, and to the film's way of presenting them. Serving supper, Claire doesn't notice that her earring drops off again. Peyton does.
Breaking with her POV, the narration shifts to Claire and Michael talking about hiring her. But this cutaway to them has skipped over a crucial bit of action: Peyton has picked up the earring. Unlike Hitchcock, director Curtis Hanson doesn't give us a close-up of the important object in the antagonist's hand. In a long shot we simply see Peyton studying her fingers. Some of us will infer what she's up to; the rest of us will have to wait for the payoff.
After another cutaway to the couple, Peyton "discovers" the earring in the baby's crib. Her show of concern for his safety seals the hiring deal and begins her long campaign to prove that Claire is an unfit mother.
This elliptical presentation of Peyton's subterfuges rules the middle section of the film. Selective POV shots suggest what she might do, but we aren't shown her doing it–only the results. For instance, Claire lays out a red dress for a night out. Peyton sees it, then sees some perfume bottles.
Cut to Claire and then to an arriving guest, and presto. When she returns to the mirror, her dress is suddenly revealed as having a stain.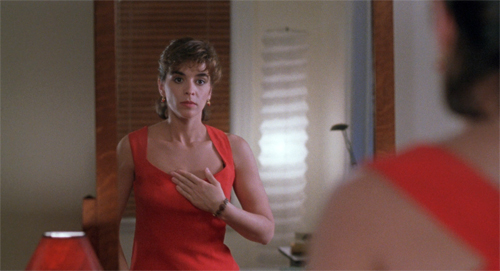 Later, Claire agrees to send off Michael's grant application during her round of errands. Once she gets to the Fed Ex office, she will discover the missing envelope. Before that, though, we get another variant of the intrinsic norm showing Peyton's trickery.
In the greenhouse, while Claire is watering plants, Peyton spots the envelope in her bag. We don't see her take it, and there's even a hint that she hasn't done so. A nifty shot lets us glimpse her yanking her arm away as Claire approaches. It's not clear that she has anything in her hand.
In what follows, the narration confirms Peyton's theft while building up the threat level.
If she's caught, this woman will not go away quietly.
While cozying up to the children–Peyton cuddles with Emma and even secretly breast-feeds baby Joe–Peyton eliminates all of Claire's allies. By now we know her strategy, so after she suggests to Claire that the handyman Solomon has been molesting little Emma, all the narration needs is to show us Claire discovering a pair of Emma's underwear in his toolbox. As with Bruno's pocketing the lighter in Strangers on a Train, we're now prepared to fill in even more of what's not shown: here, Peyton framing Solomon.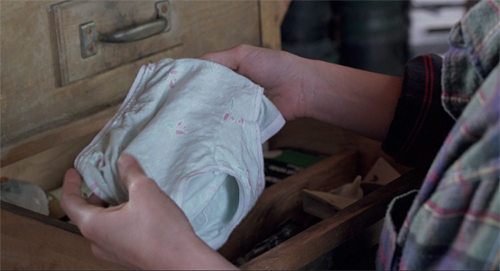 Michael, a furtive smoker, sometimes shares a cigarette with Marlene. So it's easy for Peyton to plant Marlene's lighter in Michael's sport coat for Claire to discover. Again, the moment of the theft has given her quasi-magical powers. She sees Marlene's lighter in her handbag in the front seat.
Again thanks to a cutaway, we don't see her take it. Indeed, it's hard to see how she could have; she comes out of the back seat with an armload of plants.
But later Marlene will tell Michael (i.e., us) that she's lost her lighter, and a dry cleaner will find it and show it to Claire.
The attacks have escalated, with Claire now suspecting Michael of infidelity. She confronts him without knowing that Michael has invited friends to a surprise party for her. Her angry accusations are overheard by the guests, and this public display of her anxieties takes her to a new low.
Peyton's revenge plan is almost wholly consummated, so we stop getting the elliptical POV treatment of her thefts. Instead, the plot shifts to investigations: first Marlene  discovers Peyton's real identity, with unhappy results, and at the climax Claire does. Her POV exploration of the empty Mott house counterbalances Peyton's early probing of Claire's household. When she sees Mrs. Ott's breast pump–another domestic object now invested with dread–she realizes why baby Joe no longer wants her milk.
This is the point, fairly common in the thriller, when the targeted victim turns and fights back.
In The Hand That Rocks the Cradle, a familiar action scheme–someone swipes something and plants it elsewhere–is handled through an unusual narrational norm. The scenes showing Peyton's pilfering skip a step, and they momentarily let us think like her, nuts though she is. Thanks to editing that deletes one stage of the standard shot pattern, the film trains us to see how banal domestic items, deployed as weapons, can destroy a family. In the course of learning this, maybe the movie makes us feel smart.
Arguably, we're able to fill in the POV pattern in The Hand That Rocks the Cradle because we've learned from encounters with movies that used the standard action scheme, including Strangers on a Train. This is one reason film style has a history. Dissolves get replaced by fades, exposition becomes more roundabout, endings become more open. As audiences learn technical devices, intrinsic norms recast extrinsic ones and some movies become more elliptical, or ambiguous, or misleading. All I'd suggest is that we get accustomed to such changes because films teach us how to understand them. And we enjoy it.
---
The passage about training us comes from my Narration in the Fiction Film (University of Wisconsin Press, 1985), 45. I discuss norms in blog entries on Summer 85,  on Moonrise Kingdom, on Nightmare Alley, and elsewhere. A book I'm finishing applies the concept to novels as well as films.
The example of mismatched reverse angles comes from The Irishman (2019) In the first cut, Frank is starting to settle his coat collar, but in the second, his arms are down and the collar is smooth. In a later portion of that second shot, Hoffa gestures freely with his right hand, but in the over-the-shoulder reverse, his arm is at his side and it's Frank who gets to make a similar gesture. To be fair, I should say that I found some striking reverse-angle mismatches in Strangers on a Train too.
For more on conventions of the domestic thriller, go to the essay "Murder Culture."
Radomir D. Kokeš offers an analysis of how Kristin and I have used the concept of norm. We are grateful for his careful discussion of our work and his exposition of the achievement of literary theorist Jan Mukarovský. See "Norms, Forms and Roles: Notes on the Concept of Norm (not just) in Neoformalist Poetics of Cinema," in Panoptikum (December 2019), available here.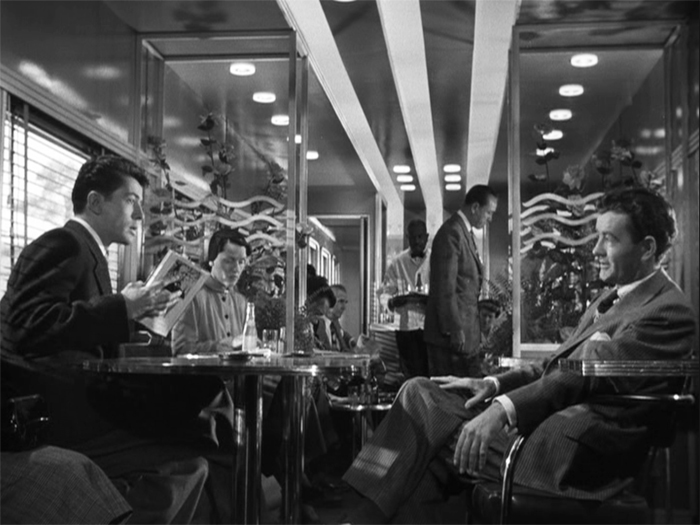 Strangers on a Train (1951).