Sunday | July 5, 2020
open printable version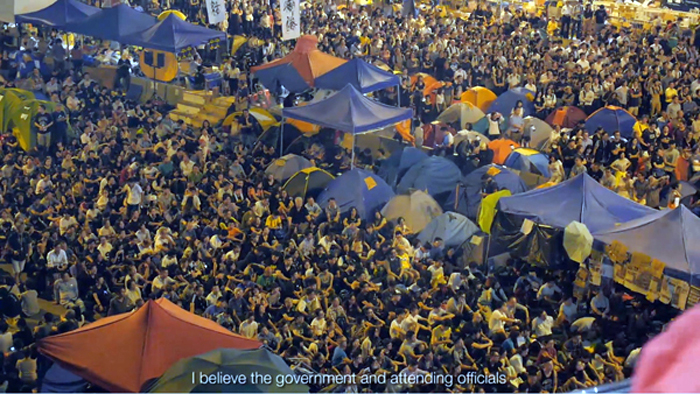 Yellowing (2014).
DB here:
Since forever, or so it seems, reports in the US media have been dominated by the struggles against the domestic fascism incarnated in the Republican Party and its leader Donald Trump. Every day, we've been subject to fusillades of stories about our collapsing economy, the pervasive corruption of the federal government and the judiciary, Trump's frenzied efforts to whip up his racist supporters, and his failure to contain the coronavirus. In this churn, one world-altering event has gotten little attention: Mainland China's swift and brutal takeover of the civil society of Hong Kong.
This spring, a new law–one that makes a mockery of lawfulness–was shoved through. Drafted in secret, its provisions were not made public to Hong Kong citizens or representatives before the central authorities in Beijing ratified it. It went into effect on 30 June. A good overview of timeline is on the BBC site.
While claiming to be within the One-Country/Two-Systems provision of the 1997 handover, the bill actually violates that, placing ultimate power in Beijing. The law devotes considerable attention to the purposes of
safeguarding national security;  preventing, suppressing and imposing punishment for the offences of secession, subversion, organisation and perpetration of terrorist activities, and collusion with a foreign country or with external elements to endanger national security in relation to the Hong Kong Special Administrative Region. . . .
The law goes on to indicate what counts as subversion:
(3) seriously interfering in, disrupting, or undermining the performance of duties and functions in accordance with the law by the body of central power of the People's Republic of China or the body of power of the Hong Kong Special Administrative Region; or (4) attacking or damaging the premises and facilities used by the body of power of the Hong Kong Special Administrative Region to perform its duties and functions, rendering it incapable of performing its normal duties and functions.
Obviously street demonstrations could "interfere in" or "disrupt" the activities of the territory's "body of power"–as it resides in the bureaucracy, the police, and other realms of society. The penalties are severe:
A person who is a principal offender or a person who commits an offence of a grave nature shall be sentenced to life imprisonment or fixed-term imprisonment of not less than ten years; a person who actively participates in the offence shall be sentenced to fixed-term imprisonment of not less than three years but not more than ten years; and other participants shall be sentenced to fixed-term imprisonment of not more than three years, short-term detention or restriction.
The Economist explains:
The bill could result in far more serious charges being laid against protesters should they engage in activities that were common during the recent upheaval. Vandalising public transport could now be treated as terrorism. Breaking into the legislature or throwing eggs at the central government's liaison office, as demonstrators did last year, could be considered subversive. Calling for Hong Kong's independence, as some protesters have, could invoke a charge of secession. Encouraging foreign countries to impose sanctions on China could result in prosecution for collusion. The maximum sentence for all four of these categories of crime is life in prison.
How tightly will these provisions be enforced? The answer comes in a story in today's New York Times. The day after the bill was enacted, a man was arrested for flying the Hong Kong flag during a demonstration. Police also arrested a 15-year-old girl for "inciting subversion" and a young man who carried in his bag a banner urging Hong Kong independence.
Other provisions lay out punishment for "terrorist activities" and, not least, "collusion with a foreign country or with external elements to endanger national security." Possible offenders include international companies or non-governmental agencies that
provoke by unlawful means hatred among Hong Kong residents towards the Central People's Government or the Government of the Region, which is likely to cause serious consequences.
A firm that participated in sanctions against China, or an NGO objecting to human-rights treatment could be charged with "fostering hatred." The boundary between "lawful" and "unlawful" provocations will be left up to administrators such as the Secretary of Justice.
Hong Kongers saw clearly what might come. Such films as Yellowing and Ten Years foresaw just these strictures on free speech and free thought. Thanks partly to the 2014 Umbrella Movement, and the recent effort to pass a "Fugitive Offenders" bill, Hong Kongers' support for an open society has been peaking. That surge was expressed last fall not only in more rounds of street activism but in the election of democratic representatives to 90 per cent of district seats.
Like Trumpists, Hong Kong's business interests treat the behavior of the stock market as an index of prosperity. And it's true that the market has bumped up at the prospect of "stability" under the new law. Yet, as in the US, this has proven a weak indicator. In 2013, the markets crashed and China had to inject money and conceal the sources of the failure.
During my first visit in 1995, a Dutch businessman who was already planning to take his gains and depart told me that in twenty years Hong Kong would be "just another city on the China coast." He foresaw the mainland's plan to build up Shanghai, to shrink Hong Kong as a business center, and to gut its quasi-democracy.
In the runup to 1997, Britain could have offered passports to all its former subjects, if only as a gesture to restrain Beijing's hand. But of course that would have meant Margaret Thatcher acknowledging that there was something called "society," which she explicitly denied. (That is, we owe no collective obligations to one another.) Now, in an encouraging sign some three million "overseas nationals" (i.e. Hong Kongers born before 1997) may be allowed to emigrate to the UK and seek citizenship there. As for the US, Secretary of State Mike Pompeo and Congress have proposed measures to retaliate against Chinese officials. Given Trump's fear of offending Xi, I would not bank on his supporting the effort.
In all, the Dutchman's prediction was off only in its timing. China has squeezed Hong Kong ever since the takeover, but its citizens–long and mistakenly thought of as indifferent to politics–have fought back with shining commitment. They are as much a vessel of strategic, patient political energy as the Black Lives Matter and Me Too movements.
My heart goes out to my friends in Hong Kong, and all their fellow citizens. They have been, and I expect will continue to be, a model of tenacity and resilience for the rest of us. We are all Hong Kong now. We face new authoritarian policies emerging, it seems, in every news cycle.
---
P. S. 6 July 2020: Yvonne Teh's Webs of Significance blogsite offers a wealth of commentary on the changing culture and politics of Hong Kong. See especially her thoughts about Evans Chan's latest film We Have Boots.
P.P.S. 6 July 2020: I should have included this photo (from Lam Yik Fei of the Times) as a sign of tenacity and resilience.  HK demonstrators hold up blank signs. When will the PRC declare a blank piece of cardboard to bear "an intent such as secession or subversion"?
P.P.P.S. 13 July: Well, my answer came fast. The police are indeed arresting people for holding up blank sheets of paper.  From the Los Angeles Times:
Hundreds of people have been arrested for unlawful assembly since the law came into effect, some charged with violations including carrying items bearing protest slogans and Bible verses. No one knows what is safe. Even the word "conscience" printed on a sticker can get you into trouble in an atmosphere that is scary and increasingly surreal.
The first blank-paper protester on July 1 was a young woman who told reporters she held up white paper because she wasn't sure what would be illegal under the new law.
She had remembered a joke she'd read from the Soviet Union: an officer once arrested a person handing out fliers on Red Square, only to find that the fliers were blank. Undeterred, the officer shouted: "You don't think I know what you wanted to write?". . . .
Cartoonists drew protesters with empty speech bubbles, made emoji versions of their slogans and wrote out the tune to "Glory to Hong Kong" in numbers signifying the notes. A new graffiti theme appeared across the city: eight blank squares, each one holding space for a slogan whose absence seemed to speak out loud.
Two days after the white-paper protest, one of the arrested women was photographed walking out of the police station. She had been charged with illegal assembly and obstruction of police, according to local news reports.
She paused, her belongings slung over each shoulder, her eyes steady between a face mask and cap, and raised the blank paper once again.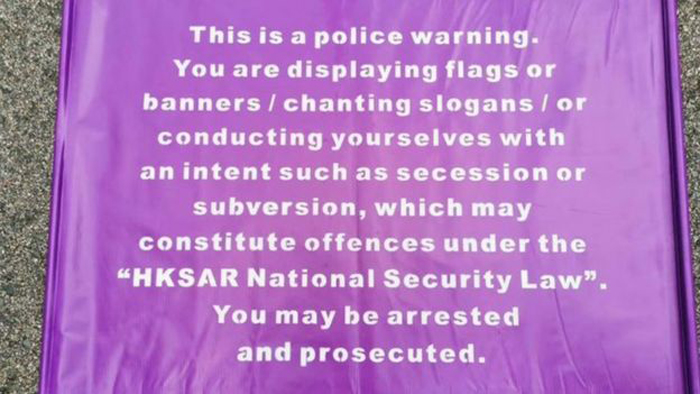 A banner carried by Hong Kong police facing demonstrators "conducting themselves with an intent such as secession or subversion."