Thursday | March 26, 2020
open printable version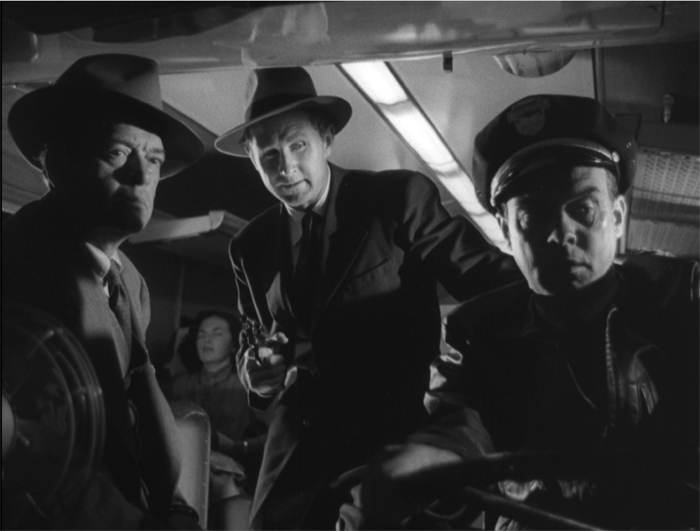 Trapped (1949).
DB here:
Films of the 1940s sported many vivid titles, from Double Indemnity to The Best Years of Our Lives. But a lot of them really didn't try too hard. We have Dangerous Lady, Shock!, Men on Her Mind, Bad Sister, Lust for Gold, and Criminal Lawyer. Even worse are Crack-Up, Manhandled, Temptation, Nightmare, Impact, Homicide, and even, the purest of all, Conflict.
Fortunately the lack of imagination didn't always extend to story and style. In the Forties, even minor genre films could get flashy, displaying weird plot turns and wild visuals. Nowhere was this truer than in films centered on crime and mystery.
Granted, this material always encouraged some unorthodox techniques. (We can find examples going back to the 1910s.) Still, whatever you think "noir" was, it encouraged filmmakers to push even further. A 1930s B would have been unlikely to be as bodacious as a moment in Detour (1945), when a single forward tracking shot lets the lights lower and makes a coffee mug as big as a bucket.
For such reasons we should be grateful to the Film Noir Foundation, to the UCLA Film and Television Archive, and to Flicker Alley for bringing us Trapped (1949). The generic title had been used by four earlier films, and it could refer to several of the characters, but the results onscreen are far less banal. I hadn't known the film, but if I had I might have wormed it into Reinventing Hollywood  for the wrinkles it adds to the government-agent semidocumentary.
Crime high and low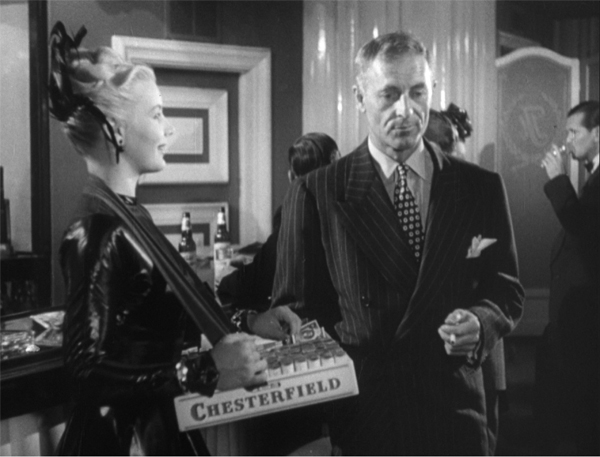 Product placement for studio Hollywood's favorite brand.
Trapped was produced by Brian Foy and distributed by Eagle-Lion, the same company that gave us the bizarre Repeat Performance (1947) and some of Anthony Mann's best Forties items. According to the disc's informative, pleasantly sensationalistic booklet, the project was hitching a ride on the success of Mann's T-Men (1947). The Treasury Department approved of the project, and the film includes lots of fascinating shot-on-the-street scenes of LA. Although director Richard Fleischer doesn't mention the film in his autobiography Just Tell Me When to Cry, he should have been  proud of it. (He does mention Clay Pigeon, though, a film I talk about in another entry.)
A stern voice-over launches a quasi-documentary montage of the rise of counterfeiting after the war. Tris Stewart is serving time, but bills with his signature have resurfaced. Agreeing to act as a mole, he's allowed to bust out of prison, but soon he eludes his federal handlers. He hooks up with his old girlfriend Meg and discovers that his precious plates are in the hands of an old adversary, Jack Sylvester. The bulk of the plot follows Tris's effort to fund a last big job before fleeing to Mexico with Meg. In the course of it, he joins up with John Downey, a down-at-heel gambler.
The viewpoint shifts freely among the characters, so we always know more than any one of them. We know that the Feds have wired Meg's apartment for sound. We learn that Downey is actually a government agent working to trap both Tris and Sylvester. And we see Tris eventually learn Downey's identity decide to double-cross him.
Meg has a pivotal role in precipitating the climax. She's naturally punished for hanging out with the wrong guy. I could apply my quatrain on Hollywood Stories:
The plot only works
If the men are all jerks;
But at the end of the game,
It's the woman to blame.
Lloyd Bridges plays the sort of natty, grinning sociopath whom he would make memorable in The Sound of Fury (1951, aka Come and Get Me!). The dry John Hoyt is needed to carry the last stretch of the film, which he does with sangfroid, but Tris exits the plot a little sooner than we'd probably like. Eddie Muller suggests that Tris was intended to be in the climax but production contingencies put Sylvester into it.
To compensate, the wrapup becomes one of those dazzling Forties climaxes played out on an overwhelming location. Like the gasworks in This Gun for Hire (1942), the field of storage tanks in White Heat (1948), and the Fort Point Compound of The Man Who Cheated Himself (1950), here a vast trolley-car barn provides spectacular compositions and lighting effects.
Noir really did bring out the best in creative personnel. Guy Roe, a camera operator and assistant since the 1930s, had moved up to Director of Photography for Sirk (A Scandal in Paris, 1946), Mann (Railroaded!, 1947), another punchy Eagle-Lion effort, and Boetticher (Behind Locked Doors, 1948), so he was ready to give this effort flamboyant touches, some overt and some more subtle.
We tend to think of crane shots as aiming for surveying vistas outdoors. By the 1940s, many interiors were shot with smaller cranes or vertically mobile dollies that permitted alternation between tight high- and low-angle setups.
Roe would go on to shoot more films now considered strong noir entries: Armored Car Robbery (1950, another flat title) and The Sound of Fury. This last, as I suggest here, promotes the same tight high angles we find in Trapped, with perhaps more fine-grained results.
Fleischer didn't have the blasting visual force of Mann, and Roe didn't have the baroque imagination of Mann's DP John Alton. Still, Trapped does deliver a handsome array of long-take deep-focus shots. These attest to the influence of Citizen Kane (1941) as a prototype for dynamic compositions, often exploiting ceilings on sets.
Such angles led directors  to think more about using the vertical stretch of the screen, again aided by a camera pitched slightly high or low.
One turning point, Tris's discovery of the Feds' bug in Meg's lamp, is designed to exploit a slightly tipped-down framing, with the splash of light accentuating the moment of revelation.
American crime films weren't unique in their pictorial bravado. Watching Trapped drove me back to Noose, a 1948 British film by Edmund T. Gréville. A semi-comic tale of London gangsters, it abounds in florid depth compositions. (See below.) Just more proof that the 1940s saw a new exploration of bold narrative and stylistic initiatives in sound cinema around the world. And those weren't confined to the big productions. Once new image schemas were available, artisans at all levels could make piquant uses of them.
---
The Flicker Alley release is nicely filled out with informative supplements contributed by Alan K. Rode, Eddie Muller, Donna Lethal, and Julie Kirgo. Mark Fleischer offers some touching reminiscences of his father's life and creative ambitions. Thanks as well to Jeffrey Masino and Josh Fu of Flicker Alley. And we owe a debt to the collector who deposited a 35mm acetate print at Harvard, whence it comes to us.
For more on 1940s cinematography, see our book The Classical Hollywood Cinema: Film Style and Mode of Production to 1960 and entries in the 1940s Hollywood categories here. Patrick Keating's central chapters in The Dynamic Frame: Camera Movement in Classical Hollywood supply a lot of information about the growing use of cranes and maneuverable dollies for intimate dramatic scenes.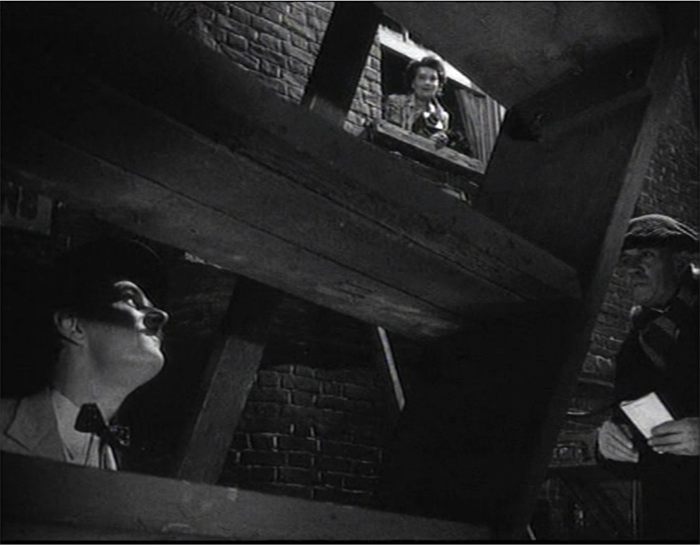 Noose (1948). A Brit noir ripe for Blu-ray release.