Thursday | October 10, 2019
open printable version

It Must Be Heaven (2019).
We wrap up our coverage of this year's Vancouver International Film Festival with a joint entry on movies from around the world.
Kristin here:
Out of Tune (2019)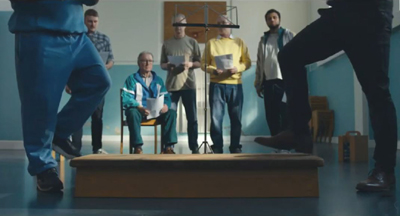 Danish director Frederikke Aspöck has created a prison film with a seamless combination of humor, social commentary, and a subtly disturbing undertone.
Markus Føns arrives in jail, awaiting trial for corporate fraud. As a result of his popular financial advice books, he is notorious for having caused many to face financial ruin.  He runs into the thuggish brother of a man who has lost a huge amount through Markus' advice. The brother insists that Markus is owes the brother the full amount he lost. He dismisses Markus' point that all investments are a gamble and, along with his gang, beat Markus up.
Terrified of further violence, Markus voluntarily transfers to the solitary-confinement wing,  joining rapists, child molesters, and others who fear being attacked by other inmates. The prisoners in this wing are not really isolated, however. They're let out to do chores, to sing in a choir, and to earn a bit of money by making pom-poms for local schools and celebrations.
The choir members (above), led by Niels, prove an engaging bunch, and much humor is generated by their disagreements about which songs from a collection of Danish classics they should sing. Markus initially sticks to his cell but finally joins the group. In one of the film's funniest scenes, Niels insists that Markus is not a tenor but a bass, forcing him to sing in a range that clearly is not natural to him.
One of the rules of solitary is that the prisoners are not allowed to reveal or discuss their crimes–though Markus is famous enough that all the others know what he did. Simon, a genial young black man, admires Markus and increasingly becomes his ally against the dictatorial Niels.
Gradually the tone darkens, however, as it is revealed that two of the main characters, including Niels, are pedophiles. Markus declares that his white-collar crimes are less heinous than child molestation. The others, however, including Simon, declare Markus' crimes worse. At that point he decides to take his revenge on the group and especially Niels, by seizing the leadership of the choir.
This balancing act between humor and drama works well, with Aspöck managing to make the pedophiles somewhat sympathetic and amusing characters without excusing their crimes. The satire on how upper-class celebrity criminals like Markus manage to become objects of fascination is effective without becoming heavy-handed.
It Must Be Heaven (2019)

I am a fan of the Palestinian director Elia Suleiman, who manages to make autobiographical feature films at wide intervals. I am particularly fond of Divine Intervention (2002) and I also like The Time That Remains: Chronicle of a Present Absentee, which we saw in Vancouver in 2009.
It Must Be Heaven does not quite achieve the excellence of those earlier two films, being a bit uneven. Still, it contains many excellent scenes and gags, and it was among the best films I saw at this year's festival.
The earlier portion sets up Suleiman's sense of unease about the events that surround him in his native Nazareth. A running motif has him peeping timidly over his back wall as his neighbor's son without permission picks lemons from his trees. Gradually the man takes over the care of the whole orchard.
Eventually Suleiman goes abroad, and we soon learn that he is seeking funding for his next film, presumably the film we are now watching.
Two of the funniest scenes take place in the offices of the producers Suleiman visits in Paris and New York. Both end in failure, but the huge number of international companies and funding agencies listed in the credits suggests that the director's efforts must have been complex, lengthy, and, in some cases successful. The scene in New York involves a cameo by Gael García Bernal, who has an offer on a Mexican project of his own, but he obviously has little control of that project, let alone the ability to aid his friend Suleilman. The one in Paris has Vincent Maraval, of Wild Bunch (one backer of the film) playing a producer who rejects the project as not Palestinian enough.
Other than visiting producers, Suleiman wanders the streets of Paris and New York, observing incongruous events around him. Some of these are very amusing, others simply odd.
Comparing It Must Be Heaven to Suleiman's earlier "autobiographical" films, the basic problem here becomes apparent. While Suleiman (or an actor playing him as a child) wove in and out of the action, participating in it, here many scenes involve him as a largely passive observer of events that have little or nothing to do with him. In one such scene, he sits at a cafe table, watching as four police officers carefully measure the spaces of the outdoor tables before pronouncing them compliant with regulations (see top).  In Palestine he walks in the country and observes a Bedouin woman with a novel way of transporting two large vats of liquid. In Paris he observes police on Segways performing a search in the street below in perfectly choreographed loops. At times he is more affected by the action, as when a tattooed muscle-man stares at him threateningly in an otherwise empty Métro car.
Suleiman is an engaging performer, but watching him stare in bemusement at the odd behavior that he encounters in each place he visits grows a bit old. Nevertheless, there are many funny or just bizarre scenes in the film, including a lengthy tussle between Suleiman and an invading sparrow determined to perch on his keyboard. The visit to Paris, in which Suleiman somehow got the streets emptied so that he wanders completely alone through them is both impressive and somewhat disconcerting (above).
Suleiman is routinely compared to Tati and Keaton, but his work is similar to that of  Roy Andersson too,  is equally apt, although Andersson does not assign a single character to be an observer. Here to a considerable extent Suleiman keeps to the long-shot framings that are familiar from his other films, but there are also more close-ups, in particular of his face as his reacts to what he sees.
It Must Be Heaven suggests that wherever Suleiman goes once he leaves his Palestinian home, he sees the same sorts of odd behavior, especially the violence that has become endemic everywhere. (A particularly hilarious episode shows Suleiman shopping in New York and noticing that everyone around him, including babies, is carrying some sort of weapon, from pistol to bazooka.) I suspect, however, that most viewers would fail to catch the political points Suleiman claims in interviews to be making.
DB here:
Oh Mercy (Roubaix, une lumière)(2019)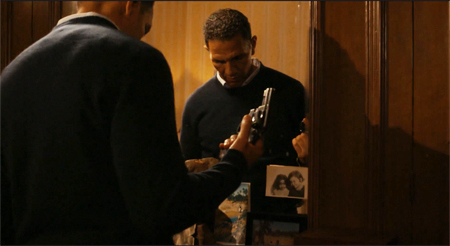 Arnaud Desplechin regards his previous films (Esther Kahn, Kings and Queen,  A Christmas Tale) as "a fireworks of fiction," as he explained in a Q & A session. His latest, Oh Mercy, is based on fact. The screenplay dramatizes criminal cases that took place in Roubaix, the impoverished town Desplechin grew up in. The result is an unusual policier, which twists some crime-movie conventions in intriguing ways.
As we expect, the cops form a team. The emphasis is divided between the young and eager Louis Coterelle and the experienced chief Daoud. But Coterelle is an ascetic young man, reminiscent of Bresson's country priest. Daoud, rather than being the tough boss who has to make his staff shape up, is an eerily quiet and sympathetic professional. Cast out by his family, he devotes his life to his work (and the occasional horse race). These characters keep surprising us. It's the pious Coterelle who, pushing to make his mark, bullies suspects, while Daoud's gentle ways eventually tease the truth out of them.
The police procedural typically shows several cases worked at once, with some minor ones and others explored in more detail. Desplechin's film does the same, as an automobile fire and a petty robbery introduce us to the main cops. To help a friend, Daoud must also investigate a runaway teenager. Soon there's a building fire, and then a murder on the same block. Gradually it becomes clear that these two crimes are connected–another convention of the genre.
It's the nature of the connection, though, that reveals Desplechin's originality. About halfway through the film the police commit their energies to questioning two women, Claude and Marie, who share an apartment. In a string of riveting interrogations, the film shows Coterelle and Daoud, each in their own way, peeling back layers of the women's relationship. It's a tour de force relying on the Prisoner's Dilemma, and it reveals as much about the cops as it does about the sad, confused lovers. Even the reenactment of the crime, another staple of the genre, avoids sensationalism and achieves a mournful gravity.
Most cop movies make justice a matter of vengeance ("This time it's personal"), so it's rare to find one about pity. The lies and mistaken memories that prolong the investigation are accepted by Daoud with quiet compassion. A gradual-revelation film like this, impeccably plotted and directed though it is, depends crucially on performances, and the principals (Roschdy Zem as the patient Daoud, Léa Seydoux as Claude, Antoine Reinartz as Coterelle) are extraordinary. Above all I will remember Sara Forestier as the skittish Marie, perpetually corrugating her forehead, always a beat behind in appraising how much the woman she loves loves her.
---
Once more we thank Alan Franey, PoChu Auyeung, Jenny Lee Craig, Mikaela Joy Asfour, and their colleagues at VIFF for all their kind assistance. Thanks as well to Bob Davis, Shelly Kraicer, Maggie Lee, and Tom Charity for invigorating conversations about movies. In addition, we appreciate the generosity of Arnaud Desplechin in answering questions about his film.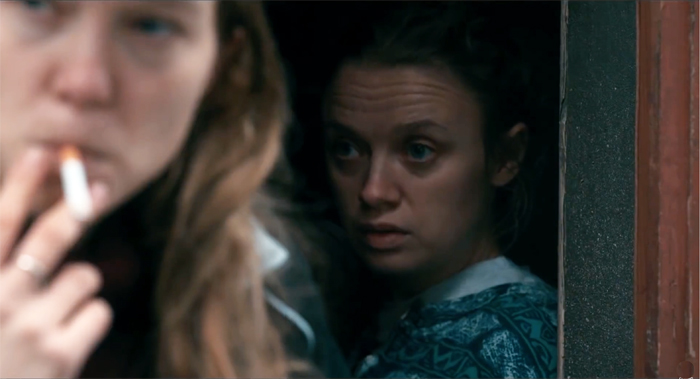 Oh Mercy (2019).