Sunday | August 25, 2019
open printable version
The Wrecking Crew (1969).
Jeff Smith's blog entry on Once Upon a Time . . . in Hollywood has been our most popular offering this year. In the wake of that, he offers a few more observations. (DB)
The film's commercial success confirms the value of original intellectual property, up to a point. Four weeks after its release, Once Upon a Time in…Hollywood's current box office total is just over a $120 million for the domestic market. It's also earned about $117 million in foreign markets. It seems likely to be the only film this summer to surpass $200 million globally that is neither a remake, a sequel, nor a franchise film.
Still, I agree with the general sentiment that there are no blue-sky lessons to be learned here. Tarantino is one of those rare talents who offers viewers a unique personal vision that has appeal beyond the arthouse. (Others would include Alfonso Cuarón, Damien Chazelle, and, of course, Christopher Nolan.) Current projections put Once Upon a Time . . .'s cumulative box office total around $385 million. That figure would fall short of Django Unchained's $425 million, but would be considerably better than Inglourious Basterds' $321 million. Not quite Inception or Gravity money, but not chump change either.
Tarantino's film also gives Sony Pictures something to promote this Oscar season, along with Tom Hanks as Fred Rogers in A Beautiful Day in the Neighborhood and Greta Gerwig's take on Little Women. Once Upon a Time…in Hollywood seems likely to snag several nominations in major categories. I would be very surprised if it didn't score nods for Best Picture, Best Director, Best Original Screenplay, Best Actor, Best Supporting Actress, and Best Cinematography.
I also have a few stray observations that didn't make it into my earlier post. One is another element of counterfactual history.
One evening Cliff and Rick watch "All the Streets Are Silent," the episode of The F.B.I. that Tarantino has recreated. They want to see the Rick's guest spot as Michael Murtaugh, alongside James Farentino and Norman Fell. But who actually played Murtaugh in that episode? None other than the late, great Burt Reynolds, whom Tarantino had originally cast in the role of George Spahn.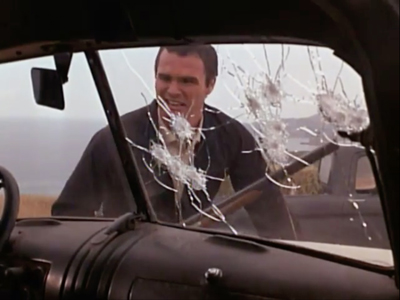 Reynolds is among a trio of sixties stars who served as role models for Rick Dalton. Steve McQueen is perhaps the most notable, both as a character who appears in the scene at the Playboy Mansion and as the star of The Great Escape, a part Rick had hoped to get. McQueen also came to movies from the small screen. From 1958 to 1961, he was the star of Wanted: Dead or Alive, a show that was an inspiration for Bounty Law.
The second model for Rick is, of course, Clint Eastwood. Eastwood made his mark as the star of TV's Rawhide before achieving international fame in spaghetti westerns playing Sergio Leone's Man with No Name. This trajectory is echoed in Rick's late-career arc, although his westerns don't achieve the renown of Eastwood's.
Burt Reynolds' path to stardom was somewhat different from McQueen's and Eastwood's. Reynolds played only a supporting role on CBS's Gunsmoke from 1962 to 1965 before he went to Italy to star in Sergio Corbucci's Navajo Joe. Again, Rick follows this pattern, as we see when he moves from supporting TV parts to starring in the fictional Corbucci title Tarantino devised, Nebraska Jim.
What most differentiates Reynolds from the other two stars, however, was his close relationship with stuntman Hal Needham. Needham did stunt work in more than 300 films and 4500 television episodes, often acting as Reynolds' stunt double. He also did uncredited stunt work on a handful of films and shows referenced in Once Upon a Time . . . in Hollywood, such as Mannix, C.C. & Company, and The Life and Times of Judge Roy Bean. Needham would later direct Reynolds in several box office smashes, like Smokey and the Bandit and The Cannonball Run. In Once Upon a Time . . . in Hollywood, Rick's rapport with Cliff was inspired by Reynolds' and Needham's long friendship, a professional association which spanned almost forty years.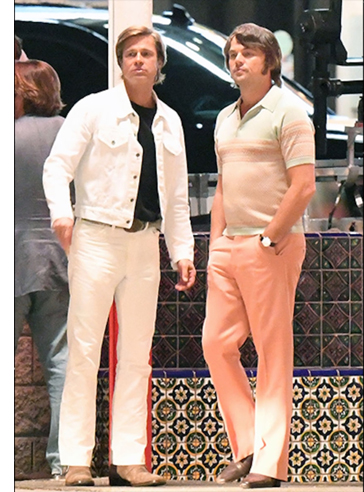 Lastly, a sharp-eyed reader of the blog, Karl Wallin, also pointed out another connection between Once Upon a Time . . . in Hollywood and The Wrecking Crew. (Karl is an old chum and the only person I know even more obsessed with Tarantino's film than I am.) Karl noted that the white denim suit that Cliff wears in the blood-soaked climax matches the white suit Matt Helm wears during the last twenty minutes of The Wrecking Crew. (See top still.)
Karl pointed out another serendipitous connection between different aspects of the Manson case. As I mentioned in the earlier post, Manson met a couple of times with record producer Terry Melcher about the prospect of signing a contract. Melcher ultimately soured on the deal, which led Manson to target the producer's former residence as the site of the first murders. On some of the albums Melcher produced, he worked with a loose collection of extremely talented session musicians that were the Los Angeles equivalent of Motown's The Funk Brothers. The group included several notable instrumentalists, such as guitarists Glen Campbell and Tommy Tedesco, pianists Leon Russell and Dr. John, bassist Carol Kaye, and drummer Hal Blaine. The name of this loose collective? The Wrecking Crew!
This is, of course, the title of the Matt Helm film that featured the real Sharon Tate as Dean Martin's co-star. In Once Upon a Time . . . in Hollywood, the fictional Sharon Tate watches the real Sharon Tate perform in The Wrecking Crew at the Bruin Theater in Westwood.
The fact that the film and the group of session musicians shared the same name is really just a coincidence. Long before Dean Martin played a knockoff James Bond, author Donald Hamilton featured the character in a series of novels that aimed to rival the success of Ian Fleming's books. Tate's The Wrecking Crew takes its name from Hamilton's 1960 novel.
In contrast, Hal Blaine popularized the name, the Wrecking Crew, in his memoir about the group. Other members, though, have reported that the collective went by other names, such as the Clique and the First Call Gang. Since the group was known by different names, it is hard to know how widely circulated "The Wrecking Crew" was as a particular moniker, even as late as 1969.
So it might be just happenstance that Sharon Tate not only lived in the same house as Melcher, but that their reputations within the entertainment depended upon their association with "wrecking crews." Still, given the prominent role The Wrecking Crew plays in Tarantino's film, I find it hard to believe that he wasn't aware of this connection. Indeed, I suspect he really relished its irony.
The buzz surrounding Once Upon a Time . . . in Hollywood has not subsided much after its release. (Consider the items listed above as a little more fodder for those water cooler conversations.) As Tarantino's most personal film, it remains a love letter both to the city of Los Angeles and to the popular culture of his youth.
It's also a portrait of an industry in the midst of change and so offers an interesting perspective on our current historical moment. As several major studios prepare to launch their own streaming services, Tarantino's fondness for 35mm projection and "appointment" television may look even more nostalgic just a few years from now. Yet even as the contemporary film and television industries gear up for further change, Once Upon a Time . . . in Hollywood is a vivid demonstration of the power of popular storytelling. It reminds us that Hollywood is much more than a place. It's a state of mind.
---
A recent analysis of Once Upon a Time . . . in Hollywood's box office prospects can be found here.
The opening of The FBI episode, "All the Streets are Silent," can be found here. A video essay discusses Burt Reynolds and Hal Needham's long professional association – and its influence on Tarantino. For those who want to see Dean Martin in action while wearing that white suit, check this excerpt from The Wrecking Crew. Hal Blaine's memoir on his years with the Wrecking Crew can be found here.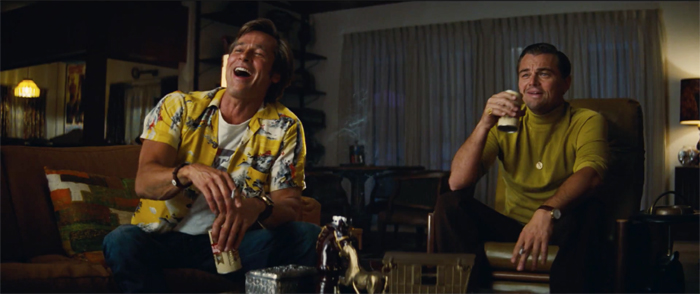 Once Upon a Time . . . in Hollywood (2019).