Friday | December 21, 2018
open printable version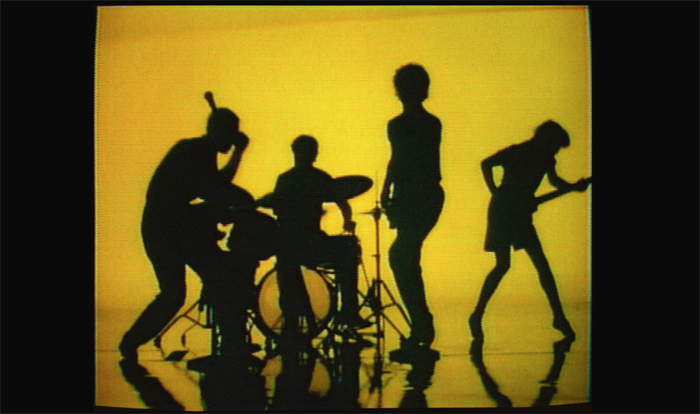 True Stories.
Jeff Smith is no stranger to this blogsite. He has written several entries, some based upon his Criterion Collection commentaries for FilmStruck, others on topics related to film sound and scoring. Here he brings his massive expertise to bear on the music of True Stories, newly available in a 4K transfer from Criterion.–DB
Jeff here:
As promised, this is a follow-up blog to David's discussion of True Stories and its collage of tabloid culture, kitsch, Performance Art, Robert Wilson, Andy Warhol, Jeff Koons, and Our Town. At least some of these connections also characterize the New York music scene in the 1970s from which Talking Heads emerged. Buoyed by the energy of punk and New Wave, Byrne had long straddled the boundaries between mass culture and the avant garde.
As before, Andy Warhol serves as something of a role model. Besides designing album covers for mainstream pop performers, such as the Rolling Stones, Billy Squier, and Diana Ross, Warhol also served as the nominal producer of The Velvet Underground & Nico. The artist himself is also the subject of David Bowie's "Andy Warhol" from Hunky Dory and Lou Reed's "Andy's Chest," an outtake that eventually surfaced on VU, the 1985 compilation of Velvet Underground miscellany.
Working in the opposite direction, Byrne and company's connections to the Manhattan cultural scene gave their work a kind of artistic credibility. Yet their avant garde impulses were always counterbalanced by a veneration of the soul, funk, and blues music that shaped rock and roll's art and history. In what follows, I trace the long and winding road Talking Heads took in their journey to True Stories, both as film and as album.
Making the scene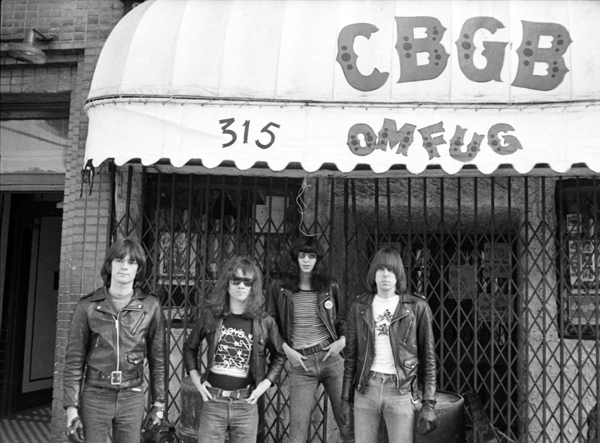 The Ramones at CBGB in the 1970s.
David Byrne's band, Talking Heads, is almost certainly the most successful group to emerge from the downtown New York music scene of the late 1970s. Of the eight albums the band released between 1977 and 1988, seven of them were certified either gold or platinum. Little Creatures, the album released just before True Stories, went double platinum, selling more than two million units. So did Stop Making Sense, the soundtrack to their concert film directed by Jonathan Demme.
At the start of their recording career, much of the energy surrounding the New York music scene centered on the venerable East Village club, CBGB. Its name was short for "Country, Bluegrass, and Blues." Yet the bands who came to be identified with the venue were about as far away from roots music as you could get. Initially, CBGB was associated with the emerging American punk rock scene. The Ramones were frequent performers as were the Plasmatics, Richard Hell and Voidoids, and Johnny Thunders' band, the Heartbreakers.
Yet the range of musical styles represented at CBGB ventured quite far afield from the sped-up, chainsaw guitar sounds of punk. Patti Smith channeled her inner Rimbaud over Lenny Kaye's Nuggets-inspired guitar lines. Television featured the evocative string-bending of Tom Verlaine. who stretched out in long solos using modal scales that fused Ravi Shankar with John Coltrane. James Chance and the Contortions showcased the wild saxophone playing of their frontman, specializing in a peculiar form of avant-funk jazz. Blondie began by refashioning sixties garage rock into their own brand of punk. But their style became more eclectic, branching out to include disco, calypso, and rap. They attained a huge crossover success in the process, thanks to lead singer Debbie Harry's sex appeal and sultry alto.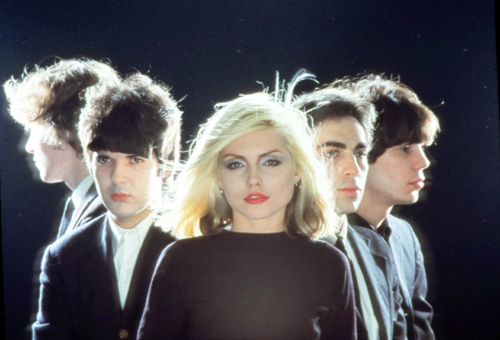 Talking Heads sounded like none of these. "New Feeling," the second track on their debut album, established the template for the band's music: skittering guitar lines, tightly wound rhythms, and David Byrne's strangled yelp. Its spare, spiky pop sound featured the rhythmic interplay of Byrne's and Jerry Harrison's guitar lines and the precise sixteenth note fills of drummer Chris Frantz.
Talking Heads 77 occasionally added elements that slightly broadened their musical palette. Think of the steel drum sounds that color "Uh-Oh, Love Comes to Town" or the loping electric piano chords of "Don't Worry About the Government." Indeed, the latter wouldn't sound out of place in a Sesame Street bumper.
Yet, the album's flagship single was "Psycho Killer" for a reason. Its nervy energy epitomized the group's sound in its early days at CBGB. This was rock and roll to be sure. But it seemed like the kind of thing the subject of Edward Munch's The Scream would dance to if he ever got off that bridge.
Talking Heads' follow-up, More Songs About Buildings and Food, initiated a period of fruitful collaboration with producer Brian Eno. Using synthesizers and other keyboard instruments to flesh out the band's sound, Eno nudged the Heads toward more danceable tunes. Built on Tina Weymouth's pliant, bouncy bass lines, songs like "Found a Job" and "Stay Hungry" saw the band incorporating elements of seventies funk, soul, and disco. The band's cover of Al Green's "Take Me to the River" also gave the group their first chart hit.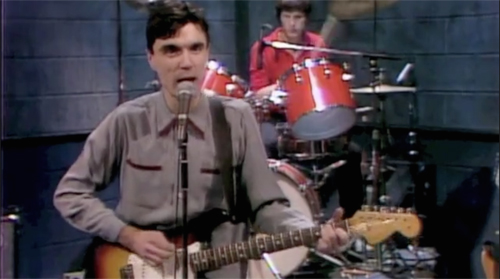 That single's slow climb peaked the same week of Talking Heads' television debut on Saturday Night Live. For many viewers, this was their first encounter with Byrne's "Norman Bates meets Pete Townshend" persona. And, even though Byrne's hipster nerd desperation seemed the absolute antithesis of Green's "lover man" come-on, his apparent interest in exploring black musical idioms felt almost painfully sincere.
Bringing Noho to the bush of ghosts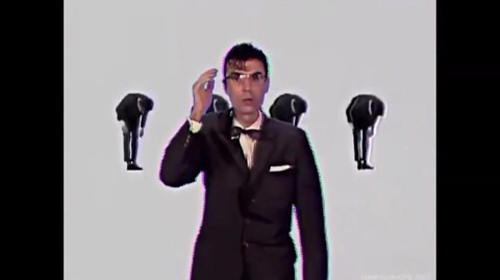 Music video for Once in a Lifetime.
Over the next three albums, the Heads' collaboration with Brian Eno pushed them even deeper into world musical cultures. The band simplified their song structures, but increased the complexity of their arrangements and instrumentation. "I Zimbra" added Cuban, Brazilian, and African percussion along with the signature stylings of Robert Fripp's guitar work. Remain in Light's densely layered synthesizers, various types of drums, and percussion atop the guitars, bass, and trap set that had been the core of the group's sound since their first album. Created through countless overdubs that enabled each band member to play percussion alongside their normal instruments, the album featured extended Afrofunk and worldbeat grooves that interwove "call and response" vocal lines with intricate polyrhythms.
To recreate this sound on stage, the band recruited several players from other groups. On tour Talking Heads became a sort of New Wave supergroup with King Crimson's Adrian Belew on guitar, Ashford and Simpson's Steve Scales on percussion, and Funkadelic's Bernie Worrell on keyboards. The expansion of Byrne's musical vision was nothing short of stunning. Using improvised jams and communal music-making as a point of departure, Remain in Light went well beyond the faux gospel and art school irony of "Take Me to the River." By mixing preachers' rants with the wordplay of Bronx rappers, Byrne discovered his inner Fela Kuti.
Talking Heads start making cents (on sync licenses)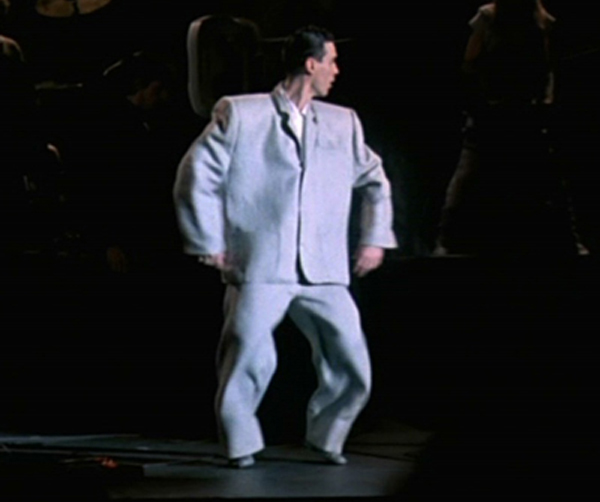 1983 would prove to be a watershed year for Talking Heads. The band released Speaking in Tongues, which spawned their first top ten hit, "Burning Down the House." The record also represented a kind of apotheosis. It was less musically adventurous than Remain in Light. But it seamlessly blended the band's early New Wave sound with its later Afrofunk influences. Instead of grooving on one chord, most songs on Speaking in Tongues contained more conventional harmonic changes. And instead of building songs out of shorter "loops," the new record featured much more traditional song structures with clear demarcations of verses, choruses, and bridges.
The album also served as the centerpiece of Jonathan Demme's concert film, Stop Making Sense, which was filmed over four separate dates in December of 1983 at the Pantages Theater in Los Angeles. The set list more or less traced the history of Talking Heads, beginning with David Byrne performing "Psycho Killer" on an acoustic guitar accompanied by a rhythm track played back by a boombox. It closed with a performance of "Crosseyed and Painless" that featured the full tour ensemble, including Scales, Worrell, guitarist Alex Weir, and two female backup singers. In between, Byrne bounced around the stage in his big white suit, turning the concert stage into a space for performance art. As before, Byrne seemed to self-consciously reject the usual rock star poses. Instead, he shook, squirmed, and jerked like a giant white Gumby on a hot tin roof. Stop Making Sense went on to become a modest commercial success and won the National Society Film Critics award for Best Documentary of 1984.
Between 1983 and 1986, Talking Heads also saw their profile raised by the use of songs in other popular films. The group had already been featured in a motley group of titles prior to Speaking in Tongues. "Life During Wartime" was included in Alan Moyle's Times Square (1980), a teen comedy about two aspiring punk singers in New York. But so was almost every other hot artist of the moment, such as Joe Jackson, Gary Numan, the Cars, the Cure, and the Pretenders. The Heads had also performed "Psycho Killer" in Bette Gordon's short film, Empty Suitcases.
The industry surge in soundtrack sales in the early to mid-eighties, though, gave Talking Heads access to more high-profile studio projects. "Burning Down the House" made an appearance in the rowdy fratboy comedy, Revenge of the Nerds. And the use of "Once in a Lifetime" over the opening credits of Paul Mazursky's Down and Out in Beverly Hills (1986) fueled the song's return to Billboard's Hot 100 more than five years after it was released.
A much more interesting case of music licensing occurred with the push given to "Swamp," the opening track on side two of Speaking in Tongues. Robbie Robertson of The Band selected the song for inclusion on the soundtrack of King of Comedy (1982) well before the album was released. It then appeared again just months later in the Tom Cruise teen comedy, Risky Business. The reuse of "Swamp" so soon after Scorsese's film might well be a case of serendipity. Paul Brickman, Risky Business' screenwriter and director, likely glommed onto it when he heard David Byrne intone the phrase "risky business" in the song's last verse.
"Swamp," though, anticipated yet another change of direction in the band's music. Unlike the worldbeat influences that were still evident in the rest of Speaking in Tongues, the track returned Talking Heads to American terra firma, more specifically the musical idioms of the Mississippi delta. A slow, blues shuffle tune with strong triplet rhythms, "Swamp" was truly unlike anything else the group had done before. Floating on Bernie Worrell's funky synth textures, it sounded like a Parliament cover of an old Muddy Waters song. The fact that Byrne's vocals deliberately mimicked John Lee Hooker just added to its overall strangeness.
But just as "I Zimbra" presaged Talking Heads' foray into Afrofunk, "Swamp" foreshadowed the band's turn toward American roots music. Their follow-up album, Little Creatures, showed the band branching out even further with the rollicking zydeco of "Road to Nowhere" and the soporific country weeper, "Creatures of Love." All of this would eventually lead Byrne and co. to True Stories and to a state with a musical canvas almost as large as its geography: Texas.
More songs about voodoo and dreams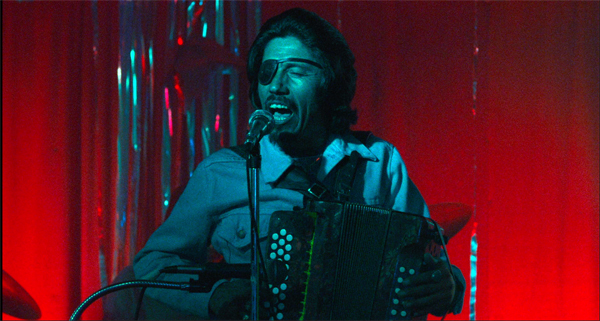 In the special features on Criterion's excellent edition of True Stories, David Byrne acknowledges that his conception of the film was partly inspired by his admiration for Robert Altman's Nashville. The resemblances between the two films aren't hard to discern. Both films feature multiple protagonists and use setting to unify the film's different plotlines. Both films include the perspectives of one or more outsiders — The Narrator in True Stories, Opal and John Triplette in Nashville — who serve as the viewer's guide to the community each explores. Both films also involve preparations for a local celebration – the talent show, the political rally – to motivate musical numbers by a variety of performers, much in the manner of a revue or jukebox musical.
Texas is home to a distinctive mix of different kinds of "roots" music. Byrne was keen to capture that breadth. In an essay on the music written for True Stories, Byrne says, "I realized there was a lot to represent – rock, country, Tex-Mex, polkas, Latin, lounge jazz, disco, and some made-up genres, like an accordion marching band." Trips to scout locations for the film brought Byrne into contact with a number of clubs and musicians. He then offered some local musicians an opportunity to contribute to the score. None of the groups represented is particularly well known outside of True Stories. Indeed, neither the Panhandle Mystery Band nor Brave Combo achieved even the modest fame accorded to Texas singers like Delbert McClinton or Freddy Fender. Still these local musicians definitely added to the "specialness" that Virgil represents.
In his collaborations with local musicians and the songs written for various actors to sing in True Stories, Byrne found himself serving two masters. On the one hand, Byrne wanted to pursue his vision for the film and to write songs that express the feelings and perspectives of various characters. On the other hand, though, Byrne also had to make sure these numbers still worked as Talking Heads tracks. It seems likely that Warner's willingness to support the film depended upon the ancillary revenues they hoped to earn from the soundtrack. The Heads had been signed by Sire Records, a subsidiary of Warner Music. Given the band's previous sales, a new Talking Heads album served as a hedge against the film's disappointing box office.
Virgil wants its MTV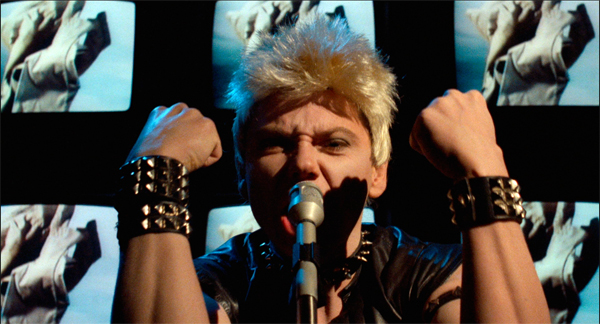 The three songs Talking Heads recorded specifically for the film – "Wild, Wild Life," "Love for Sale," and "City of Dreams" — are perhaps the best illustration of Byrne's need to create corporate "synergy" in the relationship between True Stories and its music ancillaries. All of them are foursquare rock and roll songs. No doubt they reassured Warner Bros. that they had commercially marketable singles that could generate radio airplay and hopefully drive traffic to movie theaters. "Wild, Wild Life" would become the second biggest hit in the band's history, peaking at #25 and spending about five months on Billboard's Hot 100 chart.
Notably, though, Byrne insisted these weren't genuine Talking Heads records. Instead, they represented the band's attempts to sound like other popular artists. Byrne described the role models for these tracks:
The closing song, "City of Dreams," is my version of a Neil Young anthem. Its lyrics echo the history lesson at the beginning of the film. "Love for Sale" was our version of a Stooges song, and "Wild, Wild Life" was my attempt at writing a song like something one might hear on MTV at the time.
Byrne doesn't give us a lot to go on here, but we can discern at least some similarities between the songs and the artists he cites. On "City of Dreams," Byrne's voice doesn't have the fragility that Young's "high lonesome" tenor conveys. But the lyrics evoke the kind of imagery found in some of Young's most famous songs, especially those that relate the experience of Native Americans. Indeed, Byrne's verse about the Spanish search for gold wouldn't seem out of place in "Cortez the Killer," the standout track on Young's 1975 album Zuma.
With its crunchy guitar riff and drum break, "Love for Sale" at least nominally sounds like it could be a track from the Stooges' Fun House. It certainly channels some of the proto-punk energy that made the Stooges, especially lead singer Iggy Pop, a revered cult band in the early seventies. Yet Talking Heads' performance shows their customary clockwork precision, and the record generally lacks the kind of wild abandon that one associates with the Stooges' best tracks. Eric Thorngren's audio engineering of "Love for Sale" also adds a layer of studio polish that an album like Raw Power most pointedly refuses. In an odd way, the recording gives us some insight into how the Heads might have sounded had they been a punk band in their CBGB days.
Perhaps the bigger irony here is that the song functions as an interpolated music video watched by the Lazy Woman during a bout of channel surfing. It shows Byrne's usual eye for inventiveness within the form: silhouettes, primary colors, and a surrealist arc in which each band member is molded into a chocolate figurine wrapped in foil. Yet here is where the similarity between the Heads and Stooges ends. Iggy Pop may have been known for pouring oil or honey on his body during Stooges concerts. But in 1986, the Stooges were about the last band one would expect to see on MTV.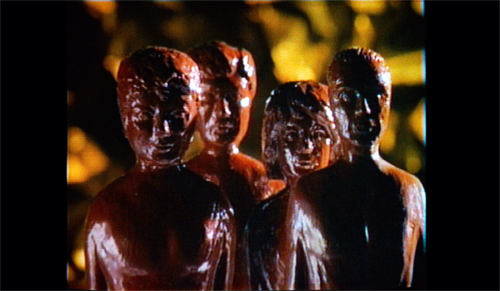 "Wild, Wild Life" is motivated in a similar way. Heard in a Virgil dance club, much of the film's cast lip syncs to it against a bank of video monitors. Like "Love for Sale," this footage became the basis of a very successful music video promoting the film. In a bit of an in-joke, guitarist Jerry Harrison twice appears onscreen dressed as an iconic rival artist: first as Billy Idol, then as Prince. (Note that Tina Weymouth also appears with Harrison as a fetching Apollonia.) Still, the lack of specificity in Byrne's description suggests that it was Talking Heads' attempt to make a rather generic pop record. In contrast to the film's celebration of "specialness," Byrne's explanation of the song's purpose functions as a backhanded critique of MTV's role as tastemaker. In trying to sound like everyone, "Wild, Wild Life" fit quite snugly into the music network's video rotation.
The sage in bloom is like perfume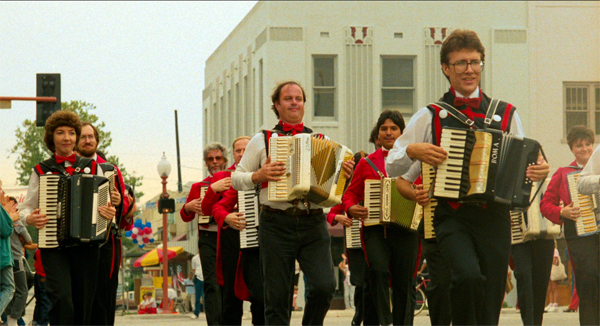 The film's remaining songs are performed by characters. They illustrate Byrne's desire to capture the breadth of Texas' musical culture in a variety of idioms. Other bits of music are also interspersed between these numbers. There are snatches of nondiegetic score based on Byrne's two "dream" songs ("City of Dreams" and "Dream Operator"). Meredith Monk contributed a brief minimalist theme that is featured in the film's opening and closing scenes. It is perhaps the clearest reminder of Byrne's outsider status, enveloping the film within the sounds of the downtown Manhattan arts scene. It also includes Carl Finch's "Buster's Theme" as music played during True Stories' infamous accordion parade.
At least two songs evoke the swamp pop of Eastern Texas, which shares much of its sound with the music of New Orleans. "Hey Now" features the simple tonic/dominant changes and "call and response" strophic patterns heard in second line parades during Mardi Gras. Sung by children, it sounds like a modernized version of the Dixie Cups classic, "Iko Iko."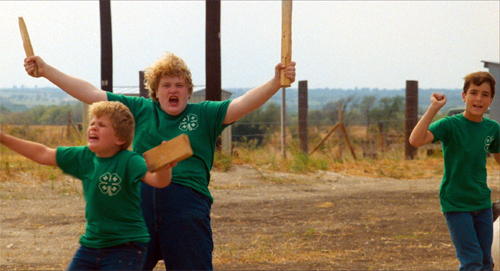 "Papa Legba," on the other hand, carries a more pronounced "island vibe," conjuring the Cuban and Jamaican styles that were such an important influence on Dave Bartholomew, Fats Domino, and Lloyd Price. Performed by the great Pops Staples, the style is apt since the song is ostensibly an appeal to a central figure in Haitian folklore. (Legba is a demigod in voodoo culture who facilitates communication between living beings and the souls of the dead.) Staples expressed concern about this scene. The actions of his character, Mr. Tucker, ran squarely against the actor's Christian faith. Yet, despite Staples' literal embodiment of the "magic negro" trope, Tucker's actions here come across as rather benign. He acts on Louis' behalf, and both characters seem so decent and honest that their resort to sorcery seems quite harmless.
In other films and television shows, such as Crossroads or American Horror Story, Legba is often trotted out as a stand-in for Satan himself. In True Stories, though, Tucker's Legba number is a slightly less hokey version of Leiber and Stoller's "Love Potion # 9."
"Puzzling Evidence" is a straightforward gospel number, delivered from the pulpit by John Ingle as The Preacher. As an enumeration of possible conspiracies, the scene might seem today as QAnon avant la lettre. But sober reflection suggests the song is further evidence that Richard Hofstadter's "paranoid style" of American politics has a long and rich history.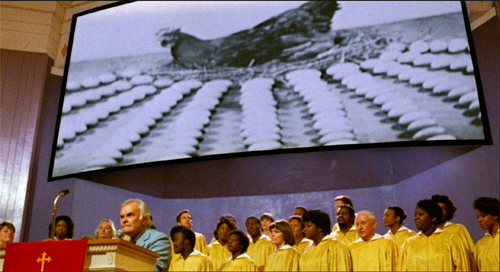 "Radio Head" represents the rich tradition of Hispanic styles in Texas musical culture: Tejano, conjunto, orquesta, mariachi, corrido. As performed by Tito Larriva, the tune borrows heavily from conjunto, which originated in the 1870s and fuses Spanish and Mexican vocal styles with the polkas, waltzes, and Mazurkas played by German and Czech immigrants. A central element of conjunto is the combination of 12-string guitars with button accordions. The latter has a distinctive reedy, yet sweet timbre contrasting that of the piano accordion.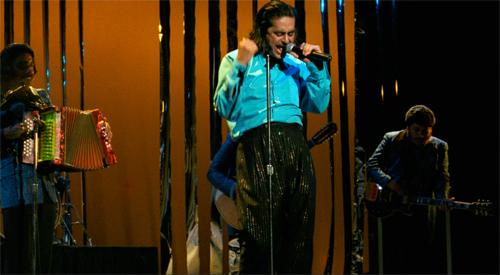 "Dream Operator" and "People Like Us" round out Byrne's portfolio by borrowing different from different strands of country music. The former is a shimmering waltz reminiscent of the Texas Troubador, Ernest Tubb, and the Western swing style of Bob Wills and his Texas Playboys. "People Like Us," which is performed by Louis at the talent show, is an up-tempo slice of neo-honky tonk that features the requisite fiddle and steel guitars. The lyrics also voice the kinds of populist sentiment that became di rigeur in the genre by the 1980s.
At its best, in the music of Johnny Cash, Merle Haggard, George Jones, and Loretta Lynn, country music spoke eloquently of the simple pleasures of nature and family. It also explored the problems of ordinary folks, such as infidelity, divorce, and alcohol abuse. At its worst, though, such populism lapses into knee-jerk jingoism.
Byrne's lyrics gesture toward the former of these two strains. It attests to certain Texas values: stubborn pride, an independent streak, and a resilience in hard times. Louis' seeming humility and sincerity proves to be catnip for the Lazy Woman. She proffers the marriage proposal that Louis has sought throughout the film. In providing the resolution to the central plotline, "People Like Us" brings the narrative and Byrne's musical journey through Texas to a fitting conclusion.
Changes in latitude, changes in attitude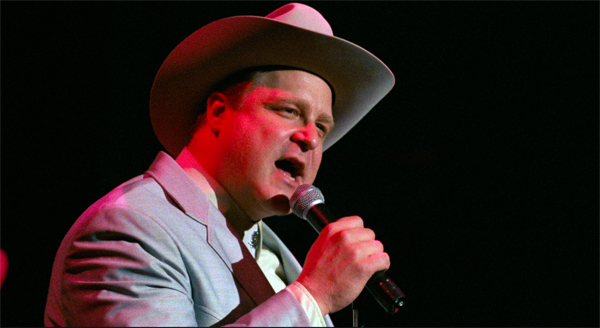 For me, perhaps the most striking thing about "People Like Us" is its distance from Talking Heads' early work. Compare it, for example, with "The Big Country," the closing track on More Songs About Buildings and Food (below). Here Byrne's narrator assumes a God-like view of the U.S. and its "people down there." Imagined from maps and viewed from airplanes, the lyrics survey a cornucopia of Americana in the references to ball diamonds, whitecaps, farmlands, highways, and buildings. Yet, each chorus undercuts this encomium to the "big country" by concluding "I couldn't live there if you paid me."
In conversation David (Bordwell rather than Byrne) often praises "the spontaneous genius of the American people." Is Byrne doing the same in True Stories with its portrait of small-town life as a mixture of performance art and irresistible kitsch? Or does he still occupy the previous Godlike position described in Louis' song, laughing disdainfully at "people like us?"
At the end of the day, I think it is impossible to truly know. If we take Byrne at his word that his songs for True Stories aren't Talking Heads songs, then there really isn't a contradiction. He set out to write songs in the voices of his characters and in the style of musicians quite distinct from Talking Heads. Louis is not Byrne, and therefore "The Big Country" stands on its own as a wonderful, if contemptuous take on American life.
Yet somehow invoking the old distinction between "author" and "narrator" obscures something important about the way True Stories fits into Talking Heads' history as a band. The songs Byrne wrote for the film seem like a culmination of the group's turn toward American roots music in the mid-1980s. Moreover, as Byrne has shown as an impresario for his own Luaka Bop label, he has genuine admiration for an enormous variety of vernacular pop idioms. In its own way, Talking Heads' absorption of regional American musics on Little Creatures and True Stories might be viewed as signs of artistic growth rather than the stylistic poaching of smartasses from Manhattan.
Still there is a third possibility. As my colleague Jonah Horwitz pointed out to David and me, True Stories also seems to bear a strong relation to the Lovely Music movement epitomized by Robert Ashley, "Blue" Gene Tyranny, and Peter Gordon. In Jonah's words, this axis of modern composition is "characterized by a suspension of judgement, gaping appreciatively at the banality/beauty of America and Americans, bridging the gap between structural/minimalist 'new music' and popular forms like rock and country music and soap opera."
But is this appreciative gaping is really just postmodernist snark? Adrian Martin suggests as much in his original review of the film. And faux sincerity, in and of itself, might be viewed as the deepest, most pernicious form of cynicism. Taking particular issue with the chorus of "People Like Us," Martin writes, "According to this reading, which the film abundantly invites, its viewpoint is immaculately distant and sneering." Citing its "patronizing, condescending tone," Martin ultimately bemoans the fact that True Stories draws attention away from more "authentically funky little American films" that won't get seen.
Is this ultimately where Byrne lands? Perhaps. The lyrics certainly can be viewed as a faux naif expression of Redneck stupidity.
We don't want freedom
We don't want justice
We just want someone to love
But if we dismiss "People Like Us" as evidence of authorial condescension, one misses the key insight that the song has to offer. Much hedonics research suggests that there is a more complex way of understanding such sentiment.
Freedom and justice may be necessary conditions of human happiness, but they are hardly sufficient. Abstract ideals ultimately don't mean much absent the human connections that define our workaday world. Such craving for social interaction and a feeling of belonging is one reason why respondents in hedonics studies claim they would forgo a $10,000 raise for the opportunity to become a member of a small, but active club. Moreover, neuroscience also shows that romantic love produces a sense of electrochemical wonder within the brain. Not all of these changes are positive ones, but the flood of dopamine that accompanies sexual attraction helps explain why love can be both pleasurable and addictive.
Viewed from this perspective, Louis' sentiments in "People Like Us" are far from guileless. By emphasizing toughness and resilience, the song asserts that homeostasis is possible even in the most hardscrabble life. And life is made rewarding and meaningful by the social bonds that unite us in a common humanity. Perhaps folks out there will see me espousing a version of the feigned sincerity for which True Stories is equally guilty. But given the way Byrne's film judders my own pleasure center…. Well, let's just say I'll proudly wear my heart on my sleeve.
---
Thanks to David Byrne, Ed Lachman, Peter Becker, Kim Hendrickson, Lee Kline, Ryan Hullings, and the rest of the Criterion team for this edition. The quotation from David Byrne comes from the booklet accompanying the disc.
Thanks also to Jonah Horwitz for helpful comments on the music, and Adrian Martin for signaling his critique of True Stories.
Other work by Jeff relevant to this analysis includes The Sounds of Commerce: Marketing Popular Film Music (Columbia University Press, 1998) and his survey of the field "The Tunes They are a-Changing': Moments of Historical Rupture and Reconfiguration in the Production and Commerce of Music in Film," in The Oxford Handbook of Film Music Studies, ed. David Neumeyer (Oxford University Press, 2013).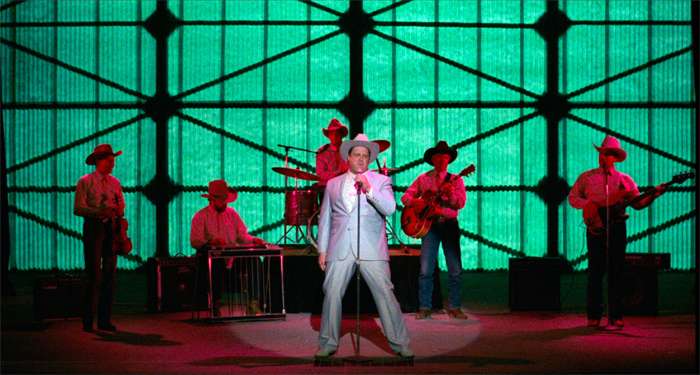 True Stories.