Sunday | June 24, 2018
open printable version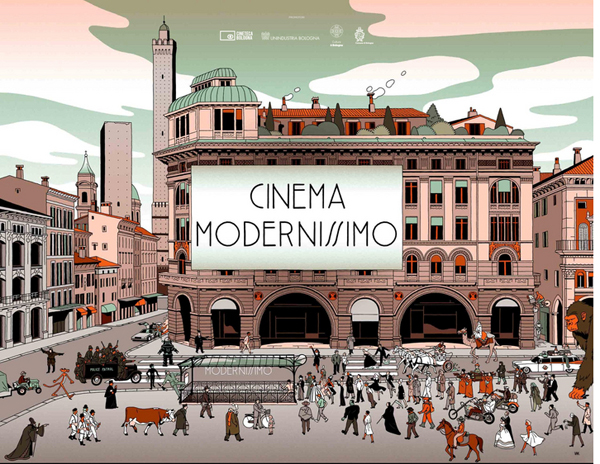 DB here:
Cinema Ritrovato of Bologna got off to a roaring start on Saturday. Or rather, Friday. Or maybe the previous Monday. It's hard to keep up; the event sprawls beyond its official boundaries.
For five days before the official opening, there were one-off screenings on the vast Piazza Maggiore and in the more intimate Cineteca. Those evenings you could have seen Gilda or Raging Bull or Madame de… or an Ingmar Bergman documentary or Sacco and Vanzetti (1971), the last in the presence of director Giuliano Montaldo. On what may be final night (who knows?), next Sunday, the Piazza hosts a restored version of Grease. Did you know it needed restoration? Me neither.
The festival's motto might be Too much is never enough. Over 500 titles now grace seven venues, if you count the Maggiore, a little piazza featuring carbon-arc projection, and an underground warren I'll tell you about shortly. The fact that the latter is still under construction didn't stop the newly established programming team from, of course, showing films there.
I'm here solo because household matters kept Kristin home in Madison. I'll try to post some blog entries that suggest the sweep and depth of this festival, now more than ever the Cannes of classic cinema.
Under the sign of Scorsese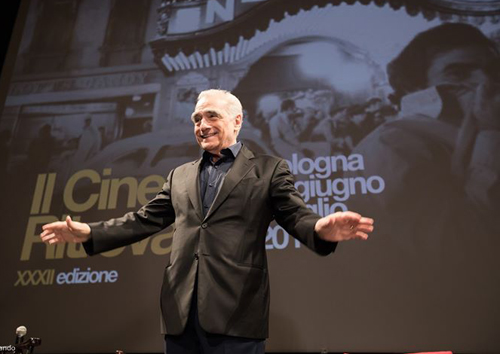 The Raging Bull screening was a tribute to a filmmaker who has always mattered to Ritrovato. One of the two auditoriums in the Cineteca is named for him, and under his auspices The Film Foundation has for years provided restored, often overlooked classics from outside the Western canon. Scorsese received a hero's welcome yesterday, with an interview in the city's biggest venue, the Teatro Communale and a Maggiore screening of Enamorada by Emilio Fernandez. Interestingly,  the Foundation has provided restorations of Enamorada in both digital and photochemical formats.
I couldn't cover either event; tickets to the conversation had long been sold out, and I was logy from jet lag well before Enamorada got going. I did, however, grab a few shots of the Piazza crowd before the screening. After twenty-plus years, I had never seen that huge space so jammed with people. An official shot of the event is at the bottom of today's entry, and it shows only a fraction of the people assembled. A video record of Scorsese's opening remarks is on the Cineteca Facebook page. It starts with a Mariachi band.
My day before the Scorsese blowout was more sedate than usual. I caught up with several friends in these early hours so as to have time before the big crunch comes later in the week. (There are now more evening screenings than ever before.) I went to The Brat, a 1931 John Ford I'd seen before in a so-so copy. The film is minor Ford but enjoyable for its comic vignettes in a night court, a wild sequence on a swing reminiscent of Wings, and an ingratiatingly scratchy-voiced performance by Sally O'Neill. Helping the film along was the newly refitted venue, the Jolly, now cooler and more comfortable.
I had time as well to re-see another 1931 title, the restored Jean Grémillon short feature Daïnah la métisse (1931). It's a stunningly shot drama of a black couple traveling on a swanky French liner. Recut after production for reasons not altogether clear, it still retains enormous power. The gleaming cinematography sets off three areas of the ship: the lavish dining room with its big dance floor, the dark, cavernous engine room, and the misty deck where sexual teasing leads to murder. The film's bold use of sound–a song track, pulsing engine noises, and passages of dead silence–remind us of how adventurous early talkies could be.
Movies under the Piazza
The Modernissimo cinema was built in 1915 and underwent renovation in the 1950s and 1960s. It was split into two parts, and the underground section is the one that is being renovated for contemporary use. The Ritrovato team has found funding to create it as another venue for festival screenings, and on Saturday they admitted a batch of us to check on progress and see a serial.
It's a very big, raw space, with a balcony and side boxes. The seating isn't ramped; we're all on the same level, but the high screen compensates for sightlines. Naturally I sat in the front, so no problem there.
The film, the first installment of Wolves of Kultur (1918, Joseph A. Golden) was nothing to write home about artistically–plotters steal the plans for a supertorpedo–but it was fun and well preserved, with nice tinting. Marianne Lewinsky's program notes promise that later episodes will be more enticing; she calls it a Kama Sutra of serial conventions.
Some of the design plans for the cinema can be found here. Here are two of my shots from Saturday.
I have more to report, but I'll save that stuff for entries later in the week. In addition, thanks to digital whiz Erica Moulton we've just set up an Instagram site here. It already has shots I haven't included in this entry. I'll try to post pix throughout this wild and crazy event.
---
A special thanks to the Directors of this year's Ritrovato–Cecilia Cenciarelli, Gian Luca Farinelli, Ehsan Khoshbakht, and Marianne Lewinsky–and festival Coordinator Guy Borlée, as well as to all their programmers, consultants, and staff.  They pull off a magnificent, epic event every year.
The Scorsese and Piazza Maggiore photos are by Lorenzo Berlando.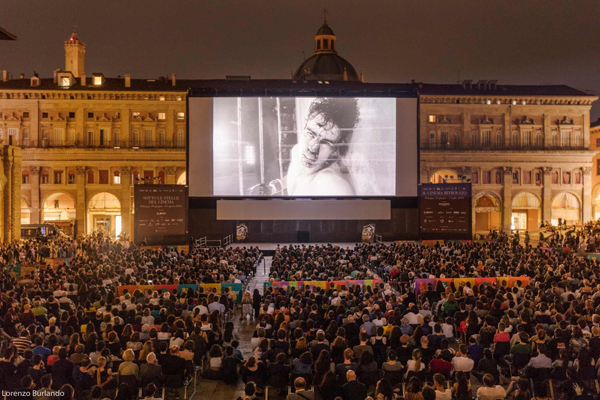 Piazza Maggiore Saturday night for the Scorsese presentation.