Monday | June 19, 2017
open printable version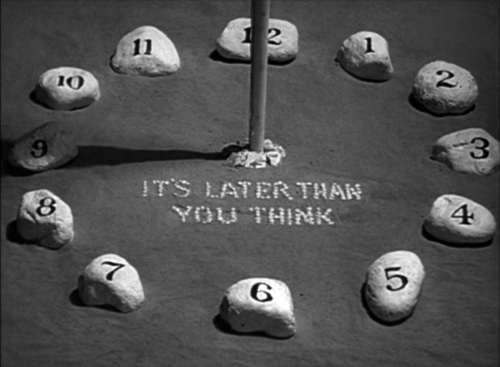 One Crowded Night (1940).
DB here:
If this blog got into the business of recommending movies to watch on TCM, I'd never get any sleep. TCM, an American treasure, runs so much classic cinema of great value that I can't keep up.
Today, though, as we're about to depart for Bologna's Cinema Ritrovato, I'm pausing to knock out a brief entry urging your attention to a minor release that exemplifies some of the trends I try to track in Reinventing Hollywood: How 1940s Filmmakers Changed Movie Storytelling. The film is no masterpiece, but it's better than most of the stuff pumped into our 'plexes, and it can teach us a lot about continuity and change in the studio years.
A few hours in Autopia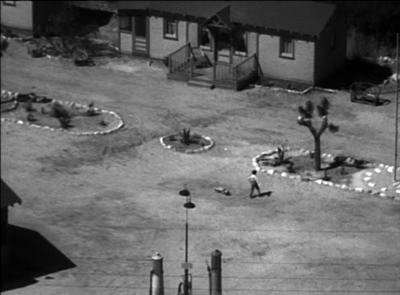 In trying to map out the storytelling options developed in the 1940s, I ran into one trend that looked forward to today's network narratives. I use that term to pick out films that build their stories around the interaction of several protagonists connected by social ties (love, friendship, work, kinship) or accident. Nashville, Pulp Fiction, and Magnolia are some vivid prototypes. The most common form of network narrative back then was based on the Grand Hotel idea, where a batch of very different characters interact in one place for a short stretch of time.
The form comes into its own in the 1930s, as I've indicated in a blog on Grand Hotel (1932). That novel/ play/ film popularized the concept, and MGM ran with it under the banner of the "all-star movie." It was picked up in other 30s films of interest, like Skyscraper Souls (1932, often run on TCM) and International House (1933). But whereas Grand Hotel was a big A picture, most of its successors were B's—perhaps because such a plot offered an efficient way to use contract players in a short-term project.
I suspect that's what happened with One Crowded Night (1940), to play on TCM this Thursday, 22 June (7:30 EST). Dumped in the summer doldrums (back then, summer wasn't a big moviegoing season), it garnered pretty unfavorable reviews. The big complaints were about the coincidences that get piled on. Wrote Bosley Crowther:
The long arm of coincidences does some powerful stretching for the convenience of film stories, but seldom has it been compelled so such laborious exercise as it is in RKO's "One Crowded Night," which opened yesterday at the Rialto. In a manner truly phenomenal, it drags together the assorted characters implicated in a multitude of small plots and dumps them, of all places, in a cheap tourist camp on the edge of the Mojave Desert.
It is pretty far-fetched. The Autopia Court, a speck on the flat, hot expanse, is run by a family whose main breadwinner, Jim, has gone to jail. He's innocent, framed by Lefty and Mat—who show up by chance at Autopia. Meanwhile, a pregnant Ruth Matson gets off a cross-country bus to recover from heat stroke; she's on her way to San Diego to meet her husband, a sailor.
Things get complicated fast. A trucker who comes through regularly wants to marry an Autopia waitress with a shady past. One of the thugs makes a play for the naïve waitress who's fed up with this flea-bitten joint. But she's worshipped by the gas jockey, who's no match for the city hood.
The interweaving of lives is very dense. Guess who shows up, recently escaped from prison up north? When two detectives come through guarding an AWOL sailor, imagine who he turns out to be? And what if Doc Joseph, an amiable old fraud peddling a potion that cures everything, turns out to lend a helping hand?
No coincidence, no story. And especially in Grand Hotel plots, when people keep running into each other at just the right moment. Films aren't about reality; one of the damn things is enough. Films are about giving us experiences, and this B picture seems to me quite satisfying—not least because it shows a relaxed but smooth pace almost completely unknown to modern cinema. It's no small thing to tell so many stories in 66 minutes.
How work looks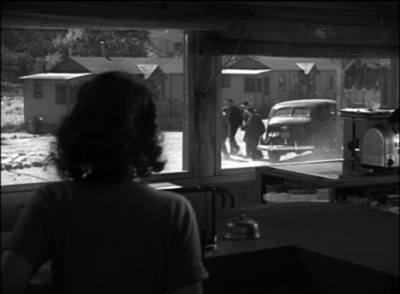 Budget-challenged RKO makes a virtue of its limits. The film has a bleached, suffocating squalor. Dust and glare rise up. The outdoor set makes the motel complex look plausibly cheap. The diner is knotty-pine, and as dingy as you could ask. The countertop yields a solid thump when a plate of comfort food hits, and it's easy to imagine it being gaumy to the touch. Greasy smoke sizzles up from a grill, blurring a poster advertising the good life and a cola that promises "Keep Cool." And the shot of the disgruntled fry cook Annie owes nothing to pin-up standards.
The film has that easy familiarity with the routines of working life celebrated by Otis Ferguson, who praised another film for its "reduction of the rambling facts of living and working to their most immediate denominator, to the shortest and finest line between the two points of a start and a finish." We watch the Autopia staff briskly feed a busload of people during a ten-minute layover, fix up guest rooms, pour beers, wash dishes, scrub countertops, and pump gas—all the while an enigmatic sundial insists "It's later than you think."
With over twenty speaking parts, the film relies on swift, sharp characterizations. It's lifted above the ordinary by the presence of the splendid Anne Revere, Hollywood's embodiment of plain-speaking dignity, and the reliable Harry Shannon (aka father to Charles Foster Kane). Beloved blowhard J. M. Kerrigan plays the mountebank. Even a sweat-glistened Gale Storm (older boomers will remember her as TV's My Little Margie) doesn't do badly. The presence of so many character actors and bit players gives these people a worn solidity far removed from A-picture glamour. Everybody, young and old, looks fairly ill-used.
Irving Reis joined RKO after a brief but distinguished career in radio, where he created the much-lauded Columbia Workshop. One Crowded Night was his first screen credit at the studio. Renoir gets, deserved, credit for using deep-space compositions to suggest life lived in the background and on the edges of the shot's main action. Reis, like many unheralded American directors, does the same thing. Network narratives encourage these juxtapositions, as story lines crisscross and characters react accordingly.
Reis went on to do more B pictures, as well as The Big Street (1942) and Hitler's Children (1943). His later work includes Crack-Up (1946), All My Sons (1948), and Enchantment (1948; discussed hereabouts). He died young, in 1953. One Crowded Night shows him an efficient craftsman; Variety praised him for "development of the story's many characters and juggling them through the many-sided yarn without confusion."
The Grand Hotel formula would continue through the 1940s in Club Havana (1945), Breakfast in Hollywood (1946), and other low-end items. It would also yield a few A pictures, like Week-End at the Waldorf (1945, an explicit redo of Grand Hotel), Hotel Berlin (1945), and the hostage thriller Dial 1119 (1950). The format would go on to have a long life, right up to The Second-Best Exotic Marigold Hotel (2015).
One Crowded Night, apart from its quiet virtues, served my book as a good example of just how pervasive certain models of storytelling became in the 1940s. Alongside the classic plot patterns of the single protagonist and the dual protagonist (often a romantic couple) other possibilities got explored. Some, like the Grand Hotel model, had been floated in the 30s and got revised in the 40s. Others took off on their own. All left a legacy—let's call it a tradition—for the filmmakers who followed.
---
Thanks to TCM and its programmers for making this and thousands of other films available. But why not a version on Warner Archive DVDs? The Spanish DVD is pricy.
My quotations from Bosley Crowther come from "The Screen: At the Rialto," The New York Times (27 August 1940), 17. The Daily Variety review appeared on 29 July, 1940, 3. Ferguson's remark, on Joris Ivens' New Earth, comes from "Guest Artist," in The Film Criticism of Otis Ferguson, ed. Robert Wilson (Temple University Press, 1971), 126. For more on Ferguson, see my book The Rhapsodes: How 1940s Critics Changed American Film Culture.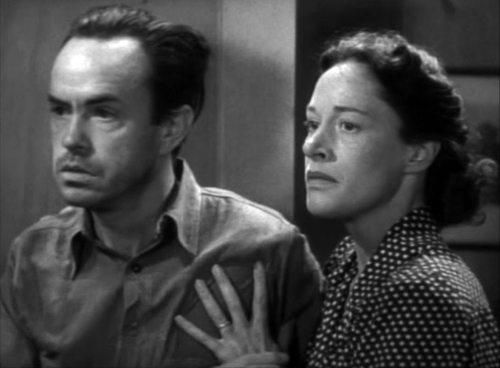 Paul Guilfoyle and Anne Revere in One Crowded Night.