Monday | September 14, 2015
open printable version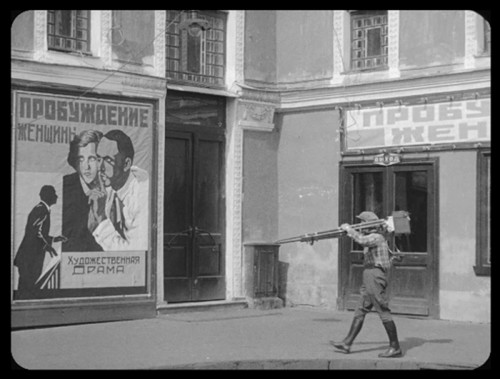 The Man with a Movie Camera.
Kristin here:
Every now and then we accumulate a few new DVDs and Blu-ray discs and write up a summary of each. This entry is the first time when all the discs discussed are Blu-ray. In fact, none of these releases is available in the DVD format.
Vertov and more Vertov

Soviet director Dziga Vertov is known primarily for The Man with a Movie Camera (1929), one of the most revered silent films. It is a documentary, an experimental film, a city symphony, and a witness to Soviet society in the late 1920s, all in one. Flicker Alley has done great service to silent Soviet cinema with its Landmarks of Early Soviet Cinema and the serial Miss Mend by Boris Barnet and Fedor Ozep. Now it has brought out a Blu-ray disc of a remarkable 2014 restoration of The Man with the Movie Camera.
This version is based largely on a print struck from the original negative and left by Vertov with the Filmliga of Amsterdam, an early cine-club. It subsequently passed to the Nederlands Filmmuseum. The restoration added clips culled from other archival prints to fill in gaps in this copy, producing an edition that will be a revelation to many who are used to the scratchy, contrasty, and cropped prints that have circulated for decades.
For one thing, seeing that missing left side of the frame makes a big difference. A booklet included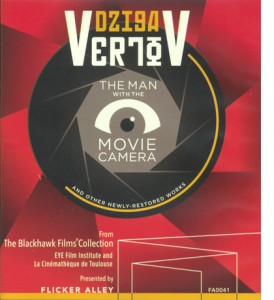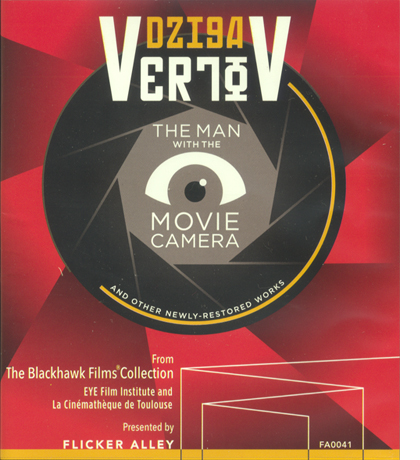 with the disc points out that modern versions are usually taken from sound prints of the film, which required that the left portion of the frame be reserved for the sound track. As a result, that area of the image was cropped out. This new release restores the full-frame original, and the result is dramatically different from earlier versions. Its visual quality is also impressive (see top).
Yet Flicker Alley has been too modest in emphasizing this as a release simply of The Man with a Movie Camera. The full title of the release is "Dziga Vertov: The Man with the Movie Camera and other Newly-Restored Works." Yet the "Other Newly-Restored Works," featured in very small print on the cover, are hardly incidental. They include features that many researchers and cinephiles have long wished that they could view in good prints–or any prints at all.
These other works include most of Vertov's famous features of the 1920s and early 1930s: Kino-Eye (1924), his first feature; Enthusiasm: Symphony of the Donbass (1931), his first sound feature; and Three Songs about Lenin (1934), a celebration of the tenth anniversary of the death of Lenin.
I don't think any of these films is as important as The Man with the Movie Camera. For me, Kino-Eye is the most charming, with candid depictions of peasant festivals and the like. It was Vertov's first opportunity to stretch his ambitions after years of work in newsreels and documentaries. It has a spontaneity that perhaps disappeared in the later features.
The disc includes an informative booklet that discusses both the films and their restorations. As an extra, there is the 1925 Kino-Pravda newsreel episode that Vertov made to commemorate the first anniversary of Lenin's death. It incorporates rare newsreel footage of Lenin, cutting it together in ways that look like modern gifs.
The visual quality is inevitably variable, with the earlier films looking contrasty, but these are no doubt the best versions that we are likely ever to have. This Man with a Movie Camera supersedes the one from the BFI (in the UK) and from Kino (in the USA), though many will want to have the latter for its lovely score by Michael Nyman. The Flicker Alley version has a very different, but highly appropriate, score by the Alloy Orchestra.
Not all of Vertov's early features are included. For those who want more, Edition Filmmuseum's release of A Sixth Part of the World (1926), The Eleventh Year (1928), both with a Michael Nyman score, and one shorter film plus a documentary on Vertov, remains a necessity.
3D curiosities
Flicker Alley has also developed a specialty in releasing DVDs and Blu-rays exploring film formats.  The company has paid particular attention to Cinerama (This Is Cinerama, Cinerama Holiday, South Seas Adventure, Windjammer, Seven Wonders of the World, and Search for Paradise). Now, in celebration of the centennial of 3D exhibition , it branches out into 3D with 3-D Rarities, described as "A Collection of 22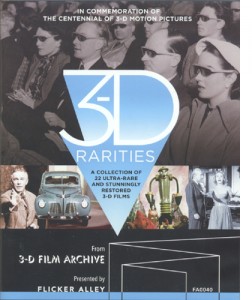 Ultra-rare and Stunningly Restored 3-D Films." (Since we cannot reproduce 3D frame enlargements, the images below are taken from the Flicker Alley webpage just linked.)
This BD brings together a thoroughly heterogeneous collection of short items, assembled into two programs. The first, "The Dawn of Stereoscopic Cinematography," covers the years from 1922 to 1952, with short films made outside mainstream Hollywood. Some test footage by Edwin S. Porter and William E. Waddell shown in 1915 no longer survives, so the earliest films on the program are "Kelley's Plasticon Pictures" (1922-23), including Thru' the Trees, a travelogue of Washington, D. C. featuring shots of famous buildings framed primarily by foreground tree branches to create planes in depth.
The items that follow range from promotional films to animated shorts to a burlesque comedy featuring two fairly tame striptease segments and two fairly unfunny comedians. A
promotional film for Chrysler shown at the New York World's Fair (New Dimensions, 1940) traces the assembly of a new Plymouth in great detail and with impressive animation, with the parts hopping around and sliding into place on their own.
For many the highlights of this first program will be four shorts from the National Film Board of Canada, two of them by Norman McLaren. The first, Now Is the Time (1951), uses the filmmaker's familiar drawn-on-film style (right), while the second, Around Is Around (1951), employs an oscilloscope to create more abstract patterns.
Films by two of McLaren's colleagues are also included: O Canada (1952) by Evelyn Lambart and Twirligig (1952) by Gretta Ekman. These films are among the only ones on the whole program where objects are not thrust or thrown "out" at the audience.
The first program ends with an advertisement, Bolex Stereo (1952), a camera which supposedly was going to bring 16mm 3D home-movies into people's living rooms. The complicated technology demonstrated shows why the idea did not catch on.
The second program, "Hollywood Enters the Third-Dimension," consists mainly of trailers interspersed with a few shorts. The trailers include It Came from Outer Space and Miss Sadie Thompson (both 1953). One fascinating film is Rocky Marciano vs. Jersey Joe Walcott (1953), and I say this as one who has no interest in boxing. This 16-minute black-and-white film starts at the training camps of the two opponents and moves on to the match itself, in which Marciano famously knocked out Walcott in less than two minutes. The in-ring controversy over the call occupies the last part of the film, giving the whole thing a distinct dramatic shape. Multiple-camera filming and 3D add visual interest.
Stardust in Your Eyes (1953), a comedy short starring comic and impersonator Slick Slavin (aka Slaven in the credits), is said in the program notes to have been "a big hit at 3-D festivals. Judge for yourselves, but I advise keeping a finger on the next-chapter button for this one.
Few of these shorts can be said to be important classics of the 3D repertoire, but overall one gains a sense of the surprising range of films made with the process. One also learns that thrusting guns, spears, swords, and even sling-shots toward the audience, as well as throwing stones and other missiles at them, never grow old as far as the makers of these films are concerned. We have a pistol aimed at us in one of the "Kelley's Plasticon Pictures" from 1922 (below left) and a rifle in the trailer for Hannah Lee (1953, right).
At least we now have the 3D version of Mad Max: Fury Road to recharge this particular visual trope in highly original ways.
Sound marches on
Way back in 2008, when this blog was a mere two years old, I reported on the first volume of a two-disc set of DVDs inaugurating the highly ambitious project, A Century of Sound: The History of Sound in Motion Pictures. That first volume covered the period to 1932. This one is entitled "The Sound of Movies: 1933-1975." There was of course a lot more recorded sound in that period, and the new set stretches to four Blu-ray discs, for a total of over twelve hours of running time.
I can't claim to have watched all those hours, but every section I sampled boasted extraordinary amounts of information. Robert Gitt, who originated the project with a 1992 lecture, again narrates. The coverage includes a huge number of rare diagrams, photographs, documents, and demo reels. In addition, many of the chapters add clips from films that contained the most innovative sound techniques of their day. The Garden of Allah, Okhlahoma!, Medium Cool, and many other titles are excerpted in superb copies.
The set as a whole is a gold mine for specialist researchers and technology buffs. The discs include long and detailed passages on such topics as push-pull recording and noise reduction, the latter a crucial challenge to the sound-recording industry for decades. Teachers who searched assiduously could find many clips suitable for classroom use.
A fair amount of the material ought to be interesting to nonspecialists too. For example, the third disc includes a history of early multi-channel and directional sound. The section on early stereophonic systems is fascinating, with its coverage of Leopold Stokowski's participation in the two most important early films to introduce this new technology to a popular audience: 100 Men and a Girl (1937) and Fantasia (1940). We get generous clips from each. From 100 Men and a Girl, we see most of the famous scene in which an orchestra plays on different levels of Stokowski's house and multiple channels allow sonic "close-ups" of each type of instrument over close views of that section of the orchestra:
A thorough history of Fantasia includes the image below, typical of the sorts of material The Century of Sound presents: the Fantasound optical printer invented in order to print the multiple optical tracks used for the film's stereo.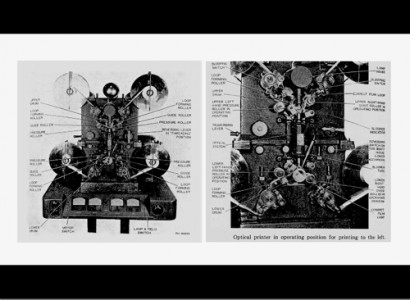 And someone obviously could not resist including a goodly dose of the short dances from the Nutcracker Suite section of the film (see bottom).
The Century of Sound is not for sale commercially. It "is available free of charge to educational, archival and research institutions and to qualified individual educators, researchers and scholars as a not-for-profit educational resource." There is a modest fee for shipping. For information on ordering, write to CenturyofSound@cinema.ucla.edu.
---
Flicker Alley's release of This Is Cinerama provoked David to a survey of Cinerama aesthetics in an earlier entry.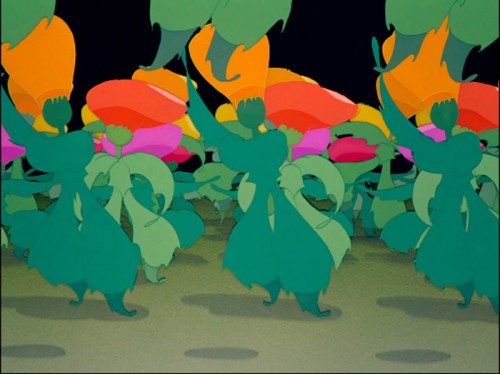 Fantasia.