Sunday | November 2, 2014
open printable version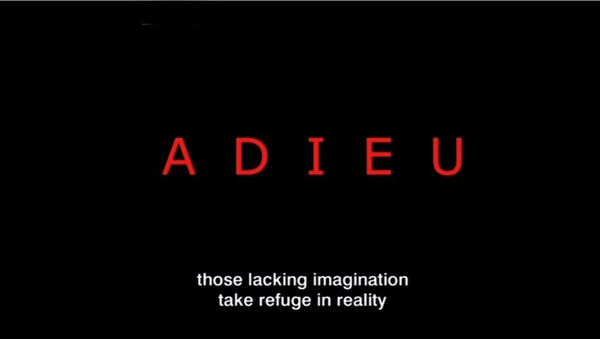 DB here:
Godard is making trouble again. Adieu au langage–known now as Goodbye to Language– is doing better in the US than any of his films have done in the last thirty-some years. It has a per-screen average of $13,500, which is about twice that attained by Ouija in its opening last weekend.
But that average represents only two screens, and it's going to be hard to expand because Goodbye to Language is in 3D. Many art houses would love to play it, but they lacked the money to upgrade to 3D during the big digital conversion of recent years. Even high-powered venues in New York, Los Angeles, and Chicago don't have 3D installed. Here in Madison we're showing it as a benefit for our Cinematheque. But the film's prospects may be brightening.
Re-seeing it (twice) at the Vancouver International Film Festival back in September, I was struck by a few more ideas about it. Kristin and I avoid listicles, but after writing an expansive entry on the film, all I've got at this point is some scattered observations. Two ragtag comments are semi-spoilers, and I'll warn you beforehand.
The Power of post As far as I can tell, Godard hasn't used the converging-lens method to create 3D during shooting. Instead of "toeing-in" his cameras, he set them so that the lenses are strictly parallel. He and his DP Fabrice Aragno apparently relied on software to generate the startling 3D we see onscreen.
This reminds me that postproduction has long been a central aspect of Godard's creative process. Of course he creates marvelous shots while filming, but ever since Breathless (À bout de souffle, 1960), when he yanked out frames from the middle of his shots, he has always made post-shooting work more than simply trimming and polishing. His interruptive aesthetic is made possible by editing that wedges in intertitles (sometimes the same one several times). He breaks off beautiful shots and drops in bursts of music that snap off just before they cadence.
In both sound and image, the post-production process for Godard is a kind of transformation, an openly admitted re-writing of what came from the camera. He slaps graffiti on his own film. In Narration in the Fiction Film, I argued that our sense of a Godard film being "told" or narrated by the director proceeds partly from his ability to create the impression of a sort of Cineaste-Emperor, a sovereign master who is governing what we see and hear at any given moment. The collage principle suggests someone behind the scenes pasting these fragments together. Not only his commentary (once whispered, now croaked) but every shot-change and bit of music and noise, every intertitle and look to the camera all bear witness to Godard as God. Before he cut a strip of film; now he twiddles a knob or guides a slider. In all cases, we still feel his playful, exasperating hand.
Godard's famous collage aesthetic relies on aggressive changes to image and sound in postproduction that all but deface the surfaces of his movie. No surprise, then, that Godard 3D lays out those surfaces boldly, with distant planes sharply edged and volumes that stretch out before us.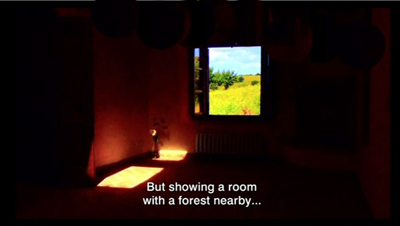 Yet with his superimposed titles, sometimes hovering among the audience, he can flatten volume and stack up planes like playing cards. It's partly a joke that the 2D title below is closer to us than the 3D one behind it, but even that sticks out further than the unidentifiable light array that is farthest away.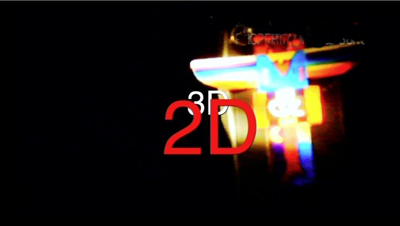 The Rule and the exception. Just as Hollywood cinema erected rules for plotting, shooting, and editing, it has cultivated rules for "proper" 3D filming. An informative piece by Bryant Frazer points out some ways that Godard breaks those rules. Still, just calling him a maverick makes him sound merely willful. Part of his aim is to explore what happens if you ignore the rules.
This is Godard's experimental side: He considers what "good craftsmanship" traditionally excludes, just as the Cubists decided that perspective, and smooth finish, and other features of academic painting blocked off some expressive possibilities. To get a positive sense of what he's doing, we need to understand what the conventional rules are intended to achieve. Consider just two purposes.
1. 3D, the rules assume, ought to serve the same function as framing, lighting, sound, and other techniques do: to guide us to salient story points. A shot should be easy to read. When 3D isn't just serving to awe us with special effects, it has the workaday purpose of advancing our understanding of the story. So, for instance, 3D should use selective focus to make sure that only one figure stands out, while everything else blurs gracefully.
But 3D allows Godard to present the space of a shot as discomfitingly as he presents his scenes (elliptical, they are) and his narrative (zigzag and laconic, it is). As in traditional deep-focus cinematography, we're invited to notice more than the main subject of a shot, but here those piled-up planes have an extra presence, and our eye is invited to explore them.
2. According to the rules, 3D ought to be relatively realistic. Traditional cinema presents itself as a window onto the story world, and 3D practitioners have spoken of the frame as the "stereo window." People and objects should recede gently away from that surface, into the depth behind the screen. But Adieu au langage gives us a beautiful slatted chair, neither fully in our lap nor fully integrated into the fictional space. It juts out and dominates the composition, partly blocking the main action–a husband bent on violence hustling out of his car.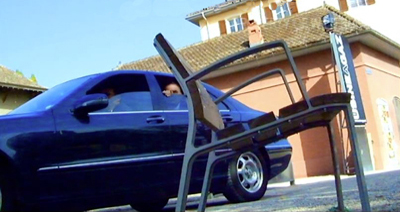 That chair, or one of its mates, reappears, usually with greater heft than the human characters shoved nearly out of sight behind it.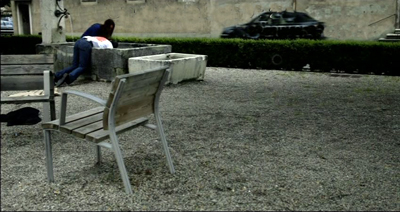 In sum, visual realism of the Hollywood sort is only one mode of moviemaking. Godard lets us know from the very start that he's after something else. The film's first title announces: "Those lacking imagination take refuge in reality." Goodbye to Language is an adventure of the imagination.
Innovation, intractable. Godard has been around so long that some of his innovations—jump-cuts, interruptive intertitles—have become common in mainstream movies. But there remains an intractable core that is just too difficult to assimilate, and he has always been a few jumps ahead of people who want to de-fang his experiments.
Supposedly Picasso told Gertrude Stein: "You do something new and then someone comes along and makes it pretty."
A fresh eye. French thinkers have long pondered the possibility that language separates us from the world. It drops a kind of scrim that keeps us from seeing things in their innocent purity. Given the film's title, I suggested in an NPR interview that Godard's use of 3D, along with the insistence on the dog Roxy, is aiming to make us perceive the world stripped of our conceptual constructs (language, plot, normal viewpoints, and so on). Personally, the idea that language alienates us from some primordial connection to things seems to me implausible, but I think it's a central theme of the film. This very talky movie exploits a paradox: we must use language to say goodbye to it.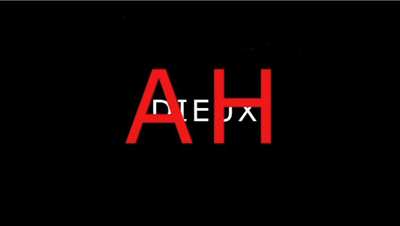 Learning curve. Critics put off by Godard, I think, have too limited a notion of what criticism is. They seem to think that their notion of cinema, fixed for all time, is a standard to which every movie has to measure up. They are notably resistant to a simple idea: We can learn something from films. Not only can we learn things about life but we also learn things about cinema. We learn things that we never realized that film can do.
But then, how many critics actually want to learn something about cinema, which can only happen the way we learn anything: by wrestling with something that strikes us as difficult?
Two soft spoilers ahead!
On re-viewing, I was struck by other ways in which the two long parallel stories echo one another: a big bowl of flowers, later one of fruit; the repetition of "There is no why!"; and an odd colorless or nearly colorless image of each principal woman.
As with so much else in the film, Godard posits his own slippery version of a parallel-universe plot, and this overall formal option is underscored by these stylistic choices. In the first prologue, the woman on the left above is also given to us in a color shot, as if the disparity color/black-and-white points ahead to the nearly black-and-white color shot to come.
The (apparent) deaths of the principal men are rendered very obliquely, but apparently out of story order. This juggling with chronology, a staple of modern cinema, is fairly rare in Godard, at least as I recall.
Clearly, 3D is becoming something we cinephiles need to face up to. I balked at the beginning, but I've come around. Important filmmakers like Godard, Herzog, and Wenders are working with it. Just as important, we've never until now been able to study 3D movies closely. I remember watching Bwana Devil and others on a flatbed in the Library of Congress in the early 1980s, but if I stopped on any frame, I couldn't tell what the 3D effect was like. Of course any 2D print of a classic 3D title represents only one camera's view.
The victory of digital projection yielded a benefit I hadn't foreseen when I wrote Pandora's Digital Box. After Dial M for Murder came out in BD in 2012, I realized I needed to upgrade. We bought a bargain TV and BD player just when 3D TV had been declared dead. Now our 3D collection has expanded to include Hong Kong titles as well as favorites like Wreck-It Ralph, Gravity, and A Very Harold and Kumar 3D Christmas. Costs of 3D discs are sometimes low, and while you need a bigger monitor than we have to approach the force of a big-screen viewing, we can at least study a director's use of the format frame by frame.
So for viewers who can't get to Goodbye to Language in theatres but who have a 3D TV may take heart: Kino Lorber will be releasing a 3D Blu-ray disc.
---
Vadim Rizov has a brief but intriguing interview with Aragno in Filmmaker Magazine. ""Hollywood says you shouldn't have more than six centimeters between cameras, so I began at twelve to see what happened." Obviously a simpatico collaborator.
I discuss aspects of Hitchcock's use of 3D in Dial M for Murder here.
P.S. 4 November 2014: The distribution of Goodbye to Language has become a cause célebre. Justin Chang surveys the situation in Variety.
P.P.S. 13 November 2014: Geoffrey O'Brien's enthusiastic appreciation of the film not only illuminates it but conveys the excitement of seeing it.
P.P.P.S. 14 November 2014: Two more thoughts, after seeing the film again last night at our Cinematheque screening. First, the "unidentifiable light array" I mention above is actually on the cover of the French edition of A. E. Van Vogt's The World of Null-A shown later in the film. Second, this time I noticed that the war imagery in the film's first part subsides in the second, to be replaced, it seems, by Roxy's wanderings–a more lyrical, peaceful counterweight to the horrors invoked earlier. The pivot would seem to be the first helicopter crash at the end of the first part. There among the flaming ruins we can see the burned head of a dead dog. Roxy's proxy? Anyhow, the original survives, exuberantly, in the film's second long part.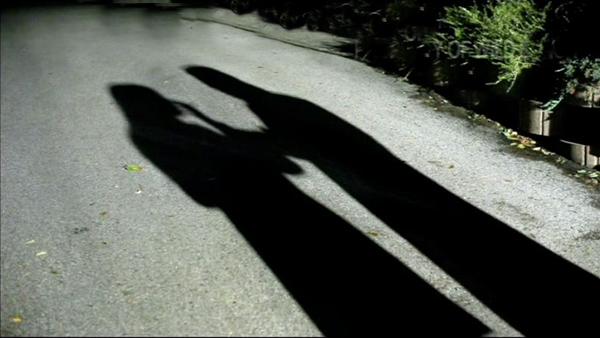 Goodbye to Language.