Friday | October 3, 2014
open printable version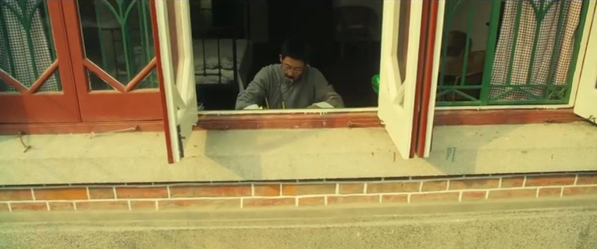 The Golden Era.
Kristin here:
One of the great pleasures of the Vancouver International Film Festival is the ability it provides for a quick trip around the world, especially to countries whose films are seldom seen in a non-festival setting.
In one day I was able to see an Algerian film and one from the Ivory Coast. It struck me that both of them reflected how far digital filmmaking has come in small producing countries. When digital cameras came on the scene, they were hailed as a way for people in nations with little or no filmmaking infrastructure to create movies. The results, fascinating though they might be, often betrayed visually the fact that they were made with non-professional cameras.
Perhaps we have reached a new stage in digital filmmaking in such countries. Both the Algerian film, The Rooftops (Merzak Allouache, 2013), and the Ivory Coast one, Run (Philippe Lacôte, 2014), have a polish and complexity of form and style that put them on a level with those made in larger, more established national cinemas.
The Rooftops provides a model of how to make a film with a limited budget and avoid conventionality. Allouache chose to set the film entirely on the rooftops of five districts of Algiers. It's a gimmick of sorts, and yet it carries practical advantages. No sets had to be built, and few, if any scenes required artificial light. Presumably no streets had to be cleared, since no action is staged at ground-level.
Beyond that, each scene could be played out with the city of Algiers providing a backdrop, as when a group of young musicians practice on one of the rooftops:
With backgrounds like that, who needs sets?
The film has a strict formal logic, both spatially and temporally. It begins by introducing five rooftops, each with its own set of characters. There's no crossover among the groups. None of them ever meet, so this isn't what David has termed a network narrative. But the look of each rooftop is different, and simply by keeping the characters in one limited area, the filmmakers help us keep track of them fairly easily as the narrative moves among storylines.
The film starts with the first call to prayer in the darkness before dawn, and at intervals the four other calls follow (with a subtitle providing information on the name of each call and the time period within which the respective prayers are supposed to be performed.) These essentially act as chapter breaks, giving a sense of time passing. The five prayers also echo the five rooftops.
There's no shortage of drama in each group's story. On a lower floor of an unfinished building a mob boss has a man tortured, trying to force him to sign something. This disturbs a group of filmmakers taking shots from the roof above, with dire consequences. A landlord is murdered on another rooftop, and a suicide occurs on yet another. One gets a cumulative impression of crime and conflict being rife across these various districts of Algiers.
Allouache is considered the preeminent Algierian director, and the violence and strife depicted rather melodramatically are part of his ongoing critique of his nation's social problems.
In contrast, Lacôte sets Run apart by adopting a classic flashback structure. The film opens with the crisis of the story: the hero, nicknamed "Run," shoots the prime minister in a crowded auditorium and flees.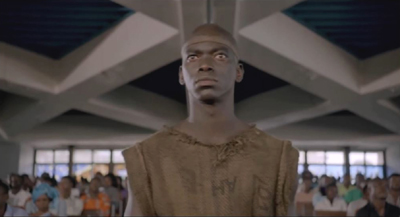 From then on, we see him in hiding as he reflects on how he became an assassin. The alternation of scenes from his youth and his current-day attempts to avoid capture are easily comprehensible. Lacôste finds ways to create visual interest and avoid conventional stagings of scenes, as in the low angle above that juxtaposes the hero with a looming, crisscrossing ceiling.
Another example comes when his friend gives him shelter and food. Rather than a simple shot/reverse-shot conversation across a table, we see a depth scene, with Run sitting on the floor to eat and his friend in the foreground twisting to talk with him:
Back in the 1960s and 1970s, the notion was that people in underdeveloped countries could gain small cameras and discover their own ways of making films, free of Hollywood conventions. To some extent that happened. But with the globilization of mass media, few people, however isolated, can remain unaware of Western culture.
Presumably some filmmakers have aspired to match the technical standards of Western offerings in international film festivals. These two films show them succeeding, having thoroughly grasped the conventions of both art films and popular genres. We 'll discuss an example of the latter in an upcoming entry on Middle-eastern films at VIFF, and in particular the Iranian vampire film, Girl Walks Home Alone at Night.
Ann Hui's quiet epic
Ann Hui's career is usually associated with intimate films, mostly studies of character. We saw her at Ebertfest earlier this year, where she presented A Simple Life, the epitome of such films.
Now she has surprised audiences with another character study, but one set in a tumultuous period of Chinese history, the late 1930s and early 1940s. The Golden Era (2014) tells the story of female writer Xiao Hong, who died young in 1942. Not all the facts of Xiao Hong's life are known, and the narrative sketches scenes derived from the author's own writings. Interspersed are "documentary" shots of interviews with people (played by actors) who knew and worked with Xiao Hong.
Much of the tale consists of small-scale scenes, conversations among a few people set indoors or in the streets. Yet as the Japanese invasion begins and spreads, occasional big scenes occur, and Hui proves herself perfectly capable of suggesting creating a sense of epic events.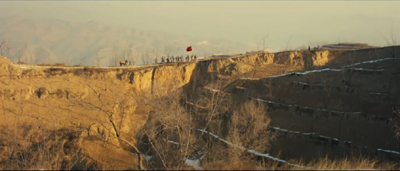 The war is only fleetingly present, however. We see it mainly from the viewpoint of the main characters, as when a quiet indoor conversation scenes are abruptly and startlingly cut short by bombs going off outside and shattering windows.
The film's settings and costumes create a vivid sense of the era. There are street scenes in Hong Kong shortly before its fall to the Japanese that appear almost documentary in their realism. Throughout the images are beautiful, as the frame at the top of the entry demonstrates.
The film's three-hour running length adds to the epic feel, tracing the heroine's changing fortunes across momentous historical events. It makes a striking contrast with A Simple Life, and yet Hui's concern with precision and detail in delineating characters remains constant. The pair might bring her back to the sort of prominence outside Hong Kong that she enjoyed in the 1980s and early 1990s. Indeed, The Golden Era was just presented as the gala film at the Busan Film Festival.
Another farewell from a Ghibli master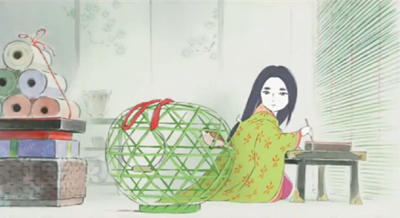 Just over a year ago Miyazaki Hayao announced that he would retire, having completed and released his final film, The Wind Rises (2013). Speculation over the fate of Studio Ghibli, the animation studio that he co-founded, followed.
Now we have the reported final film of a second of the three original founders, Takahata Isao, whose most famous film is Grave of the Fireflies (1988). Like The Wind Rises, The Tale of the Princess Kaguya (2014) lets its director go out on a high note.
Based on a tenth-century fairy tale, Princess Kaguya has a distinctive style, with most scenes done in translucent watercolors in pastel shades, quite different from the solid, vivid colors of much of Miyazaki's work. It tells its story in a leisurely fashion, running 137 minutes, which may be a bit challenging for younger children, but it is never boring.
Kaguya is not necessarily a princess. We're not sure what she is. She appears miraculously one day as a tiny baby in a glowing bamboo shoot. She is iscovered by a bamboo-cutter who assumes she is a princess and insists on calling her that.  The bamboo-cutter and his wife raise her in a forest cottage (seen below). The opening section is idyllic, with the tiny girl growing unnaturally fast, in spurts. She is befriended by neighboring children, and the group explores the surrounding countryside, reveling in the beauty of the plants and animals they observe there.
Spurred by another miraculous discovery, this time of gold nuggets inside a bamboo stalk, the bamboo-cutter decides to build a mansion in a nearby city and make Naguya into a real princess by marrying her off to royalty. There ensues the classic competition among suitors to find the most fabulous object and present it to Naguya.
Naturally Naguya longs for the countryside and finally rebels. In a remarkably stylized, exciting scene that contrasts with the rest of the film, she races toward her forest home, and the pastel settings disappear. She becomes a blur of black, white, and red flashing through a gloomy landscape with sketchily drawn trees and plants that flicker wildly past: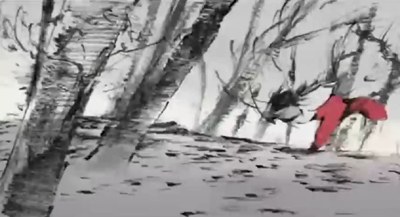 The Tale of Princess Taguya has been announced for an October 17 release in the USA, distributed by GKids. Unfortunately it will only be available in a dubbed version. Even dubbed, it's worth seeing on the big screen, but with luck there will be an option for the original Japanese-language version with subtitles on the DVD/BD release.
Studio Ghibli has released another film, The Kingdom of Dreams and Madness, a documentary about the studio by Sunada Mami. (It played at Toronto but is not here at VIFF.) Its appearance seems to hint that Ghibli really is going to cease feature production, though the official story is that it is only pausing. It has been a prolific producer of short animated films, and perhaps that side of its activities will continue. For a good summary of the situation and a description of the documentary, see here.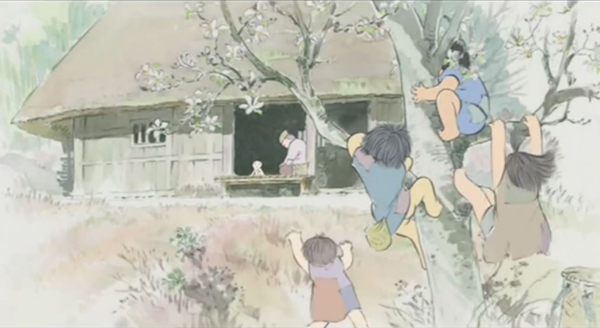 The Tale of Princess Taguya