Tuesday | June 24, 2014
open printable version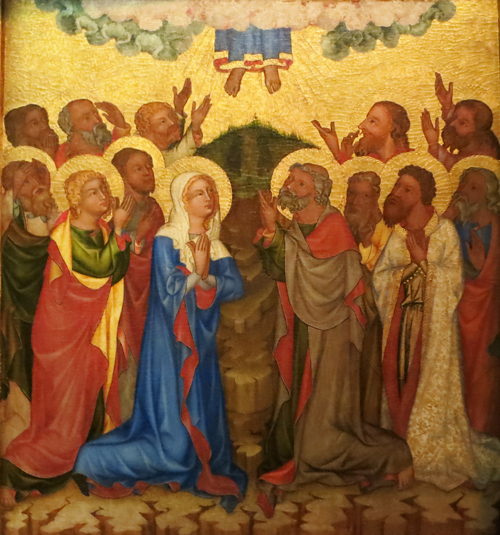 The Ascension of Christ, panel from the Vyšši Brod Altarpiece, ca. 1350. Convent of St. Agnes, Prague.
DB here:
Kristin and I are in Prague for about a week, in connection with two lectures I'm giving Wednesday and Thursday.
In the meantime, we've met with friends. After we arrived we had a lively dinner with Radomir Kokes, specialist in Czech silent film. Last night we met with Petra Dominková and Vaclav Kofron, translators of the Czech editions of Film Art and Film History, and Michal Bregant, head of the National Film Archive (and who also contributed to the translation of Film History). During that enjoyable evening we learned, among other things,that  film lovers of Michal's generation took the train to Hungary to see American films that didn't make their way into their country.
Later, meeting with Radomir and our principal host Lucie Česálková , we learned of their robust, long-lived journal Iluminace, which publishes film research in both Czech and English. The most recent issue is devoted to studies of film festivals.
So far we've spent the rest of our time visiting museums. Prague is bursting with rich collections of European art from all eras. Today (Tuesday) we went to one of the major venues, the Convent of St. Agnes, which houses a vast array of  Bohemian medieval and early Renaissance painting and sculpture.
There were plenty of images to give us pleasure. One of the most spectacular set of items was a series of fourteenth-century altar panels representing the life of Jesus. Each one gave what seemed to me a fresh interpretation of the major episodes–annunciation, nativity, etc.–but especially striking was the one devoted to the Ascension. After being resurrected, Jesus is lifted to heaven; but contrary to what we usually see, the action is represented "offscreen." All we see are Jesus' feet, as above. A nice touch Kristin noticed: He left his footprints in the earth.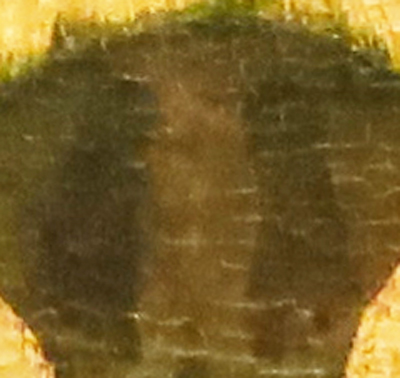 I'm drawn to such peculiar treatments of conventional material. There were some other instances in other Prague galleries. Take this piercing image of the mockery of Jesus, in an unidentified Netherlandish painting from the first half of the sixteenth century. The torturers are blowing a cowhorn at Christ, banging a pot, pressing a stool against his head, thrusting a rod into his mouth, and spraying him with a flit gun.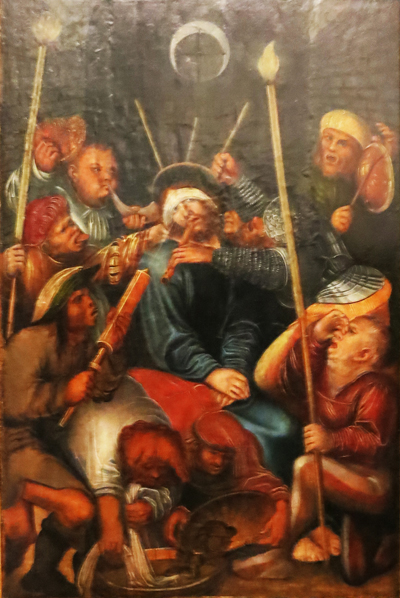 Most remarkably, at the bottom of the composition one man fills a basin with what seems to be shit, while another man dips a cloth in it, as if preparing to apply it to Christ's face. The suggestion is reinforced by the wizened man on the far right holding his nose.
Such visceral images remind you that holy pictures can be pretty ornery. They also remind you of Jan Švankmajer, that great Czech animator. So far, there's no museum dedicated to him, but following Petra's suggestion we did visit the Karel Zeman Museum, just off the Charles Bridge. It offers enjoyable attractions tracing Zeman's career, with emphasis on Journey to the Beginning of Time (1955) and The Fabulous World of Jules Verne (1958). Kristin hopes to write at greater length about the museum and Zeman later this summer.
Tomorrow: Off to the world-renowned archive to watch Czech silent films. Who knows what we'll find?
---
Thanks to Lucie Česálková and all her colleagues for making our visit possible. Thanks also to Michal Bregant for a correction in the original posting of this entry.
Kristin and I wrote about Švankmajer's remarkable Dimensions of Dialogue (1982) in the latest edition of Film Art. At the Zeman Museum we discovered a beautiful 2013 book on the filmmaker, available here.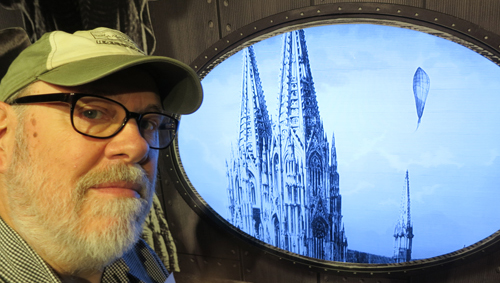 DB at the porthole of Nemo's Nautilus in the Zeman Museum.