Sunday | January 26, 2014
open printable version
DB here:
Today what a film critic hollered, or murmured, or didn't say at all, at an awards dinner can get more publicity than the prizes the directors and stars won on the occasion. The very top critics can become media celebrities. They hang out with filmmakers, curate at museums, sit on festival juries, teach at universities, and get interviewed on TV and the Net. When they die, they may get cloudbursts of appreciation; Pauline Kael and Roger Ebert received more elegies and memoirs than most departed filmmakers do. Few film critics probably count as "public intellectuals," but most have greater visibility outside their sphere of expertise than, say, critics of painting or music do. And filmwise people read critics not to find out about this or that movie, but to enjoy a "personal voice."
It wasn't always so.
The film critic as superstar
Movie criticism ascended definitively into the world of letters during the 1960s. In earlier decades, writers like Vachel Lindsay, Carl Sandburg, and Graham Greene had tried their hand at film pieces, but their fame was already established in other domains. In the 1960s, though, Kael, Andrew Sarris, Stanley Kauffmann, and a host of others treated film reviewing as not merely a report on current releases but an occasion for a display of the writer's sensibility. Still others, like Dwight Macdonald, John Simon, and Susan Sontag, wrote about the arts generally, but their fame depended heavily on what they said about movies.
"I read X," people started to say, "not because I care much about current films but because s/he is such a good writer, such an interesting person." (Bosley Crowther, eternal Straw Man who wrote for the Times, did not come off as a charismatic dynamo.) A new picture's release became less the object of judgment than the springboard for critical high dives, weekly or monthly or quarterly performances of verbal bravado and conceptual risk-taking. Film criticism began to host a cult of personality, even a kind of elite branding.
There's no denying that in all the spite, vanity, teacup tempests, and conceptual confusions of the era there were still some long-lasting critical achievements. I suggest a couple of them here and here. My point is just that these 1960s writers showed that journalistic film criticism could be as idiosyncratic and intimate as the writing of, say, Bernard Shaw on music and theatre. And you could gain fans and fame solely as a critic; you wouldn't have to write Mrs. Warren's Profession.
If I had to pick one pivot-point for the beginning of this new age, I'd choose 16 May 1955. On that day James Agee had a fatal heart attack in a New York cab. Two years later A Death in the Family was published. Despite being unfinished, the novel won enormous praise and was awarded the Pulitzer Prize. Agee's renewed fame led to the publication of Agee on Film: Reviews and Comments in 1958. The collection revealed that a man of letters who was largely unappreciated by the literary establishment during his lifetime had spent precious creative years, week in and week out, reviewing movies for both a highbrow liberal weekly, The Nation, and, more surprisingly, Time (anonymously).
Suddenly people recognized that a magazine column passing judgment on the week's releases could conceivably display graceful style and probing thought. The book boasted a 1944 blurb in which W. H. Auden called Agee's column "newspaper work of permanent literary value" and "the most remarkable regular event in journalism today." A review of Agee on Film in the New York Times declared that Agee's fierce love for cinema "gave him a deeper insight into the nature of the movie medium, in esse and in posse, than any other American with the possible exception of Gilbert Seldes." The Saturday Review reached higher. "He was the best movie critic this country has ever had."
There's no knowing how many teenagers and twentysomethings read and reread that fat paperback with its blaring red cover. We wolfed it down without knowing most of the movies Agee discussed. We were held, I think, by the rolling lyricism of the sentences, the pawky humor, and the stylistic finish of certain pieces—the three-part essay on Monsieur Verdoux, the Life piece "Comedy's Greatest Era," the John Huston profile "Undirectable Director." The adolescent fretfulness that put some critics off didn't give us qualms; after all, we were unashamedly reading Hart Crane, Thomas Wolfe, and Salinger too. Some of us probably wished that we could some day write this way, and this well.
The timing of the collection was good. The status of film criticism in the 1960s was being boosted by intellectuals' interest in movies. More people were going to college, and some of them were drawn to foreign imports (Bergman, Antonioni, Kurosawa, Godard et al.) and young American cinema (The Graduate, Bonnie and Clyde, Easy Rider, etc.). Such unusual movies demanded commentary, even debate. This was the moment that made the movie review or the longish think-piece into a vehicle of serious writing and thinking. Agee on Film became the model for similar collections by Kael (I Lost It at the Movies, 1965, made her reputation), Sarris, Simon, Macdonald, Kauffmann, and many more writers. Published by trade presses in surprising bulk, these items now sell online for prices of $.01 and somewhat above.
The shock of the old
That steady stream of cut-and-paste collections swept two other 1940s pioneers back into view. Parker Tyler had been writing voluminously throughout the 1950s and 1960s, and he published a collection in the wake of Agee's: The Three Faces of the Film (1960). There followed another gathering, Sex Psyche Etcetera in the Film (1969). More important was the 1970 reprinting of Tyler's first two movie books: The Hollywood Hallucination (1944) and Magic and Myth of the Movies (1947).
Like Tyler, Mannny Farber had continued writing about film after the war years, and he gathered several pieces from that later period into Negative Space (1971). Neither Tyler nor Farber would probably have returned to fame without the canonization, in at least two senses, of Agee. Their honored predecessor, Otis Ferguson, had been killed in the war, but the film book boom revived his reputation as well, with his collected reviews appearing in 1971.
These anthologies revealed that these writers had done great things. In 1940 Agee was thirty-one and Farber was twenty-four. Their youth, I think, made them plucky enough to try to think boldly about commercial cinema in America. Tyler, the oldest, was thirty-six, but he had not lost the impertience that made him call himself, during his earliest days in New York, The Beautiful Poet Parker Tyler.
Neither highbrow nor lowbrow (nor middlebrow), neither pure journalists nor Algonquin intellectuals, they created a daredevil criticism that remains audacious and dazzling. We have here three guys who smuggled themselves into the literati without becoming pale versions of Edmund Wilson.
Each of the trio displayed a fine intelligence trained in the high arts, particularly modernist trends. Yet each detoured around the current debates on mass culture and plunged directly into the stuff itself, unashamed. Each man taught his readers to see things in movies that more serious intellectuals missed. Each cultivated a writing style that evoked a sharply etched personality. And each strategically lapsed into rhapsodic, occasionally nutty outbursts unlike anything on offer from their staid contemporaries.
Tyler started earliest, with a 1940 review of Rebecca and Blondie on a Budget for the Surrealist View, and he kept going there and in other magazines and in three books. In late 1941 Agee wrote his first review for Time, and he became a regular contributor in 1942; later that year he began his stint at The Nation. In 1942 as well Farber started covering film for The New Republic. Both continued through the decade. By the time Agee died he had largely given up film criticism, but Farber and Tyler kept publishing into the 1970s.
Agee and Farber were high-end journalists, while Tyler practiced belles lettres in the pages of  art journals and little magazines. Their styles were sharply different, as were their tastes. Agee and Farber had a butch swagger ("virile" and "tough" recur), while Tyler offered what he called later "the straight face of high camp" and wrote "tongue stiff in cheek." But they had a lot in common too.
For one thing, all were polymaths. Agee was a poet, novelist, screenwriter, and author of one of the landmark books of the 1940s, Let Us Now Praise Famous Men. Farber, while writing reviews and working as a carpenter, eventually made a career as a painter. Tyler wrote poetry, a scandalous experimental novel about gay life, and essays and books on the arts.
At the same time, all were cinephiles from their earliest years. They knew the Standard Story of film history, recently traced at length in Lewis Jacobs' Rise of the American Film (1939). Their canon was, by today's standards, very cramped. Always the same Museum of Modern Art touchstones and Manhattan revival fodder: Griffith (for some shorts and Birth of a Nation), the silent clowns (Chaplin above all), Caligari, Potemkin (sometimes Earth), and René Clair's Italian Straw Hat and his early sound pictures. Yet the critics agreed that however great the classics remained, and however terrible contemporary Hollywood could be, there were extraordinary things to be found in new releases.
Beauty, in flashes
The Story of G. I. Joe (1945).
What sorts of things? Beautiful things. These critics seem to me aesthetes pursuing modern beauty, though from various angles. Agee was a Romantic, Farber a post-Cezanne modernist, Tyler an avant-garde dandy in the Wilde-Cocteau tradition. Their attitudes had been well-established in the sacred precincts of literature and painting but hadn't made their way to the criticism of mass art.
Moreover, the three critics understood that movies stretched the standards and premises of high art. Most critics thought that you couldn't talk about Cary Grant in aesthetic terms; these three understood that you could, if you favored criteria like liveliness, poignancy, force, and arresting details. Most intellectuals couldn't recognize art in mass-market movies because Hollywood had redefined what artistry was. In some cases it had taken creativity beyond art, into a realm that Tyler called "hallucination."
The beauty that these three disclosed was often merely glimpsed. All believed that parts sometimes superseded wholes. Most movies lacked the formal unity of expression of classic art. Instead of finding this worrisome, they found it exhilarating. Each one was alert to momentary diversions, odd spots, places where something unpredictable seemed to leak in around the cracks.
The idea that Hollywood movies sometimes yielded fugitive moments of truth wasn't uncommon in the period. Barbara Deming, looking for symptoms of American malaise, suggested that actors "scuffed in" a tangible reality of behavior and voice that couldn't be manufactured, and Dwight Macdonald conceded that the system sometimes turned out films with moments of "vitality."
Vitality was precious to my threesome too, but they probed further. They suggested that a good part of the artistry, or at least the fascination, of popular movies lies exactly in those details or plot turns or performance bits or throwaway compositions. The vagrant items might enrich the action, or detour it. They might, Farber and Agee thought, be willed by the directors and actors, yielding flashes of diversion or glimpses of real life.
These actors produce some light, whimsical effects which are generally minor as far as making the plot any more significant, but they are the most intriguing parts of the film and were generally intended by the director (Farber on The Mask of Dimitrios).
[The film includes] purely "meaningless" bits—such as a shot in which Ernie Pyle (Burgess Meredith) sits by the road while some soldiers straggle past—which have as great meaning as anything could have, being as immediate and as unlimited by thought or prejudice as what the eye might see on the spot, in a casual glance (Agee on The Story of G. I. Joe).
For Tyler, the blooming pleasures could also be inadvertent.
The voice [is] an independent actor, an element that, as with all Hollywood components, refuses to be completely absorbed into the artistic mesh and creates a little theater of its own.
He thought that most films lurched from moment to striking moment, leaving piquant dissonances behind. "Crevices," he called them.
Faults = beauties
The Picture of Dorian Gray (1945).
These critics accordingly recast one of the conventions of film reviewing: the rhetoric of faults and beauties. Everybody knows the trick. This moment is rather nice, but that one falls flat…. The  dullness of the affair is alleviated by a flash of comedy by a young woman we hope to see more of….Brilliant as it is, the film suffers from a certain stiffness… Unless you're writing a hatchet job, you must dose your praise with some vinegar, and you must dilute your severity with a few compliments.
Our three critics turn faults-and-beauties criticism to fresh purposes. Agee uses it to whip himself into loops of intemperate indecision. Writing up Till the Clouds Roll By he suggests that the story is feeble, but the players are "nice people" and the songs are by Jerome Kern. He can give and take away in a single phrase.
If, as I do, you like a good deal of his graceful, nacreous music, the picture is pleasantly, if rather stupefyingly, worth all the bother. The songs are nearly all sung with care and affection, though not one that I have heard before is done here quite as well as I have heard it elsewhere.
Farber likewise crosscuts his praise and blame. On the "well-played and punchy" Home of the Brave, which Farber declares "a clattering, virile movie with deeply affecting moments," we also get:
The script is so basically theatrical that it has to be acted almost entirely from seated or reclining positions, but the director works more variations on those two positions than can be found in a Turkish bath. The actors talk as though they were trying to drill the words into one another's skulls; this savage portentousness not only forces your interest but is alarming in that the soldiers are usually surrounded by Japs and every word can obviously be heard in Tokyo.
If Agee is Hamlet, Farber plays Hotspur. Agee keeps turning his other cheek; Farber turns yours, from side to side, lightly slapping.
Tyler marks out faults and beauties more cleanly. But since the pleasure of thinking about Hollywood movies consists partly in quickening their clichés with jolts of your imagination, the faults become valuable points of interest and, perversely, blossom into virtues. Such is the portrait of Dorian Gray in Albert Lewin's film. The degenerate image, revealed in a screen-filling shriek, is doubtless vulgar in its execution by Ivan Albright and in its garish Technicolor. Both Agee and Farber complained that they wanted to see the painting deteriorate in stages, but Tyler finds its shock-cut revelation as morbidly appealing as a flowering Nightshade.
It is proof of Hollywood's commendably alert, albeit limited imagination. . .  . Although art is implicitly offended, one cannot help reacting with a certain thrill. It is the way one usually reacts to zombies and werewolves from the jungles adjacent to Sunset Boulevard. Ivan Le Loraine Albright has given us in his portrait of Dorian the wicked, a compelling version of the American moral jungle from which fundamentally all famous creeps must be said to crepitate.
Even flagrant errors of taste, Tyler suggests, can create provocative crevices for the critic's imagination.
Speaking in tongues
The standard images have endured. Agee is the sensitive and sentimental humanist, Farber the poolroom wiseacre who reads The Art News, Tyler the hyperintellectual camp follower who does a couch job on the movies. But this lineup does them a discredit. Basically, all three function as performers.
Writing about movies allows them to do the police in different voices, to spread out American idioms like magicians fanning a fistful of cards. The sheen and pulse of the prose carry us through mixed metaphors, dropped conjunctions, and ricocheting associations. Ferguson had jiggled and snapped a sentence like a lariat, but these boys get really carried away. They become pop-culture rhapsodes, writing in a divine frenzy.
These bards aren't kissed by the gods, though. They're carried away by having found a subject–movies–that triggers a controlled ecstasy. The result is usually comic, sometimes dramatic, but often sensuously arousing. An orgy of words, after all, is still an orgy.
Farber, of course, is celebrated for his baroque firepower, fueled by paradox and hyperbole. The sentences seem to veer out of control before ending with a wisecrack that's sometimes a capper and sometimes just weird but always unpredictable.
The movie, "The Postman Always Rings Twice," is almost too terrible to walk out of. . . . The wife spends her time in what should be a jungle washing the several thousand stunning play suits she wears to wait on tables, going for moonlight swims, dancing stylish rhumbas with the hobo. I think the best bobby-sox touches are the white turban that Cora wears to wash dishes, the love scenes which show Cora in a yum-yum pose and outfit, looking like a frozen popsicle, with Frank ogling her at six paces—and probably the director, in the background, swooning over a hamburger.
Want something more refined but no less gaga? Here is Tyler, in one of my favorite passages of American film criticism, on Lauren Bacall in To Have and Have Not.
I was still transfixed by the conundrum of her voice, almost without inflection, low and lazily paced, with a pleasant burr of the Dietrich sort but not classifiable as to its true sources. . . . That she approached Hollywood with a certain Machiavellianism, I think, is shown by the mild Mephistophelian peaks of her eyebrows. Yet all of us are human; the most sensational military plans, even if the army wins, sometimes go kerflooey. Miss Bacall had evidently intended her voice to give notice that she was a Garbo to the gizzard, hard to get, and not going to let Humphrey triumph at the first shot.
I don't think Mephistophelianism has ever been juxtaposed with kerflooey so effectively.
Agee, taken by many today as a gentle soul who leaned too much on his lyrical gifts, proves ready to spin us into orbit in reviewing the Warners cartoon Rhapsody Rabbit. Bugs Bunny as a concert pianist gives "a cut but definitive performance" of a Liszt Hungarian Rhapsody.
The best part of it goes two ways: one, very observant parody of concert-pianistic affectations, elegantly thought out and synchronized; the other, brutality keyed into the spirit of the music to reach greater subtlety than I have ever seen brutality reach before. I could hardly illustrate without musical quotation; but there is a passage in which the music goes up with an arrogant wrenching of slammed chords—Ronk, Ronk, RONK (G-B-E)—then prisses downward on a broken scale—which Bugs takes (a) with all four feet, charging madly, scowling like a rockinghorse late for a date at stud, (b) friskily tiptoe, proudly smirking, like a dog toe-dancing through his own misdemeanor or the return of an I-Was-There journalist, a man above fear or favor who knows precisely which sleeping dogs to lie about. It killed me; and when they had the wonderful brass to repeat it exactly, a few bars later, I knew what killed really meant.
The longer you look at this, the more outrageous it gets. A rockinghorse put out to stud? A dog's "misdemeanor"–i.e., pissing on the carpet? And can you imagine Fido with a proud smirk? What's the on-the-spot journalist doing here? And was the travesty of the "sleeping dogs lie" cliché suggested by association with the balletic, emptied-bladder dog? On many occasions Agee, no less than his peers, was touched with benign madness. But of course the craftsman wasn't sleeping: all the parallel clauses are set into balance by stately semicolons.
Such virtuosity hasn't gone unnoticed. Two entire shelves of my university library are filled with books on Agee. Farber Studies, already teeming with admiring short reviews and memoirs and tributes to his painting, can be expected to swell too. Admittedly, Tyler, no less a dazzler in his way, remains less acknowledged. Even gay critics seem not to have pushed his cause as much as they might. Still, becoming a phantom presiding over Gore Vidal's Myra Breckinridge (published, be it noted, in 1968) grants its own sort of immortality.
I'm captivated by all three. None holds me hostage, though; I write as an enthusiast but not a promoter. What attracts me now, in tandem with the book I'm writing on Hollywood in the 1940s, is what they did in their first decade. Although many readers didn't notice, these three made writing about American film exuberant and important. They raised it to a level of frenzied acuity that it had never enjoyed before. They helped create, by the delayed action I sketched earlier, the modern institution of movie criticism, with all its virtues and excesses. In the process, they forged some original ways of thinking about American cinema. 
This series of entries continues here.
---
This series of entries began as a lecture for "Narrative Theory and 1940s Hollywood," a seminar that I co-taught with Jeff Smith in the fall at the University of Wisconsin–Madison. Thanks to Jeff and all the members of the seminar for an enjoyable semester. I also want to thank Kent Jones and Jim Naremore,  considerable critics both, for email discussions of these writers.
For a wide-ranging survey of the US scene, see American Movie Critics: An Anthology from the Silents Until Now (Library of America, 2006), ed. Phillip Lopate.
I've taken my Agee and Farber quotations from the Library of America collections of their work (available here and here). Quotations from Tyler come from The Hollywood Hallucination (Simon and Schuster, 1970; orig. 1944) and Magic and Myth of the Movies (Simon and Schuster, 1970; orig. 1947).
Barbara Deming writes of "scuffed-in" meanings in her article, "The Library of Congress Film Project: Exposition of a Method," The Library of Congress Quarterly Journal of Current Acquisitions 2, 1 (1944), 10. Albert Moran discusses this and other passages in Deming's piece in "Film and Psychology: Notes on the 'Psychological' Film Criticism of the 1940s," First Australian History & Film Conference Proceedings, ed. Ann Hutton (National Library of Canberra, 1982), 123-124.
The indispensable book on Farber, Tyler, and their milieu is Greg Taylor's Artists in the Audience: Cults, Camp, and American Film Criticism (Princeton University Press, 1999).
Rhapsody Rabbit is currently available for viewing on Vimeo.
P.S. 27 January: The earliest version of this entry shaved ten years off Parker Tyler's age! He was born in 1904. The error has been corrected.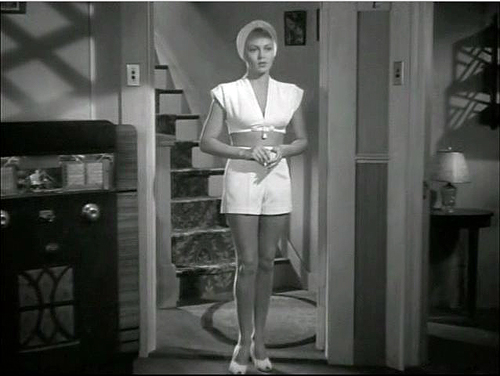 The Postman Always Rings Twice (1946).