Monday | March 11, 2013
open printable version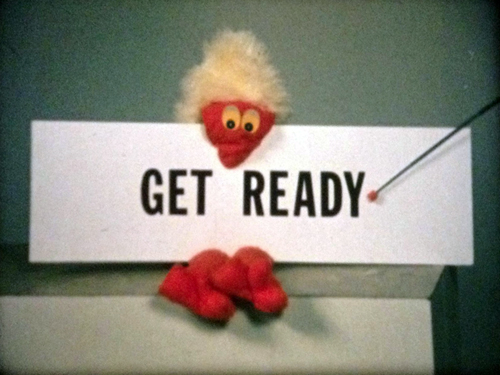 From Lost & Found Film Club.
DB back:
While I was semi-snowbound in Evanston, IL, messages kept rolling in. Many of them were responding to my account of surrendering my 16mm movies and gear. That post's whiff of nostalgia was caught by Gary Meyer, co-director of the Telluride Film Festival.
Don't get me started on 16mm memories. I started showing movies in 8mm at about ten years old and by thirteen I had two for changeovers on silent classics rented from Cooper Films in Chicago. For about $2 I got a full feature and short including postage. Using my parents' record collection I could score the films. . . .
Graduated to 16mm in high school when a local church and the library each offered use of their projectors and I started collecting prints seriously. In college I got a job in the media center showing films, cleaning prints and projectors. When the department decided to buy Bell & Howell Auto-Shreds, they sold off the old projectors for $50. I knew each machine intimately and selected the quietest, gentlest RCA 400 which I still have in a booth in my basement. One of my favorite projectors.
With 16mm projectors I have shown movies on garage doors from my apartment, in a barn, an orchard or two, and most famously on clouds, which resulted in the police department getting many phone calls about aliens. 
Gary reports that his former venue, the Balboa Theatre, has given its theatrical Eiki projector to the San Francisco State University film department, but it can be borrowed back if ever needed. A more acute sense of the passing of an era was reported by program curator and Czech arts consultant Irena Kovarova:
One of the sad moments in my film history was being invited to the Czech Embassy in Washington, DC to visit a room of 16mm film piles. I was asked to pick and choose which ones should be saved and which would be chucked away (the majority). It was a collection of films that the Embassy inherited from the Communist-era offices when the staff was shipped films for their entertainment (Czech popular comedies) and of course tons of "travel" and "propaganda" stuff. It was impossible to know what was really there and a lot was mediocre, but still such a sad thing that no one could really dig in and explore.
Secrets of the Incas, and non-Incas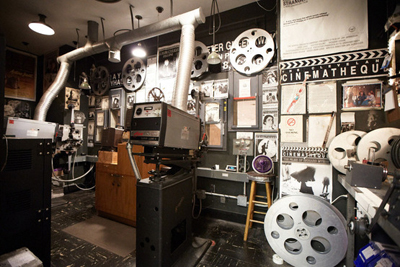 Projection booth, Cleveland Cinematheque.
But there was good news too. In the course of that entry, I said that 16 was "nearly dead" as an exhibition format. Trust this blog's alert readers to give a more upbeat emphasis and offer some weighty counterexamples. Don't hesitate to use the hyperlinks!
I was confirmed in my belief that archives will keep the format going. I hear from our old friend Antti Alanen of the National Audiovisual Archive of Finland, that 16 flourishes in Helsinki.
We still keep screening 16mm regularly at Cinema Orion, and for the moment print access is still good. We recently showed three programs of Stan Brakhage movies (from Canyon Cinema) and one programme of Rose Lowder movies (from Light Cone of Paris), all in the original format of 16mm, all prints and colours perfect.
I haven't seen Brakhage on DVD, but those who have remarked that it is not the same thing. There is something about the special sensuality of 16mm which is essential to the Stan Brakhage experience. All of those films fill up the senses.
Besides Canyon Cinema and Light Cone, LUX in London still seems to be well-stocked with good 16mm prints in commercial distribution.
Bracing news. Antti mentions as well that he used to be able to access 16mm films made for the Finnish Broadcasting Corporation, but now the agency has realized that the prints are irreplaceable and provide digibeta copies instead. The loss for showing is a gain for preservation.
I indicated as well that colleges, universities, and museums will probably maintain 16mm prints and showings. My correspondents have confirmed it, and offer some ripe local detail. Tracy Stephenson of the Museum of Fine Arts, Houston, tells me that they have shown films since the 1930s and may be the only venue in Houston that still screens 16. They have a program of jazz shorts coming up in June.
Here's John Ewing of Cleveland:
I still show 16mm on occasion (and two-projector 16mm at that) at both of my venues: the Cleveland Cinematheque and the Cleveland Museum of Art. In fact, I just ran the 16mm program from the 50th Ann arbor Film Festival tour last Thursday night at the Cinematheque. Last time I showed 16 at the art museum was in December when we screened an IB Tech print of Secret of the Incas, from the Academy Film Archive.
From the Oklahoma City Museum of Art, Brian Hearn writes:
We are pretty serious about 16mm and maintain a modest collection of about 500 prints, ranging from Lumiere Brothers shorts to studio features to avant-garde to educational films to 70s exploitation trailers. As the film medium dematerializes it makes me appreciate our collection even more, vinegar and pink fading prints included!
Calling a collection of 500 titles modest makes me grin (in envy). On the university side, Jon Vickers supplies other breathtaking information:
Indiana University Cinema programs from the University's 16mm collection on a regular basis, with 16mm screenings at least once each month. In the IU Libraries Film Archives, there are over 80,000 items, the majority being 16mm. Within that collection is Lilly Library's David Bradley Collection, spanning the history of cinema in the US and Europe, including classic, obscure, and some unique titles. We dedicate a series each semester to the holdings within the Bradley Collection (programmed by Film and Media Studies grad students), as well as program from the educational/non-theatrical collections and holdings.
We can't imagine a day when we will stop screening 16mm.
With that treasure house, I can see why! Pablo Kjolseth of the University of Colorado at Boulder also defends the format resolutely. Pablo has written one of the most fiery and persuasive polemics on digital cinema. Not only does his program have an extensive library, but they are still actively collecting in 16. Moreover, as home to the annual Brakhage Center for Media Arts symposium on experimental film (coming up next week), Boulder's campus relies constantly on 16.
Hipsters, nostalgics, and toddlers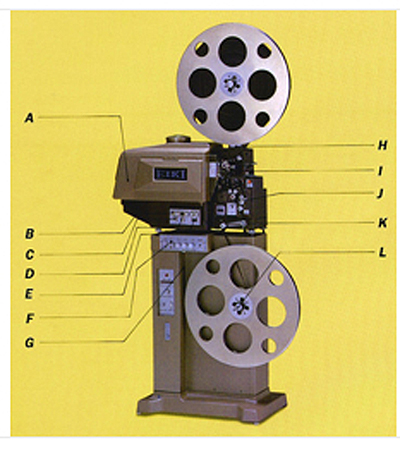 Eiki EX-9100 Professional 16mm Sound Optical/Magnetic projector with 2000-watt lamp. Currently available on eBay for $8,500.
Perhaps the most cheering news comes from those enterprising programmers of films for public venues, both for-profit and not-. Barak Epstein of  the Texas Theater uses Kodak Pageants (of my fond memory) with manual changeovers and a manual audio fader. Pittsburgh Filmmmakers, writes Gary Kaboly, uses its Kinoton and Eiki machines every couple of months. He adds:
Throwing around the idea of a "classic 16mm experimental" series in the fall. Young Hipsters see attending a 16mm show as an "event." Old Hipsters always describe what an Art House was "back in the day."
The Cinefamily venue of LA has established itself as home to what the local paper called "pathologically idiosyncratic programming," and 16 adds sharp spice to the mix. Here's Hadrian Belove, the Head Programmer, on his personal quest and the formation of the Lost & Found Film Club:
I'm definitely of an age that would be post-16mm collecting, but still got hooked. One of the great appeals of 16mm for me is it feels like the final frontier for discovering true rarities. . . . It's kind of the ultimate format for a "digger." Finding Christian experimental films, industrial films, student films, and copies of TV movies, episodes, and even theatrical features that simply never made it to any form of video is de rigueur.
Nothing gives me more pleasure as an explorer than trolling eBay for 16mm.
I began showing things I would buy after hours to the staff here at Cinefamily, and hadn't even considered it as a public show. Over time, some of the "kids" on the staff started buying their own 16mm ephemera, and finally proposed taking our private show public. I thought what the hell, cost is low, and we were doing it anyway. I gave them a terrible time slot I wasn't using (10:30 on a Wednesday).
They launched this:
https://www.facebook.com/LostFoundFilmClub
Anyway, the first show had 100 people, even at 10:30 on a Wed night. Maybe it's those grilled cheese sandwiches!
Finally, I had noted that FOOFs (Fans of Old Films) had a noble tradition of gathering in annual conventions. Jessica Rosner, film scout extraordinaire, writes of screenings at the upcoming Syracuse Cinefest: "The majority of films will STILL be in 16mm and they will be films that are rarely available to be seen any other way."
A further note from Pablo Kjolseth brings things back to Gary Meyer's childhood and the FOOF in us all. Pablo hosts summer screenings in his back yard.
My Eiki Xenon projector shoots through a guest-room window to the screen in the backyard – transforming the guest room into a "projection booth" of sorts. The next [picture] is a nice ominous shot of Darth under stormy skies. . . . Although I've played around with some digital screenings, everyone prefers the 16mm shows. And this even though I don't do reel-changes or employ a take-up tower – thus having small intermissions between each reel change. These intermissions are quite popular, as it allows folks time to refill their drinks, go to the bathroom, and comment on what they've seen so far.
As many as 60 people might show up for any screening. As the children in the neighborhood are always entranced by the projector, I try to make sure to have a couple family-friendly screenings every summer. My neighbors are great: they've even tolerated backyard screenings of such titles as DAWN OF THE DEAD and THE TEXAS CHAIN SAW MASSACRE – admittedly poor choices, given that in the summer heat most people sleep with their windows open and late at night they might not appreciate all the screaming and, well, chainsaws. But, so far, no complaints!
None from my end, either. Is it just me, or does Darth look more menacing here than in any other setting?
After reading these communiqués, two thoughts. First, a great many programmers are working very hard to track down and screen unusual items for their audiences. These folks and their peers are committed to exploring cinema along routes that bypass the multiplex. Who wouldn't rather watch Secret of the Incas than, say, The Last Exorcism Part II?
My second thought comes with a pang. Was I wise to clear out my 16 collection? Our department and other collectors benefit, but still… A basement will dry out, but films that are gone are gone.
Thanks to all who wrote me, and to the Art House Convergence list serve for its stimulating conversations.