Wednesday | September 28, 2011
open printable version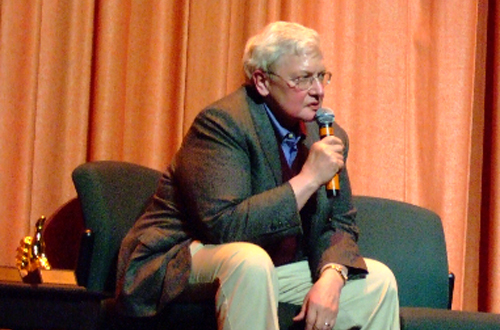 Roger Ebert in a moment of seriousness at Ebertfest 2006.
DB here:
Life Itself  is not an ordinary memoir. True, it's roughly chronological, taking you from Roger's childhood through college to journalist days and then to the career we all more or less know. But from the start, we may find several moments, decades apart, squeezed into a single paragraph, even a single line. An incident in the past triggers a flashforward, an account of what became of this person, why this place became one to revisit. Later in the book, layers of flashbacks stack up. And usually the passage slips still further outward to the enveloping narrative, recounted by a man who now finds pleasure in the very act of recollection.
A trip to London in the mid-1960s, during which Roger and his old friend Dan Curley discover The Perfect London Walk, summons up an episode, years later, in which their guidebook of the same name is clutched in the hands of tourists whose paths cross with Roger and Chaz's. Then we're with Roger in a hospital bed years later as he revisits London in his mind, with details rising unbidden. He sees a nursery school and the shadow of a wooden palm tree in a window. And then we glide outward to another frame, the very moment of writing that conjures up all the others. "I believe that I could pause right now and remember something I saw on a walk that I have never thought of again since that time." That moment yields another cascade of memories, ending in the 1970s with Roger crawling through a hotel window in order to look down on Pembridge Square.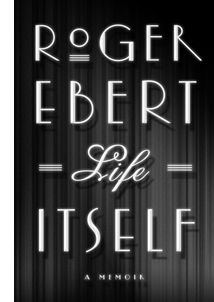 Gifted with a preternatural memory, Roger shames most memoirists. Not for him the procession of big names and picturesque places that makes the usual autobiography little more than a prosed-up agenda book. The book crackles with sensory impressions: the taste of a ploughman's lunch in a pub, the whiff of a Steak and Shake cheeseburger. The world is there to be known, in all its teeming variety. I remember talking with him after George W. Bush got elected, and he was appalled that our new President had not held a passport before being elected governor. "Can you imagine a young man being that incurious?"
Above all, Roger's curiosity turns toward people. Vast though his appetites and energies are, and frank as he is about his faults and failures, the writer is most fascinated by a picaresque procession of extraordinary individuals, most not famous. Yes, there are portraits of Mitchum and Scorsese and Royko and other larger-than-life celebs, but they're brought down to earth. He favors the unknowns. He has, like his beloved Dickens, a genuine interest in everybody. After telling a bit about Letterman and Leno, he really gets going on the civilians whom he and Siskel met doing man-on-the-street gags. Studs Terkel becomes a fatherly exemplar of this worldly curiosity about the absolute uniqueness of everybody. "Two people meeting with Studs standing between them would hear from him how extraordinary they both were."
Roger's cast consists of everyone who has provided him laughter, sober self-analysis, affection, passion, and a long-running, tuition-free course in being a good person. For Sartre's character, Hell is other people. Ebert, I'd say, thinks that other people are a decent, secular definition of Heaven. Life Itself radiates respect for the stubborn, sometimes maddening uniqueness of human beings.
"I was born inside the movie of my life," the book begins. Okay, but what kind of movie? As a bona fide film brat, Roger has given us the autobiographical equivalent of a 1960s off-Hollywood art picture. It recalls those exercises in broken chronology like Petulia, but it's gentler: not grating cuts, but quick dissolves. The time frames keep shifting and flipping over. Far along, at something like the climax of the book, love affairs and alcoholism set off a spiral of associations around his mother. And each era is quickened by the observer's awareness of the preciousness of the sensuous moment. Roger is writing and watching teenage Roger dancing with Marty McCloy to the Everly Brothers in the Tigers' Den:
Under our armpits, sweat formed dark circles, and our cheeks were moist as they touched.
Cinematic though it is, Life Itself is a literary exercise too. Roger, perhaps our most bookish living film critic, provides a montage of styles and genres. The childhood scenes, echoing Portrait of the Artist and A Death in the Family and perhaps The Sound and the Fury, are bursts of bright, disconnected impressions. Things coalesce into anecdotes as the boy's mind matures. (Is it just me who hears echoes of another Midwestern yarn-spinner, Jean Shepherd?) In the young man who yearns to travel, to explore every city, to read every book he can lay his hands on, to shyly move toward girls, we see Thomas Wolfe, teenage Roger's guiding star. Soon enough, though, we're in a Ben Hecht Chicago newsroom:
Once Paul was talking on a telephone headset, tilted back in his chair, and fell to the floor and kept on talking. Eppie [Ann Landers] reached in a file drawer and handed down her pamphlet Drinking Problem? Take This Test of Twenty Questions.
(Aspiring writers: Compose a 50-word paragraph explaining why "handed down" is a better choice than "handed him.")
Every memoir needs a credo, and this we get in concluding chapters entitled, "How I Believe in God" and "Go Gently." They give you much to chew over, including laconic bon mots like "I was perfectly content before I was born, and I think of death as the same state." The lesson of this life? Expect no spoilers from a fellow critic, but I can provide a teaser. It has to do with joy.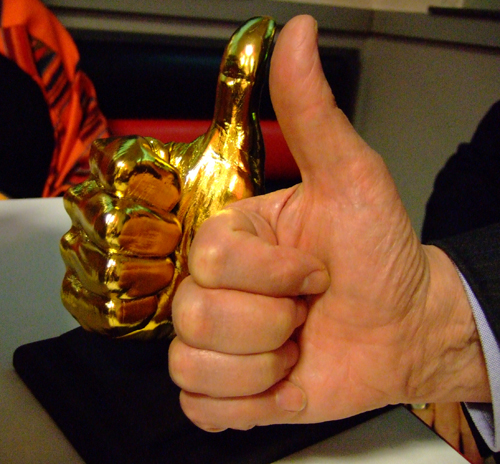 Graven image and original: Ebertfest 2006.